Japan won Pool I of FIVB Volleyball World Grand Prix with three victories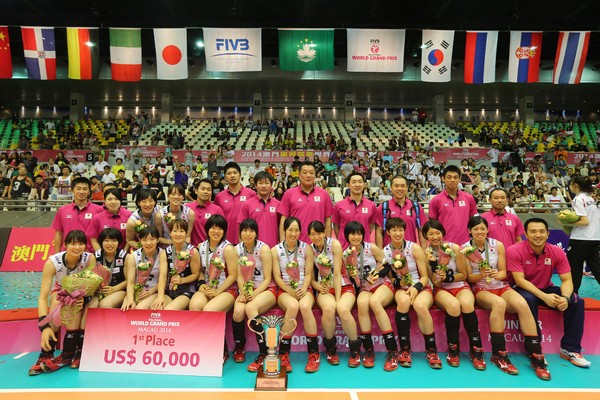 Japan outshined Asian rivals China 3-1 (25-20, 25-22, 18-25, 28-26) to end play in Pool I of the Intercontinental Round of the FIVB Volleyball World Grand Prix at the Macau Forum on Sunday.
The full house crowd at the Macau Forum were treated to a spectacle as both teams showed no signs of fatigue after their five-set matches on Saturday with South Korean and Serbia. Japan and China could not gain any significant lead as they battle point-by-point. Japan managed to hold a one-point advantage at the first technical timeout until they gained momentum to build a bigger lead as China suffered from their blocking.
As the score stood at 21-17, Japan looked in control but their hitting errors allowed China to pull within two points. That was the closest the Chinese squad could get as the Japanese regrouped and quickly closed the set 25-20.
The second set started out much like the first set except that China had the one-point advantage at the first technical timeout. Japan managed to catch up and built an 18-14 lead with the help of their excellent backcourt defence. Japan suddenly committed hitting errors that allowed China to pull back to tie the score at 18-all.
The score remained close until Saori Kimura came off the bench and served an ace to pull her team ahead 24-22. China could not convert on their attack until Ishii sealed the set victory from a left-side kill.
China came out strong in the third set, determined to prevent a straight-set loss. They built up an early 8-4 lead from inspired plays, but Japan fought their way back to tie the match at 10-all. From then on, the Chinese defence set the pace causing trouble to Japan. China surged to a 22-14 lead and the eventual win in the set 25-18.
Japan started off strong in the fourth set and jumped to an early 4-0 lead, forcing China to take a timeout. China continued to struggle on attack that helped Japan take their lead further 12-8. China sparked another run and tied the score at 21-all. Both teams battled in spectacular rallies that resulted in another deadlock at 24-all. The set extended for a few more points until Japan gained the upper hand 27-26 and a passing error from China handed the match victory to Japan 28-26.
South Korea was third and Serbia forth in the Macau pool.
The 2014 FIVB World Grand Prix women's volleyball tournament kicked off on July 25. It is the first time that the World Grand Prix has featured 28 teams. Japan and China, as well as Belgium and Brazil have so far qualified for the finals that will feature the top six teams in Tokyo from Wednesday to Sunday.(macaunews/FIVB)