How Bearbrick toys went from convention gift to pop culture icon
How Bearbrick toys went from convention gift to pop culture icon

Link copied
Popular Bearbrick figurines have taken the world by storm, with some models selling for tens of thousands of US dollars. We take a deep dive to bring you up to speed.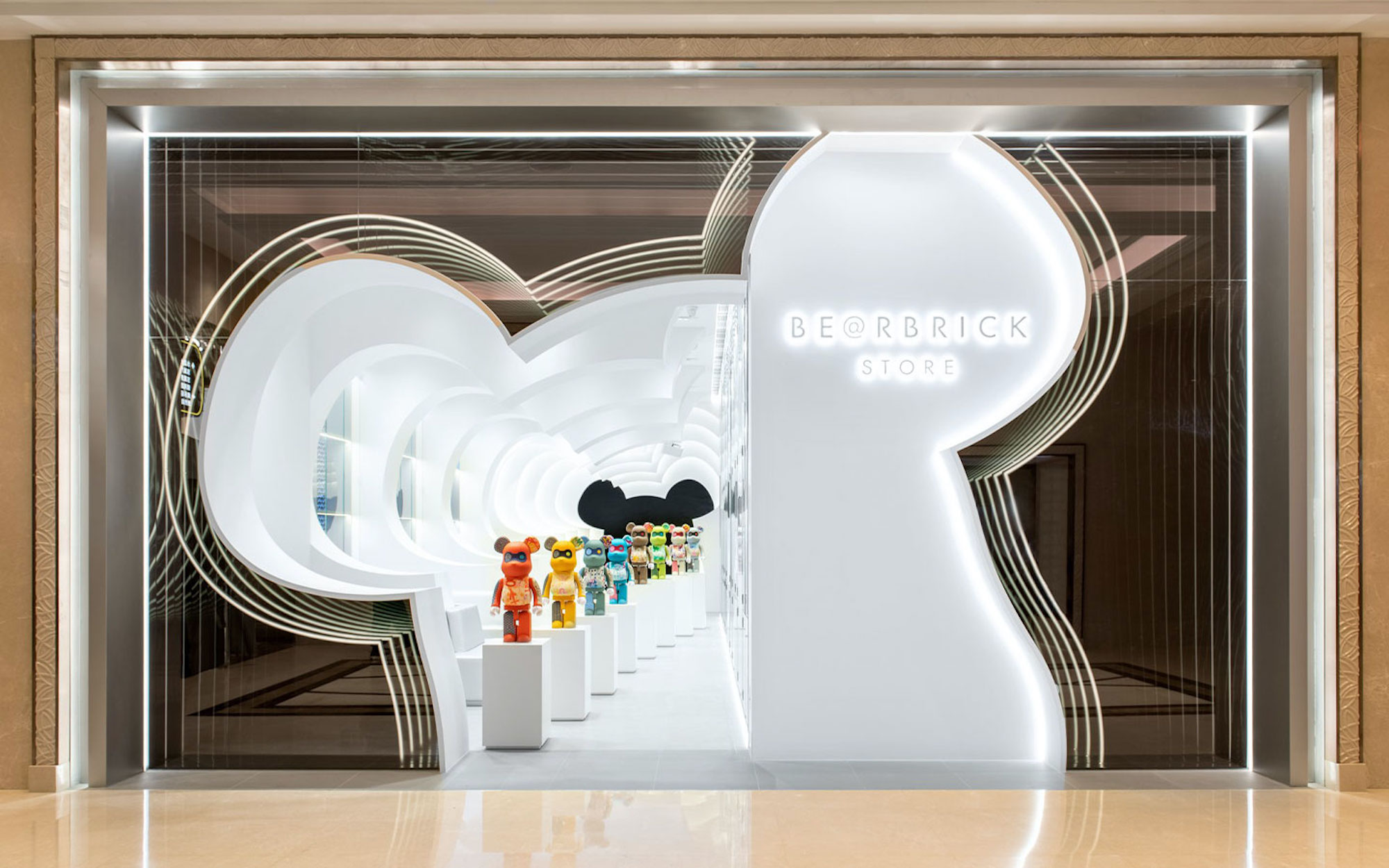 Whether you're a pop culture maven or always playing catch up, you've probably caught sight of Bearbrick – the bear-shaped collectible toy taking the city by storm. From a sleek flagship store located at Galaxy Macau (the only authorised retailer outside Japan) to the neighbourhood coffee shop and a multitude of cool spots across the city, the Bearbrick (stylised as BE@RBRICK) is everywhere.
Simple as they may seem, these colourful vinyl figurines have ascended to the status of modern art pieces. Collectors have been known to pay tens of thousands of US dollars for some of the most sought-after editions, which are often resold several times in auctions and re-sale websites. What's all the hype about? Read on as we unpack the Bearbrick craze. 
An instant icon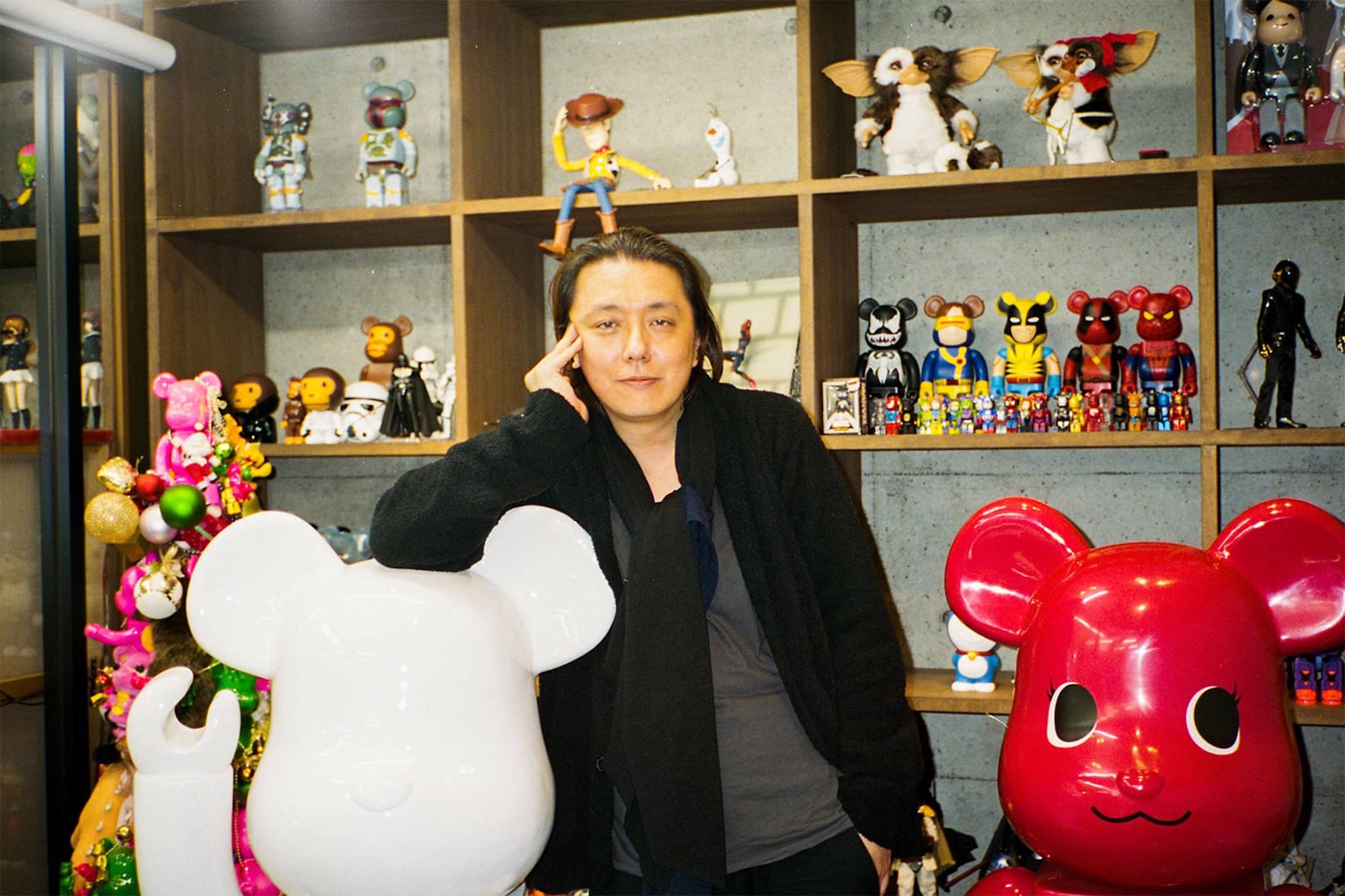 The founder of Japanese toy maker Medicom Toy, Tatsuhiko Akashi, invented the first Bearbrick in 2001 to get himself out of a jam. According to an article in the Japan Times, he needed to create gifts for thousands of people attending a toy convention in Tokyo that year – and quickly. 
To save time and money, he decided to combine the body of Medicom's existing Kubrick toy with a bear head. Why a bear head? Akashi wanted to pay homage to the iconic teddy bear, which was celebrating its 100th anniversary that year. 
Medicom launched the first Bearbrick for everyday consumers that same year. The simple, 7-centimetre-tall white bear featured the Bearbrick logo on its torso and a blue bear head adorned by a red "@" symbol. The brand later released a vintage-looking model of this original toy in celebration of its 20th anniversary.
Since that first bear, Medicom has dropped two new series per year – No. 44 being the latest. It has also introduced five different Bearbrick sizes (3, 5 and 70 centimetres tall), though sizes are most commonly specified in percentages, from 50% to 1000%. The 100% Bearbrick is considered the standard size, while 1000% is the largest at 70 centimetres tall.
Collaborations abound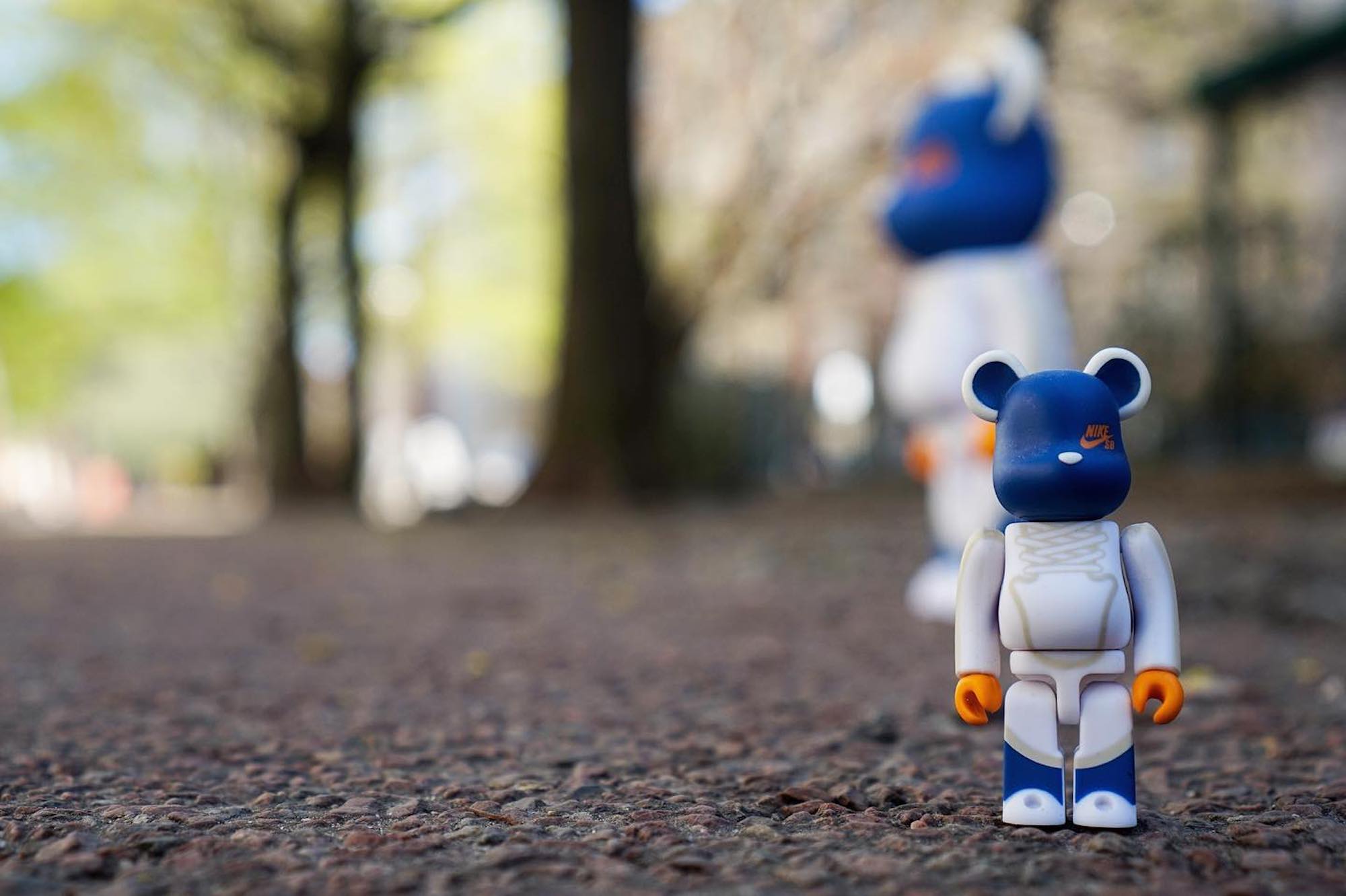 But Medicom isn't the only company launching new Bearbrick editions. Just a year after launching, collaborations with brands like Nike and Stüssy came to life. And soon enough, Bearbrick started making waves in the fashion and art realms. 
Artists like KAWS, streetwear brands such as BAPE, and top fashion houses like Chanel and Hermès are just a few of the heavyweights that have partnered with Medicom to create one-of-a-kind Bearbrick keepsakes. 
To this day, the Coco Chanel 1000% BE@RBRICK remains one of the most coveted editions ever released, having sold for approximately MOP 240,000 (roughly US$30,000) at a Christie's auction in 2019. Designed by the late fashion mogul Karl Lagerfeld, the luxury edition dons the Chanel founder's signature outfit: a classic Chanel black tweed jacket and white pearls.
A million-dollar bear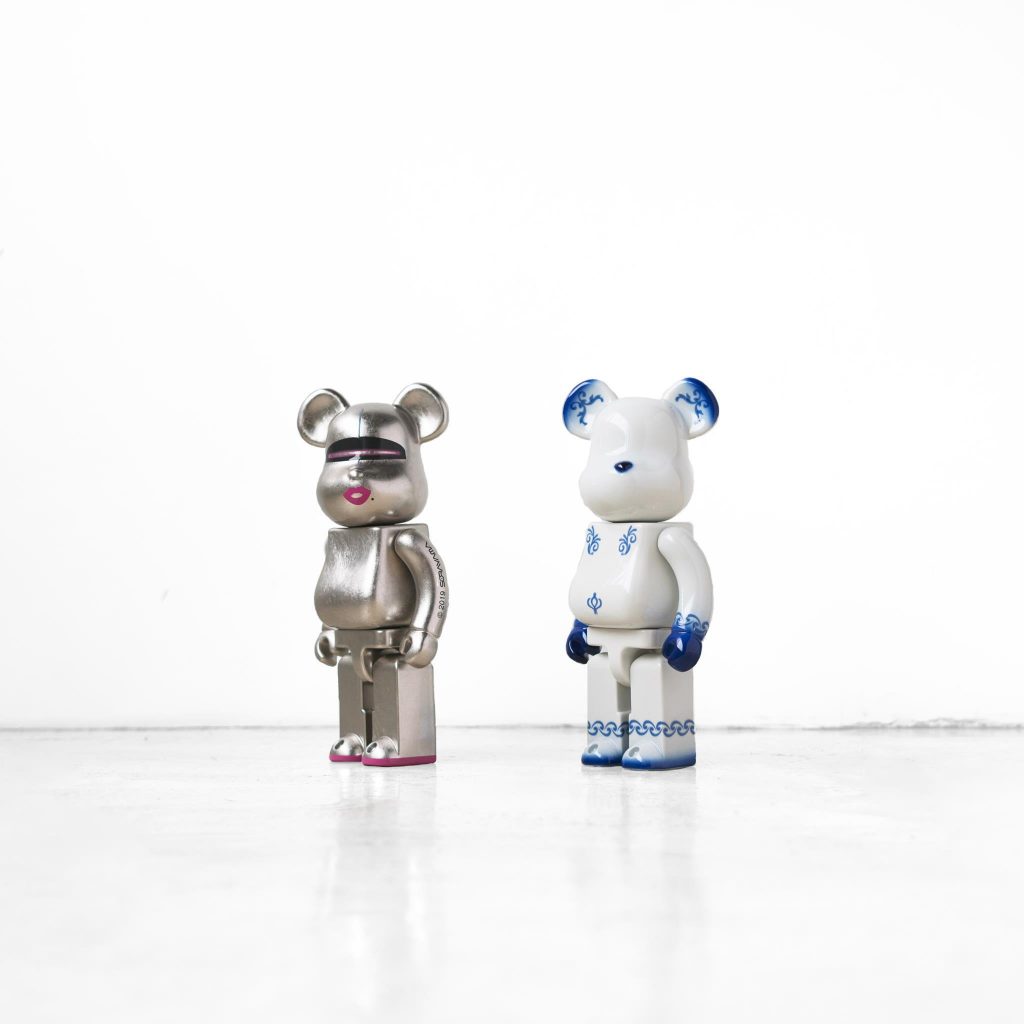 As each branded bear toy speaks to a different demographic, collaborations have enabled the toy to gain a following across many ages, cultures and geographies. In the process, Bearbrick has evolved from humanoid toy bears into highly desirable art pieces prized by collectors, trendsetters and celebrities alike.  
While the toy's shape remains unchanged in each iteration, creators have the freedom to revamp the toy's look and feel with luxurious materials and artistic techniques. Some Bearbricks have been adorned with Swarovski crystals; others hand-crafted from exotic hardwood or ancient porcelain styles, like Japanese Kutani. 
As a result, limited-edition Bearbricks have sold for staggering amounts, such as the Contemporary Fix x Sense 1000% Stainless Steel BE@RBRICK. This 14-kilogramme stainless steel creation went for MOP 343,970 (approximately US$42,575).
Naturally, those who own limited-edition Bearbricks often show off their keepsakes on social media, which has only further fueled the bear's buzz. On Instagram alone, the Bearbrick hashtag has accumulated over 1 million posts. 
Social media buzz aside, the design toy is now seen as a worthwhile investment. A quick search on StockX (an online marketplace for luxury assets) indicates some Bearbricks could be worth anywhere from 300 to 11,500 per cent more than their retail price. 
Macao: Beabrick's second home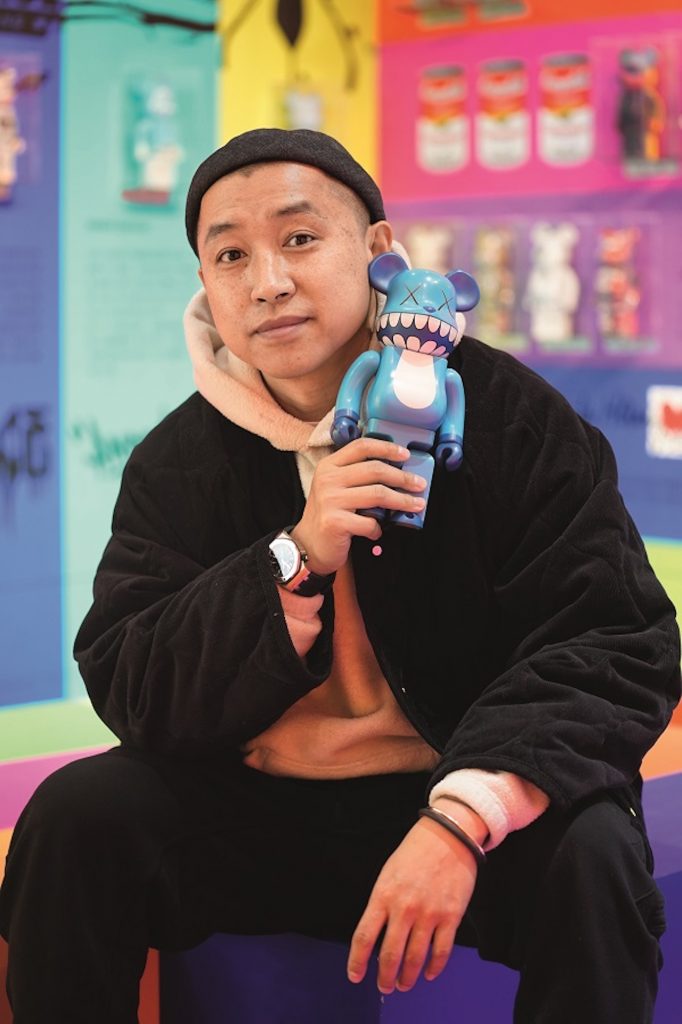 Like many quirky design trends, Bearbricks have received a warm welcome in Greater China. Wondering who has the largest collection of Bearbricks? Gao Ke, a Chinese national, holds the Guiness World Record with 1,008 bear-shaped icons. 
Curious about "Qiu Tu", the most expensive Bearbrick ever sold? Acclaimed Chinese contemporary artist Yue Minjun created the one-off black and white laughing bear, which fetched over MOP 1 million (approximately US$123,700). 
In Macao, Forward Fashion Holdings, the retailer behind Be@rbrick Macau, opened three years ago to sate skyrocketing demand for Bearbricks. After organising the city's first Bearbrick exhibition in 2019, followed by two successful exhibitions in 2020 and 2021, the group opened the first authorised Bearbrick store in Greater China in November 2021. 
Special local editions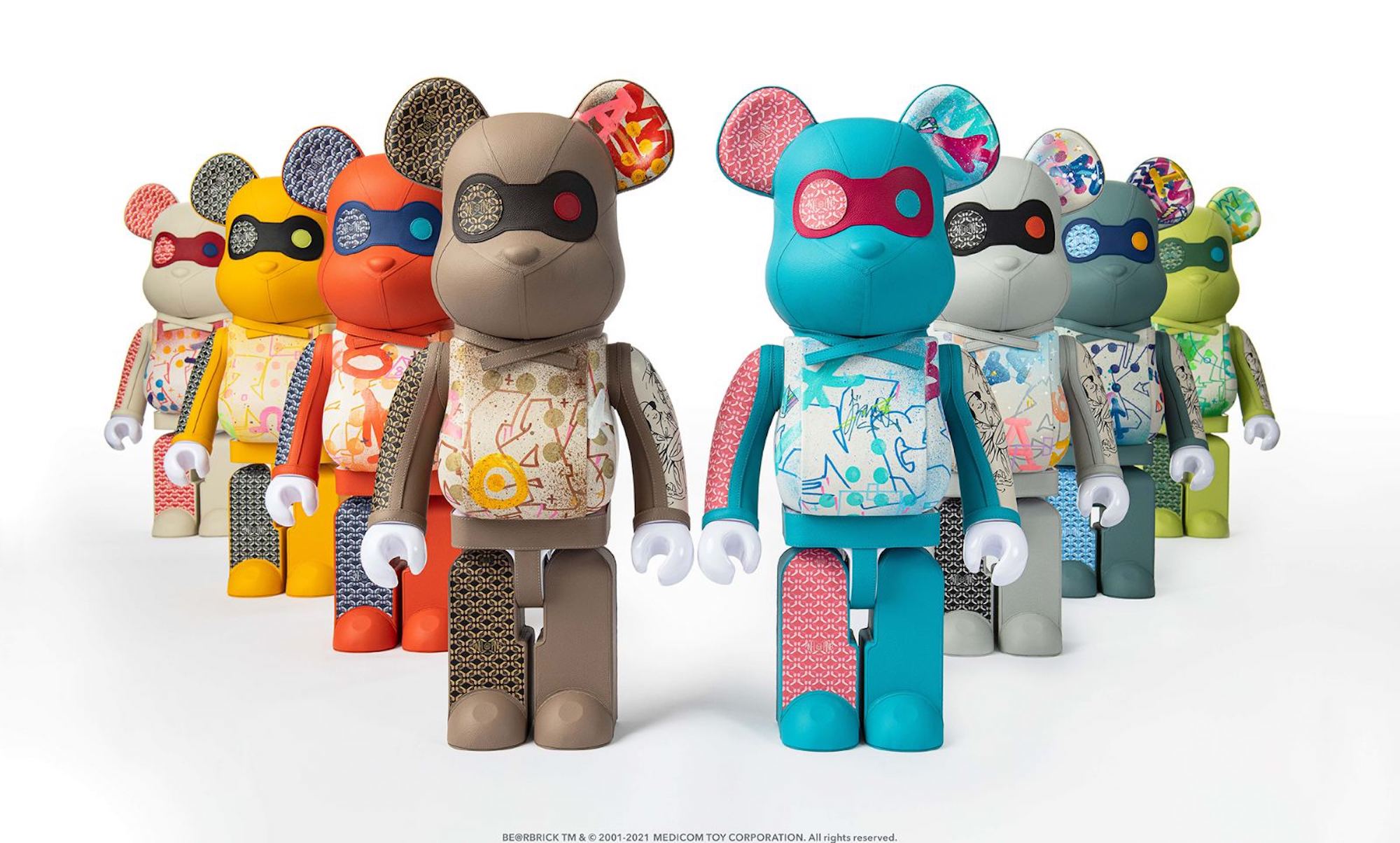 Though it's been open for under a year, Be@rbrick Macau has already collaborated with international brands to launch more than 20 exclusive editions. 
One of its biggest hits so far was the Pinel et Pinel x Cyril Kongo, a set of eight handmade Bearbricks that sold out immediately after release. Featuring a unique colour palette and graphic lettering, each work of art took over a month to complete and cost MOP 1.8 million (approximately US$222,000).  
In July this year, Forward Fashion and Medicom honoured the city's most iconic landmark by launching and raffling off an equally iconic toy: the limited-edition Ruins of Saint Paul's X BE@RBRICK. 
The first-ever Macao World Heritage Bearbrick features the intricate façade of the church on its torso and the opposite side of the church facade on its back. After the raffle, the 1000% size toy later retailed for MOP 5,900 (approximately US$720).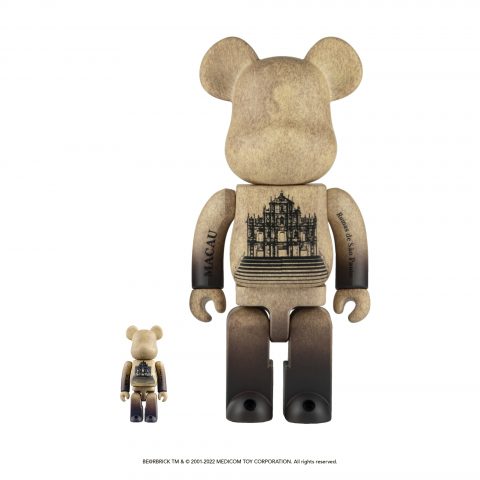 The collectible toy movement 
Bearbrick has triggered a movement for collectible toys that is still in full swing. Another local toy store, Nativo Toy Workshop, got its start thanks to the growing demand for collectibles. Without their popularity, co-founders Felipe Wong and Anny Chong, who have been working in parallel with street art and toys for 10 years, couldn't have established their shop. 
After launching in 2020, Nativo Toy has experienced mainland China's booming design toy market firsthand. "We were surprised about how well our work was received in our first toy shows in China," says Wong. "We sold out on the first day of the first toy show without being known! Besides feeling incredibly validated, we were amazed by how eager audiences are for new ideas and stories." 
Wong, who is also one of the creative minds behind the first Macao-made "blind boxes", or mystery packages with a surprise toy inside, admires the Bearbrick brand's collaborative and creative approach, which he says has spawned many great ideas. 
"Creatives and entrepreneurs can only dream of building something that has such a powerful cultural impact on people," says Wong. "[Bearbrick's] value isn't so much about what it is, but what it represents for a generation." 
Bearbrick, he says, has become a symbol of "hype culture, fashion and art", granting customers and collaborators to engage and participate more, to "chase style and prestige". Thanks to Bearbrick, designer toys now have a culture and community.