Ferris wheels and exoskeletons: 9 ambitious buildings that transformed Macao's skyline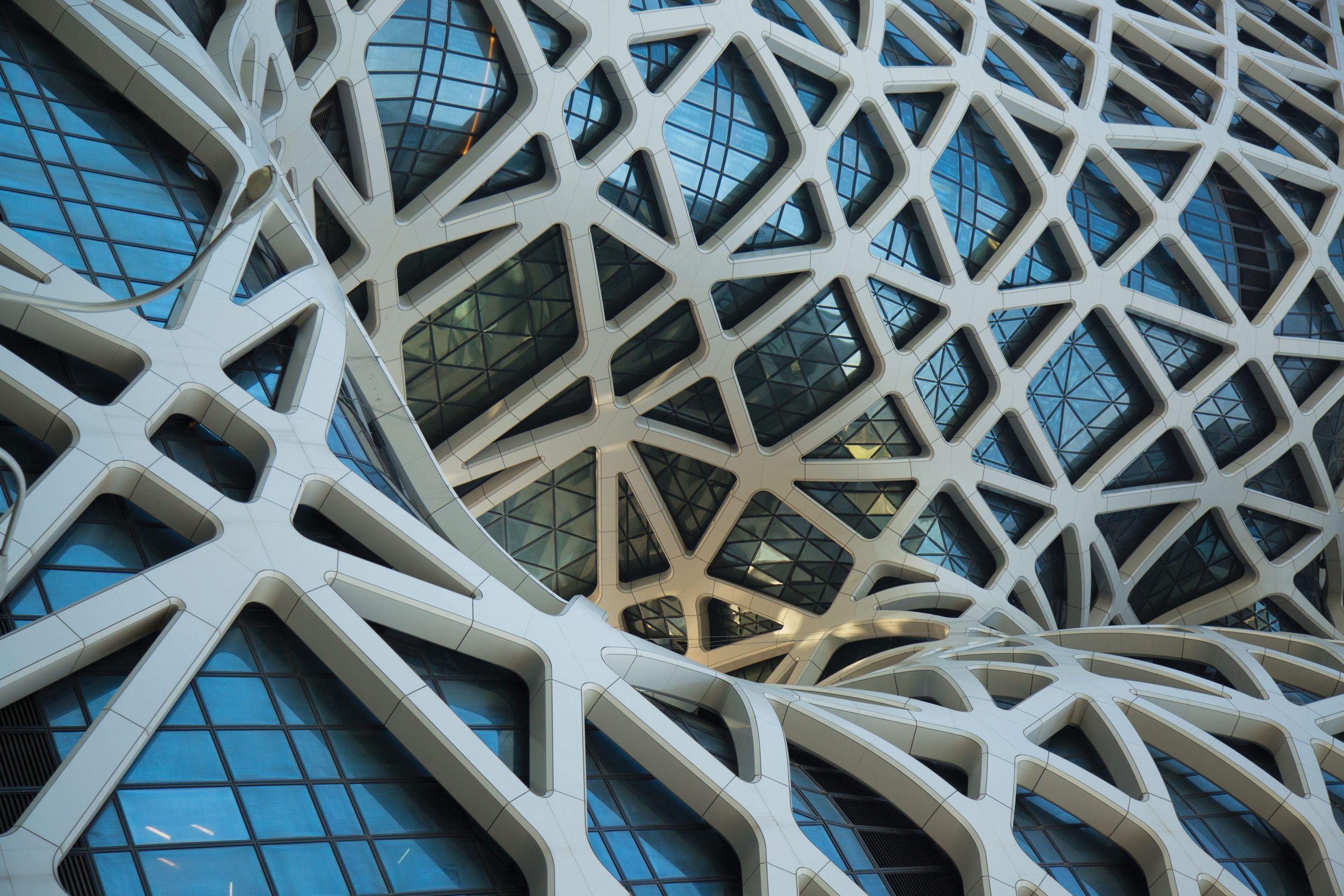 Macao's unique history and eclectic architecture has long drawn visitors to its UNESCO World Heritage-listed city centre. And while heritage keeps the city firmly rooted in tradition, Macao has welcomed a wellspring of modern architectural marvels that make history in their own way. 
The latest architectural projects reflect Macao's sky-scraping ambition, appetite for innovation and record-breaking engineering feats, ensuring the territory keeps attracting visitors for centuries to come. Here are nine ambitious buildings that have transformed Macao's skyline: 
1. MGM COTAI, 2018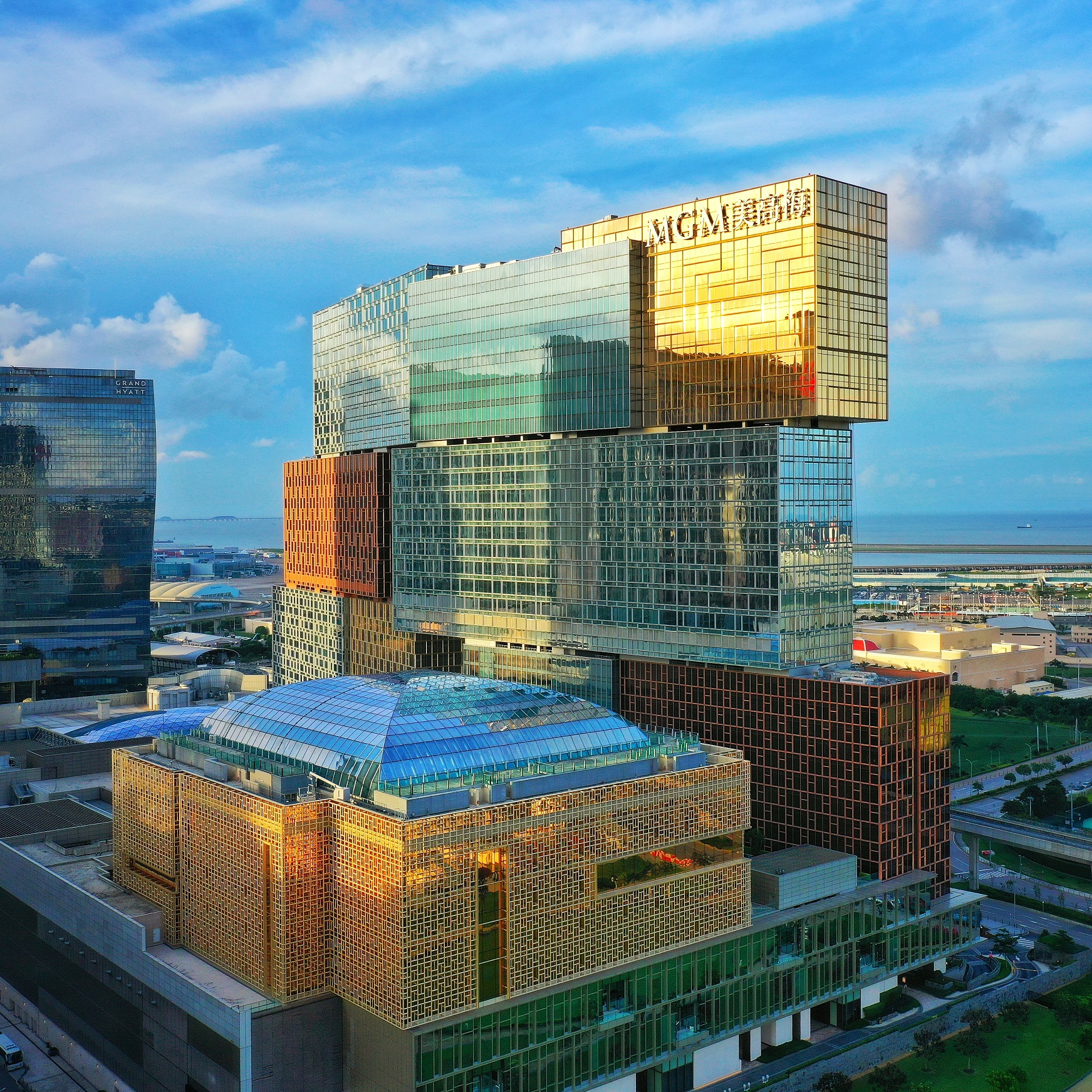 Designed to resemble a stack of Chinese jewellery boxes, MGM COTAI opened in 2018. It's a towering collection of eight cantilever structures in yellow gold, platinum gold and rose gold, which align with the emblematic colours of MGM MACAU's exterior. 
A team of more than 350 architects, designers and consultants worked together to create the US$3.4 billion property. Kohn Pedersen Fox managed the two hotel towers, while Hong Kong-based Wong Tung Group served as the associate architecture and New York's Rockwell Group led the interior design. 
Standing 151 metres tall, the building occupies 280,000 square metres and houses nearly 1,400 rooms. It is also home to "The Spectacle": the world's largest free-span gridshell glazed roof undulates across 8,073 square metres – roughly the size of 30 tennis courts – above the resort's atrium space.
And despite its gigantic size, MGM COTAI has managed to keep a relatively small carbon footprint, as recognised by several awards. In fact, MGM COTAI was the only mega complex and hotel in Macao to achieve the three-star certification in both Green Building Design and Operation Label.
2. Morpheus Hotel, 2018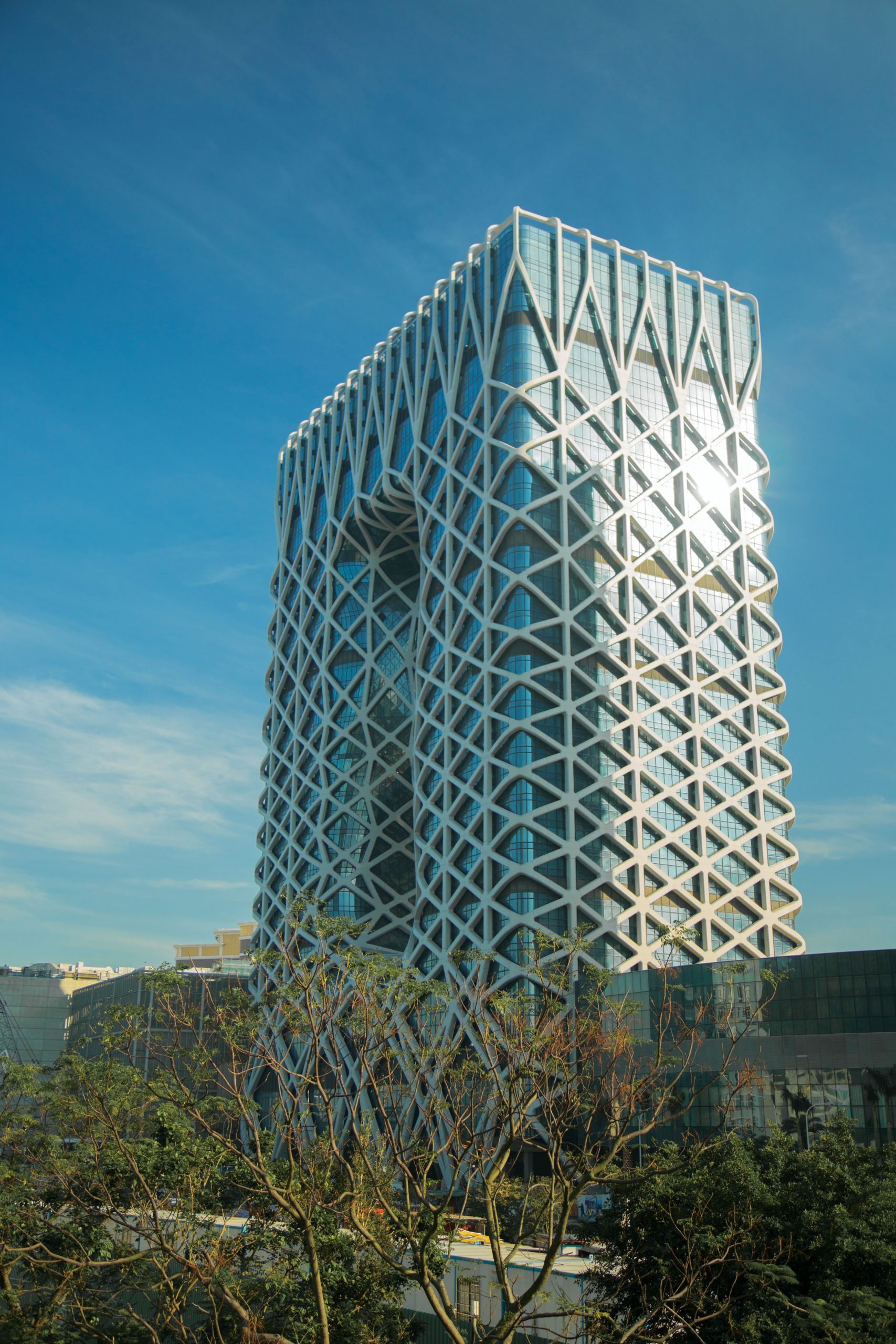 Another recent architectural feat that made waves around the world is Morpheus Hotel. One of the final projects of the late Pritzker-Prize-winning architect, Dame Zaha Hadid, the mesmerising structure ranks among the city's most ambitious projects to date, becoming the first in Macao to win the prestigious Prix Versailles Award in 2019, just a year after its 2018 debut.  
Described by Zaha Hadid Architects as the "world's first free-form high-rise exoskeleton" the US$1.1 billion building borrows inspiration from traditional Chinese jade artefacts. 
Named after the Greek god of dreams, Morpheus stands tall with 40 storeys set across two towers that appear enveloped by a mesh-like aluminium exoskeleton. Structural steel plates weld together to create the sinuous facade, while three free form voids traverse the centre of the hotel, shaping its skyline into two distinct towers, connected by two sky bridges.
The hotel has 770 guest rooms, suites and sky villas, plus four restaurants, gaming rooms, a spa, rooftop pool, art galleries, and several meeting and event facilities.
3. Wynn Palace, 2016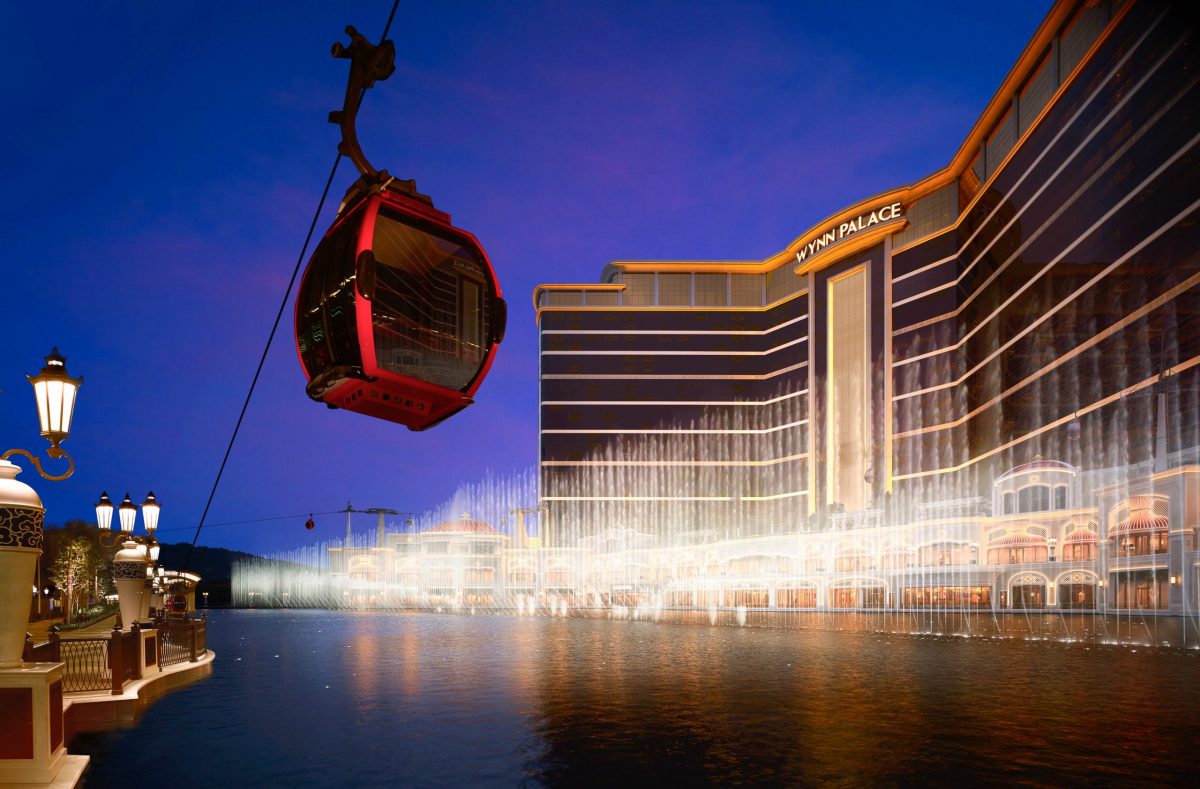 Making a grand debut in 2016, the floral-themed Wynn Palace resort took six years to complete and cost a whopping US$4.2 billion.
With 1,706 rooms, the 28-storey property in Cotai is the result of a collaboration between Las Vegas' Butler/Ashworth Architects and Hong Kong-based architectural practice Wong & Ouyang. 
Wynn Palace houses a casino, convention space, spa and salon, entertainment spaces, restaurants, and lots of retail space. In 2013, Steve Wynn, then chairman and CEO of Wynn Resorts, described it as "the most aggressive, ambitious and lovely project" he had ever undertaken during an earnings call with investors.
The property aims to awe inside and out, showcasing a mesmerising Performance Lake that comes alive with more than 1,000 jets and a state-of-the-art lighting system, plus its own system of air-conditioned 34 gondolas, dubbed Dragon SkyCabs, that encircle the lake for a memorable entrance.
4. Studio City, 2015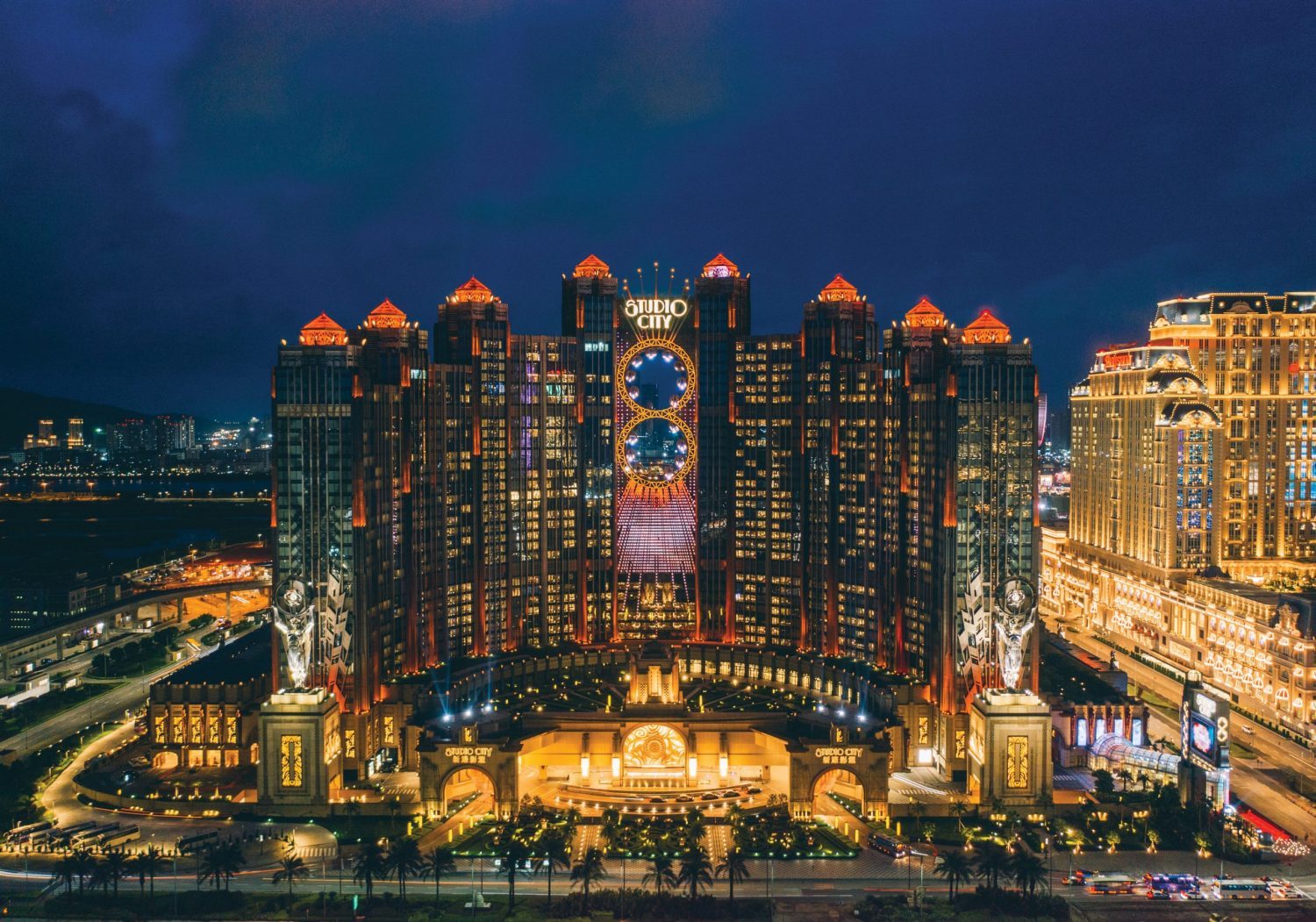 A cinema-inspired address, Studio City showcases the world's first figure-8 and Asia's highest Ferris wheel, embedded in the facade. Set between two art deco-style hotel towers, the "Golden Reel" is a fully functioning ride, operating 130 metres above ground level. 
Costing a whopping US$3.2 billion, according to Bloomberg, Studio City opened in 2015, taking thrilling entertainment to a completely new level in Asia.
Aside from its its art-deco inspired facade and 1,600 rooms, Studio City's most notable features include a 5,000-seat multi-purpose Studio City Event Center, the world's first 4-D Batman Dark Flight experience, and a virtual reality zone called Legend Heroes Park—a technology-based entertainment park which combines virtual technology with the physical world.
5. Macao Science Centre, 2009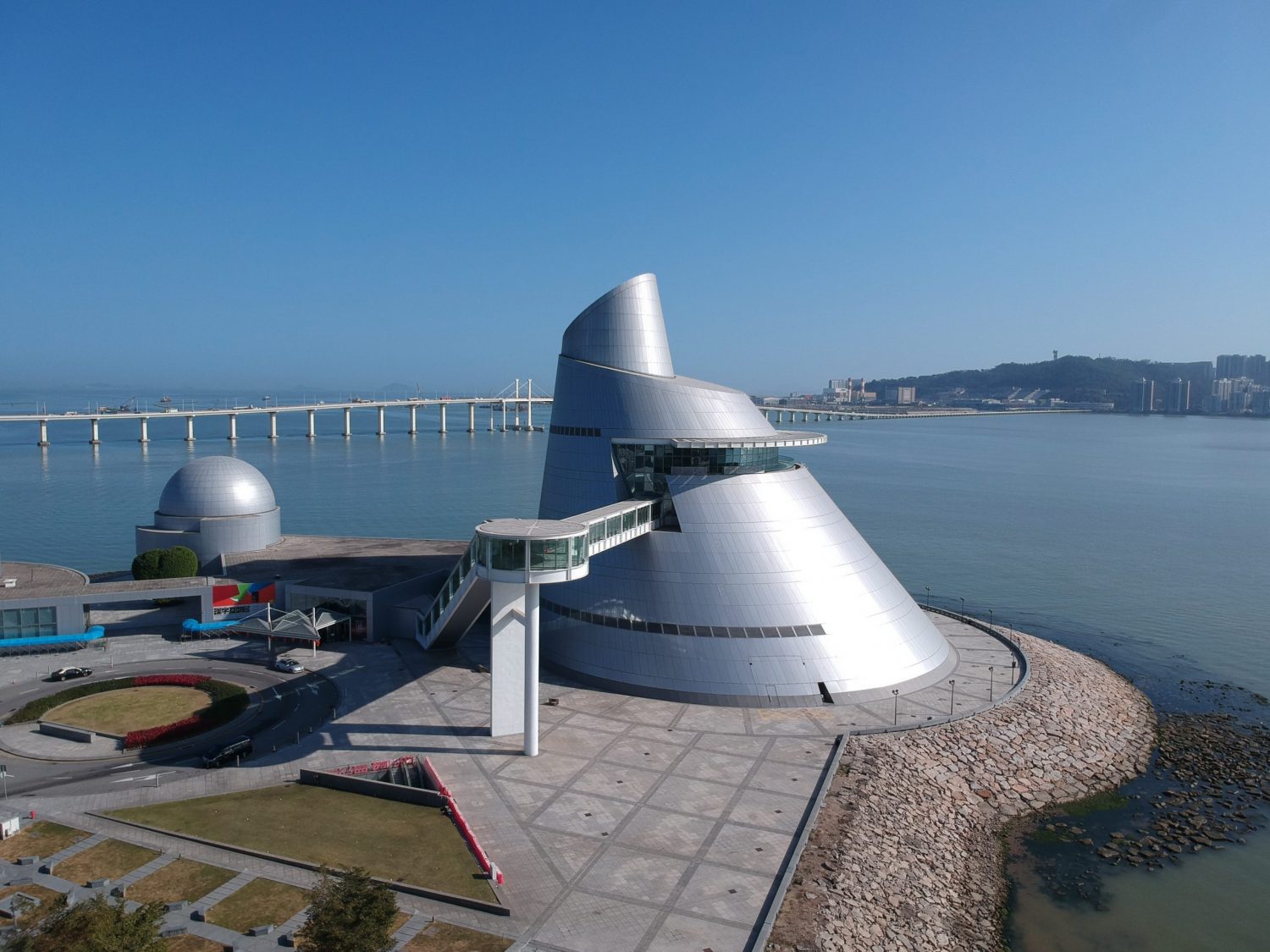 Celebrated Chinese-American architect Ieoh Ming Pei (commonly known as IM Pei), who died in 2019, brought the innovative Macao Science Centre (MSC) to life in collaboration with his two sons, who run PEI Architects. 
Pei's world-famous designs are often associated with geometric shapes, especially the triangle, the Louvre Museum's iconic pyramid being a notable example. In the case of MSC, Pei not only designed the centre's unique, cone-like exhibition centre and aluminium-covered exterior, but also the internal structure, which comprises 14 science-themed galleries and a 150-seat planetarium.  
With a total investment value of approximately HKD$700 million (US$90.3 million), the building opened in 2009, standing out in the skyline with its triangular shape and futuristic silver facade. It has also garnered international acclaim for the innovative technology inside. In 2011, for instance, the Guinness World Records officially listed the MSC planetarium as the highest-resolution 3D planetarium in the world.  
6. The Venetian Macao Resort Hotel, 2007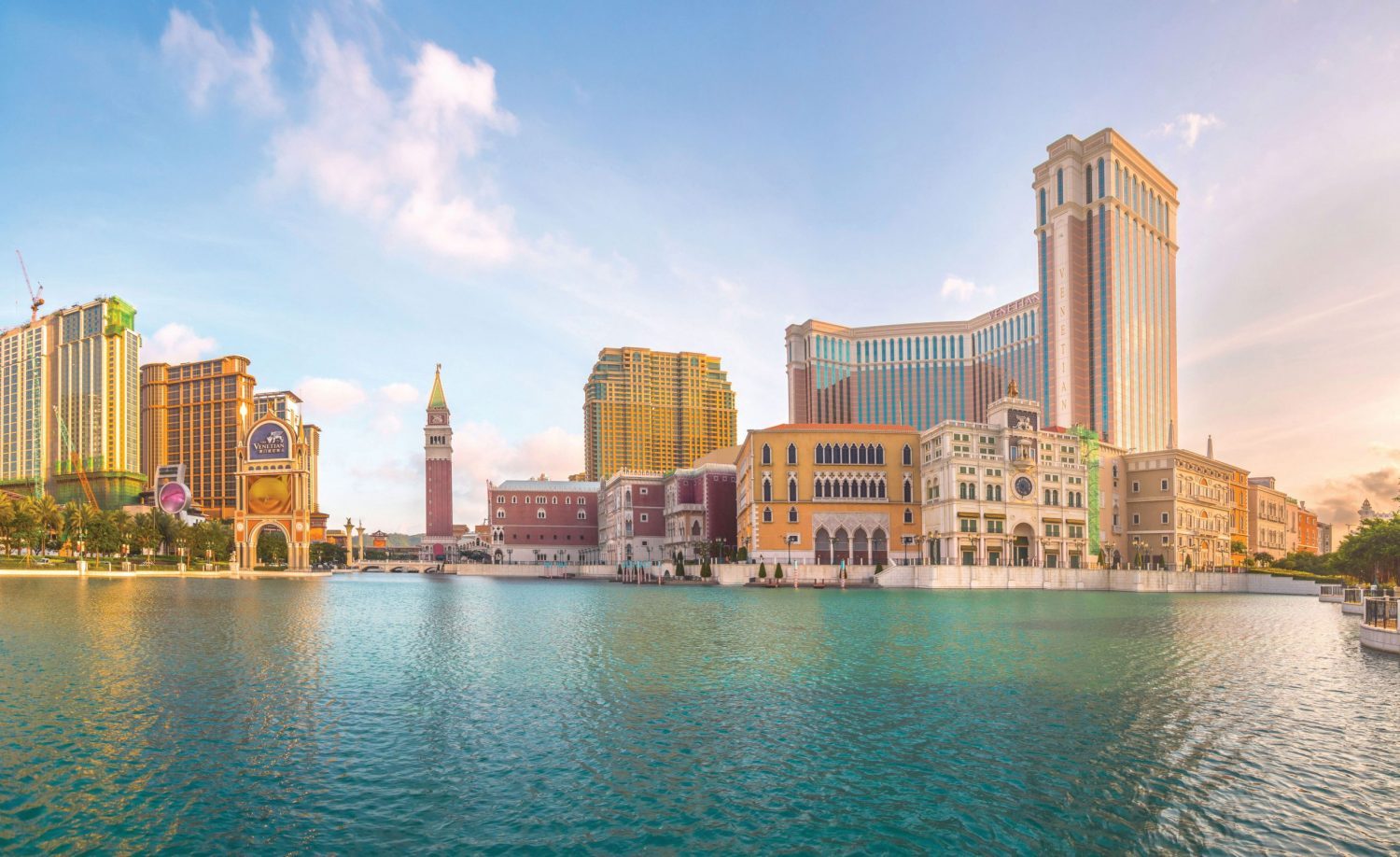 The 39-storey Venetian Macao Resort Hotel on the Cotai Strip is modelled on its sister casino resort, The Venetian Las Vegas – both a vision of Venice in their design, art and opulence. Aedas Macau led the architectural vision and execution, alongside Hsin Chong Engineering Macau as the main contractor, and Texas-based Wilson Associates heading up the design team. 
The property, which opened in 2007, took about three years to construct with a price tag of US$2.4 billion. It broke several records when it first opened and, still today, is the largest single structure hotel building in Asia. What's more, the building soars 148 metres in height and occupies 980,000 square metres, making it the seventh-largest building in the world by area. 
The hotel tower is home to 3,000 suites and the 15,000-seat Cotai Arena, not to mention over 150,000 square metres of shopping outlets, dining space, gondola rides and historic replicas at the Venice-themed Shoppes at Venetian. More than half of The Venetian's chart-topping area is dedicated to gaming, with 6,000 slot machines and 800 gaming tables stretched across four themed areas.
7. Grand Lisboa, 2007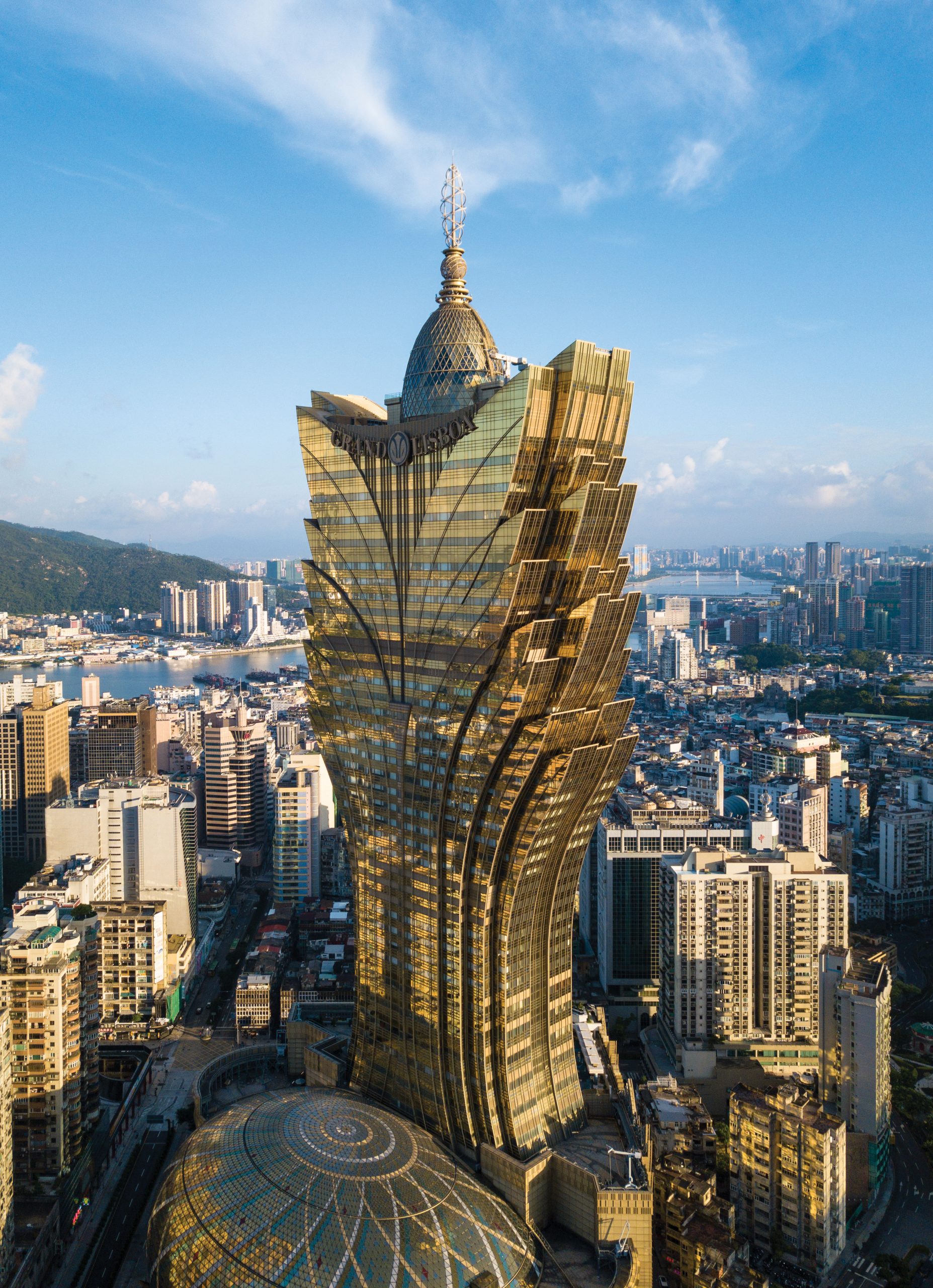 Macao's skyline has become synonymous with Grand Lisboa's iconic silhouette. The MOP 4.4 billion (US$551 million) hotel stretches across over 12,000 square metres and stands 260 metres tall, making it the tallest building in Macao. The building opened in two stages: the casino and restaurants came first in 2007 , followed by the hotel's 430 rooms and suites in 2008. 
Hong Kong architects Dennis Lau and Ng Chun Man modelled the 58-floor glass hotel on the opening petals of the lotus flower, the Macao Special Administrative Region's official emblem. Geometrically complex, Grand Lisboa's famous dome exterior glitters with 5,600 unique sizes of glass. Both the tower and the podium primarily consist of 24K gold-coated glass, while the podium incorporates various metal coatings, such as titanium.
8. StarWorld Hotel, 2006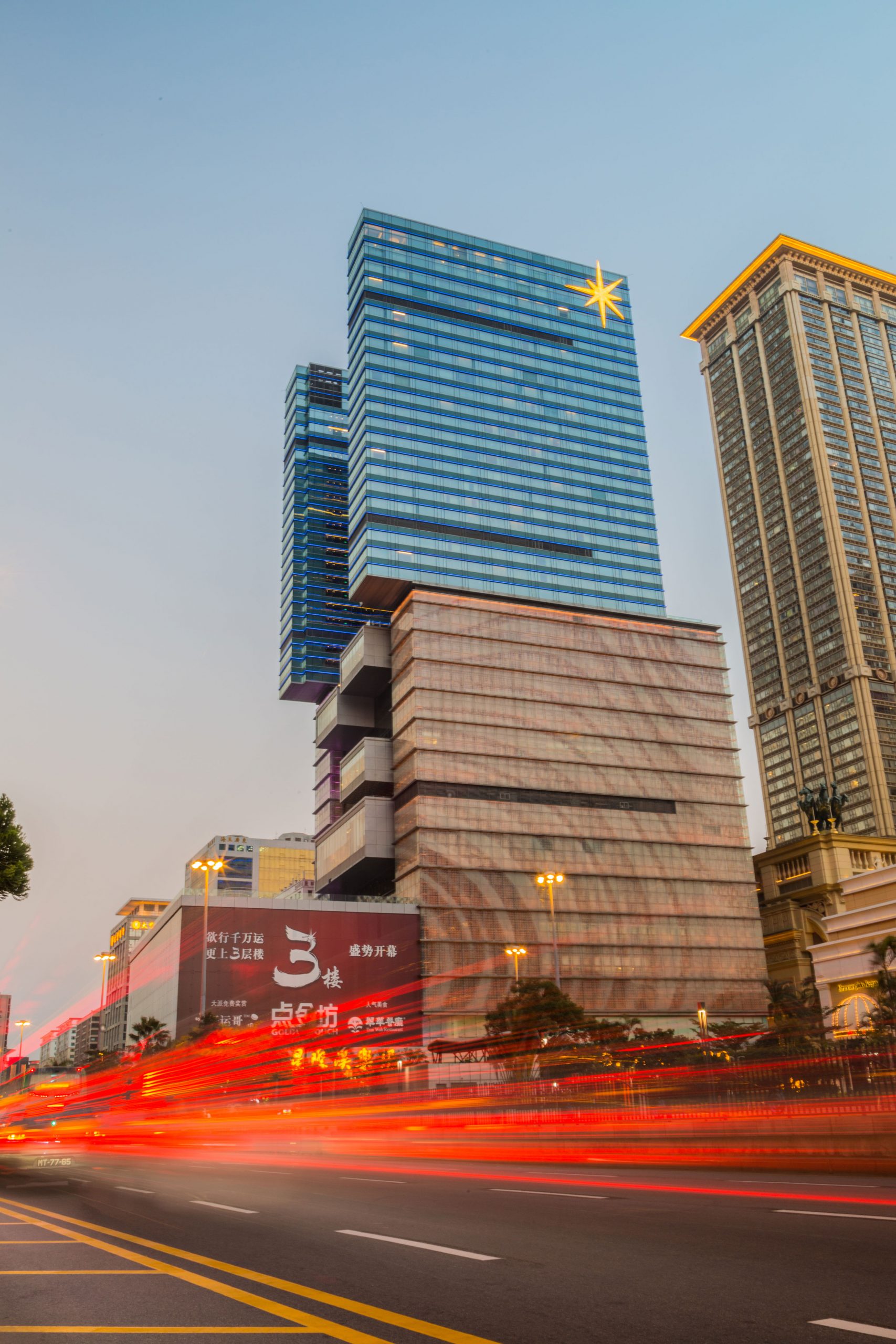 Among Macao's earlier architectural gems, StarWorld Hotel opened in October 2006 with an eccentric design by well-known Hong Kong-based architect Rocco Yim. Setting a benchmark for the burgeoning hospitality industry, the unconventional facade features a horizontal podium level topped with two, Tetris-like towers. 
Each tower comprises multiple interlocking rectangular blocks with double-layered glass and a vibrant LED lighting effect. The result is mesmerising, especially at night, when the entire building glows with a swirling, multi-coloured design. 
Located in the heart of Macao along Avenida de Amizade, the 39-storey property is also home to 500 guest rooms, and 10 renowned restaurants.
9. World Trade Center, 1996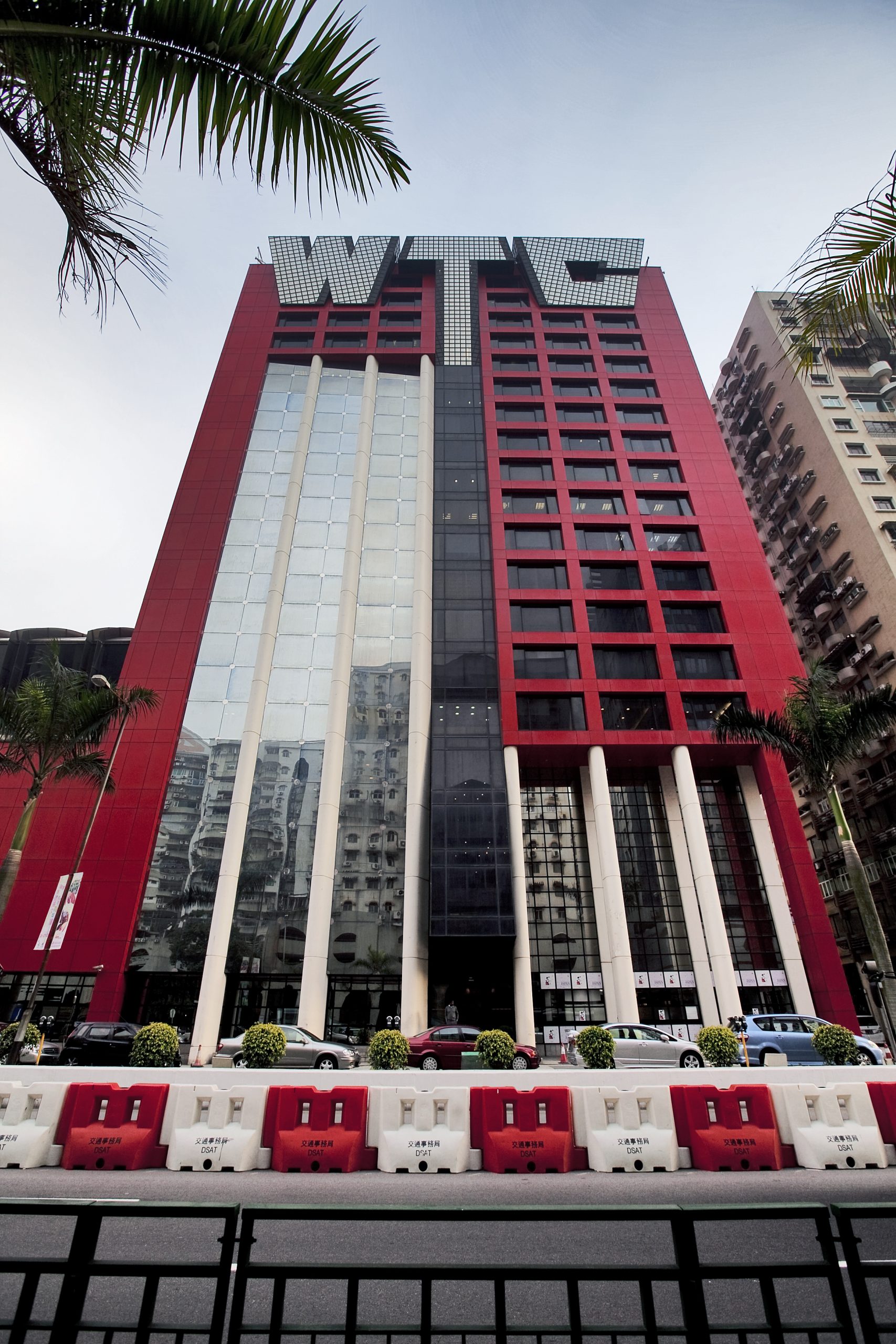 Designed between 1985 and 1988, and later inaugurated in 1996, the World Trade Center Macau (WTC Macau) was the work of late Portuguese architect Manuel Vicente, who died in 2013. As his last major work in the territory, Vicente sought to embody "a celebration of modern times and the artistic perspectives of today" through his architectural choices, according to the Calouste Gulbenkian Foundation.
Vicente designed the building in such a way that the WTC brand name became part of the facade itself, stretching across the top of the tower. With its bold red colour and pronounced typography, the 20-storey WTC Macau instantly became a symbol of modern Macao. The US$12.5 million building occupies over 230,000 square feet, most of which is dedicated to offices and conference facilities. 
Known as "Macao's architect", Vicente is also behind several other notable spaces and buildings in Macao, including the Praia Grande Bay, TDM Macau Television New Building and the Helen Liang Orphanage – all of which have had a profound impact on Macao, in terms of architecture and urban planning.