Paula Pereira Carion win bronze in Karate at the Asian Games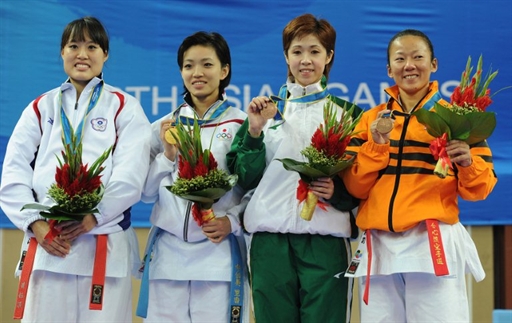 Guangzhou, China, 26 Nov – Macau's athlete Paula Pereira Carion (R1) Thursday won the bronze medal on women's + 68Kg in Karate at the 16th Asia Games in Guangzhou.
It's the fifth medal for Macau in the Asian Games.
Wednesday Cheung Pui Si Wednesday won the bronze medal of the women's individual kata karate and Lei Kuong Cheong won the bronze medal in men's +84Kg karate.
Veteran Wushu player Jia Rui won Macau first gold medal at the Guangzhou Asian Games in men's Daoshu and Gunshu combined last Sunday.
Cai Liangchan also won a silver medal in the Men's Sanshou 70kg of Wushu.
(MacauNews)