Macao Urban Transformation and Development Dialogue points way ahead
Macao Urban Transformation and Development Dialogue points way ahead

Link copied
City's transformation calls for 'strategic planning, independent innovation, talent support and institutional guarantees'.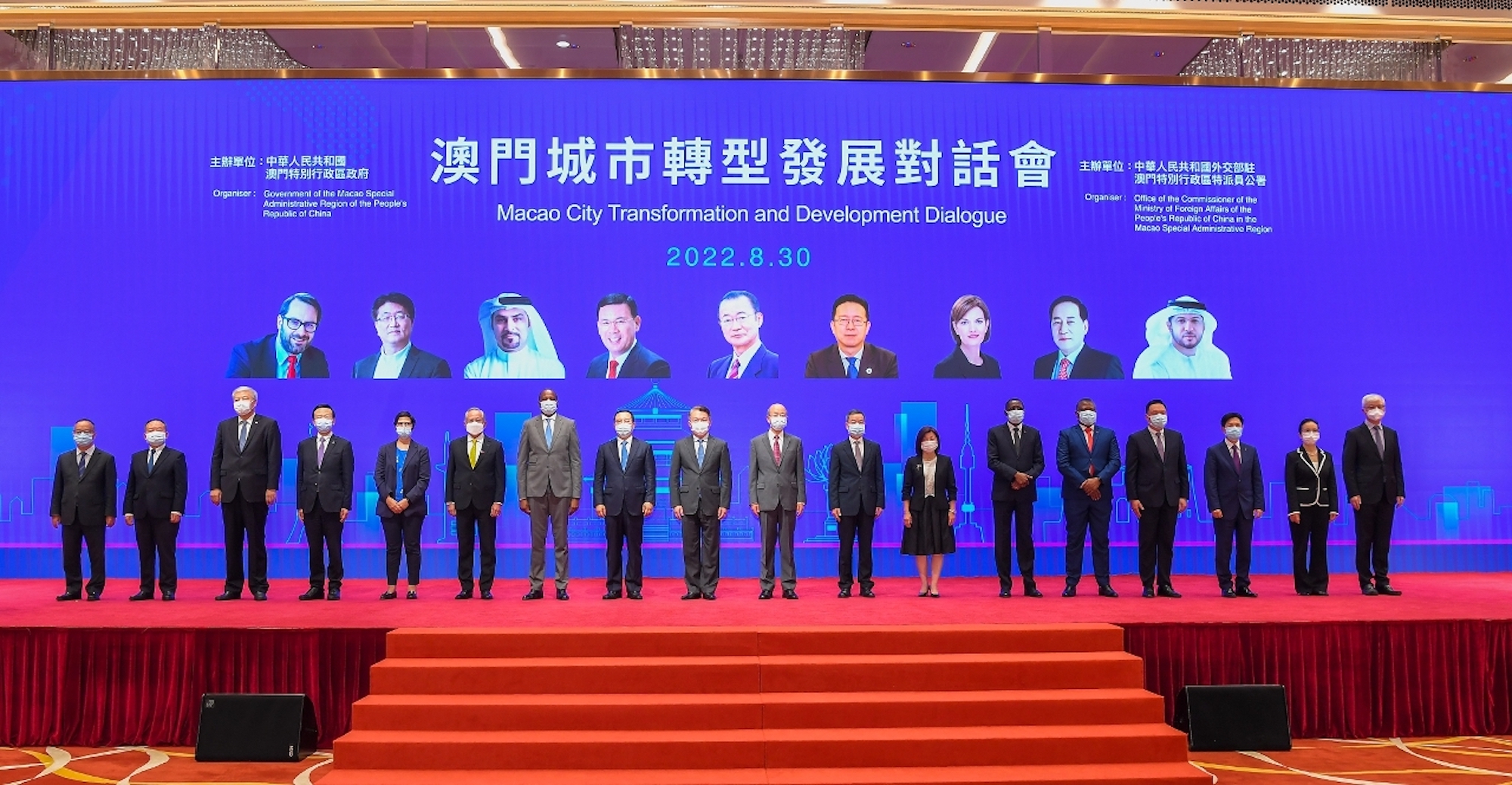 A major conference aimed at shaping Macao's future direction – The Macao Urban Transformation and Development Dialogue: Implementing the Global Development Initiative and Promoting Economic Diversification and Transformation – was held yesterday at the China-Portuguese-speaking Countries Commercial and Trade Service Platform Complex.
Foreign Ministry Commissioner Liu Xianfa said that Xi Jinping has always attached great importance to Macao's prosperity, development and its people's well-being, and always stressed that China stands firmly behind the city's long-term prosperity and stability, as well as personally planned for and promoted the development of the Guangdong-Macao In-depth Cooperation Zone in Hengqin.
Liu added that Macao's transformation and development call for strategic planning, independent innovation, talent support, institutional guarantees, and youth cultivation. 
He also said he believes that Macao will have even brighter prospects as it better integrates itself with the overall national development, improves its function of offering close connections with the world, based on China's support, and turns its comparative strengths into competitive strengths.
Secretary for Economy and Finance Lei Wai Nong said that various sides' insights into the Global Development Initiative's implementation and the promotion of economic diversification and transformation will offer more valuable inspiration for Macao's future development, particularly for Macao to bring about an In-depth Cooperation Zone's further development.
The insights, Lei said, will aid in accelerating a moderately diversified and sustainable industrial structure's development suitable to Macao's realities in the direction set before while stabilising the economy and ensuring people's well-being. They will also contribute to benefiting the people and stabilising employment in the process of promoting economic transformation and upgrading, Lei said.
Deputy Director of the Liaison Office of the Central People's Government in the Macao SAR, Zhang Rongshun, noted that the central government explicitly put forward and has firmly supported Macao's moderate economic diversification and transformation, and introduced a series of important policies including the building of One Centre, One Platform and One Base and the development of Hengqin and the Guangdong-Hong Kong-Macao Greater Bay Area.
Zhang added that Macao needs to identify its position, cement confidence and pool wisdom to realise the policy objective of the central government and its urban transformation.
The dialogue, which was held online and offline, was attended by over 150 guests, including officials from the local government, the Liaison Office and the Foreign Ministry Commissioner's Office.
There were also officials and scholars from the Department of International Economic Affairs of the Ministry of Foreign Affairs, Macao and the Macao-Guangdong In-depth Cooperation Zone, as well as representatives from Tokyo and Dubai.
The organisers described the dialogue as "highly relevant for meeting current needs". Moreover, considering the current economic environment, the dialogue has set up a new platform and is an attempt for greater international exchanges for the city's transformation and development.
The organisers underlined that through the dialogue, it is hoped that "more will be achieved in terms of 'inviting in' and 'going out'," expressing the expectation that Macao's external exchanges and international cooperation will be further expanded to draw on international experience, The Macau Post Daily reported.