Paulo Chan vows to put Macau's gaming industry in order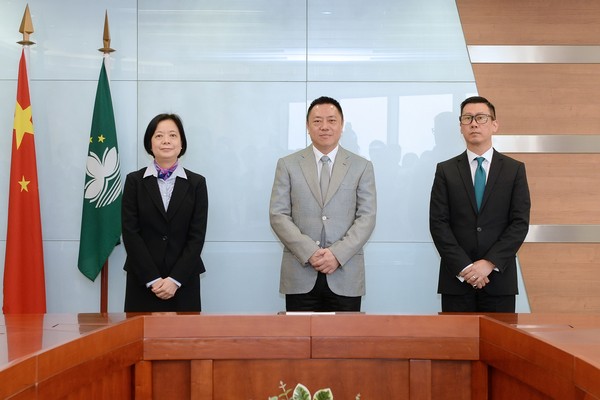 Former Assistant Public Prosecutor-General Paulo Martins Chan was officially sworn in on Tuesday as the director of the Gaming Inspection and Coordination Bureau (DICJ), bracing himself for a new chapter of his career expected to be fraught with challenges.
The gaming regulator's new head, appointed by the Secretary for Economy and Finance, Lionel Leong, told media after the induction ceremony that he would like to rise to the challenge in what he described as a "complex domain," after 17 years of service in the Public Prosecutions Office.
Mr Chan will take on the role of overseeing the region's dominant industry, currently beset by economic woes that have stretched almost a year and a half, as well as the unsettled heist at the Dore Group in September.
"If we could lay down the rules of the game, everyone would know what to follow," he expressed. "If something went wrong, penalties would follow. We also resort to the established set of regulations to settle conflicts."
Chan pledged to not only focus on the gaming industry, but also to place the DICJ in a position to respond to the challenges that have occurred in the new economic atmosphere.
Lionel Leong revealed in his legislative debate last week that it was necessary to expand the gaming watchdog's audit and legal manpower. Paulo Chan said he was confident that he would be allocated sufficient resources to meet the demand.
"It has been in the back of my mind since I learnt of the news. I wish to use as many resources as possible," he stated.
Asked if he had already developed contacts with gaming operators prior to taking office, Mr Chan told media that he has not and would not use such external connections.
Chan's trilingual proficiency and exhaustive judiciary background have allowed him to succeed Manuel Joaquim das Neves to take the reins at the gaming regulator. He joined the public service in 1995 as an officer at a translation center, making a foray into prosecution three years later.
"I believe the bureau under Chan's management will continue optimizing gaming laws and regulation and related guidelines as well as better its department's functions," said the Secretary for Economy and Finance, who officiated at the inaugural ceremony.
(macaunews/macaudailytimes)