Macau Canidrome Chief vet reveals importing of dogs in "death trade"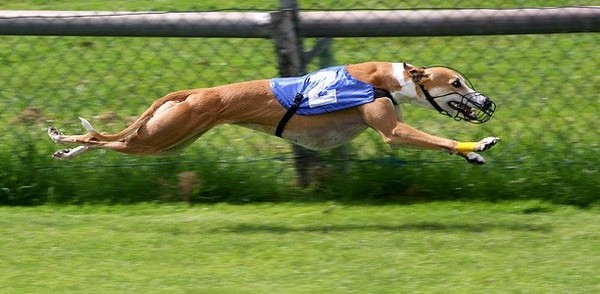 A covertly recorded interview with the chief vet of the Canidrome has revealed how Australian greyhounds are being sourced and imported to Macau, in what ABC has termed a "death trade" in the latest of a series of investigations aired through the broadcaster's news program entitled "The 7:30 Report".
After being deemed uncompetitive on Australia's racing tracks, the greyhounds are exported to places in Southeast Asia, such as Macau, where they are housed in unsanitary conditions until they are unable to compete.
"In Australia [your dogs] don't run quickly enough and you can't keep feed[ing] them, so you sell those dogs through those brokers [sic]," said the Canidrome's chief vet, Wu Sung Hu.
The greyhounds are flown to Hong Kong and then ferried to Macau, where they are locked inside the Canidrome facility. "We have four suppliers from Australia and we buy the dogs from them monthly," Wu told the undercover reporters working for ABC, Australia's public broadcaster.
In April, animal rights activists in Macau exposed the killing of more than 30 under-performing dogs each month at the Canidrome, where as many as 800 canines are housed. Now according to the report, many of these dogs are euthanized due to injuries sustained on a racing track that is considered "too hard."
The exposé interviewed the campaign director of Animals Australia in Macau, China and Vietnam, Lyn White, who described the conditions endured by greyhounds as "awful" and "prison-like."
"For those dogs, it's a death sentence; it's a straight-out death sentence," White told the 7:30 Report investigators, describing the regular practice of euthanizing greyhounds. "[It] is like being exported to another country and being put on death row," she added.
Meanwhile, the Canidrome's adoption program for unwanted dogs has come under criticism again from Albano Martins of Anima, the animal welfare group.
"They [Australian authorities] know that one dog is killed per day on average, only because the animals are not competitive," Martins said, before adding that the adoption program had been unable "to put more than four animals [up] for adoption."
Once the Australian greyhounds are transported to Macau, they are not protected by any animal welfare laws. The situation has prompted activists in Macau and Australia to urge authorities to cease the export of Australian dogs to the MSAR.
(macaunews/macaudailytimes)