Pedro Almeida talks Portuguese food, brewing, and pastry making
Pedro Almeida talks Portuguese food, brewing, and pastry making

Link copied
Pedro Almeida shares his culinary journey, from growing up in a farm-to-table family business in Portugal to being executive chef of five restaurants in Macao.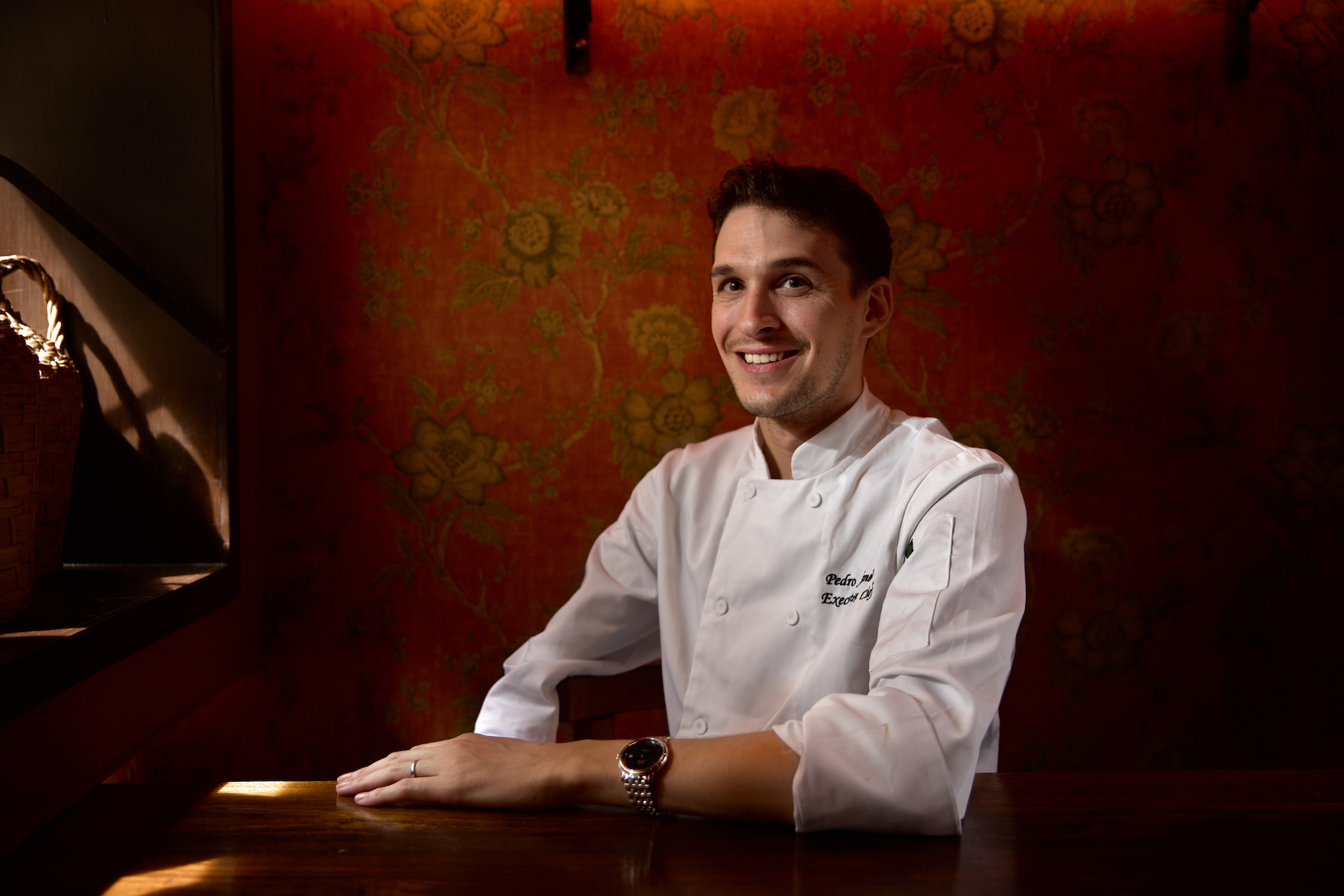 Macao might be home to just 682,500 people, but as a UNESCO Creative City of Gastronomy, it  has a larger-than-life reputation when it comes to the culinary world. In our next instalment of "Know Your Chef," we celebrate Macao's delicious roots with Pedro Almeida, who leads the kitchen at three popular Portuguese restaurants: Albergue 1601, 3 Sardines and Portucau. 
And to keep things interesting, he also co-owns Pastéis de Chaves bakery and has set up a new craft brewery, Lazaro Brew next to 3 Sardines. In this social space, curious customers can learn more about the brewing process and sample new creations. Macao News caught up with the ambitious young chef to hear more about his life and career. 
The early days: The 28-year-old knows a thing or two about Portuguese cuisine, which has had a heavy influence in the city for more than 450 years. Almeida grew up in Chaves, a city in northern Portugal, and spent his youth in the kitchen of his family's restaurant.
"My family ran a farm-to-table concept, where we grew everything ourselves and never bought anything from the supermarkets," says Almeida. When he was around 12 years old, Almeida started serving tables, then learned how to make desserts as a teenager. "Everyone went crazy" over the desserts, he recalls.
When he was 15 years old, Almeida attended a professional culinary school in Chaves while helping his brother, a chef at Hotel Rio Beça. "I went to culinary school to study the theoretical side of cooking and gain culinary knowledge," he says. "That complemented the professional experience I gained in my side jobs."
The turning point: By the age of 22, Almeida had already amassed nearly a decade of culinary experience – and then came his big break. In a Facebook group that Almeida managed for food industry professionals called "Chefes de Cozinha", a Portuguese man in Macao posted an executive chef opening at Toca Portuguese restaurant in Old Taipa Village. 
Almeida got the job and, within a week, shipped out to Macao to embark on a life-changing adventure. "I didn't know how to speak English or Chinese when I came to Macao," he says. "So, I had to [pick up the basics] in a few months. I went to the local market every day, and the people there taught me to speak Cantonese. Now, I am comfortable talking with my suppliers in Cantonese."
Gaining momentum: Almeida worked at Toca Portuguesa for just over a year before returning to Portugal to marry a woman he met in Macao. "My family hadn't met my wife yet, so that was also a chance to introduce her to everyone," he says. When the couple returned to Macao, Almeida spent some time travelling around Hong Kong, Guangzhou and Guilin, working with friends in the culinary industry along the way. 
Then on 6 October 2017, he started as Albergue 1601's executive chef. As the restaurant group expanded, Almeida also became the executive chef at 3 Sardines, Portucau and Pastéis de Chaves. 
The bakery, which Almeida co-owns, was a side project that came about after the owner of Albergue 1601 learned that Almeida came from Chaves. His boss loved the pastéis de Chaves – a puff pastry filled with minced meat. 
Soon enough, Almeida was working on a recipe using ingredients available in Macao. "It was tough to get the consistency I wanted, but we eventually found a recipe that works," says Almeida. "We still hope to refine the recipe more in the future."  
Having lived in Macao for nearly five years now, he says it's been an "amazing experience" that has exceeded his expectations. "People here really like to know their chefs – everyone is a foodie in Macao," Almeida says. "I'm a social person, so interacting with my customers is my favourite part of the job. I love to make sure people have an enjoyable overall experience."
His current role also enables Almeida to hone his skills and get creative. "As a chef, you can always incorporate different styles into your recipes and improve your knowledge," he says. "It's interesting to me that exchanges between people from all over the world are so natural in Macao. This just doesn't often happen in many other places."
All-time favourite dish: His absolute favourite dish is one that his mother makes back in Portugal. "Home-cooked, braised mature rooster stew with ham and wild mushrooms," he says. "It's just so good; I can't explain it to you."
Pet Peeve: Almeida says that finding and training new talent can be difficult, especially during the pandemic. These days, many people prefer to jump from one job to another, making it hard to grow the team and maintain quality.
His current role: "It can be challenging to distinguish your food from other Portuguese restaurants in Macao," says Almeida. "This is why we always try to create something new that goes beyond the food. For example, right now, we are creating a beer brand. That's something new for a Portuguese restaurant in the city." 
Aside from being the executive chef for five restaurants and a brewery, he is also the founder and owner of Origins Macao, which imports Portuguese products, like cheese and wine, to the SAR. On top of all this, he also helps his parents with their business and runs a Portuguese wine business with his brother. 
"I love what I'm doing right now," he says. "Although the workload can be overwhelming at times, I enjoy it!"
Parting advice: "No, don't go… Run," Almeida says half-jokingly. But in all seriousness, he wants those entering the culinary industry to know that being a chef is not easy. You need to embrace all types of challenges, work every rung of the ladder and understand operations to thrive. "You have to pass through everything to understand," he says. "If I only worked in hotels, I would never be here right now."
Know a talented chef in Macao who is worthy of some recognition? Email us at [email protected] or leave us a private message on Facebook or Instagram with the chef's name, age, and a few words about what they bring to the table.