Macau is equipped to cope with adversity says Leong Vai Tac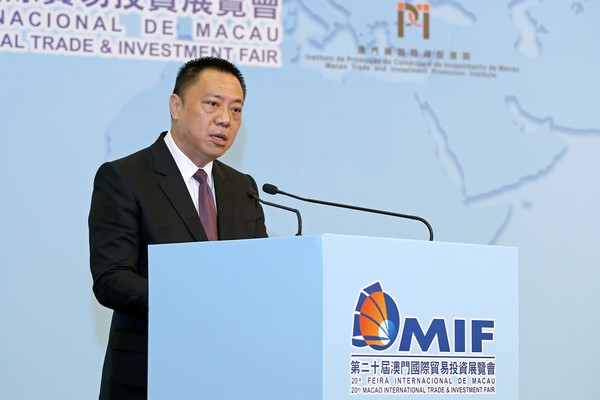 Secretary for Economy and Finance Lionel Leong Vai Tac said on Thursday that the foundation of Macau's economy has remained relatively stable and is equipped with the conditions and ability to cope with adversity while the city is undergoing a period of economic adjustment.
Addressing the opening ceremony of the 20th Macau International Trade and Investment Fair (MIF) at the Venetian in Cotai, Leong said that certain underlying economic problems had emerged but the city was still enjoying a number of strengths in business operation and market opportunities.
"In recent years, Macau's convention and exhibition industry has been growing rapidly, transforming into a sector that actively contributes to the city's moderately diversified economy and its development as a regional trade and economic service platform," Leong said, adding he believed the MIF will introduce more innovative ideas for better economic growth and progress.
On Wednesday, speaking to the press on the sidelines of the Forum of Young Entrepreneurs from China and Portuguese-speaking Countries, Leong said he expected the city's gaming gross revenue for this month to be the highest in four months, adding that the year-on-year decline was set to slow down considerably. However, according to Leong, the gaming revenue for the mainland's National Day "Golden Week" holiday earlier this month still marked a 20 percent year-on-year drop.
According to official statistics, casinos' gross receipts amounted to around 28 billion patacas last October.
Asked by reporters on Wednesday whether the government would launch a second round of austerity measures, Leong said there was no data indicating that the government needed to do so.
Last month, the government announced a raft of retrenchment measures, involving a total of 1.4 billion patacas, to control public expenditure. The move came after the city's gross gaming revenue in the first eight months of this year fell below the government's previously announced "red line" of a monthly average of 20 billion patacas – 19.86 billion patacas.
(macaunews/macaupost)