Macau Dore depositors submitted petition over funds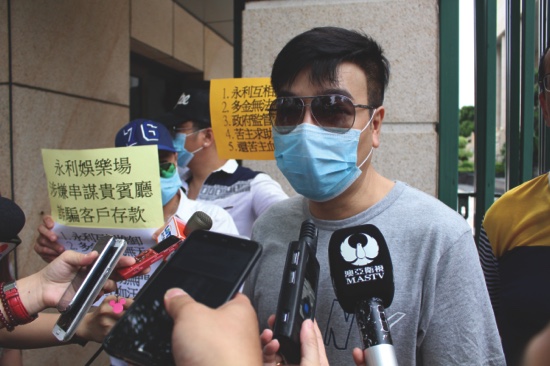 Dozens of depositors in local junket operator Dore Entertainment Company submitted a petition to the Liaison Office of the Central People's Government on Wednesday, urging it to help them get back their funds which they deposited in the company, involving at least HK$700 million, according to some of the investors.
The petition came after news reports last week that up to HK$2 billion had been stolen from Dore. About 30 Dore depositors petitioned Chief Executive Fernando Chui Sai On on the matter on Tuesday, asking his government to help them get their deposits back.
Many of the petitioners wore face masks.
After handing in their petition addressed to Liaison Office Director Li Gang outside the office in Zape, a local resident surnamed Chan told reporters that and several partners had deposited about HK$20 million in Dore and that they had been told by the company that they could not withdraw their money right now.
"We hope the Liaison Office will look into the matter… and help us get back our money," Chan.
Lawmaker Jose Maria Pereira Coutinho accompanied the depositors to the Liaison Office.
Asked by reporters about whether they had been aware of the possible risks before entrusting their interest-bearing deposits to Dore, Chan criticized the government for not coming up with laws to regulate the matter.
Chan said that they had invested in Dore and their money should be guaranteed as Wynn is a locally licensed gaming operator.
Dore is understood to run two VIP rooms at Wynn.
A Judiciary Police (PJ) spokesperson said that until yesterday morning they had received 30 complaints concerning the case, amounting to some HK$330 million in total. On Monday, the Judiciary Police said their officers were investigating a suspected case of fraud, embezzlement and bounced cheques involving a local VIP room.
Some of the depositors told the local media at the weekend that they had been paid 2 percent interest a month on their deposits.
Wynn Macau said this week it had nothing to do with the issues Dore is currently facing. The US gaming company also said that it didn't lose any money in the case and that it wasn't owed any money by Dore.
Dore said late last week that a former employee had embezzled money from the company.
Dore's ownership has changed several times over the past few years.
(macaunews/macaupost)