Health officials set out new Yellow Code Zones
Health officials set out new Yellow Code Zones

Link copied
Hundreds who may have been in contact with confirmed cases placed under medical observation quarantine.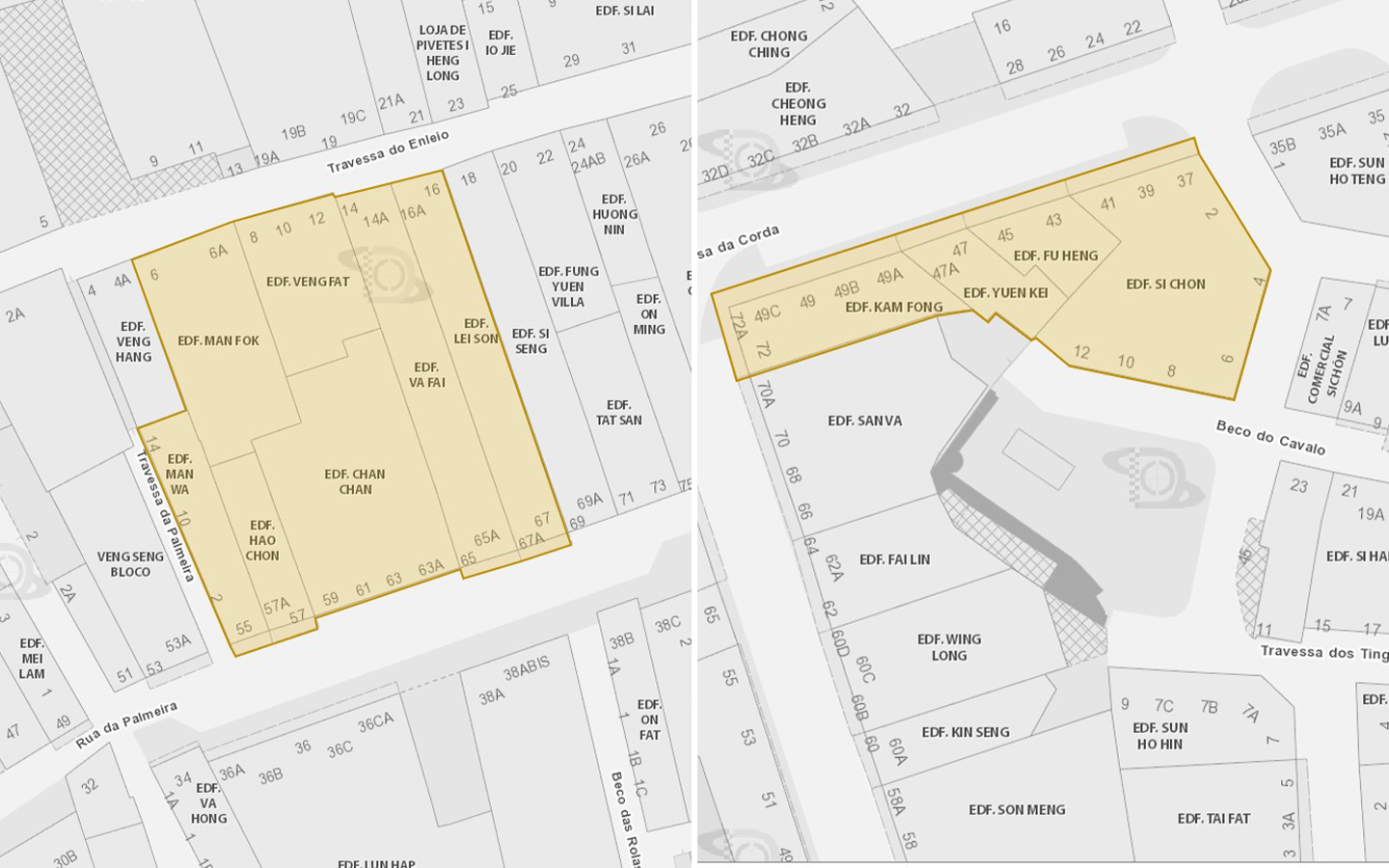 New Yellow Code Zones have been added in downtown Macao to strengthen Covid-19 prevention measures following today's discovery of the city's 69th and 70th cases. 
The Novel Coronavirus Infection Response Coordination Centre announced the new zones' coverage as follows:
69th patient's area of residence: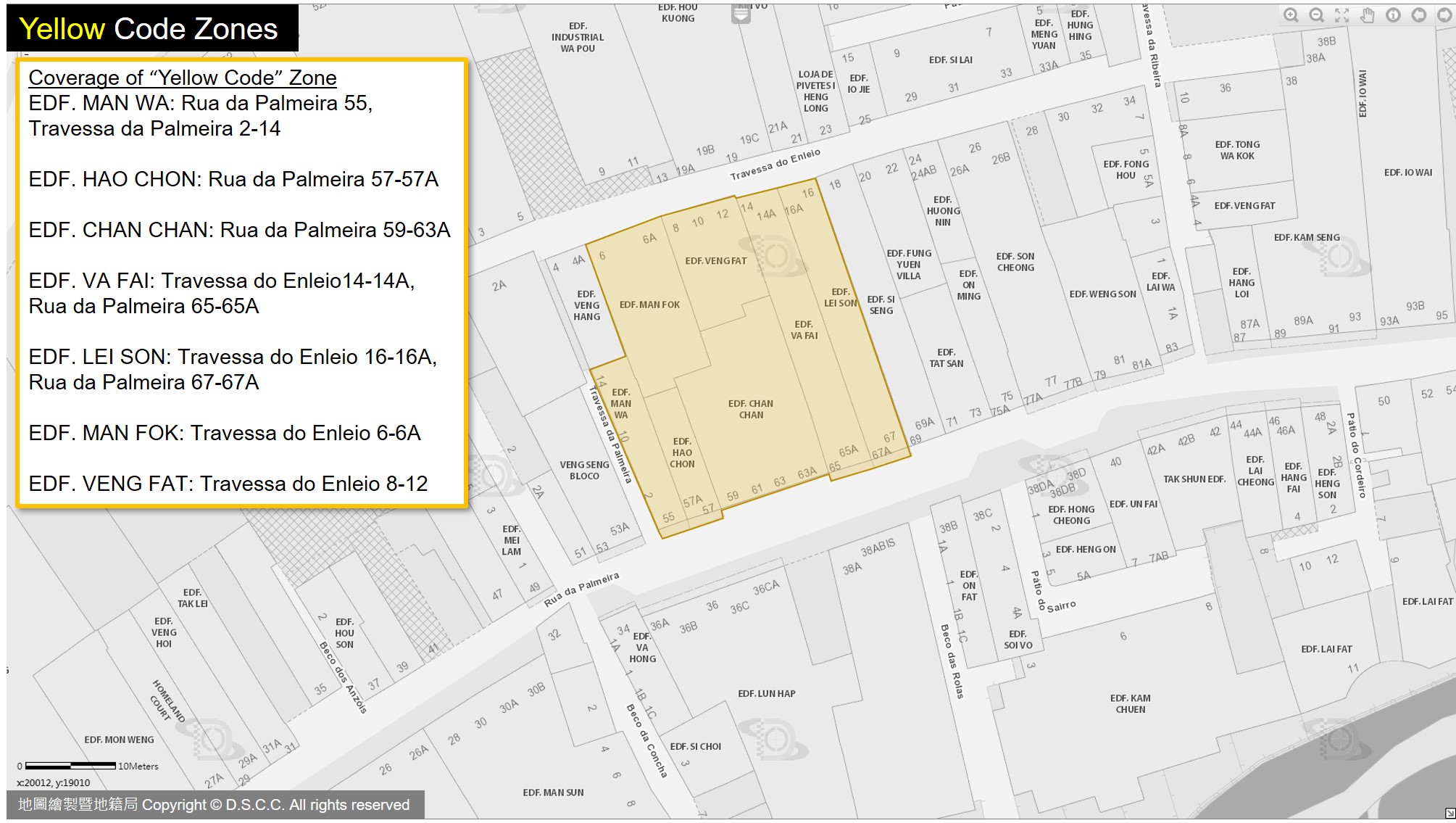 🟡 Edifício Man Wa on Rua da Palmeira 55 near Travessa da Palmeira 2-14;
🟡 Edifício Hao Chon on Rua da Palmeira 57-57A;
🟡 Edifício Chan Chan on Rua da Palmeira 59- 63A;
🟡 Edifício Va Fai on Travessa do Enleio 14-14 near Rua da Palmeira 65-65A;
🟡 Edifício Lei Son on Travessa do Enleio 16-16A;
🟡 Edifício Man Fok on Travessa do Enleio 6 – 6A;
🟡 Edifício Veng Fat Travessa do Enleio 8-12
70th patient's area of residence: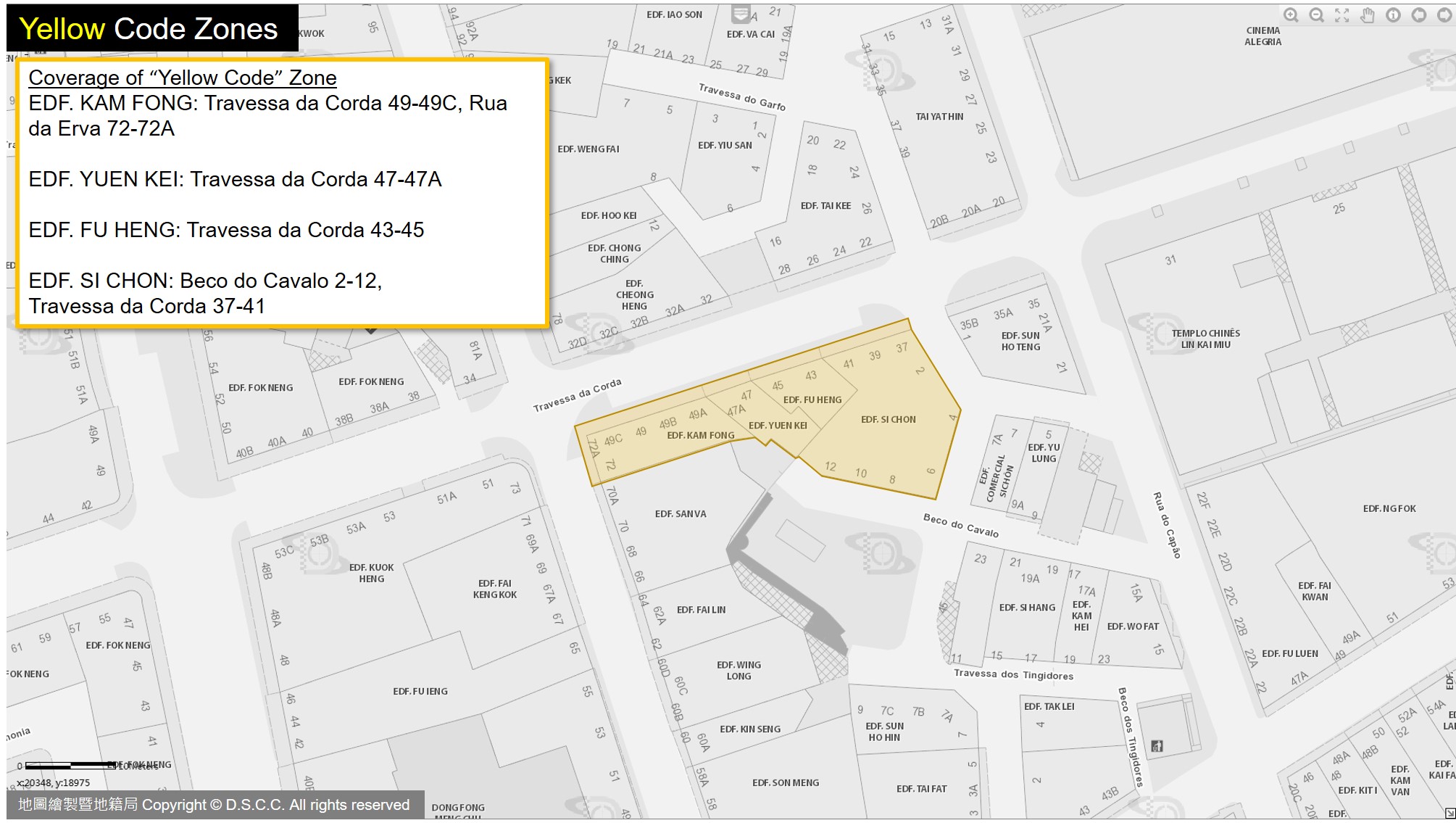 🟡 Edifício Kam Fong on Travessa da Corda 49-49C near Rua da Erva 72-72A;
🟡 Edifício Yuen Kei on Travessa da Corda 47-47A;
🟡 Edifício Fu Heng on Travessa da Corda 43-45;
🟡 Edifício Si Chon on Beco do Cavalo 2-12 near Travessa da Corda  37-41
Individuals in these areas will see their Health Code turn yellow and be subject to immediate on-the-spot nucleic acid testing. The first test will be completed within 24 hours, and additional tests may be required if necessary. Individuals are not permitted to leave the zone until completion of the first test. Other restrictive measures include border exit restriction, and close health monitoring with self-health management for at least 14 days.
The centre indicated that, under the zone-specific, multi-level targeted approach to epidemic prevention and control, the daily living needs of people in the said areas will be followed up by the Subsistence Team, while food and daily consumables will be provided to them by the designated authorities. Senior citizens living alone, persons with difficulties or those in need of psychological or mental assistance may call the Social Welfare Bureau hotline 28261126 for assistance.
There are currently five Yellow Code Zones and two Yellow Zones in Macao. Including the residential areas of the 65th and 66th confirmed patients designated Red and Yellow, the 68th, 69th, and 70th patients' residential areas are Yellow Zones.
So far, more than 1,600 people related to the confirmed patients are under quarantine medical observation. The centre stated that the epidemiological investigation of the epidemic is still ongoing. So far, there have been 1,640 close contacts and people on the same track. 
Thus far, 58 close contacts, 1,449 people on the same track and 133 second-degree close contacts have been arranged for medical observation in isolation.