Going green: Macao residents are transforming their spaces into urban gardens
Going green: Macao residents are transforming their spaces into urban gardens

Link copied
Many people have discovered a green thumb since the beginning of the pandemic. Not only have the resulting urban gardens beautified Macao, but they also benefit the environment and our mental health.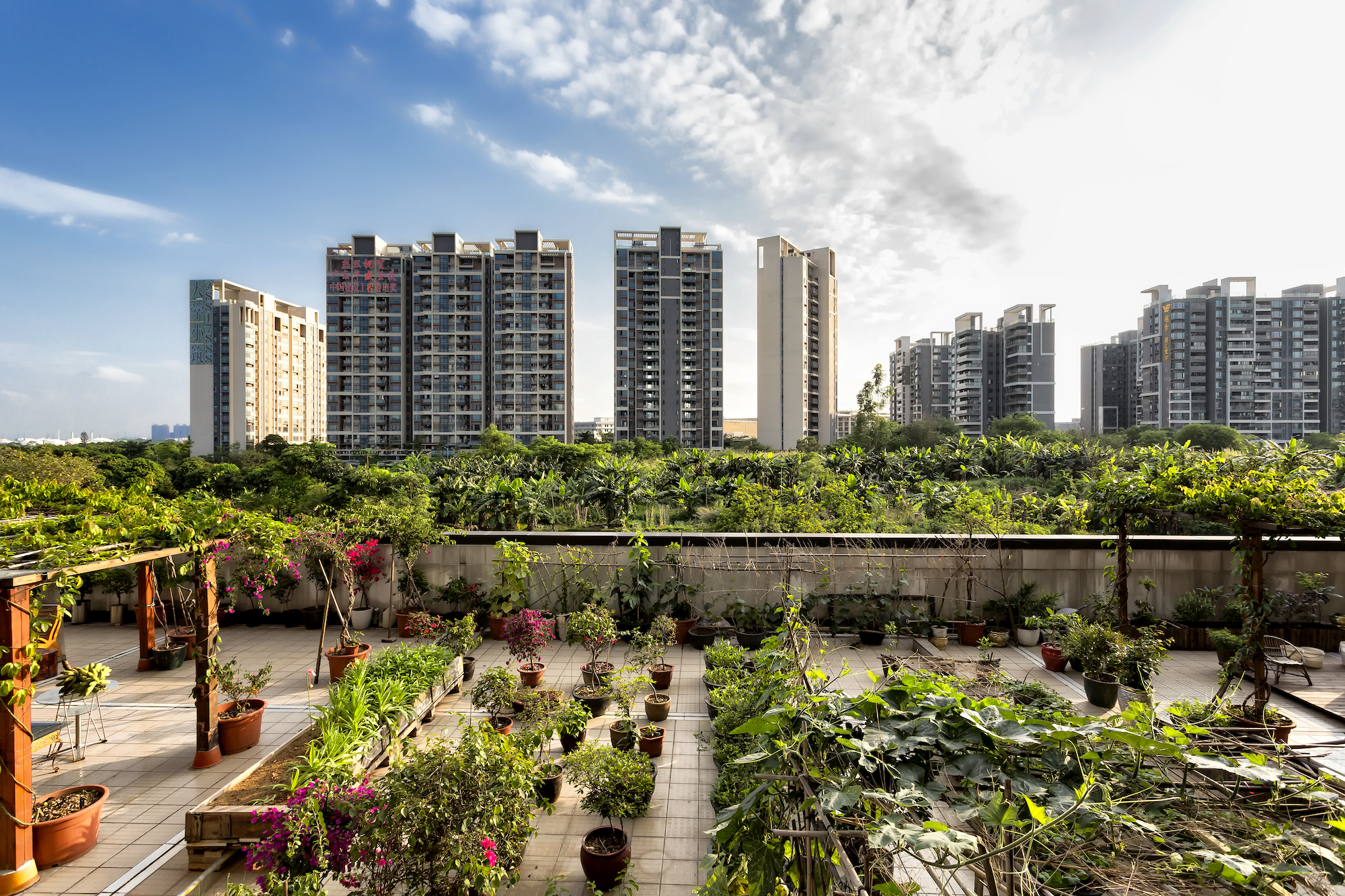 Cynthia Lam, a retired banker from Macao, has been gardening her entire life. Her apartment brims with tropical flora, and when she was still working, Lam lined her office window sills with greenery to create a natural sanctuary. 
In 2019, Lam's older brother invited her to take on a major landscaping project at his car dealership, Double Motors, in the residential zone of Penha Hill. Since then, Lam has been working on the 3,700-square-metre outdoor space, using bricks and tires to build garden beds around lamp poles and along the dealerships' driveway, cement slopes and fencing.
Lam's brother's business now feels like a lush urban oasis thanks to her dedication. It's home to ornamental flowers (such as birds-of-paradise, roses and Canna lilies) and a variety of edible plants, from passion fruit to papaya, dragon fruit, and, depending on the season, tomato, eggplant and okra.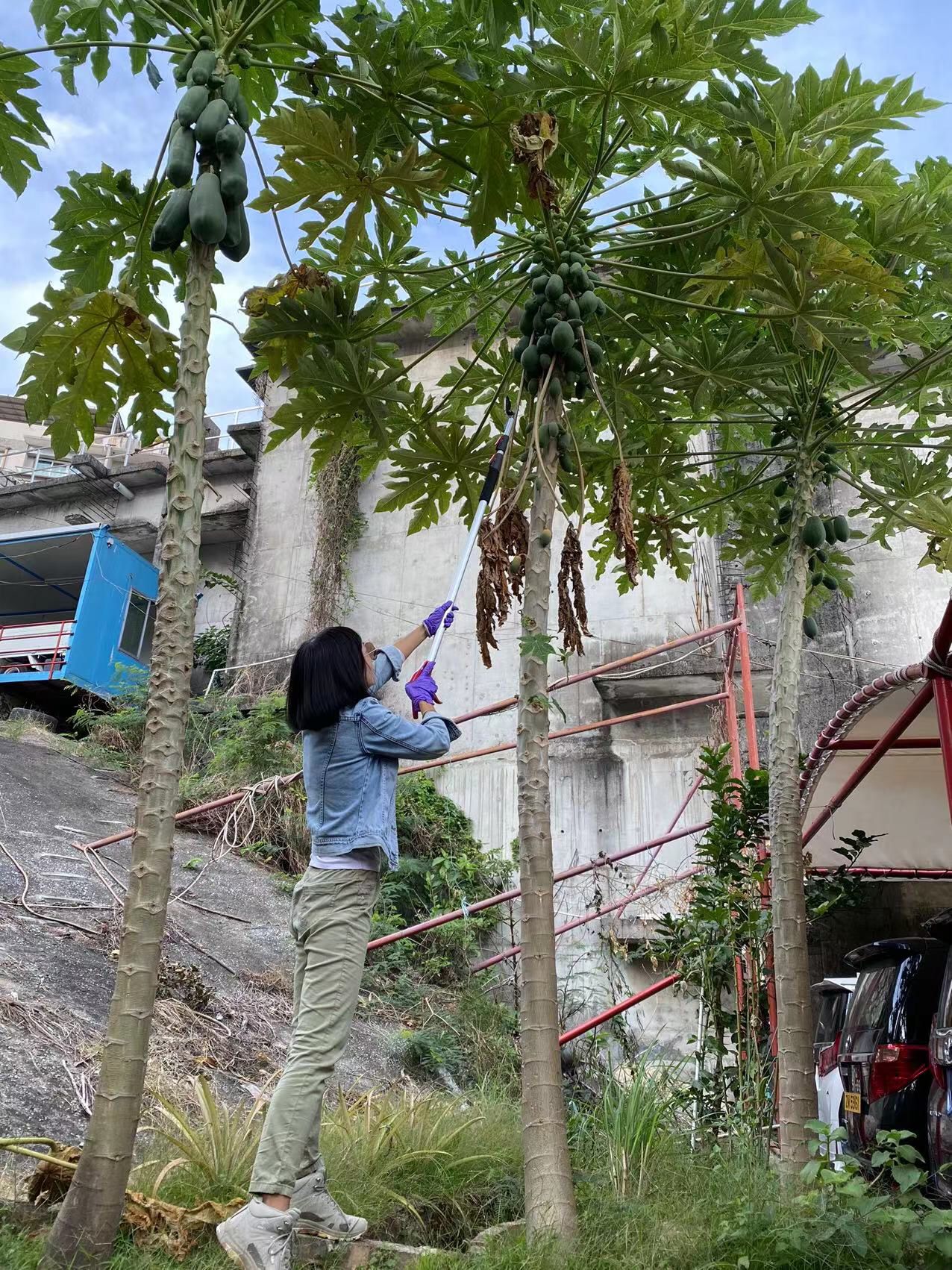 The project required intense physical work in the initial phases, and still does today. Lam says she easily spends three hours a day at the garden clearing weeds and parasites or trimming overgrown leaves and branches.
But for Lam, the work is all worth it when it comes time to harvest her plants. "It feels really satisfying to eat food grown by yourself," she says. "Besides, [my fruits and vegetables] are much fresher and healthier because I use only organic fertilisers and homemade insecticide."
Lam's papaya crop is so plentiful that she even started selling the fruit at the dealership's entrance to raise funds for Caritas Macau. "At first, I just wanted to put our harvest to good use, but I was surprised to see that people are willing to donate as much as a hundred patacas for one papaya. It feels very special to organise such a well-received fundraising project."  
An uptick in urban gardening
Over the past decade, urban gardening – the practice of cultivating, processing and distributing food around urban areas – has gained popularity in major cities, especially in North America and Europe. In New York, sustainable enterprise Brooklyn Grange created a 2.5-acre rooftop farm atop two of its office buildings, where the company grows more than 50,000 pounds of organic vegetables a year.
And NU-Paris, the world's largest rooftop urban farm, opened on top of the Pavillion 6 building in Paris in spring 2020. In addition to a wide range of produce, the 14,000 square-metre urban farm includes bumblebee hives, educational spaces and workshops.
Research shows that urban gardening positively impacts the environment in several different ways. Growing your own food helps reduce food transportation costs – after all, the supply chain is from your backyard to your table. Urban gardening also creates more natural habitats, improves the area's ecology and prevents water runoff. Urban agriculture can also help alleviate food shortages in low-income neighbourhoods and improve access to nutritious food.
Research also shows a positive correlation between gardening and improved mental health and well-being. According to a 2017 survey, adolescents who practised home gardening reported fewer depressive symptoms and improved emotional health than those who did not.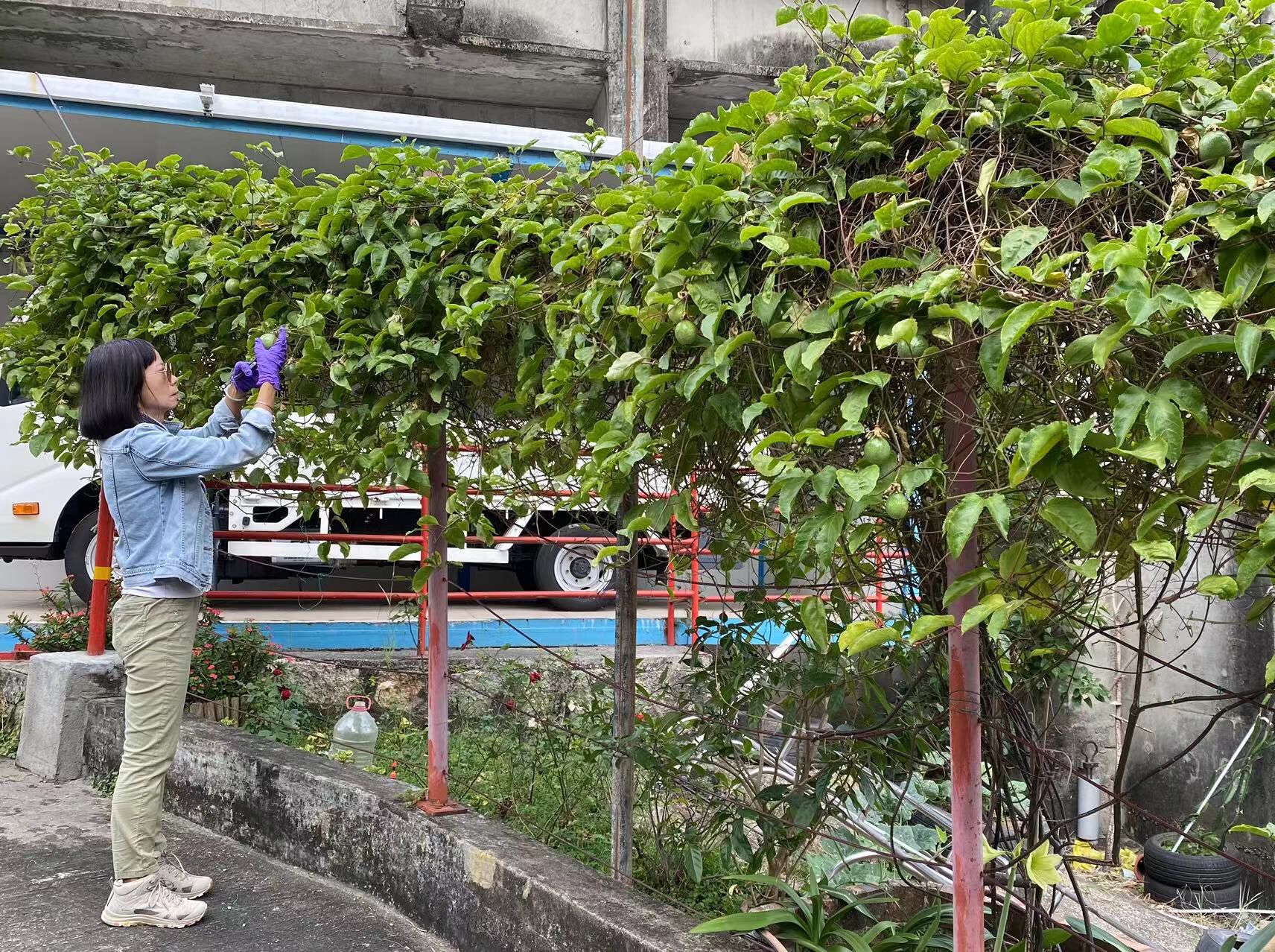 Lam says she can personally relate to these findings. "Plants help calm my mood, especially when I feel overwhelmed with stress," she says. "They also help me to become more patient because planting is a process of waiting – waiting for the plants to grow, blossom and fruit."  
And Lam is not alone. More and more people in Macao have discovered a passion for plants – especially during the pandemic – leading to a noticeable uptick of plant stores and social media groups dedicated to urban gardening in the city. While most don't have access to as much outdoor space as Lam, many home gardeners make use of any potential space they can find in their homes – balconies, rooftops, windowsills and vertical hanging planters.
"People may want to decorate their home with more plants because they don't go out as often as before," Lam observes. "Besides, it's a perfect activity for times like the pandemic. Not only can gardening help soothe anxiety, but you can also do it while keeping a safe distance from others." 
Local government and private initiatives 
Government and new entrepreneurial initiatives have also helped the trend take root. For instance, Macao residents can rent agricultural land to cultivate or participate in farming workshops at Happy Farm, operated by IAM at Hac Sá Park in Coloane. Meanwhile, the city has also welcomed more private enterprises that provide gardening solutions and educational initiatives. 
Among these efforts is Mighty Greens, an urban farming enterprise launched by Guilherme Martins and his wife, Cintia, in 2019. Mighty Greens began as a series of small community-based workshops teaching others how to grow food at home. The business gradually expanded into a commercial farming operation and today supplies a multitude of crops, including beetroot and carrots, to private customers. 
To plant a seed of enthusiasm in younger generations, Mighty Greens also launched a sustainability and environmental curriculum, the "Farm-to-School" programme, earlier this year. Farmers and volunteers visit classrooms – participating schools include the International School of Macao and Macau Anglican College – to educate students, teachers and parents about farming, nature, and sustainable lifestyles.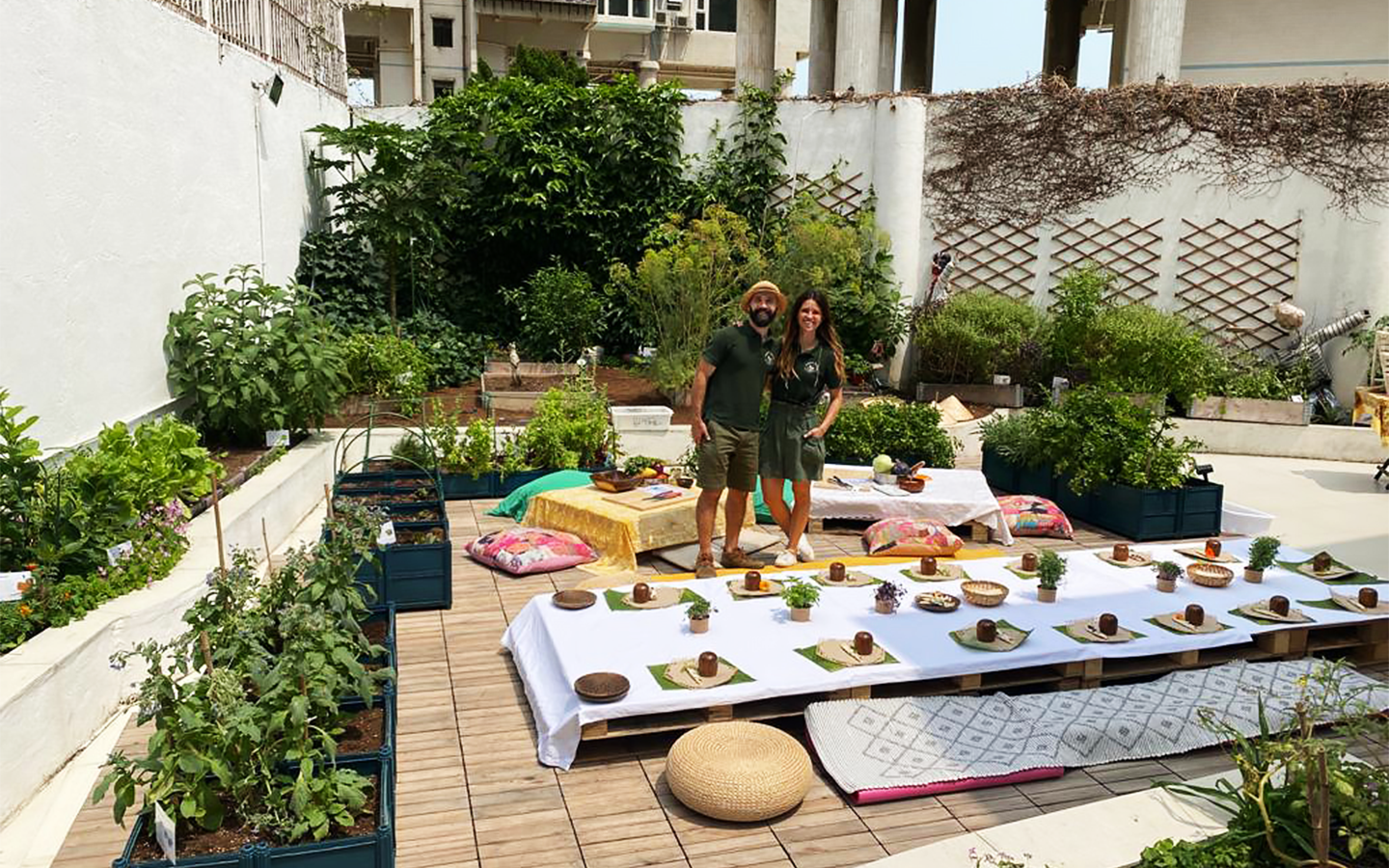 "Over the last year, we have seen a rise in the number of participants in our activities, mostly due to the curriculum that we've been able to present and impart to local schools," says Martins. "People are eager to learn about the wonders of nature, connect and build deep relationships. And that might reflect a broader shift in society towards making more sustainable and conscious choices." 
'People are instinctively drawn to nature'
In other countries, such as France and the US, urban farming can help address broader societal issues, like environmental protection or food insecurity, when done on a larger scale. In Macao, however, Martins says it remains more of a leisure activity for residents. Moreover, since most existing projects occur in more rural corners of Coloane or Cotai, they do little to integrate farming practices into urban areas.
To solve this problem, Martins believes that more collaboration is needed between the city's government, educational institutions and private enterprises to develop urban agricultural projects that directly benefit the community. He points to cities like Shanghai and Hong Kong, where similar projects have been well received.  
In Hong Kong, for example, more than 60 urban farms have been established since 2015. Local social enterprises like Rooftop Republic – which creates farmable green spaces on decommissioned helipads, shopping mall rooftops and public terraces – aim to provide nutritional organic food and raise awareness about sustainable lifestyles. 
Meanwhile, in Shanghai, a government-led plan to stimulate sustainable urban agricultural development in 2005 has led to broad social and economic benefits, such as improved food safety and consumer satisfaction. By engaging the government, farmers, universities and private organisations, the project has created 9,000 new agriculture-related jobs and propelled the agro-tourism industry in just five years since its launch.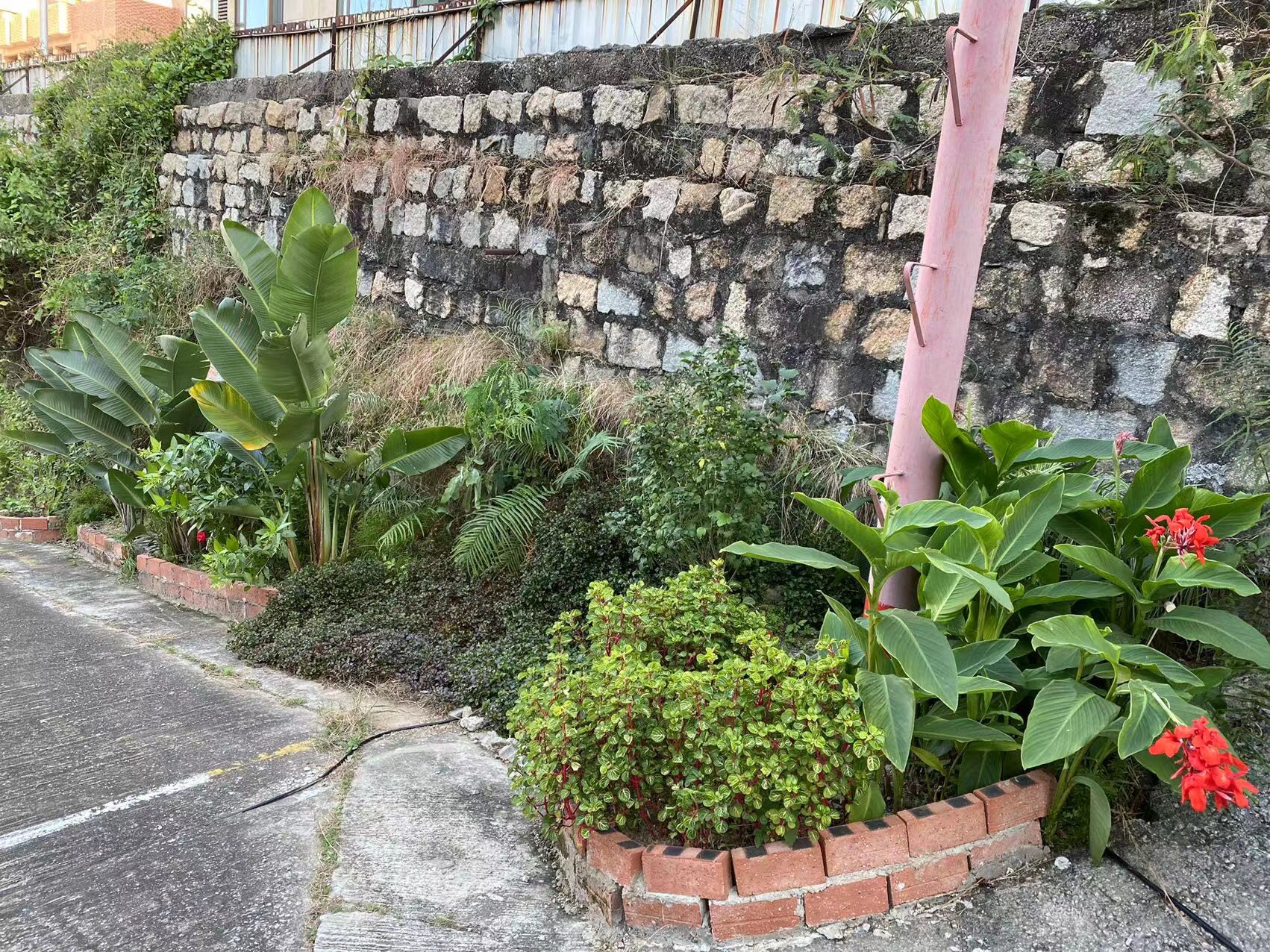 Back in Macao, where urban gardening is still relatively nascent, even single-handed efforts like Lam's can positively impact the community. During the mornings, Lam says she has noticed several of her neighbours visiting the car dealership to enjoy the vibrant green space. Many have stopped to praise Lam for beautifying the neighbourhood or discuss a shared enthusiasm for gardening.
"People are instinctively drawn to nature. This makes urban gardens an excellent medium to strengthen ties within the community," says Lam. "If a car trade centre could be transformed into a flourishing garden, that says to me that there is still a lot of potential for Macao to greenify its urban spaces."