Macau, mainland further liberalise trade in services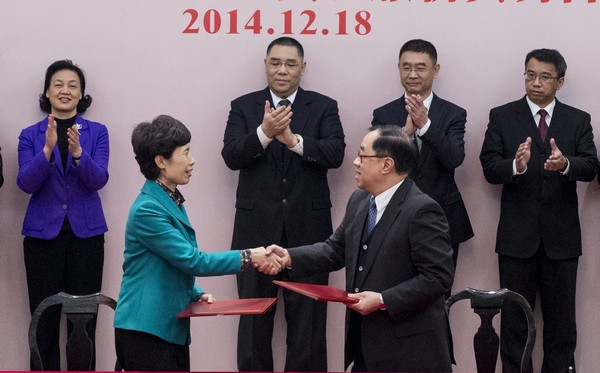 Macau and the central government Thursday signed an agreement on the almost complete liberalisation of trade in services between Macau and Guangdong province.
Both sides inked the deal within the framework of the Mainland and Macau Closer Economic Partnership Arrangement (CEPA) set up in 2003.
Thursday's pact was signed by Secretary for Economy and Finance Francis Tam Pak Yuen and Vice-Minister of Commerce Gao Yan at the headquarters of the Macau government.
Gao was a vice-director of the Liaison Office of the Central People's Government in Macau between August 2006 and May 2013 when she was appointed to her current post.
Tam will serve his last day in office today and will retire after holding Macau's top economic affairs post for 15 years. He will be succeeded by Lionel Leong Vai Tak.
According to the agreement, 153 trade in services sectors will be liberalised as of March 1 next year.
A local government statement said this means that trade in services between Macau and Guangdong will then be fully liberalised by 95.6 percent, covering 153 of 160 sectors classified in line with World Trade Organisation (WTO) criteria.
The deal was signed after a meeting by a CEPA follow-up committee comprising delegates from the local government and the Ministry of Commerce at Government Headquarters.
Under the agreement, Macau residents can register individually both industrial and commercial businesses in Guangdong.
(macaunews/macaupost)