Macau casino operator Melco launches bachelor's degree course for staff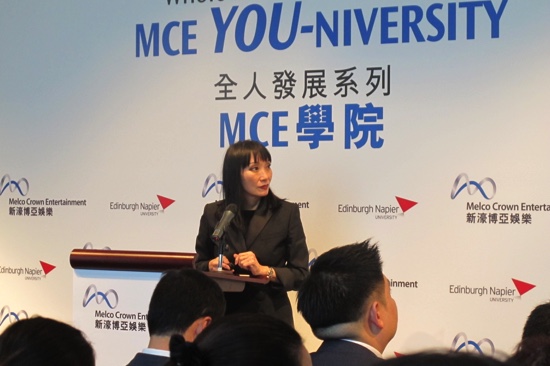 Melco Crown Entertainment (MCE) has launched an in-house bachelor's degree programme for employees.
The gaming operator formally started the "MCE You-niversity" with an announcement ceremony at Grand Hyatt Macau on Friday.
According to an MCE statement, the degree course complements the company's "whole person development programme for employees who have yet to achieve a university degree." The statement described the programme as the first of its kind in Macau.
MCE YOU-university's first degree programme – Bachelor of Arts in International Business Practice awarded by Scotland's Edinburgh Napier University – will be launched next year "with possible support from a local Macau educational institute to help co-teach the programme," the statement said.
Addressing the announcement ceremony, MCE Co-chairman and CEO Lawrence Ho Yau Lung described the college programme as an "important component" of his company's "whole person development programme, which encourages learning through theory, advanced thinking enabled by a higher level of education, in addition to knowledge gained from practical experience.
"It is both theory and experience which create profound knowledge," Ho concluded.
Ho holds a BA degree in commerce from the University of Toronto. He was awarded the Honorary Doctor of Business Administration degree by Edinburgh Napier University in 2000.
Friday's ceremony was attended by the university's Principal and Vice Chancellor Andrea Nolan who said she believed that "life-long learning is essential for one's personal and professional development."
(macaunews/ macaupost)