Macau and Taiwan sign airline double taxation deal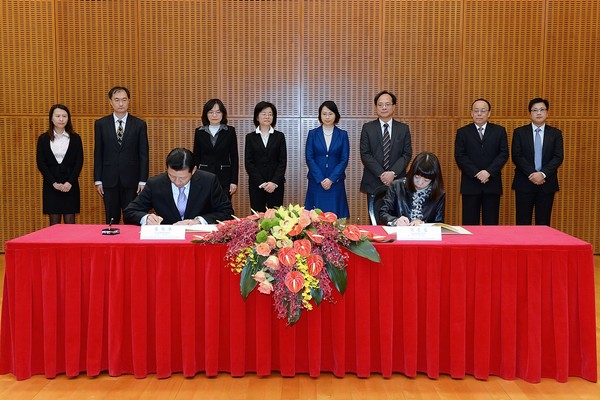 The local and Taiwan governments signed an agreement on Thursday to grant airline companies from either region a reciprocal tax exemption.
Representatives from the two regions signed the double taxation avoidance agreement at the Macau Art Museum (MAM) in Nape.
Speaking to reporters after the signing ceremony, Mainland Affairs Council (MAC) Department of Hong Kong and Macau Affairs Director-General Yeh Kai-ping said while the two regions did have a memorandum granting the tax exemption, it expired in 1994, and the two governments had since then merely renewed it every year.
Yeh said the agreement would be permanent, allowing airline companies from either region to only have to pay taxes in their respective regions.
Finance Services Bureau (DSF) Director Stephen Iong Kong Leong, who attended the signing ceremony, said he hoped the agreement would lead to more flights between the two sides, allowing for the further development of the aviation and tourism sectors in Taiwan and Macau.
The pact was signed by Lu Chang-shui, director-general of the Taipei Economic and Cultural Office in Macau, and Nadia Leong Kit Chi, director of the Macau Economic and Cultural Office in Taiwan.
(macaunews/macaupost)