LRT trains to run from 6 a.m. to 1 a.m.: govt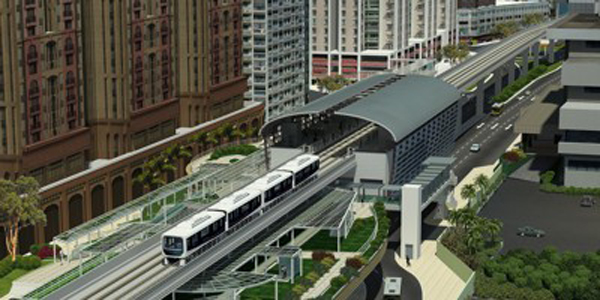 Macau's Light Rapid Transit (LRT) trains will run daily from 6 a.m. to 1 a.m., Secretary for Transport and Public Works Raimundo do Rosario told reporters on the sidelines of a standing committee meeting in the Legislative Assembly (AL) .
However, he was quick to add that the 19-hour schedule could still undergo some adjustments.
Rosario also said that the operator of the system, MTR Railway Operations (Macau) Company Limited, had already hired about 300 staff, adding that the company planned to employ about 500 people in total.
MTR Railway Operations (Macau) Co. Ltd. a 100 percent owned subsidiary of Hong Kong's MTR Corporation, will be responsible for the operation and maintenance of the system's Taipa Line, which includes Cotai, according to a statement on its website.
Rosario also said that the Taipa Line would certainly open this year. However, he declined to say when.
The policy secretary also said that the LRT Barra station on the southern tip of the peninsula would open in 2024 at the latest, adding that "if everything goes well" it could even open in 2023.
The Barra station, known as Ma Kok station in Chinese for its proximity to Ma Kok Temple, would be the first link between the Taipa Line and the peninsula. Apart from the Barra station, the government has still to announce its plans for the LRT project on the peninsula.
The government announced Tuesday that a tender will be open in the first quarter of the year to extend the LRT from Cotai to the housing state of Seac Pai Van in Coloane island.
The government has said that the final cost of the Taipa Line construction project will amount to about 11 billion patacas.