Body of work: These Macao entrepreneurs are inking a new era for tattoo culture
Body of work: These Macao entrepreneurs are inking a new era for tattoo culture

Link copied
Macao entrepreneurs Alley Leong and Candy Ieong may be on separate journeys of self-discovery but they both approach tattooing like fine art.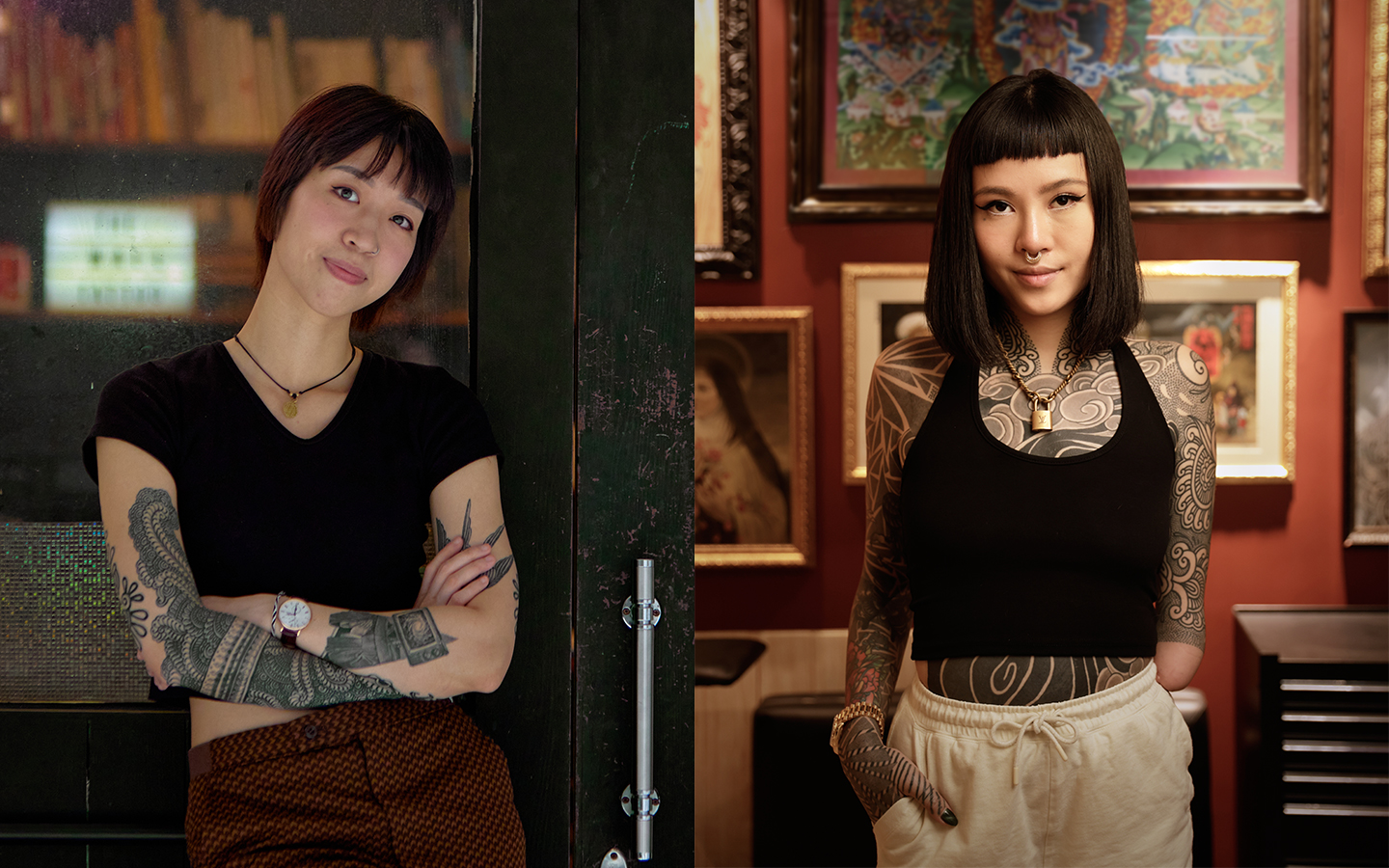 "You should not do any harm to your body, not even your hair and skin, because you get them from your parents," warned Confucius in Classic of Filial Piety, published in 1826. Indeed, in Chinese culture, tattooing has historically been a form of punishment and a sign of rebellion or disgrace.
But body art has come a long way since ancient China. Over the last decade, as Macao has become an international city, an increasing number of residents have embraced tattoos as a means of self-expression, individuality, commemoration and art. 
Not only have more tattoo studios popped up around town in recent years, but several tattoo artists have developed a following on social media for their distinctive style and inspiring personal stories. We spoke to two of the city's most identifiable tattoo artists – Alley Leong and Candy Ieong – about how they discovered this unexpected artistic calling. 
A colourful way to connect 
An Instagram influencer with more than 36,400 followers, Macao-born Alley Leong has become something of an icon in the tattooing community – known for her striking appearance, chest-to-toe body art, empowering attitude, and the rare ability to tattoo with one hand. 
Having been born without her left hand and forearm, 24-year-old Leong has been on a life-long journey of self-discovery and acceptance. And while her parents showered her with love and affection, the artist says she was quiet and shy growing up. "When I was young, I didn't like talking to people as I was afraid of getting hurt," says Leong. "I tended to stay away from people and did a lot of drawing. Drawing was a means of escape for me."
About five years ago, when Leong was 19 years old, she had a son. She had a comfortable life but didn't have a job and recalls feeling unfulfilled. "I felt a wave of emptiness back then," she recalls. "I started to think about what I am good at, what I could do with one arm, and wanted to really develop my skills." 
That's how she came upon tattooing. In 2016, Leong went to Zhuhai to learn how to tattoo because Macao didn't have many options. A year later, she delved deeper into the industry by working in Hong Kong, where she says people are more "open-minded" about tattooing as a career.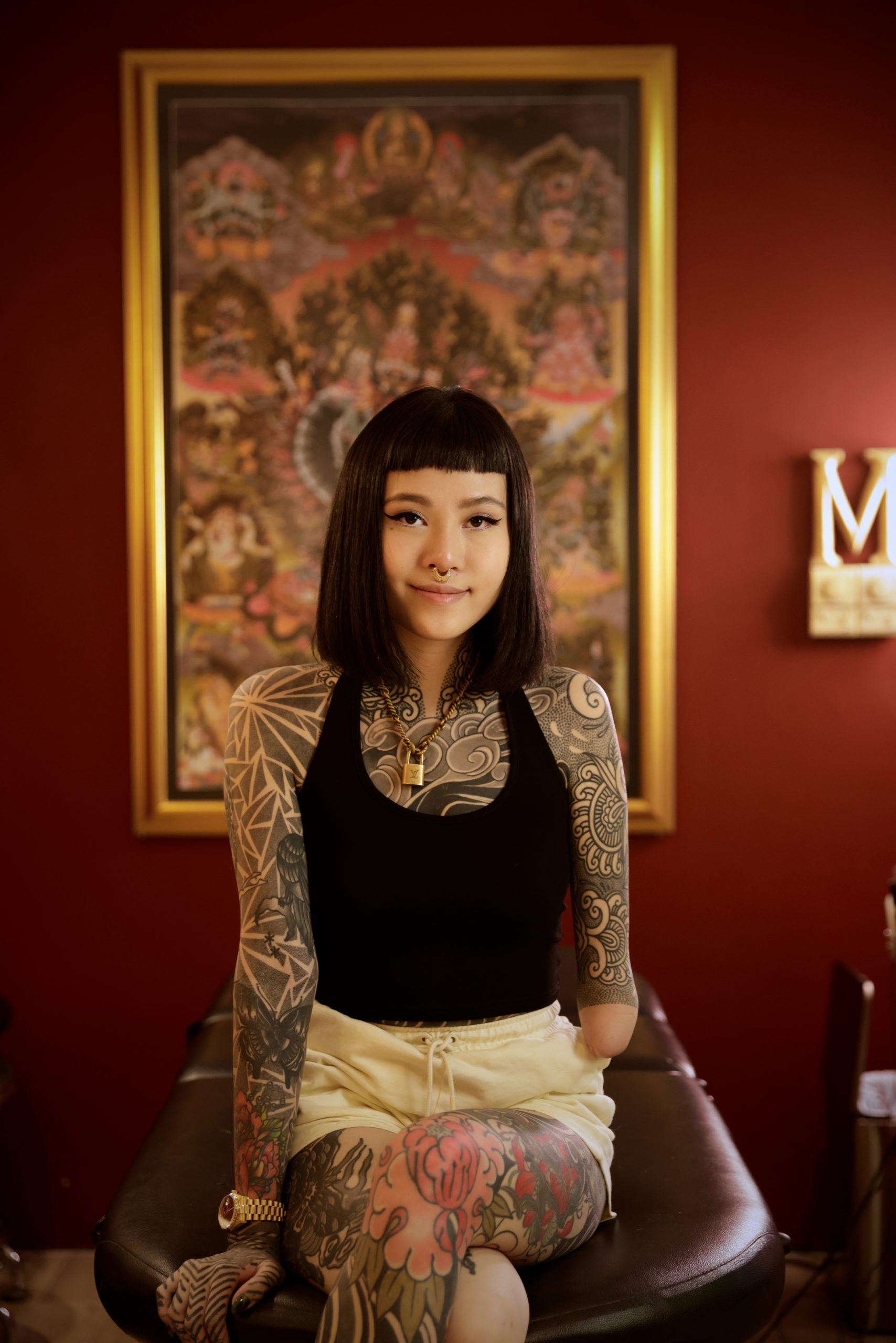 "In Macao, there is not as much variety when it comes to professions, and many companies do not allow employees to show tattoos on their exposed skin," she says. "But in Hong Kong, there are quite a lot of freelancers, who have more freedom to have large tattoos on their backs, arms and legs." 
After gaining experience and inspiration in Hong Kong, Leong moved back to Macao in 2018 and two years later, she started working at Muse Tattoo Macau. She had hoped to move to Europe to develop her career further, but the pandemic derailed those plans. Instead, Leong has stayed in Macao and visited some areas in China, such as Beijing and Chengdu, where tattooing is more mainstream. 
The artist also celebrates tattoo art on her own body. She is covered in beautiful, deep blue patterns, swirls and geometric shapes – motifs inspired by Tibetan thangka paintings and Indian folk art. Her first tattoo – a small bow on her wrist, which she got at the age of 15 – is still one of the most meaningful. "My Chinese name is '天兒' [meaning 'a present from heaven'] as my parents wanted me to feel loved, even though I was born with a disability," she explains. 
For Leong, tattoos have provided a new way to communicate with the world and unlocked another level of her artistic ability. It also enables Leong to explore creative expression across cultures, industries, history and places, and empower others to embrace their unique traits and talents. 
"Tattooing enables me to connect with other people," she says, adding that she feels grateful that clients put their trust in her to alter their bodies with ink permanently. "While some of many clients tend to focus on the meaning of their tattoos, I always look for the artistic value of my work." 
Tattooing as a new way of life 
Like Leong, Macao-born Candy Ieong also hit a point in her life where she felt rudderless, like she was living without purpose. In 2015, she quit her job in hospitality administration, where she worked for seven years and embarked on an adventure to Tibet.  She stayed there for two months, then followed some friends to Nepal. 
"It was quite spontaneous," says Ieong, 33. Right after picking up their visas, the friends hopped in a rental car outside the visa office and drove for the next 24 hours across the scenic terrain of the Himalayas. 
Ieong loved the slow pace of life in Nepal and, hoping to extend her journey, attempted to eke out a living. At first, she sold local textiles and handicrafts online, and then she opened a small cafe in Pokhara, Nepal. "It was so spiritual and peaceful there," she recalls. 
However, the April 2015 Nepal earthquake, which killed almost 9,000 people, changed everything. "We went through a dire time. There were a lot of power cuts, especially in the winter, and some lasted over 10 hours a day," she says. "It was tough to work with just a few hours of power a day."
That's when Ieong picked up drawing again – a longtime passion of hers. Some local and travelling tattoo artists showed interest in her work and suggested Ieong get into the profession. The young traveller took their advice and learned how to tattoo from friends. Ieong quickly fell in love with the art and, soon enough, inked her first tattoo on a friend, who requested a tiny geometric shape.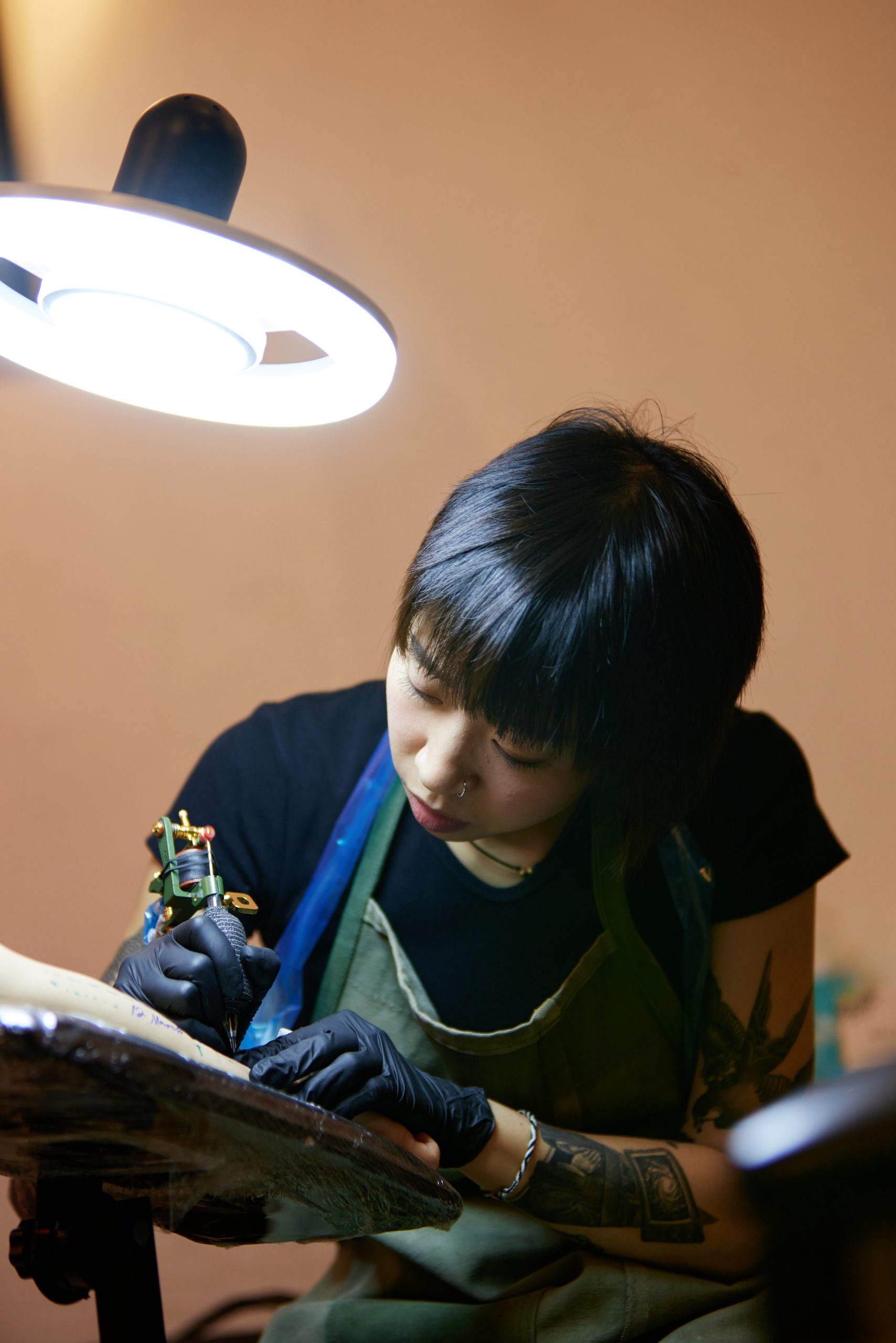 "I was so afraid and nervous," she says. "It was a small tattoo, but it took me around three hours. But that's a stage you've got to go through."
While she loved Nepal, Ieong eventually started missing city life. About six years ago, she moved back to Macao and began splitting her time between the two. And in 2017, she and a business partner opened a tattoo studio in Macao called The Wall Tattoo, named after Pink Floyd's "Another Brick in the Wall", which she still runs today.  
"I think more local people have gained a deeper understanding of tattooing thanks to social media," says Ieong, adding that her customers tend to be between 20 and 40 years old, with an even split between men and women. "People in Macao are more interested in getting a tattoo or even pursuing the profession." 
It may also have to do with Ieong's artistic style. "My style features a lot of blackwork [geometric and abstract shapes with only black ink], small symmetrical motifs, and tribal totems," she says. "Over the years, I have had many tattoos of various shapes and sizes all over my body – I can't really count them. They are all from different artists because I want to collect their work."  
The artistic nature of tattoos is gaining traction in Macao and around the world, she adds, as more and more people request original works instead of common motifs found online. In fact, one of the most exciting moments in her career, she says, was when a  customer gave her carte blanche to draw whatever she wanted on his skin. 
"I drew a symmetrical shape, inspired by Nepalese folk art. It is so encouraging and moving to hear that people appreciate your artwork and are willing to have it on their skin for good," she says. "It's an honour."