Urban Planning Committee backs Nam Van draft plan
The two draft plans for the development of a plot of land in Nam Van Lake area, known as Zone C, got the support of the Urban Planning Committee on Wednesday, despite having received some 130 suggestions from a public consultation opposing the proposed plans, claiming they would destroy the landscape and view around Penha Hill.
The drafts, which are for the development of judiciary facilities there, with a height limit of 34.1 to 50.8 metres above sea level, were among 23 draft plans discussed during the committee's first meeting this year, held at the Lands, Public Works and Transport Bureau (DSSOPT) in the CEM Building in Estrada Dona Maria II.
Committee member and Cultural Affairs Bureau (IC) Vice President Deland Leong Wai Man told reporters after the meeting that the majority of the sea could still be seen from the observation deck on Penha Hill in the future, with only the approach slab of the "old bridge" not in view.
The "old bridge", the first bridge built to connect the peninsula and Taipa, is officially called the Governor Nobre de Carvalho Bridge. It began operation in October 1974.
Leong pointed out that the consultative document for the "Protection and Management Plan of the Historic Centre of Macao" requires the unhindered view of the sea but does not call for the unhindered view of the old bridge.
"The sea is the visual connection of the "hill-sea-city [landscape]," Leong noted.
Lands, Public Works and Transport Bureau (DSSOPT) Director Chan Pou Ha told reporters that the bureau would analyse the opinions to decide whether it will make adjustments to the drafts.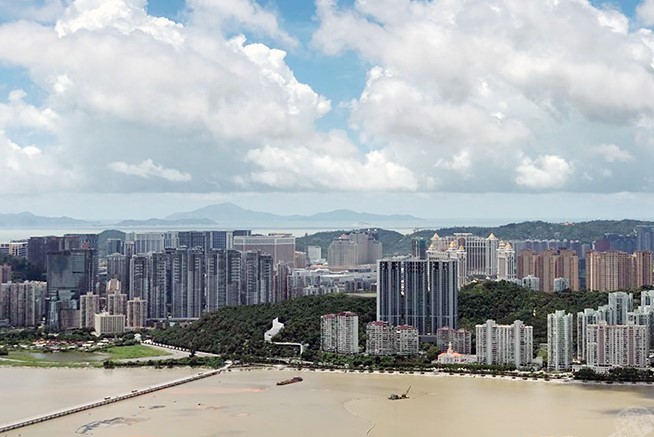 The non-establishment New Macau Association (NMA) petitioned the committee on Wednesday, urging members to respect and listen to public opinion, also requesting the government to withdraw the two "extremely controversial" draft plans. The NMA petitioners were led by directly-elected lawmaker Sulu Sou Ka Hou.
According to the association, the draft plans, which if carried out would lead to the "permanent destruction" to the Penha Hill landscape, "surprised and angered the public." The association said it was requesting the government to thoroughly preserve "the unique 'hill-sea-city' historic and cultural landscape in the Macao peninsula through a legal mechanism".
"Penha" means "cliff" or "rock" in Portuguese.
Meanwhile, on Wednesday the committee also approved the draft plans for the old courthouse building to house the city's top court. The committee also discussed the plot of land near the coastline in Nape and opposite the Macao Cultural Centre, which will be used for government offices and auxiliary facilities only, with the area being within the Guia Lighthouse protected zone.
(The Macau Post Daily/Macao News)
Photo by Macau Photo Agency