Macau bishop retreats after Secretary Tam's response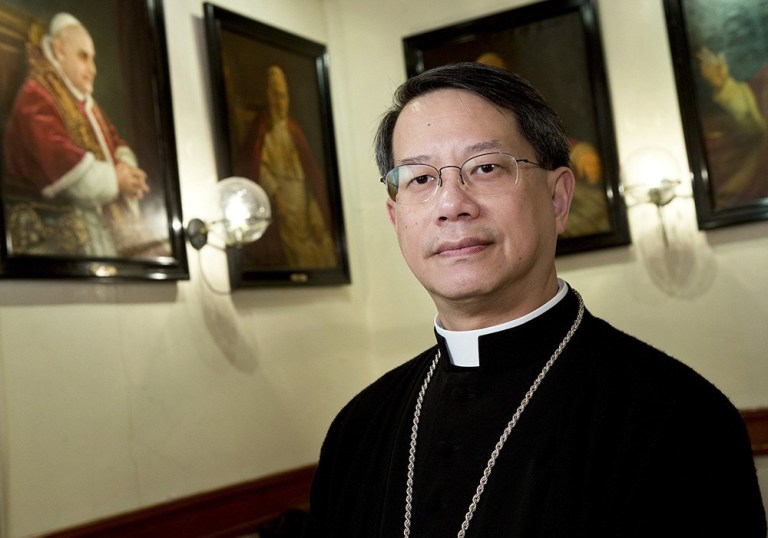 Bishop of the Macau Diocese, Stephen Lee, has retracted the Diocese's strong stance expressed in an earlier statement regarding a light projection, saying that the Thursday "statement was not to express dissatisfaction but [to convey] comments from Catholics to the government." Lee made the comment on the sidelines of a public event on Monday.
For three days, beginning on Chinese National Day on October 1, the Macao Government Tourism Office held a light mapping performance at the Ruins of St. Paul's. Moving images praising the People's Republic of China and the Chinese Communist Party, including the national flag and emblem, were projected onto the façade of the Ruins.
The performance stirred up divided opinions, with the Diocese's chancellor, Rev. Cyril Jerome Law, issuing a statement last Thursday on behalf of the community to address the situation.
"The show in question evoked reactions of discontent from quite a number of [the] faithful of different nationalities since it is deemed that the use of the historical monuments ought to correspond to its intended character," Rev. Law said.
Law recommended that the government relate the theme or content of future mapping performances to the origin of the relics concerned.
The façade of the Ruins has been at the location since 1640, but in its current state since 1835, with only one façade remaining.
The Tourism Office acted quickly and responded positively the same day the comments were made.
Meanwhile, Secretary Alexis Tam, who overlooks social and cultural affairs and the tourism authority, responded late on Thursday evening, saying that he respects the statement and recommendations by the Diocese.
However, Tam didn't have any problem with the performance. He also heard that it had been received well by "a vast majority of locals and tourists."
He went on to say that the Ruins of St. Paul's is Macau's most identifiable structure and hoped the general public could understand the government's intentions.
After Tam's response last week, the bishop told the press on Monday that he "didn't want the incident [to become] exaggerated and cause too much misunderstanding."
According to Macau Daily Times, Lee also described the incident as proof of the multicultural nature of Macau and that the city is able to embrace different religions and comments.
It was a good chance for the Diocese to reflect on itself, and to learn to be considerate and to listen, Lee explained.