Macao's first typhoon warning of the year
Macao's first typhoon warning of the year

Link copied
Macao raised its first typhoon warning signal (T1) of the year at 4:30 pm today. Signal number 3 may be hoisted later tonight.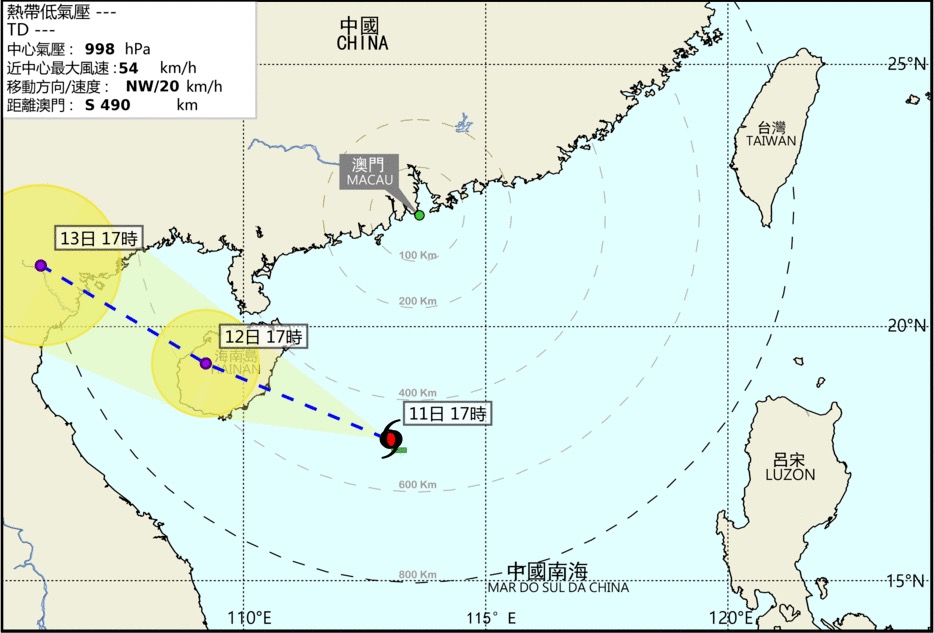 Macao Meteorological and Geophysics Bureau (SMG) raised
the standby signal No 1 at 4:30 pm on Friday, saying a tropical cyclone might affect the city.
The government cautioned the public to be prepared for signal No 3 tonight and early morning Saturday.
The tropical depression is expected to make landfall at Hainan Island on Saturday.
At 4 pm today the cyclone was over the South China Sea and estimated to be about 510km south-southwest of Macao.
The tropical cyclone is forecast to move west-northwest at about 20km/h towards the vicinity of Hainan.
Under the combined effects of the astronomical tide and strong winds, the area in the inner harbour may be flooded Saturday morning.
According to the SMG the flooding height is predicted to be below 0.5 meters.
Strong winds should be expected over offshore waters and on high ground overnight, with occasional squally showers and swells.
The public is advised to pay attention to the latest storm news and take preventive measures.