IAM to build south shore waterfront green promenade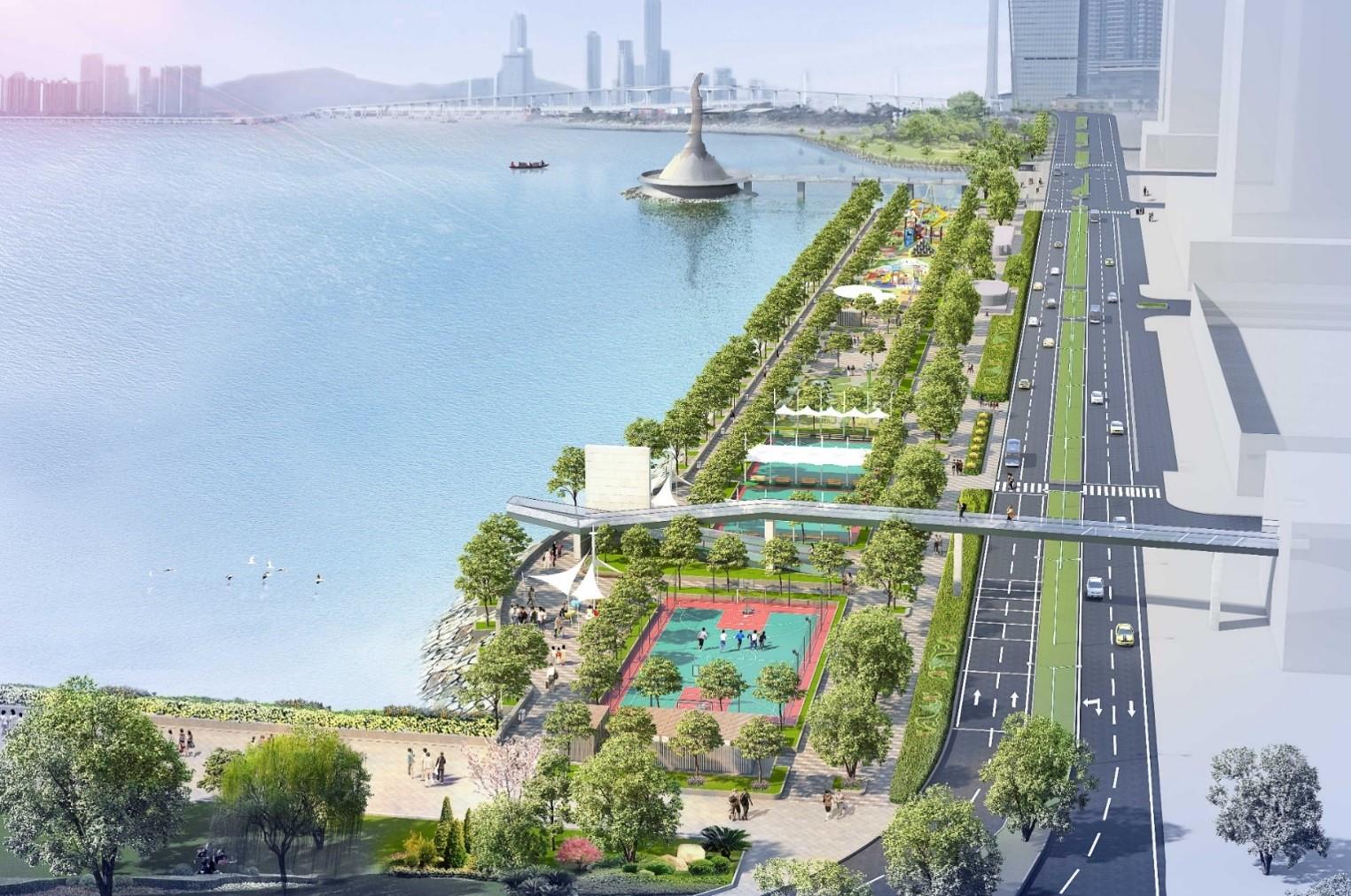 The Municipal Affairs Bureau (IAM) has announced a "green promenade" project involving a series of sports and recreation facilities along the peninsula's south shore waterfront will start next month. The large-scale project was announced by the bureau on Friday.
According to an IAM statement, the project will be launched in response to the public's long-standing calls to beautify Nape's shoreline. The statement also said that the project was in line with the government's intention of creating employment and business opportunities for individuals and enterprises.
The statement said construction of the promenade will start next month and proceed in several phases from the Macau Science Centre, Kun Iam Statue and finally reach the A-Ma (Ma Kok) Temple area, providing a large and diverse sitting-out area and recreation space to create a healthy city.
The first-phase Kun Iam Statue promenade covers about 15,000 square metres between the Macau Science Centre and the statue. The facilities will include children's playgrounds, walking paths, tea houses, multi-purpose pitches, fitness and recreation facilities, a gateball court, roller skating rink and other leisure and recreational spaces, as well as an area that will connect the promenade to a cycling track to be built in the second phase of the recreation area. The first phase is slated to be completed by the end of this year, while the second phase between Kun Iam Statue and the A-Ma Temple area will get off the ground later this year, the statement pointed out.
The Kun Iam Statue promenade will consist of a 400-metre-long walking path along the waterfront, a 2,700-square-metre kids zone which will be divided into different age areas, an area equipped with shaded tea lounges and kiosks as well as parent-child toilets and nursing rooms, the statement said, adding that "the friendly design fits different age groups."
Taking into account the public's demand for recreational and sports facilities, the Kun Iam Statue promenade's multifunctional pitches will be equipped with outdoor activity facilities popular with the public, the statement said.
The fitness and recreation area will feature different intensity fitness equipment to encourage residents to do more physical exercise, in order to increase their overall body strength and enhance their immunity. The gateball court, roller skating rink and multi-purpose pitches that can be used for basketball and football matches are designed in accordance with international standards, providing residents, especially young people, with a variety of alternative sports, the statement noted.
(The Macau Post Daily/Macau News)