Government strives for Individual Visit Scheme relaunch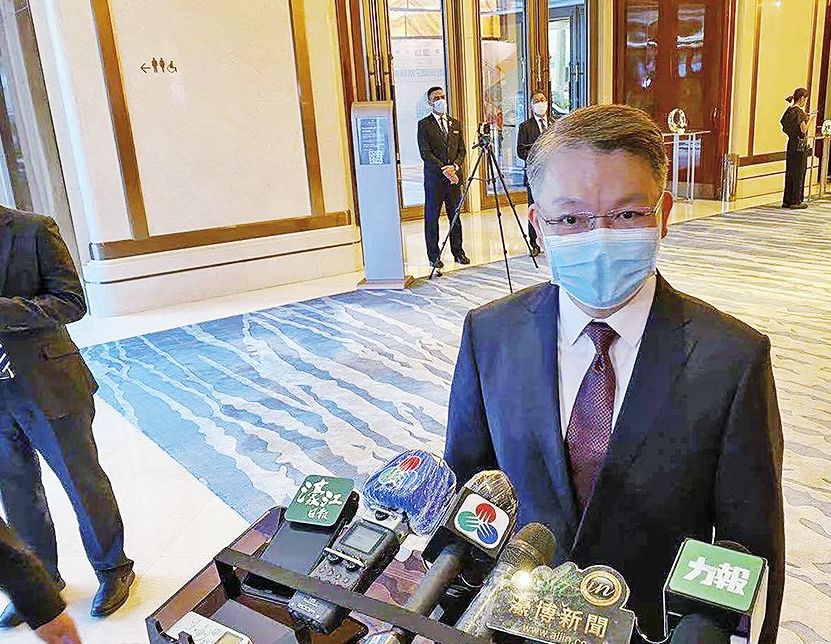 The local government is striving for the resumption of the mainland's Individual Visit Scheme (IVS) to Macao, Secretary for Economy and Finance Lei Wai Nong told reporters on Wednesday, adding that as long as Macao continues its COVID-19 prevention and control measures, the resumption was "in sight and in reach".
Lei made the remarks after the opening ceremony of the "2nd Professional Aptitude Competition of Macau Tourism and Leisure Companies 2020" at Galaxy Macau's JW Marriott in Cotai yesterday.
Early this year, the central government suspended the issuing of Individual Visit Scheme and package tour permits for mainlanders to travel to Hong Kong and Macao due to the novel coronavirus pandemic.
When asked if the resumption of issuing the IVS permits would be possible in the third quarter, Lai replied "this is the last kilometre of the COVID-19 race", adding that resuming the scheme for mainlanders had always been part of the plan. He said that the government had always been engaged in risk analysis and risk management to be prepared for the gradual return of tourists.
Two weeks ago, the Guangdong government announced a new measure applicable to all arrivals from Macao – except foreign nationals living in Macao, confirmed or suspected COVID-19 patients, those who have been in close contact with confirmed COVID-19 patients, those with a fever or any respiratory symptoms, and those who have been to a foreign country, Hong Kong or Taiwan within the 14 days prior to their intended entry into Guangdong.
The announcement stated that those who have entered Guangdong from Macao could only travel within the nine Greater Bay Area (GBA) cities in the province, namely Dongguan, Foshan, Guangzhou, Huizhou, Jiangmen, Shenzhen, Zhaoqing, Zhongshan and Zhuhai, while Macao residents who work or live in Guangdong and mainlanders who have returned to the province from Macao could travel within the whole province.
The government announced on Tuesday that arrivals from Macao can now visit all of Guangdong province without quarantine. That measure also excludes foreign nationals living in Macao.
Lei stressed that the announcement two weeks ago marked the turning point of travel restrictions between Macao and the mainland. He further emphasised that people needed to "have faith", and both the mainland and Macao needed to keep up with COVID-19 prevention and control work.
According to Lei, 80 per cent of the city's GDP comes from the service sector, while tourism is a key source of income. He pointed out that the local residents' jobless rate has increased from 2.4 per cent at the beginning of the year to 3.5 per cent recently but there was no obvious wave of business closures. He also said that the government had been working on referring people who are unemployed to other potential job opportunities. Lei said he hoped that by having more tourists visiting Macao again, the city's economy could also gradually recover.
(The Macau Post Daily/Macau News)
PHOTO © Exmoo