Fire turns six fishing boats into floating inferno in Inner Harbour
Fire turns six fishing boats into floating inferno in Inner Harbour

Link copied
Exploding gas bottles add to the conflagration; nobody injured, investigators have yet to determine the cause of the blaze.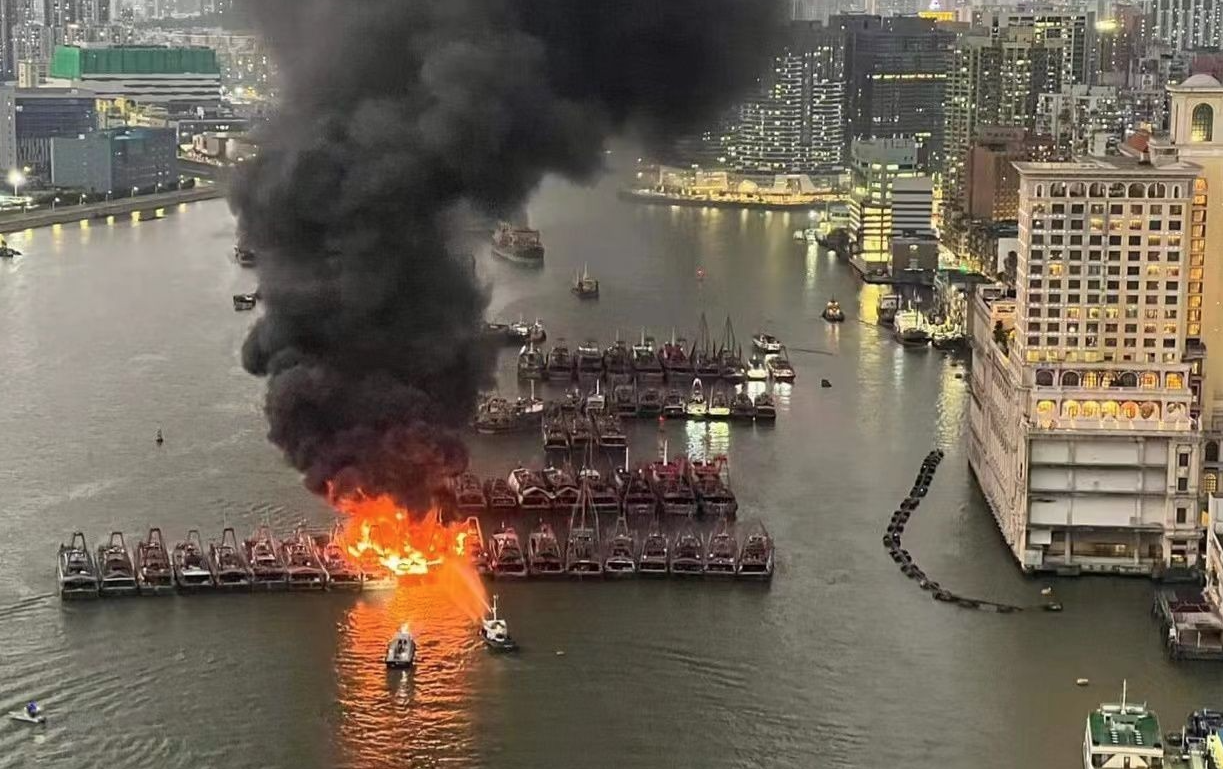 Six fishing boats were engulfed in a blaze in the Inner Harbour last night after one suddenly burst into flames at about 7 pm.
More than 70 firefighters battled to bring the inferno under control, as the rising heat ignited gas bottles aboard the vessels.
Nobody was injured in the fire, whose cause has yet to be determined.
Marine and Water Bureau (DSAMA) Director Susana Wong Soi Man said that one of the fishing boats moored in the middle of a row of boats near Ponte 16 during the three-and-a-half-month fishing moratorium suddenly burst into flames at around 7 pm.
She said that towering flames and thick black smoke billowed from the boat, which was unoccupied  at the time. As there was no time to untie the boats, the adjoining ones were also set alight.
Wong noted that the gas cylinders on the boats caused six explosions, which was the main cause of the raging fire.
When the boats' owners arrived at the scene they wanted to rush on board but the DSAMA officials stopped them as "it was too dangerous", Wong said.
She added that nine vessels and 45 people from her bureau helped put out the fire, pointing out that at 9 pm one of the vessels was towed to the ferry terminal so that the firefighters could hose down the blaze, while five other boats remained anchored in situ.
Wong said that her bureau cleared wharfs 21 and 28, adding that the remaining five vessels were towed to the ferry terminal once the blaze was fully extinguished. 
Macao Customs Service officer Lei Iok Fai said that it sent 13 vessels and 100 officers to assist with putting out the fire. He added that six boats from mainland China  helped tackle the blaze.
Fire Services Bureau Commissioner Leong Iok Sam said that while working with DSAMA officials and customs officers, two fire hoses, 16 fire engines and 71 firefighters were deployed, and investigators will get on board and search for the cause of the fire. 
He pointed out that a 36-year-old man, who owns one of the boats affected by the blaze, became emotional and needed to be taken to the Conde de São Januário Hospital Centre, The Macau Post Daily reported.
Meanwhile, the fire reignited early this morning and firefighters were only able to again put the inferno under control at around 9.30 am, TDM reported.