CTM launches new cloud service powered by Tencent tech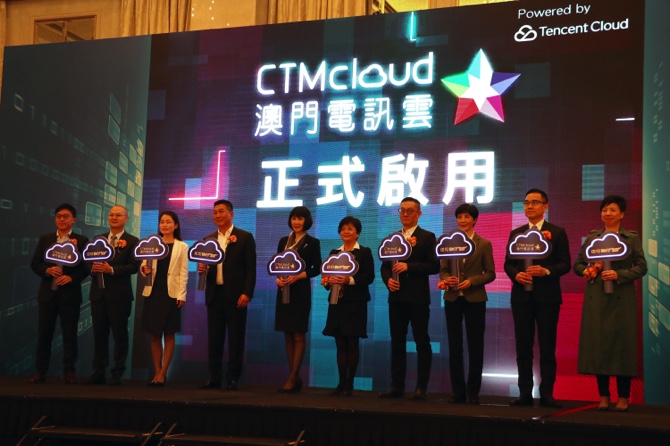 CTM launched on Tuesday a new version of its cloud service that is powered by Shenzhen-based Tencent's technology, aiming to offer more convenient and efficient cloud applications for local businesses and residents.
The launch ceremony held at Galaxy's Ritz-Carlton in Cotai was attended by Zhu Hong, deputy director of the Economic Affairs Department of the Liaison Office of the Central People's Government in Macau, Derby Lau Wai Meng, director of the Macau Post and Telecommunications Bureau, and other government and business sector representatives.
CTM's Vice President of Commercial Affairs Ebel Cham Pou I pointed out that the new service is an important component of 'Digital Macau 2.0'.
Cham said that the Tencent-powered cloud service has the basic Infrastructure as a Service (IaaS) and also the functions of Platform as a Service (PaaS) to support different smart application solutions and development more flexibly and efficiently.
"The new service is bigger and a lot more advanced than the previous version, in terms of its capability and function in transferring or storage of data," Cham said, pointing out that this structure of cloud facility was built based on the needs of smart applications.
Speaking to reporters, Cham said that when Tencent launches new applications in the future, CTM would be able to make it available quicker since the cloud service uses Tencent's cloud technology.
Cham added that they would also be providing its cloud service at a discounted price for schools or other education institutions to support the nurturing of IT professionals.
Tencent International Business Group General Manager Norman Tam Lok-man said that with geographical advantages enabled by CTM's Macau-wide telecom network, the public cloud facility powered by Tencent Cloud was the ideal solution for enterprises in need of cloud application services in the city.
According to the Macau Post Daily, to further build a smart application ecosystem, CTM on Tuesday also signed an MOU on comprehensive strategic collaboration with Neusoft Group, an IT solutions and service provider based in Shenyang, which would allow CTM to offer more quality smart applications services to local clients.
According to Cham, several thousand customers have subscribed to CTM's cloud service since its launch in 2012.