Bus crashes into restaurant, injuring 7 (Update)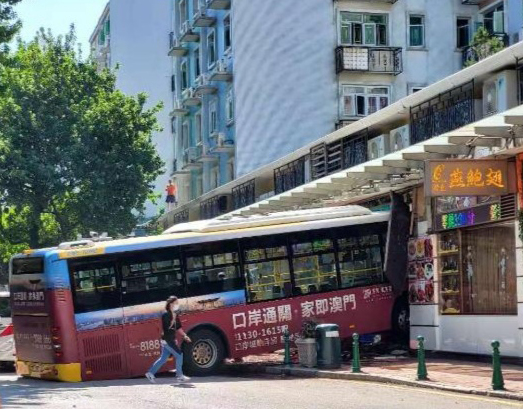 A public bus crashed into a restaurant in Taipa at about noon today, injuring seven people – four females and three males – aged between 33 and 88, the authorities said today.
The injured include two non-resident workers, a Filipino and an Indonesian, sources said.
According to a statement by the public Conde de São Januário Hospital Centre, six of the patients received outpatient treatment for contusions, lacerations and other minor injuries.
The owner of the restaurant told reporters there were no guests inside when the accident happened, but a restaurant employee, a 33-year-old non-resident worker from the mainland, was trapped under the bus. It took firefighters about 40 minutes to rescue the worker. He was rushed by ambulance to the public hospital on the peninsula.
He underwent surgery for multiple lacerations, haemorrhages and broken ribs, the statement said, adding that the hospitalised patient was in a stable condition tonight.
According to reports by the Public Security Police (PSP), Fire Services Bureau (CB), Transport Bureau (DSAT) and bus operator Transmac, the No. 33 Macao-Taipa route bus carrying about 20 passengers crashed into a Chinese seafood restaurant in Rua do Regedor at about midday.
The 58-year-old local bus driver has 21 years of experience. He was not injured and passed a breathaliser test. A bus company representative said the driver had had a good driving record and passed a regular medical check-up in June.
Various sources blamed mechanical failure for the accident.
The bus has been in service in Macao since 2018 and passed a routine maintenance late last month.
A total of 11 emergency vehicles and 60 firefighters were deployed to the scene.
(The Macau Post Daily/Macau News)
PHOTO © Macau News