Blaze in residential high-rise brought under control in 30 minutes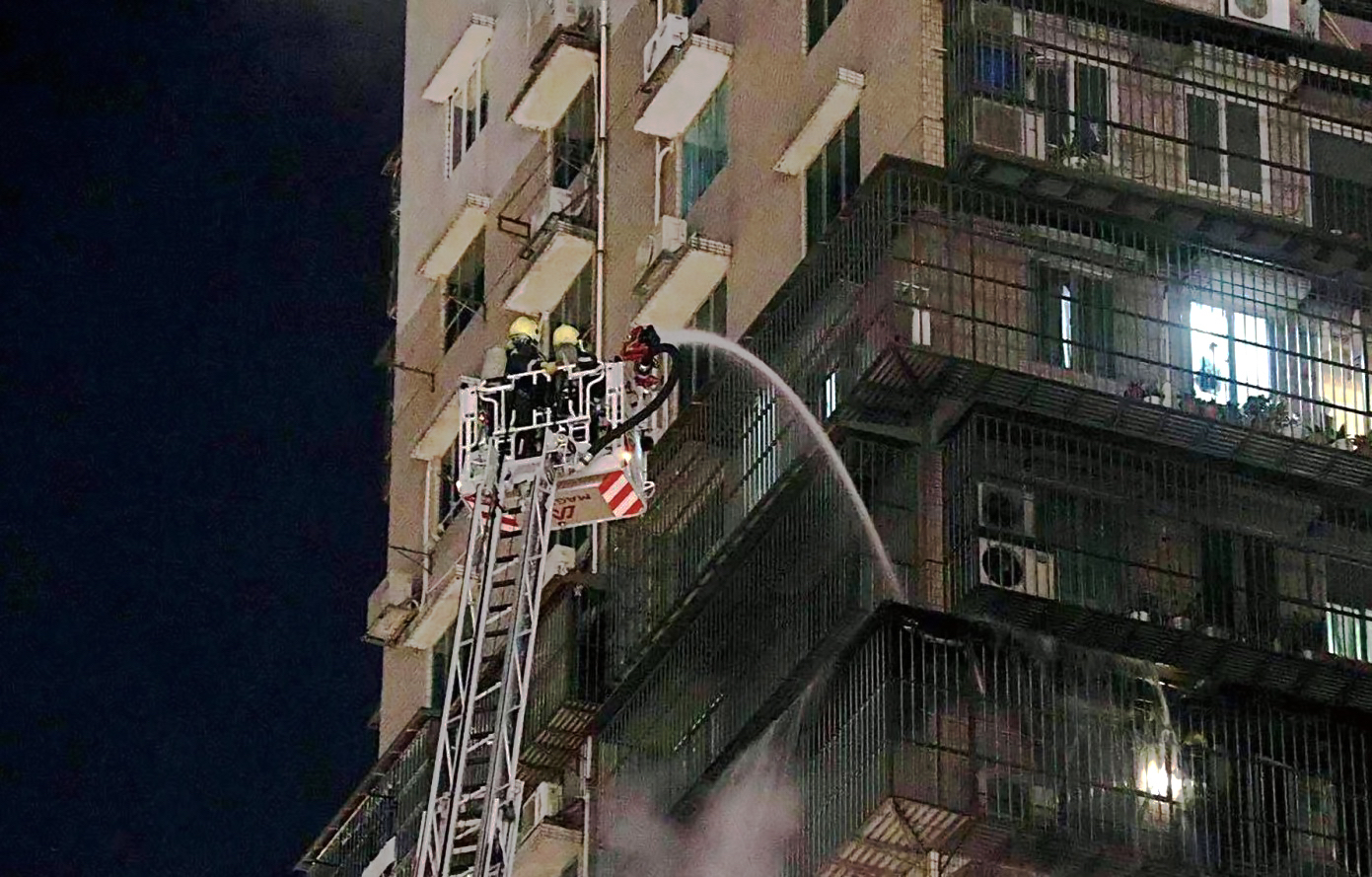 A fire which erupted in a flat in the Kong Fok Cheong Garden residential estate in Areia Preta district last night was brought under control within 30 minutes, Leong Iok Sam, the commissioner of the Fire Services Bureau (CB) said at the scene.
The fire broke out on the 10th floor of Block 4 of the estate next to Areia Preta Park. The bureau later announced that the cause of the fire could be a malfunctioning air conditioner.
He pointed out that the fire did not spread to other flats, but the smoke permeated other floors.
The firefighters arrived at the scene at 8:39 pm, and the fire was brought under control at 9:05 pm, according to Leong, who noted that 15 fire engines and 68 firefighters were at the scene.
Leong said that it took less than 30 minutes to extinguish the smoky blaze, pointing out that 16 people, 10 males and six females, were feeling unwell from smoke inhalation. The bureau later announced that eight people were sent to the hospital, adding that the firefighters evacuated 80 people from the building.
Leong said that the fire started in a room and spread to the balcony, adding that no one was in the flat at the time and that the firefighters were unable to contact the flat's owner.
The fire was reported to the Public Security Police Force (PSP) at around 8:30 pm, and within 10 minutes, PSP officers arrived at the building to set up roadblocks to allow the fire engines easy access, a PSP spokesperson told reporters, who pointed out that 55 PSP officers were sent to the scene.
Leong added that the firefighters were able to get the fire under control so swiftly because the building's fire-fighting system was working fine.
Less than a year ago, a huge fire erupted in the same block which took firefighters four hours to get it under control. Last year's blaze broke out in a flat on the sixth floor of Block 4. The fire system was dry when the firefighters arrived at the scene and they needed to find other ways to pump water to the fire-ravaged flat. The flat last year was an illegal storage space for goods and the cause of the fire was due to an electrical fault in the flat where the fire started.
(The Macau Post Daily/Macau News)
PHOTO © Exmoo