All storm-warning signals down in Macao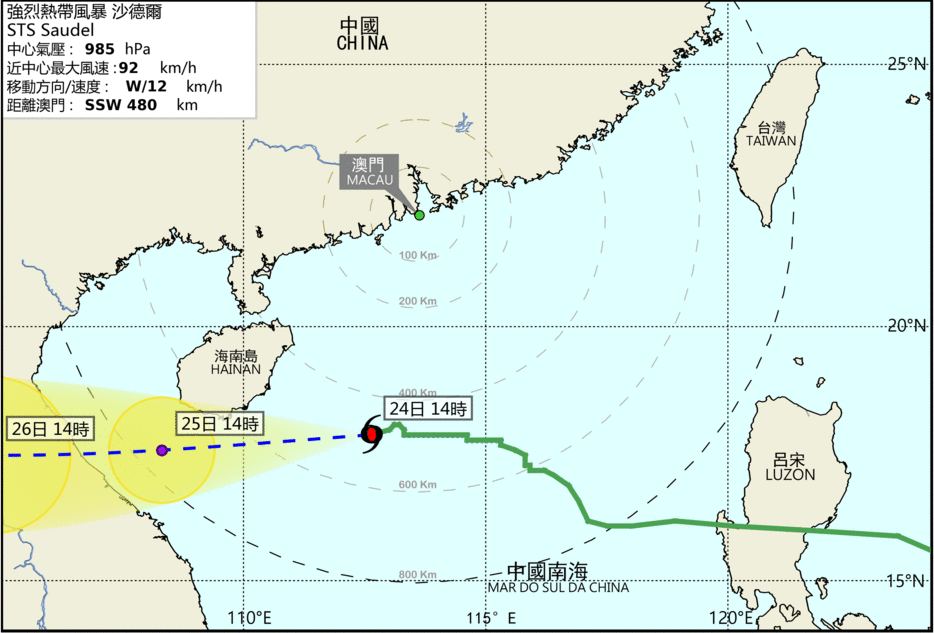 Macao's Meteorological and Geophysical Bureau (SMG) lowered this morning all tropical cyclone signals, as Typhoon Saudel moved further away from the city.
The weather station cancelled the tropical cycline warning signal No. 3 at 11 am which it had hoisted at 6:30 am Friday, when it replaced the stand-by signal No. 1 hoisted at 6 pm on Thursday.
No damage or injuries were reported.
Typhoon Saudel was forecast by the Hong Kong observatory to move west across the South China Sea towards Hainan Island and central Vietnam.
According to Macao's weather station, Saudel was centred about 470 kilometres south-southwest of Macao at 11 am moving at 12 km/h towards Vietnam.
The Hong Kong Observatory warned this morning that strong winds, with mean speeds exceeding 30 km/h were still expected.
Its Macao counterpart said this morning that a northeast monsoon is affecting the weather in Macao. It forecast a a few light rain patches for today.
No strong monsoon signal was hoisted this afternoon, when the mean wind speed amounted to 20 km/h.
At 2:55 pm, the mercury stood at 23 degrees Celsius, while relatively humidity amounted to 47 per cent.
The UV index stood at 2, indicating "low".
The bureau's air quality index stood at "suitable" for sports.
(The Macau Post Daily/Macau News)
PHOTO © Macao Meteorological and Geophysical Bureau (SMG)