Pearl Horizon homebuyers launch new protest in the streets of Macau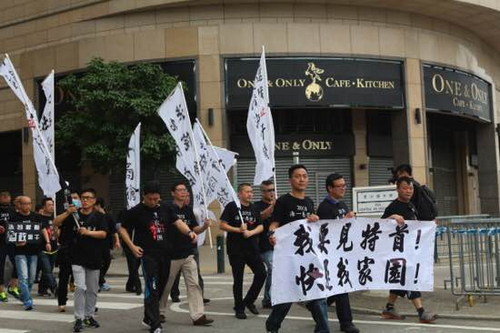 About 2,000 Pearl Horizon homeowners staged a street protest on Sunday, hoping to meet with the Chief Executive to find a way out for the suspended Areia Preta residential project.
An owners association says a short-term assistance program introduced by the developer is no solution.
Some 2,000 Pearl Horizon homeowners took to the streets to voice out their problems to the government.
Last December the authorities took back the land after the concession expired but developer Polytec had appealed to the courts.
During about two and a half hours, the protest went from the offices of developer Polytec Group in Areia Preta all the way to the Government headquarters.
Six representatives handed a petition letter to a staff member.
"I hope I can stop paying the mortgage before the lawsuit is over. The government doesn't seem to hear us," one buyer said.
Another agreed: "The government has no statement. The developer also didn't say anything. This is the only thing that we can do."
A homeowners association was hoping to meet with Chief Executive Chui Sai On to discuss possible solutions but now they threaten to stage more protests.
The head of the group says Polytec has introduced a short-term assistance program to be executed next month. "Polytec group lends us 30, 000 patacas per member for three months. It pays on behalf of this financial aid program. We have to pay them back as soon as the apartment is ready in the future. It has zero interest. We want it to cover all the people affected," says Ko Meng Po.
Over a hundred property owners have applied to the program but he says it's only a contingency plan that doesn't solve the Pearl Horizon problem.
(Macaunews/TDM)