Macau Chief Executive says latest HOS flats sale won't be last in his term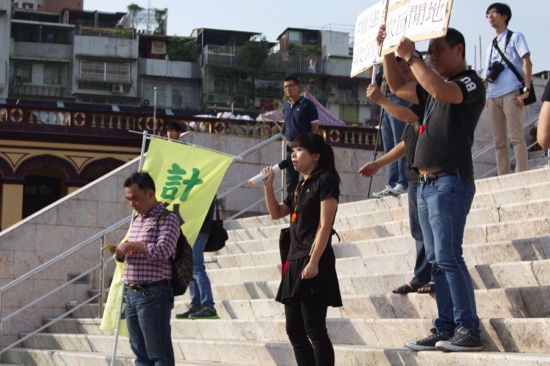 Chief Executive Fernando Chui Sai On said on Monday he personally thought that the latest sale of subsidised home ownership scheme (HOS) flats will not be the last during his term, adding that he would tell Secretary for Transport and Public Works Raimundo do Rosario about Sunday protesters' request to meet the policy secretary.
Chui's end will end in 2019.
Earlier this month, the Housing Bureau (IH) released a priority list, processed by a computerised draw, to handle the input from a three-month application period which began in December 2013. According to the list, only 1,900 of the 42,699 current applicants for HOS flats are eligible to purchase one.
On Sunday, the newly formed Macau Community Development Initiative (MCDI) and the ad hoc HOS Concern Group held a protest march urging the government to complete at least 40,000 HOS flats by the end of 2019. They also demanded the resumption of the government's "points-based system" for the allocation of HOS flats that was used until late 2011. test round of selling HOS flats will be the last one in Chui's term.
Asked by reporters whether the government will do as the protesters demand, Chui said he did not want to make "any empty promises", stressing that the government would keep listening to residents' proposed amendments to the HOS and the Social Housing laws.
Meanwhile, Chui also talked about the alleged United Nations bribery case involving local developer David Ng Lap Seng and John Ashe, a former president of the UN General Assembly.
"Many residents are paying attention to the case involving Mr Ng Lap Seng. I am not able to comment on the case because it is undergoing judicial procedures. However, we are paying attention to this news too," Chui said.
Ashe is alleged to have accepted more than US$1 million in payoffs from Ng and an associate to help persuade the United Nations to build a UN-related conference centre in Macau and promote Chinese businesses in the Caribbean micro-state of Antigua and Barbuda, according to US prosecutors in New York.
(macaunews/ macaupost)