Macau Acting Chief Executive urges local youths to learn from history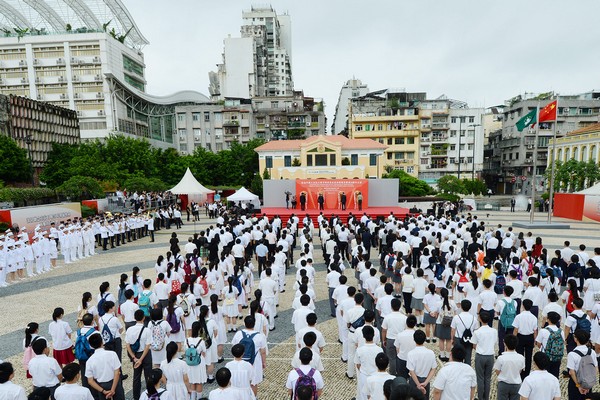 Local youths should learn from history and cherish peace, Acting Chief Executive Wong Sio Chak said on Thursday, adding that Macau people's contributions to their nation's war of resistance against Japanese aggression were enormous.
Even though Portugal, which ruled Macau at that time, remained neutral during World War II, many local residents actively supported their country's war effort against Japanese imperialism. Some locals made the ultimate sacrifice to help their nation win the war. Macau, which unlike Hong Kong was not occupied but controlled by the Japanese, offered shelter to tens of thousands of refugees from Hong Kong an elsewhere in China during the Second World War.
Wong made the remarks at the government's ceremony in Tap Seac Square to commemorate the 70th anniversary of the victory of the Chinese people's war of resistance against Japanese aggression and world anti-fascist war in Tap Seac Square.
According to a Macau Government Information Bureau (GCS) statement, some 440 officials and community representatives attended on Thursday's ceremony, at which the national and local flags were raised, wreaths were laid and one-minute silences.
A 100-member delegation led by Chief Executive Fernando Chui Sai On attended the military parade in Beijing to mark Japan's surrender 70 years ago.
"We have to tell our future generations, every year, about the hardships and shame endured by our nation 70 years ago," said Wong, urging local youths to learn from history so as to prevent history from repeating itself.
"The war has been over for 70 years. But the atrocities committed by the invaders are [still so] crystal clear that no one can deny," Wong said. He also commended Macau residents who were part of the resistance against Japanese aggression.
Speaking to reporters after the ceremony, Macau General Association of Chinese Students President Ivan Leong Chi Hou, who had delivered a speech at the ceremony, said that local youths should understand clearly the important events in history, including the Second Sino-Japanese War.
"We are not going to look for who is to blame, but to understand our history clearly so that we can see how to achieve our dreams and contribute to society," Leong said.
(macaunews/ macaupost)