Covid-19 contingency plans readied for Legislative Assembly election
Covid-19 contingency plans readied for Legislative Assembly election

Link copied
Yellow Health Code holders voting will be closely supervised, while back-up polling stations will be held in readiness.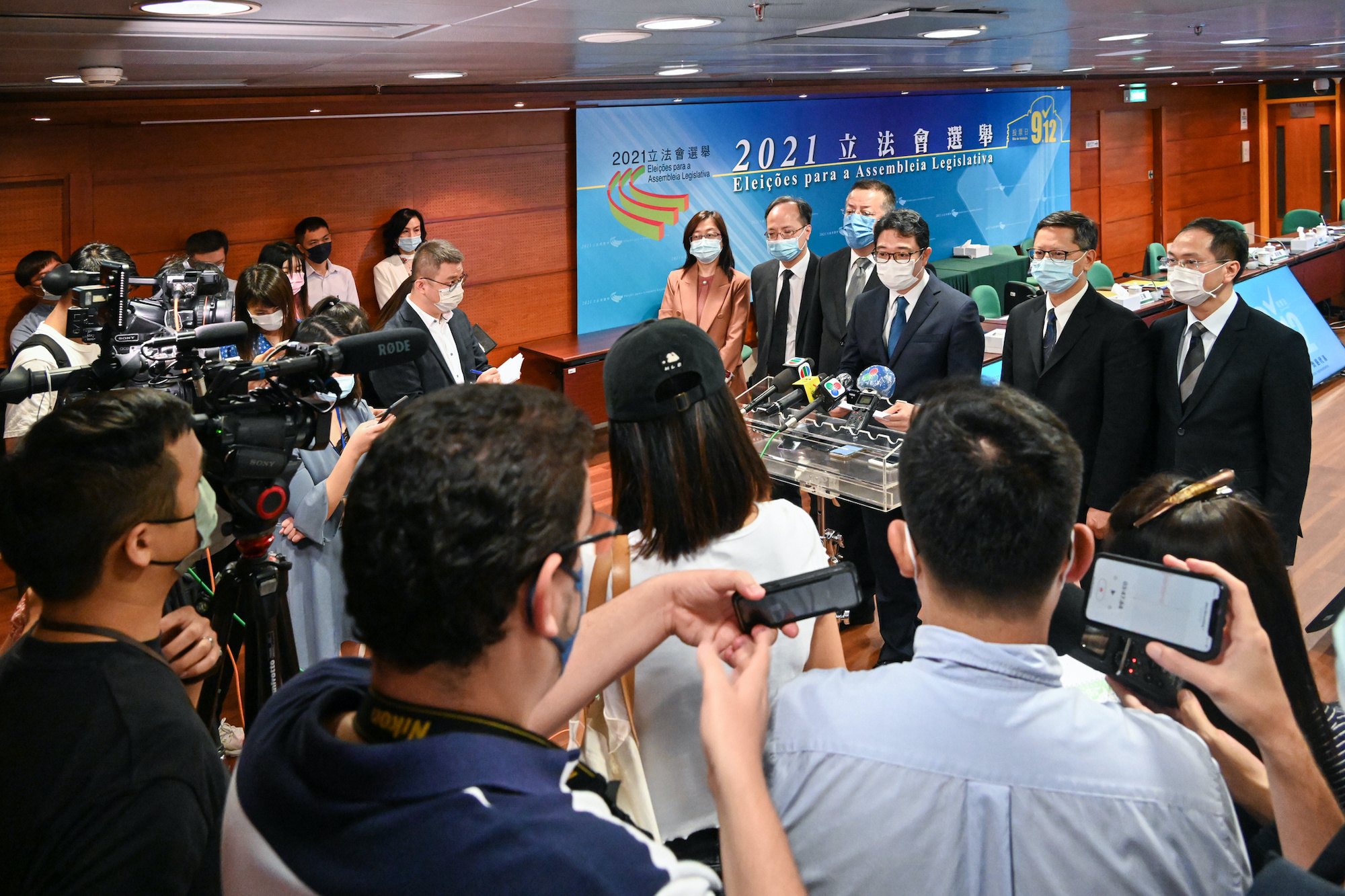 Contingency plans are in hand in case a new wave of Covid-19 strikes in the run-up to next month's Legislative Assembly elections.
Electoral Affairs Commission chairman, Tong Hio Fong, said that the plans aim to ensure that registered voters can cast their ballot, irrespective of the public health and safety issues caused by the Covid-19 pandemic.
Tong also said that citizens with a yellow Macao Health Code will be allowed to cast their ballots at polling stations in next month's direct and indirect legislative elections, while those with a red Macao Health Code will be barred from entering polling stations.
Tong added that the elections, which are scheduled to take place on 12 September, would have to be postponed if Macao was hit by a new round of Covid-19.
Tong reaffirmed that all voters will be subject to the government's Covid-19 measures when entering polling stations, such as having their temperature checked, displaying a valid Macao Health Code, wearing a facemask, and sticking to social distancing.
Tong added that polling station staff will carry out follow-up medical checks on those with a yellow Macao Health Code to ensure that they do not have a fever or any other Covid-19 symptoms. 
Those with a yellow health code will be subject to special Covid-19 measures when casting their ballot, according to which they will be required to wear disposable gloves, and to go to the polling boxes through a special passage with the aim of ensuring that they will not have contact with other voters.
Tong said that after a voter with a yellow Macao Health Code has cast his or her ballot, the polling booth and polling stamp that he or she has used will be immediately cleaned and disinfected.
Those with a red Macao Health Code will be barred from entering any polling station, Tong said, adding that those with a red health code arriving at a polling station will be transferred to the Health Bureau for follow-up measures. If the Health Bureau verifies that the respective voter's health code colour has been mistakenly generated as red, it will return the colour to yellow or green, only after which the voter can return to the polling station for casting his or her ballot, according to Tong.
Tong also said that back-up polling stations would be prepared, in case one or several designated polling stations could not be operated due to their inclusion in a restricted zone in the event of a novel coronavirus outbreak. The commission was also exploring possible options that might allow those undergoing medical quarantine to cast their ballot on polling day, Tong said.
On polling day, according to Tong, the commission will provide real-time updates on the number of voters waiting to cast their ballots at each polling station, helping members of the electorate avoid peak hours at election stations. He said the aim was to reduce the potential risk posed by the gathering of crowds.
The election campaign will officially start on 28 August.
A total of 14 lawmakers will be directly elected by popular vote, 12 legislators will be indirectly elected by association representatives and seven will be appointed by the chief executive shortly after polling day.
A total of 126 candidates are vying for the 14 directly elected seats, after two candidates from two different lists have recently withdrawn from the race, according to Tong, The Macau Post Daily reported.
As there are just 12 candidates for the 12 indirectly elected seats, their election is a foregone conclusion.