HK-Macau office chief urges 'all-round' development for Macau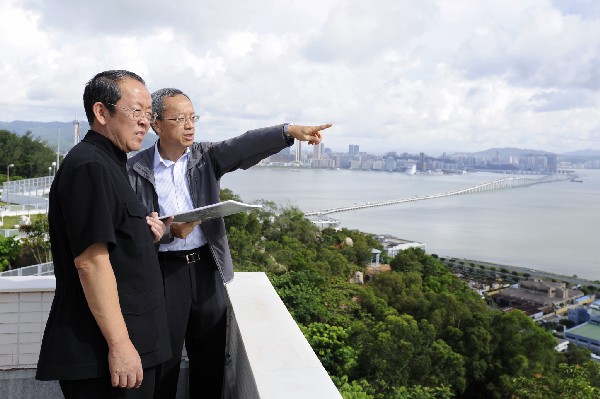 Macau, China, 16 Jun – Hong Kong and Macau Affairs Office (HKMAO) Director Wang Guangya said Wednesday he hoped that Macau could work towards a well-rounded development, specifying the event and cultural industries in particular, in a bid to reach the point of becoming an international entertainment and leisure hub.
On Wang's second day of his three-day working visit, Wang was taken on a walkabout in the morning for about an hour around the peninsula's densely populated San Kio and Fai Chi Kei districts.
"I won't gamble in casinos, I have no money, but I think that Macau should develop the event and tourism industries more. […] We all know that the central government backs Macau to become an international entertainment and leisure centre, then it would not only consist of gambling, but also events, culture and other industries. I hope that Macau will have an all-round development," Wang replied to reporters when he was asked during his San Kio visit if he would visit another casino.
The career diplomat visited the Grand Lisboa casino-hotel and Galaxy casino-resort complex on Tuesday night, after dinner at MGM Macaucasino-hotel. Wang is believed to be the first high-ranking central government official to visit casino premises during a working visit to Macau .
According to The Macau Post Daily Wang say that after his visit to the casinos, he thought that the casino operators had already considered mixing leisure, events and cultural creativity elements with the "appropriate" development of the gaming industry.
Wang also went up Big Taipa Hill to have a panoramic view of the Macau peninsula.
Secretary for Transport and Public Works Lau Si Io pointed out the five pieces of land currently being reclaimed.
In the afternoon Wang had a meeting with around 50 community representatives at the Macau Cultural Centre.
Wang is scheduled to return to Beijing today.(MacauNews/Politics)