Wilfred Wong worked in the Hong Kong government for almost 17 years before moving into the private sector, where he spent over 20 years at some of the biggest property companies. He joined Sands China Ltd. as its President in November 2015. He is fluent in English, Cantonese and Mandarin.
Standing in his spacious office overlooking a garden at the Venetian, Wong is dressed in an immaculate suit. He understands the importance of appearance, stating that as an ambassador of your company, you should present a professional image. So much so, that even outside of the office, "you'll always find me wearing a round neck t-shirt and a jacket," he says with a smile. It is also evident that Wong's office has been influenced by his culture, with feng shui elements placed in strategic locations.
Born in Hong Kong on 8 October 1952, Wong grew up with his four younger brothers in the "fashionable area" of Hong Kong – Causeway Bay. His parents came to the city from the Fujian Province in the 1950s. His father was a banker, moving into the business sector after a few years, while his mother took care of the boys.
Although it was common for the eldest child to have more responsibilities around the house, the opposite was the case for Wong. "I was the only sibling exempt from household chores," he says. "This was because I was doing very well at school and my parents wanted me to focus on my studies."
Wong spent his secondary years at New Method College, Hong Kong, choosing art subjects over science. "I belonged to the arts stream, and that's where all the girls would go. So for many years in my class of forty-something students – there were only 4 boys compared to 40 girls." He is still well-known as a lover of the arts, but followed in his father's footsteps into the world of business. After several summer jobs working in banks, Wong began an economics degree at the University of Hong Kong.
During his first two years at university, Wong somehow managed to find the time to also teach 24 sessions a month of economics classes to Form four students (10th grade) at the New Method College. "I taught one subject eight times a day, so any joke I prepared, I said it eight times, getting better and better at it," he laughs. He also admits that students enjoyed his classes because he was only four years older than them, and would turn up sporting long hair and bell-bottom jeans.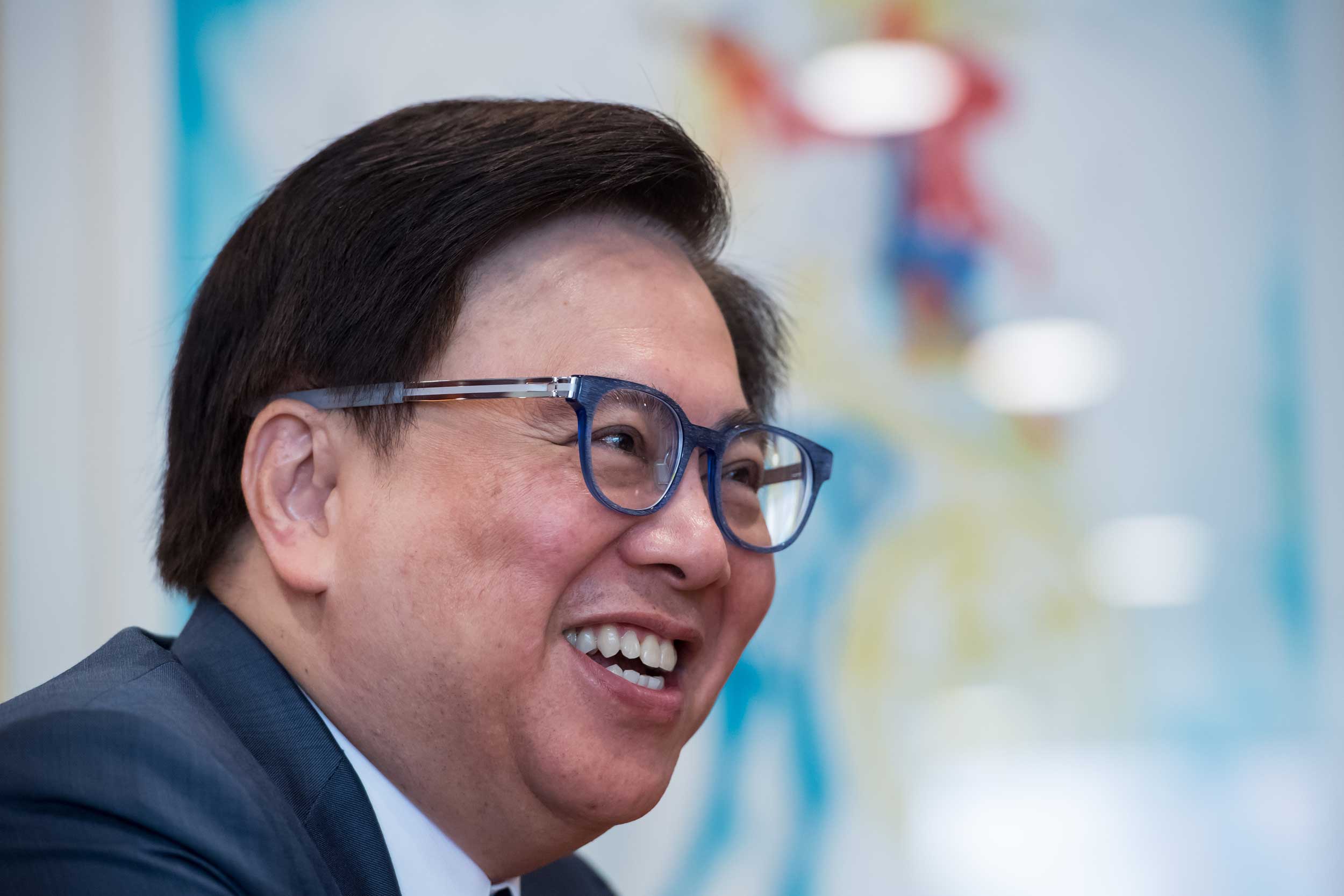 Straight after his graduation in 1975, Wong joined the civil service and in 1976-1977 was chosen as part of a select group of government administrative officers to undertake a yearlong scholarship at the University of Oxford, UK. This opportunity arose as the British were looking to cultivate and nurture successors ahead of the transfer of the British administration to the Chinese in 1997.
The government wanted Wong and his colleagues to take the opportunity to meet people and travel – something he did with enthusiasm, travelling everywhere from the USA and Canada to India and Africa. "It was a real eye opener, even simply learning the differences in mannerisms around the world," he notes.
After returning from Oxford, Wong spent the next nine years working in the government, reaching the rank of Principle Assistant Secretary of Economics. In 1986, Sir David Ford, then Secretary for Civil Service of Hong Kong, gave Wong the opportunity to undertake a master's degree in public administration at the University of Harvard, USA.
When the Chinese government began drafting Hong Kong's basic law from 1985-1990, Wong was invited to be a special member of the basic law consultative committee by the Central People's Government of the People's Republic of China. This was because he was widely known for understanding the public opinion of Hong Kong's citizens. He was also deputy to the national people's congress of the People's Republic of China from 1997 to 2012.
In 1992, Wong took a leap of faith, and in what he deems as his most spontaneous career move, joined the private sector. He says this was inspired by Deng Xiaoping's southern tour and his vision of opening up China.
His migration to the business world was accelerated when Lui Che-woo from K. Wah group asked him to become the company's deputy and expand its business in Shanghai in 1992. When Wong asked why he was chosen to go after just one month with the company, Lui replied: "you're the only one in the company that can speak Mandarin." And so, with a suitcase in hand, Wong travelled to Shanghai. Within nine months he'd secured two of the area's most valuable plots of land including the K. Wah Center in Huaihai Road.
"You meet people, you follow up and you follow up," he says when describing the secret of his success.
Wong went on to work as Managing Director of Henderson China, and then joined Shui On group. Here he was part of the team that started Xintiandi, rolling out the concept of the entertainment district to many Chinese cities. Next he moved to the Hsin Chong Construction group, where he held the title of Chairman and CEO from 2007 until 2015.
During this time, Wong still managed to keep actively involved is his community, and today he is the Chairman of the Hong Kong Baptist University Foundation, Chairman of the Hong Kong Arts Development Council, Chairman of the Hong Kong International Film Festival Society and Deputy Chairman of the Hong Kong Film Development Council. He is also the Chairman of the Standing Commission on Civil Service Salaries & Conditions of Service of Hong Kong, Chairman Emeritus of Pacific Basin Economic Council, and Chairman of the Hong Kong Institute for Public Administration.
Wong was awarded the Silver Bauhinia Star Medal and Gold Bauhinia Star Medals by the Hong Kong SAR government in 2007 and 2015 respectively, in recognition of his public service.
While Wong was based Shanghai, he would always try to spend his weekends in Hong Kong to be with his wife and two sons. He chose not to relocate his family to Shanghai so as not to disrupt their academic and personal lives, but one of his biggest fears he admits is that his wife might be unhappy because he didn't and doesn't spend enough time with her.
Having now been married for 35 years, he says that she's always been the heart of the family, taking care of their sons and arranging online group chats to keep everyone in touch. Reflecting on this, Wong admits that he is eternally grateful for her love and support, because she understands that he's doing what he loves in life.
Interestingly, Wong's sons Jonathan and Calvin share many of the same passions as their father. Jonathan has gone into the entertainment industry, something that was an obvious fit for him from a young age, when he'd often be found setting up stages and singing. Calvin, on the other hand, works in JP Morgan. He says his ambition is to become a CEO like his dad.
Wong took up his current role as President of gaming concessionaire Sands China Ltd. in November 2015. He says it's a big responsibility, but one that keeps him excited. His workload has always been heavy, and the stress high, but he enjoys rising to the challenge and feels grateful to have achieved all he has in life so far.
"Inner peace is when you know how much you have contributed to the world," he highlights. "When you do your public duties, you feel the influence you have on people – where one policy is going to impact tens of thousands of people," he concludes.