Wellness expert Renu Dhawan shares her yoga skills and Ayurvedic training with a growing community in Macao.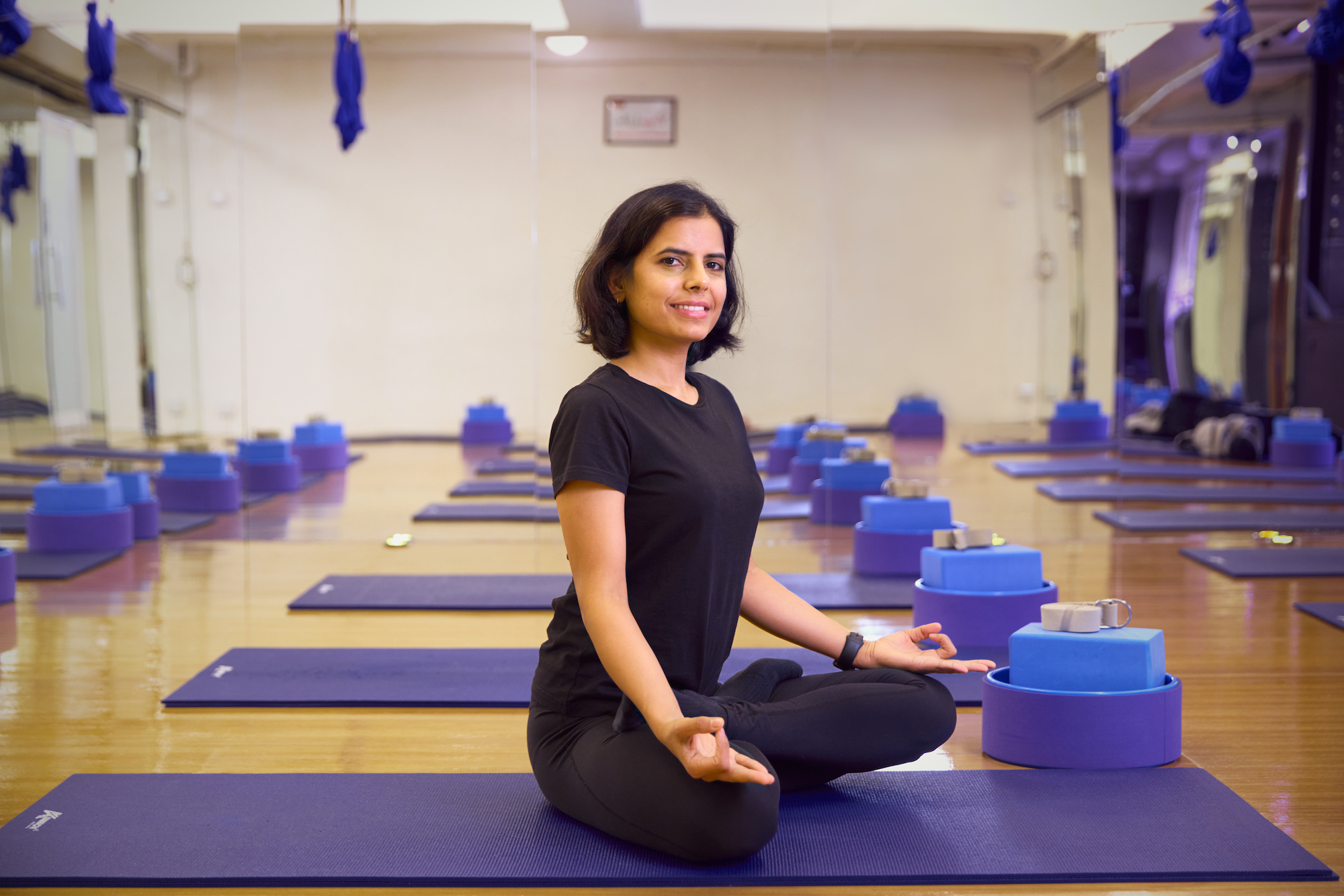 For Renu Dhawan, health goes beyond a number on a scale, blood pressure or cholesterol – it's about both your mind and body. That's why the native of Haryana, a state in North India, shares yoga and Ayurvedic practices –  an ancient Indian health philosophy – with anyone seeking to improve their wellbeing in a holistic way. 
In Macao, where the speed and pressure of modern life spares very few, Dhawan believes simple practices of meditation, a plant-based diet and yoga can help people restore clarity and maintain balance. Having seen that transformation in her clients, the Ayurvedic doctor felt inspired to open Yoga Life, a leading wellness centre in Macao, in 2012. 
"If you see people around you suffering, then you cannot be happy," she says of her philosophy. Dhawan's path has taken her from humble beginnings to academic success, and, eventually, to  Macao, where she helped to cultivate a community interested in a slow-paced style of life that incorporates yoga, wellness and mindfulness.  
Redefining wellbeing
Born in 1980, Dhawan grew up close to nature with three siblings (two sisters and a brother). Her father worked as an engineer and her mother a teacher. When she was young, she recalls dancing to traditional Indian folk music and Bollywood tunes with her two sisters and watching older villagers fold into intricate yoga poses.  
Since so many people in her community practiced yoga, Dhawan picked it up as a child and never received any formal training. Most often, she practiced with her grandparents who encouraged her to embrace yogic breathing exercises. But back then, meditation and breathing seemed too still, too boring to Dhawan. She and her sisters were more interested in yoga's acrobatic side, attempting challenging poses that could test their physical fitness and agility.
As she grew up, Dhawan began to realise that mental wellness is just as important as physical stamina. People need to be more aware of their overall wellbeing and prevent issues early before they become serious problems, she says. 
It was this realisation – and a desire to help others – that propelled Dhawan to pursue Ayurvedic medicine as a career. "I wanted to help people [discover wellness]," says Dhawan. 
Ayurveda follows the maxim, "prevention comes first, treatment comes later," says Dhawan. It focuses on patients' unique constitutions, developing tailored recommendations for movement, diet, herbal treatments and mindfulness.
"Heart attacks and cholesterol problems can be avoided with proper diet and exercise. It is also possible to reduce your chances of Alzheimer's disease and Parkinson's disease through meditation."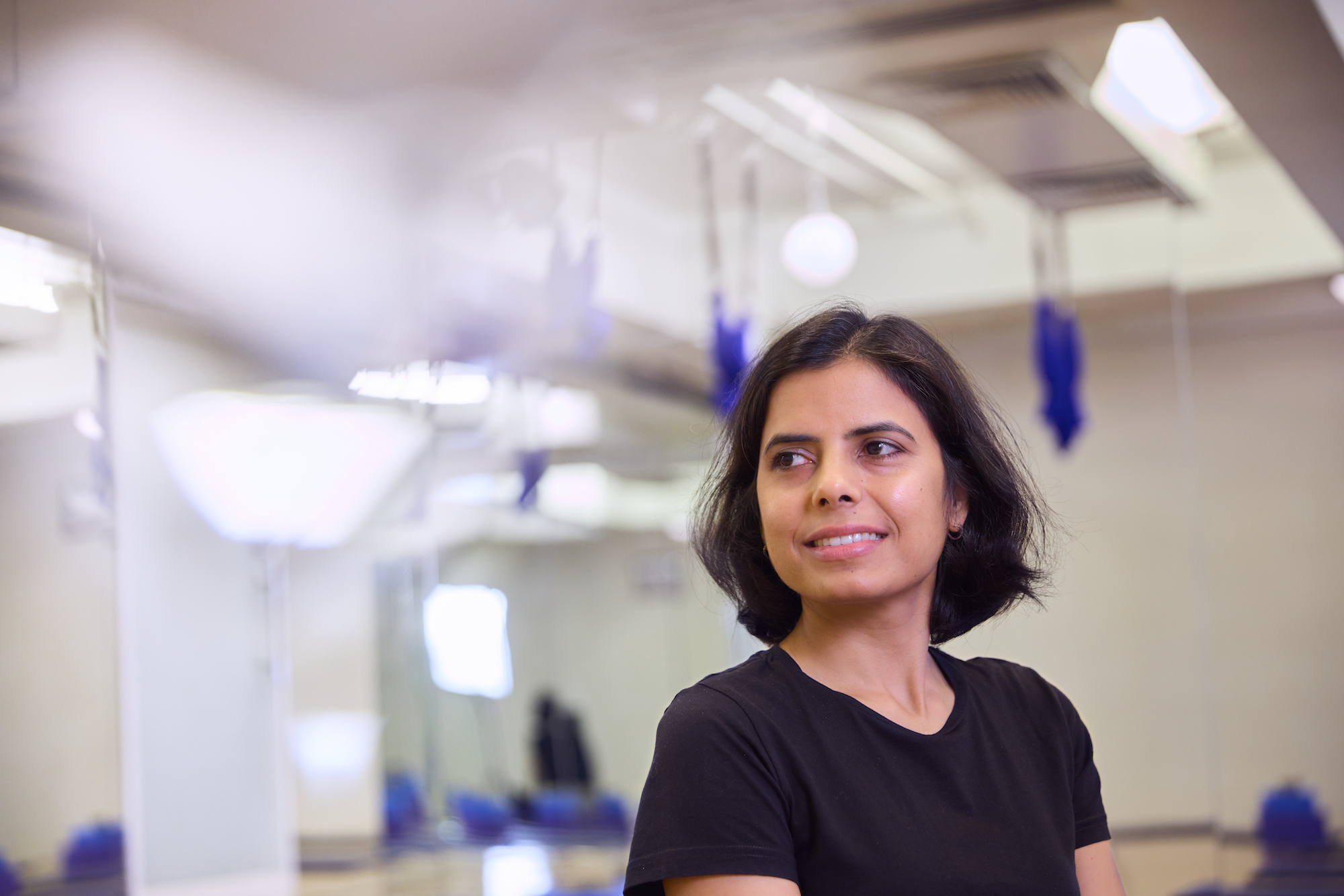 After graduating from secondary school in 1998, Dhawan spent a year studying for the Premedical Test, a highly competitive entrance exam conducted for national medical universities in India. She says the experience was "the greatest challenge of her life" and she will "never forget studying day and night." Her hard work paid off – one of the best medical colleges in her province, Shri Krishna Ayush University, accepted Dhawan. 
Dhawan studied medicine for six intense years, then graduated with a Bachelor of Ayurvedic Medicine and Surgery in 2001, followed by a Master of Business Administration in Healthcare Management from Sikkim Manipal University in 2003. In university, she trained in both Western and Indian medicine, covering anatomy, physiology, pediatrics and scanning technology such as radiology. 
Dhawan specialised in Ayurveda, because it is "a natural lifestyle," that focuses on balance and prevention, relying less on  specific treatments. 
As a part of her studies, Dhawan regularly practiced yoga, which only intensified her passion for the mental and physical practice. She describes Ayurveda and yoga as "sister sciences", developed based on the same principles derived from the Vedas (5,000-year-old scriptures written in ancient Sanskrit), which explain how to live a healthy life.  In the years following her studies, Dhawan attended several yoga teacher-training schools in India, where she learned many different yoga styles, techniques and insights.
From theory to practice
The year she graduated, in 2003, Dhawan started her first job as an Ayurvedic doctor at a clinic in Delhi, the capital of India. It was this same year that Dhawan met a fellow yoga enthusiast, Ashish Dhawan, who would become a partner in life and work, and her journey as a yoga professional began to unfold. 
Ashish worked in the hotel industry as a yoga and fitness consultant, traveling to different properties to set up yoga and wellness facilities. They married in 2006 and, soon after, moved to the Maldives where the Four Seasons hoped to introduce Eastern wellness concepts to Western tourists. They both provided Ayurvedic consultations and taught yoga classes in this prestigious island destination. Dhawan worked at ​​Four Seasons Resort Maldives at Landaa Giraavaru, while Ashish worked in the Four Seasons Kuda Huraa.  
After a year, Dhawan returned to India, where she decided to switch gears. Since it would be expensive and stressful to set up her own Ayurvedic clinic, Dhawan focused on yoga instead. After all, it was a practice she could take anywhere – all she needed was her body and knowledge.
In 2008, Ashish joined the Mandarin Oriental, Macau (which later became the Artyzen Grand Lapa Macau) as the yoga and fitness manager, which brought the couple to the city. From 2008 to 2012, Dhawan also taught yoga and provided wellness consultations to clients at the hotel. 
When Dhawan first arrived, she recalls people telling her that she was "in the wrong place." As a city known for its buzzing 24-hour casinos, many outsiders were skeptical of Macao being even remotely meditative. Dhawan also faced a profusion of misconceptions. Some people believed yoga was a religious activity; others thought it was only for vegetarians or gymnasts, restricted to those in tip-top shape.
Dhawan continued to raise awareness about wellness and shared her passion with clients every day. Over time, she began to observe a groundswell of interest, which led her to establish Yoga Life, one of Macao's first yoga studios, in 2012.
In her large, soothing studio on Avenida da Praia Grande, Dhawan offered a wide range of yoga styles, from yin (a slower practice with longer stretches) to hatha (a gentle style focusing on strength and flexibility), Vinyasa (faster movements synchronised with one's breath), and more. She also provided private sessions for those with specific concerns or goals, such as balance, strengthening or flexibility.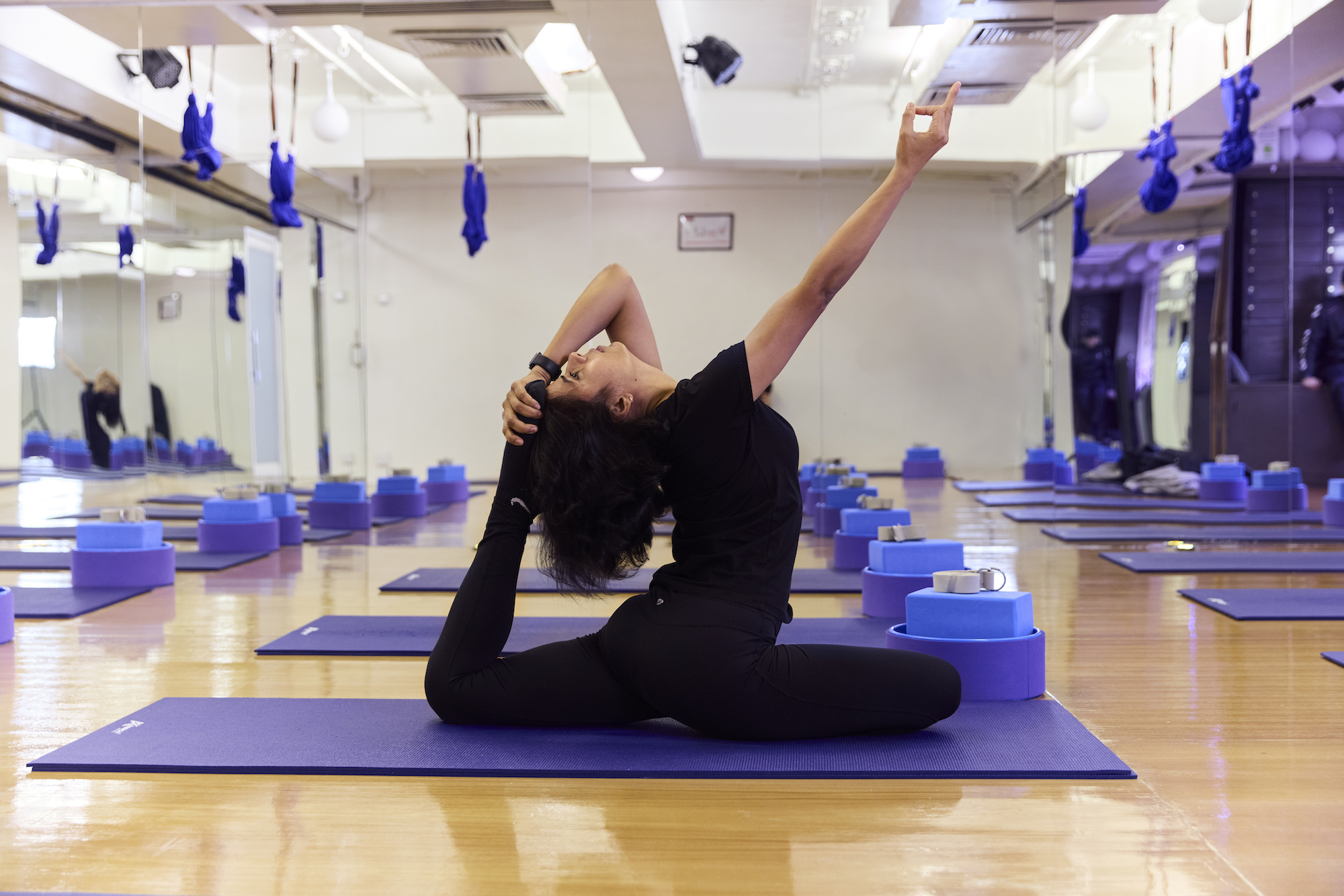 In the early days, Dhawan worked tirelessly to debunk misunderstandings through communication and education. She shared articles and books with skeptics,  and wrote about yoga's many benefits for local Macao newspapers. 
Dhawan found that people in Macao were very open-minded and, most importantly, willing to try new things. With time, Yoga Life increased in popularity, thanks largely to word-of-mouth and referrals. According to Dhawan, 80 per cent of Yoga Life's original clients continue to attend classes to this day. 
With her first yoga studio thriving, Dhawan established a second location in Avenida Olimpica in Taipa in 2018. Now, Dhawan employs three other professional instructors, runs up to 20 classes daily, including aerial yoga (which uses hammocks for deeper stretches and balance) and provides private sessions, too. And in 2019, her practice expanded beyond Macao's borders with online consultations for clients in New Zealand and Europe.
Sharing yoga with Macao
At Yoga Life, Dhawan has encountered clients with a wide range of concerns, from shoulder aches to insomnia. She leans on yogic teachings "to guide clients' lifestyles and alleviate the pain in a natural way" and strives to share her "best teachings to anyone who needs it most."
Although "everyone comes with a different goal," Dhawan tailors private yoga classes based on the individual's constitution with an aim to strengthen their physical and mental health. 
"We really want the people of Macao to learn and practice yoga like they practice tai chi and qi gong," she says. "To integrate yoga into the culture and lifestyle of Macao, and for locals to adopt it as a preventative healthcare system."
Hiroko Saito, a client who attends weekly sessions at the Taipa studio, sought Dhawan out after the 2020 Covid-19 lockdown to get back into a daily exercise routine. Through yoga, Hiroko discovered "an opportunity to reconnect with [her] body and mind – refocusing on what is actually important in her life." 
Outside of the studio, Dhawan holds wellness sessions and yoga workshops for clients she met at the Artyzen Grand Lapa Macau. "If people in Macao want to do something, they commit," she says, applauding her student's dedication and proactive mentality. "They are committed to us; we are committed to them."
Dhawan is not only committed to her students, but also to regular community work. In 2012, Dhawan and Ashish founded the Indian Cultural and Health Association of Macau, a non-profit organisation that shares Indian culture and holistic wellness practices with Macao through events.
In her personal life, Dhawan also strives to impart her beliefs – "honesty, truthfulness, and service before self" –  to her two daughters, who are five and seven years old. Both attend Dhawan's Kids' Yoga sessions, which helps them "develop physical strength and flexibility," she says. Since yoga is a non-competitive sport, Dhawan also believes it teaches children to be calm and patient.
Looking to the future, Dhawan hopes to expand her company to include a host of new services. For starters, she plans to return to Ayurveda and open a clinic where she can provide lifestyle consultations and herbal remedies. Since her philosophy of "food as a medicine" is based on Ayurvedic principles, she also hopes to develop a food and beverage arm, as well as her own healthcare products, such as teas and cosmetics. 
"Our focus is on [encouraging] integrated natural healthcare systems, [taking a] preventative and therapeutic approach to improve [the] overall health and wellbeing of Macao people," she explains. 
Reflecting on nearly 15 years in Macao, Dhawan says she never could have dreamed of this life but wouldn't trade it for another, adding: "Macao is our home now, and Macao people are our family."