António Bruno Soares has left a mark all around Macao through unique and memorable buildings. Read more about one of the city's most prolific contemporary architects.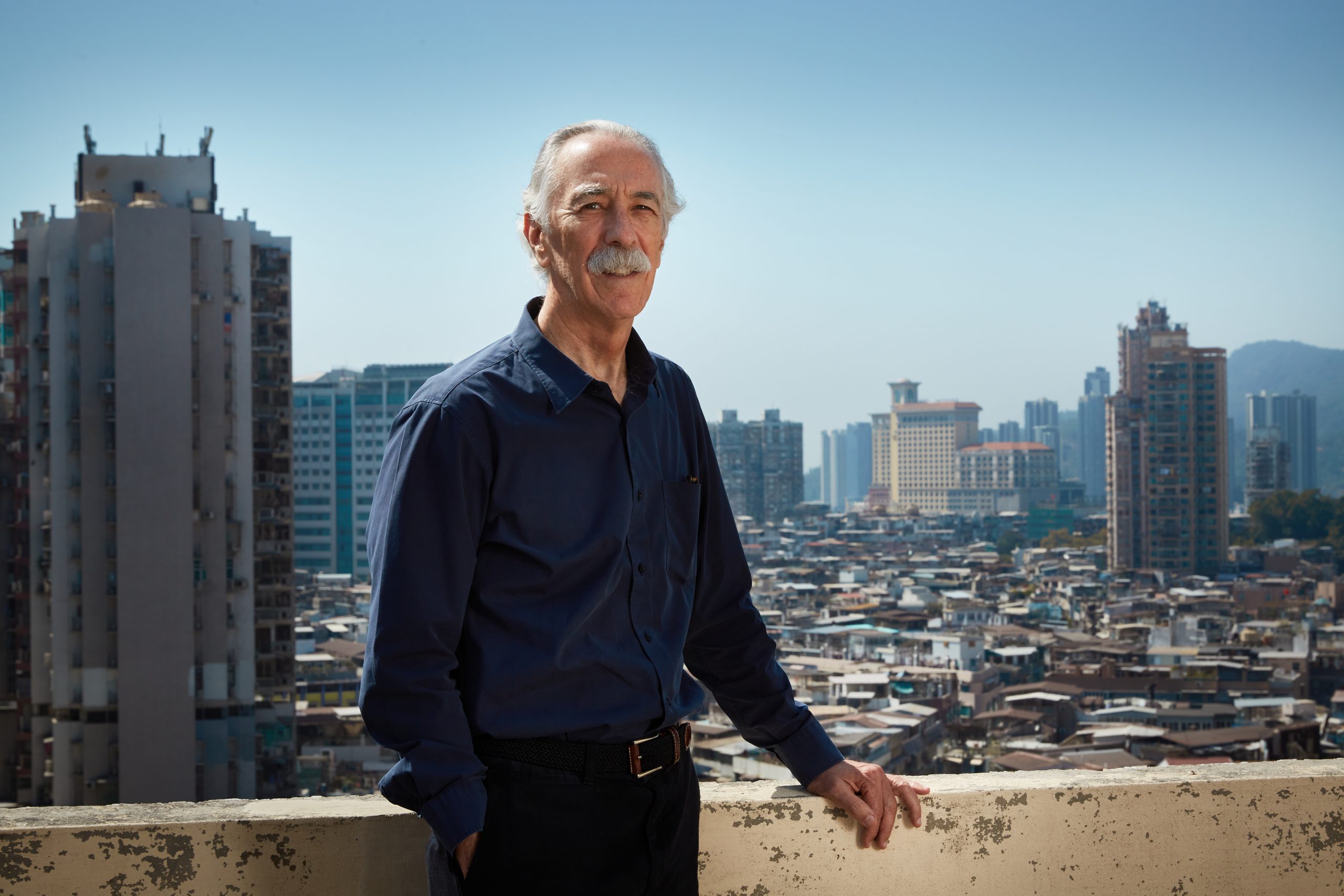 Look around at Macao's most unique and memorable buildings, and you will see the mark of António Bruno Soares. Yet, it was only by serendipitous slips of fate that Soares became one of the city's most prolific contemporary architects.
Born in February 1947, in Oeiras, Portugal, Soares spent his childhood in and around Lisbon with his four brothers. He fondly recalls memories of sketching, admiring buildings and exploring construction sites as a young boy with two of his brothers.
He attended Passos Manuel High School in 1964 but when it came to applying for university, the school required applicants to submit paperwork in person. Since Soares was vacationing in northern Portugal at the time, his mother filed on his behalf. Despite Soares' careful instructions, she signed him up for a degree in civil engineering, certain it would open more doors than architecture. 
And so it was that Soares attended the Faculty of Sciences at the University of Lisbon for two years. He then transferred to the University's Fine Arts School – the oldest art school in Portugal – where he completed a degree in architecture.
"University was six extraordinary years with good colleagues and friends for life," he recalls. "We had great camaraderie."
For Soares, it was a period of personal development, within the greater context of political and artistic upheaval in Europe. "In May 1968, university students in France went on strike and protested in the streets. The echoes of that movement arrived a year later in Portugal, and in 1969, there was a climate of permanent revolution in the fine arts," says Soares. "[The Fine Arts School of Lisbon] closed several times and there was a general assembly of students practically every day, since the changes were constant."
In 1969, a new influence came into Soares' life. Teacher and architect Tomás Taveira arrived at the school, bringing "new ideas, a different relationship with architecture and a new dynamic to the classes," he recalls. "At the time, using slides in the classroom was a very new experience – it was a new system of teaching – and he showed us architecture from all around the world." 
Soares came to appreciate some modern architects, such as German-American architect Ludwig Mies van der Rohe and American architect Frank Lloyd Wright. In particular, he says the German Bauhaus school and its concept of functionalism touched him deeply. 
But for Soares, perhaps the most inspiring development was meeting his wife, Irene Ó, whom he describes as "the One". The pair met during class in the second year of university, often heading into the city centre where they would sketch together, dine at little cafes and frequent libraries. In 1972, they married while they were both in graduate school.
They attained their degrees in 1972, but Soares and Ó had already started working by then in Lisbon. Soares joined architect Maurício Vasconcelos in 1970, while Ó worked with architect Raúl Chorão Ramalho, who was already somewhat established in Macao, in 1972.
The following year, on 25 April 1974, The Carnation Revolution swept across Portugal, upending the government and ultimately paving the way for a democratic regime. With little demand for architects during the political turmoil, Soares worked as a teaching assistant in the architecture department of his alma mater for a year. The job was not particularly interesting, but as Soares points out, "leaving Lisbon was not an option. It was what it was." 
Little did he know, life was about to change in a big way. Soares' father-in-law, Ó U Chi, who owned the first Chinese restaurant in Portugal, was a Macao citizen of Chinese descent who immigrated to Lisbon in 1954 following the Communist takeover with 7-year-old Irene Ó in tow. 
And 22 years later, Irene and her father visited their homeland for a month-long tour. When they returned to Lisbon, Soares recalls his father-in-law's prophetic words: "The global economy is going to move to the East. You should both take advantage and go to Macao."
A seed was planted, and that seed took root in 1974, when Colonel Garcia Leandro became the first governor of Macao. As luck would have it, Soares' older brother had served in Timor-Leste alongside Leandro. Soares secured a meeting with the new governor during one of his visits to Lisbon, and asked a simple question: Are there any openings for architects in the local administration? The answer was a resounding yes.
And thus began a new adventure. In January 1978, Soares and Ó arrived in Macao with their two children, 3-year-old Maria and 8-month-old João, who would eventually follow in their parents' footsteps to become well-known architects in Macao.
To this day, Soares vividly recalls the experience of approaching Macao by ferry. "One could see the lighthouse and Guia Hill very well. The embankment on the way to the outer harbour terminal was full of zinc huts," he remembers. "We docked at an old pier and all got into a cab and headed for the Praia Grande Palace, where we lived for a month. I arrived without a contract, only a verbal agreement to work in the Public Works Department."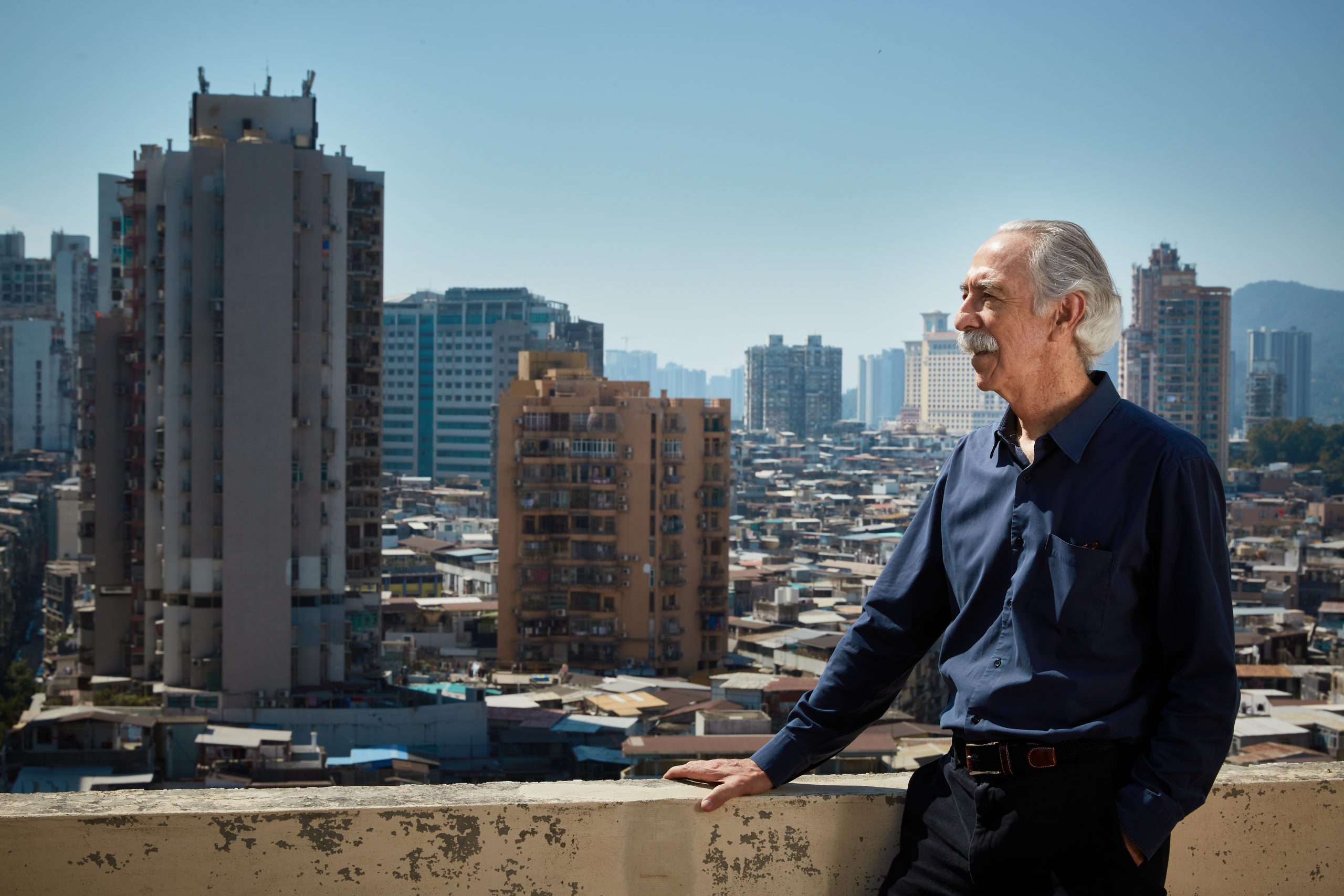 After about a month, Soares started working with two other architects in the administration's Public Works Department. The family also exchanged their rooms at the Palace for their first residence in Macao: a fifth-floor apartment without an elevator. 
"That martyrdom – walking up and down, carrying two children – lasted almost a year. But I was the only one working in the family, with a salary of 5,000 patacas a month," he recalls. A year later, the family moved to a three-bedroom apartment on Xavier Pereira Avenue, where they still live, more than 40 years later.
In February 1980, nearly two years after Soares arrived in Macao, he left Public Works, and the family pondered a return to Portugal. "In the end, we chose to stay and build a life in Macao," says Soares. "We opened O.BS [which later became O.BS Architects] and started to take on more projects."
As O.BS flourished, it became apparent that they had made the right decision. "In the 1990s, after the announcement about [the handover] in 1999, there was a lot of work in Macao. Portugal wanted to leave a mark. The '90s were fantastic for work." 
Today, the studio's catalogue includes over "150 buildings of all kinds", he says. So where does Soares draw inspiration? One could certainly argue that some comes naturally. After all, architecture and design run in his blood – his father, a pilot who worked for Portugal's flagship airline TAP, loved engineering and construction, while two of his brothers are also architects.
He also soaks up inspiration from his surroundings. "We observe the area, the local feeling, the first impression of the site and what it is asking for," he says. "That can impact how we design the space and what types of materials we work with."  
While their work varies widely, heritage requalification projects are one of the hallmarks of O.BS Architects. As an example, he points to the Finance Department building, an 18-storey tower with a dramatic five-storey podium which the duo completed in 1987. While the client did not want to reconstruct the old Portuguese building, they kept the original facade at Soares and Ó's recommendation.  
Then there's the renovation of the Bela Vista Hotel, now the Portuguese Consul General's residence; the renovation of the old São Rafael Hospital, where the Consulate General of Portugal in Macao and Hong Kong now stands; the construction of BNU headquarters; the Military Club and the Silva Mendes house for the United Nations University. All are part of their wide-ranging portfolio. He prefers to create modern, simple structures in expansive spaces, using mostly steel, aluminum and glass.
Of all the duo's past projects, it's the Macao Cultural Center, completed in 1999, which brings a "smile to his face." "I spend a lot of time at the Macao Cultural Center. I like the building, the architecture, the place. It wasn't, and still isn't, enclosed in the middle of buildings. Instead, it's a vast, open space yet still part of the city."
His professional achievements don't end there. Soares served as president of the Architects Association of Macau from 1992-1998, former Portuguese President Mário Soares awarded him the Commendation of the Order of Professional Merit in 1995 following the inauguration of the Military Club, and in 1999, the Macao government awarded Soares and Ó the Medal of Professional Merit. 
In his spare time, Soares indulges his love of swimming and sailing – a hobby he took up at the age of 40 – at the Cheoc Van Nautical Club. He is immensely proud of his "Millennium Adventure", where he and his brother-in-law, Vicente Ó, sailed his 14-metre-long boat, named "Macau" from Macao to Portugal between November 1999 and August 2000. 
In November 1999, Soares and five crewmates – his brother João, Ó, daughter Maria, a navigator from Hong Kong and an assistant from Portugal – spent nine months sailing across the South China Sea, Indian Ocean, Red Sea and the Mediterranean to the Vilamoura Marina, which Soares had designed prior to moving to Macao, on the southern coast of Portugal.
After 40 years in Macao, Soares is as busy and forward-thinking as ever, with no desire to retire. For years, he has hoped to design a gaming museum for Macao. "Since Macao is the gambling capital of the world, it would make sense to have a dedicated museum for children's games and casino games alike," he says. "We proposed the idea many years ago to Chief Executive Edmund Ho. So far no one has gotten on board, but maybe one day, someone will embrace this idea."