Vida Rica Bar's latest pop-up promises an immersive ode to nature
Vida Rica Bar's latest pop-up promises an immersive ode to nature

Link copied
Mandarin Oriental Macau brings the outside in for a whimsical, nature-inspired dining and drinking experience.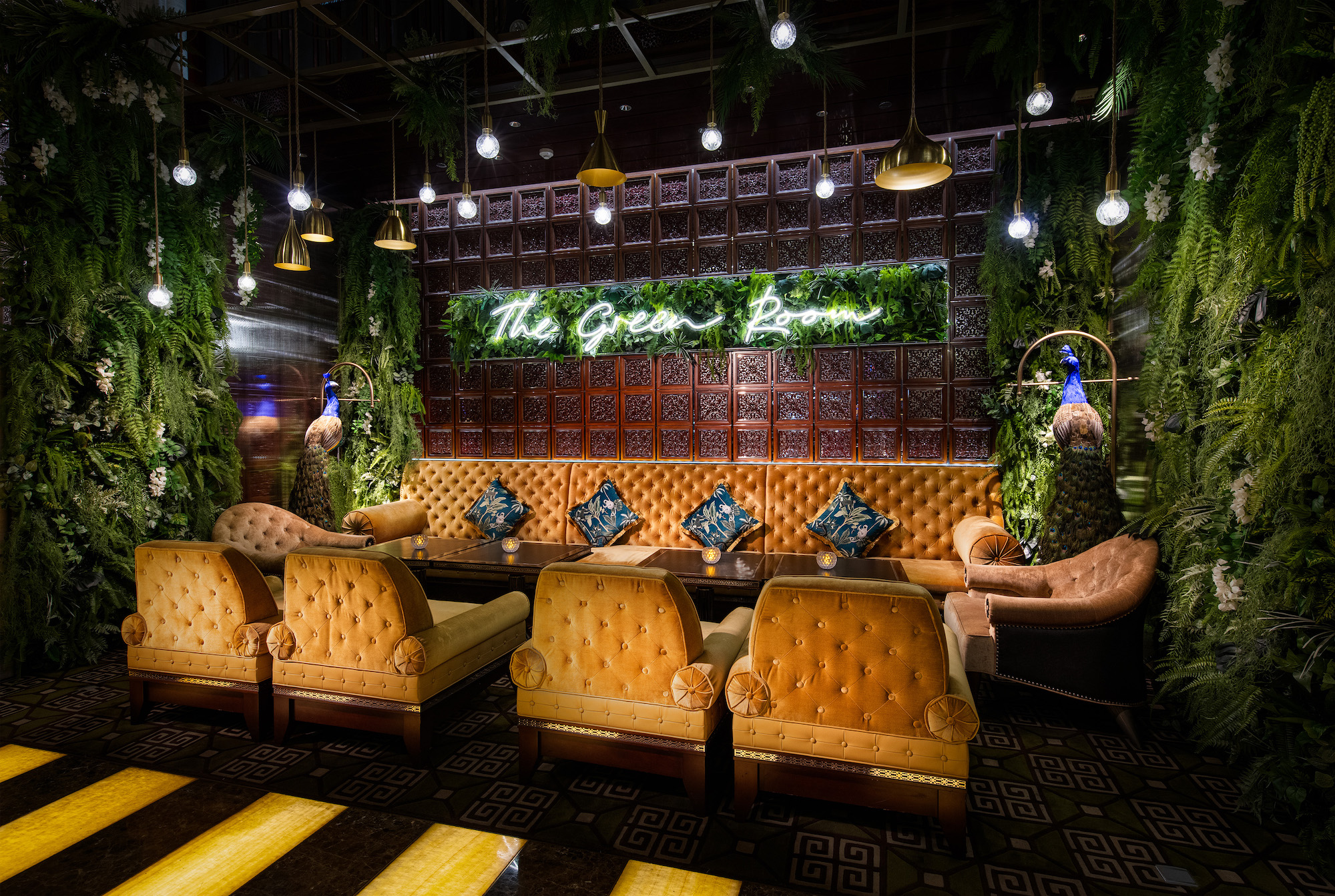 When riding the lift up to the Mandarin Oriental's signature Vida Rica Bar, it's only natural to feel a rush of excitement. After all, the bar regularly hosts guest bartenders and launches creative seasonal concoctions to keep things fresh. 
The bar's latest pop-up concept, The Green Room, running 'till the end of year, doesn't disappoint. But this time, when the elevator doors open, you may wonder: Is this Vida Rica or a whimsical, enchanted garden?  
In is out and out is in 
The first thing you'll notice is that "The Green Room" is aptly named. The centrepiece is a life-size faux tree with glass butterfly figurines hanging from its branches at the end of the bar.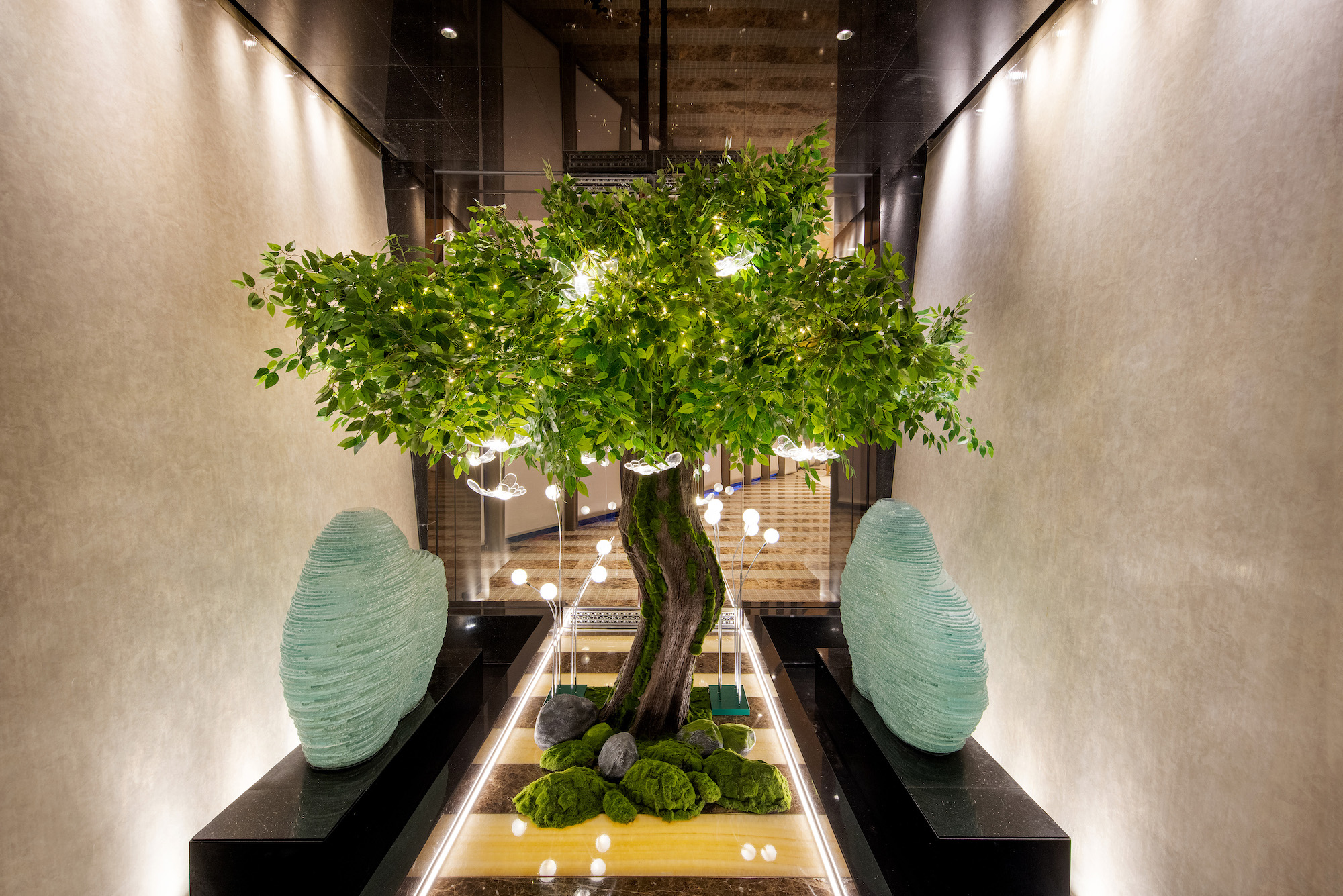 The expansive booth-style seating areas have also been transformed to feel like a lush garden. Verdant foliage cascades from the ceiling and even seems to grow out of the walls, creating a dining experience that will transport guests to the great outdoors – without the humidity, of course. 
"Our objective when we created The Green Room was to bring the outside in and the inside out. We wanted it to be a venue where guests can simply relax and be close to nature while enjoying the stunning sunset view of Macao," explained Jean Ho, Director of Communications at Mandarin Oriental.
You won't be short on company when visiting The Green Room, either. Bird figurines perch next to the tables, not only complementing the bar's verdant atmosphere but also providing the perfect sidekick for photo opportunities.
Flavours of the Earth 
Vida Rica revamped its menu for the pop-up, too, adding tasty twists to signature dishes and picture-perfect presentations. Some of the highlights include vegetarian-friendly dishes, extending the green theme to eco-friendly choices such as Macau Fried Cauliflower (a play on the bar's iconic Macau Fried Chicken) served with a zesty yuzu chilli lime dip. The bite-size pieces come in a cinema-style popcorn box for a fun dining experience that will keep you reaching for more. 
The Green Room "meatballs" are meatless, too, made with chickpeas and mushrooms coated in a soy-honey glaze. Even the signature pizza skips meat, featuring a crème fraîche base topped with celeriac puree, crispy kale, black olives and slices of butternut squash.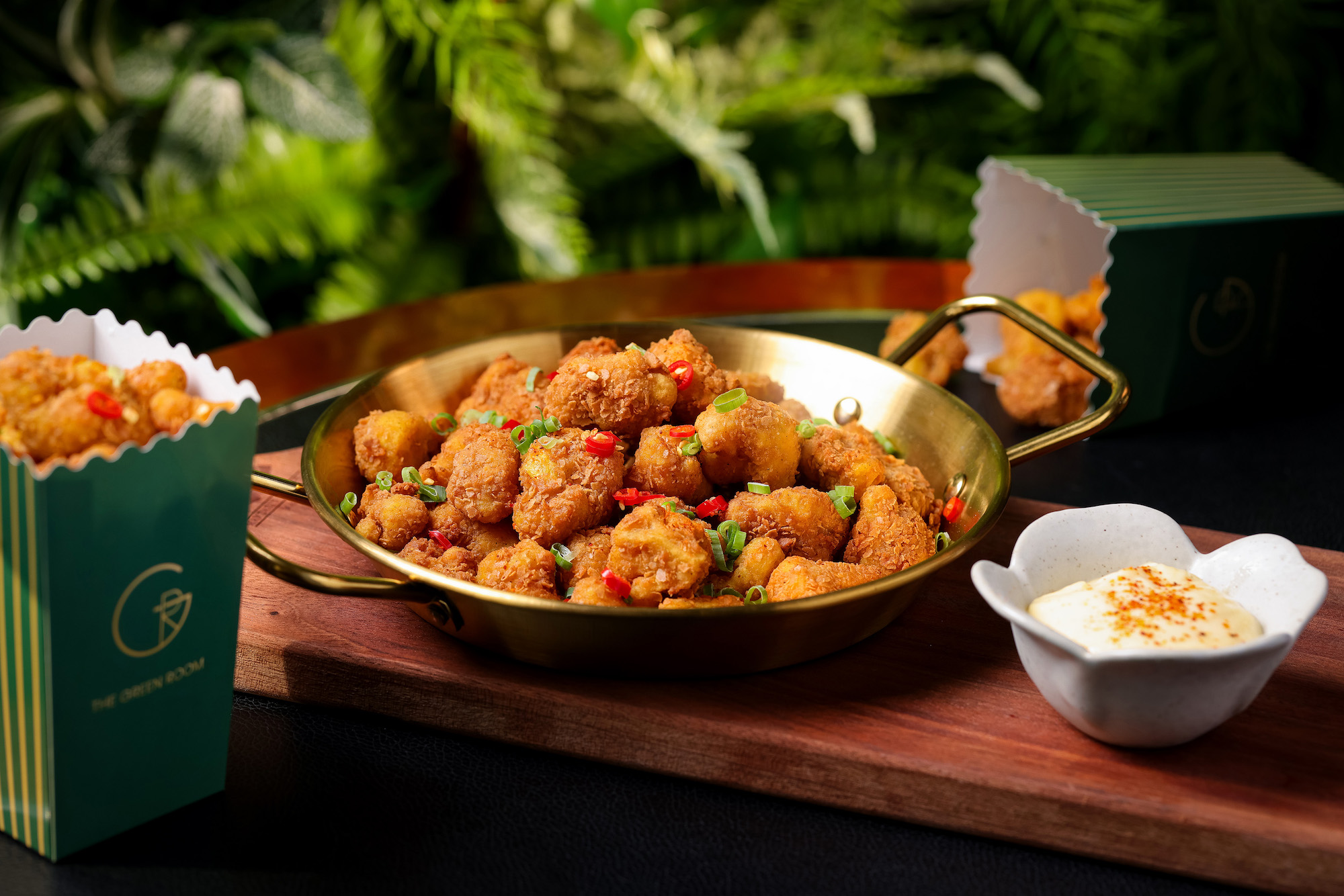 Those in search of seafood will find clever spins on familiar items, like the giant crab cake, which offers a fresh taste of the sea. Seasoned with coriander, the crab cake has a slight kick that's complemented beautifully by a pineapple salsa. Meanwhile, uni, gold leaf and salmon caviar elevate Vida Rica's spring rolls.
Even the drinks have gone green. Head mixologist DC Liu has crafted three special cocktails named after birds, which range from refreshing and herbal to fruity and floral. The Peacock combines gin, seedlip garden, rosemary, thyme, sage and tonic; the Swan is made with gin, dill, bergamot, rhubarb and lime; and the vodka-based Flamingo brings together tropical flavours, like lime, kaffir, orange blossom and sea salt with whipped cream on top. There are also special mocktails, namely the Grass is Greener and Green Tonic. 
Offering a mix and match approach, The Green Room's food and drink specials are available alongside Vida Rica's usual menu, so you don't have to choose between all-time favourites and new creations.  
Plant a garden of flavours 
While the limited-edited cocktails and nature-infused bites set a high bar, dessert might be the star of the show. The Green Room's special sweets, developed by Executive Pastry Chef Sebastien Bernis and his team, are not only a treat to eat but also a feast for the eyes.
The desserts are veritable works of art with incredible attention to detail. Each meticulously crafted dessert resembles its namesake: Roses are Red, for example, replicates the timeless symbol of romance with raspberry coulis with rosewater cream on a bed of chocolate "soil" crumble. Meanwhile, Flower Garden arrives in a glass box containing an edible vase with petals and flowers made out of chocolates. 

"The idea we have when creating the dessert menu is to ensure that it resonates with the 'look and feel' of The Green Room. Our pastry team designed these exclusive desserts to portray elements of nature," said Ho. 
The dessert team takes this inventive concept up a notch on weekends with their playful take on afternoon tea: the Garden Tea experience. 
Thanks to chocolate "soil", mango and raspberry pudding "stones", chocolate "mushrooms" and "cherry tomatoes" made of raspberry mousse, the table spread resembles a whimsical garden. It's even dotted with ladybirds made of strawberry jelly and mousse.
Savoury staples have also been given a makeover. The steamed buns look like mushrooms, while minced chicken and pickled vegetables have been moulded into miniature pumpkins.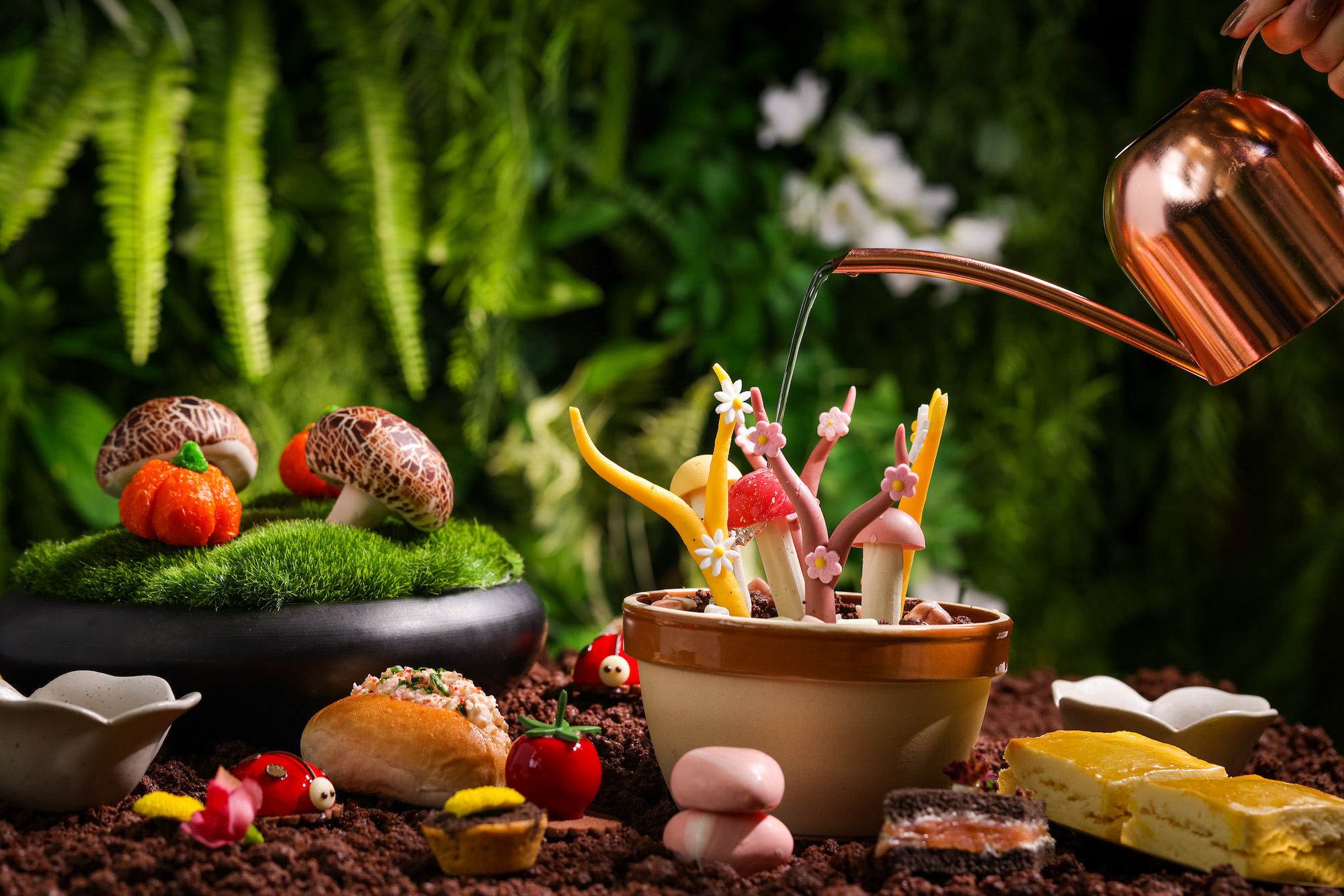 But the crown jewel has to be the Big Flower Pot, an interactive edible plant arrangement you can "water". The pot, made of yuzu, dark chocolate ganache and strawberries, blooms in front of your very eyes. The restaurant encourages guests to play and explore, using their hands to "plant"t and "harvest" their tea set.
From nature-inspired decor to special cocktails, expertly crafted dessert and an immersive afternoon tea experience, The Green Room at Vida Rica has to be seen to be believed. When you ascend in the elevator to Vida Rica and feel that familiar excitement, rest assured that you're in for a dining and drinking experience like no other. 
---
Want to make your social media followers green with envy? Book a reservation at Vida Rica Bar to experience The Green Room until November. The bar has limited seats for these immersive experiences, so be sure to book in advance.