Take an insider's tour of David Beckham's vacation home in Macao
Take an insider's tour of David Beckham's vacation home in Macao

Link copied
We caught up with David Beckham in Macao and David Collins Studio in the UK to bring you the inside scoop on how the invite-only Suites by David Beckham came to be.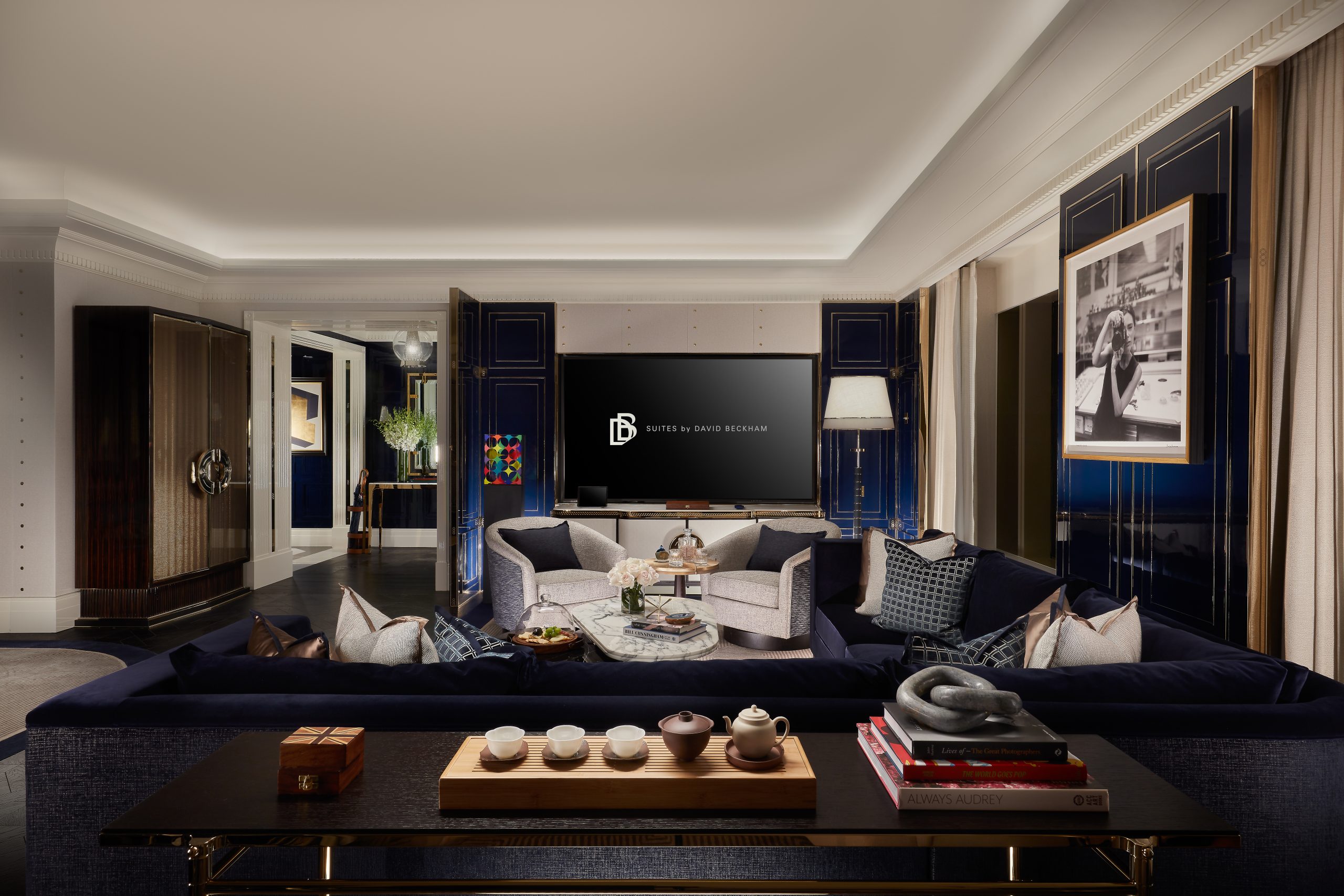 What if you could stay in David Beckham's vacation home? Now, that's a real possibility for the lucky few who receive a personal invitation to be his guest at the Suites by David Beckham. 
A home away from home for the celebrity when he visits Macao as a Sands Resorts Macao Global Ambassador, the handsome suites at The Londoner Macao brim with subtle nods to all of Beckham's favourite things, from family and fashion to football, men's grooming, contemporary artwork and premium whiskeys. Enriched by iconic British patterns and the star's preferred colours – British racing green and royal blue – the invitation-only suites embody Beckham's character with flair and depth.
"In our house in London, I'm very passionate about the smallest details. I am also very particular about the colours and materials I like. I was such a fan of David [Collins] anyway, but working with Sands and his team was a pleasure," says Beckham.
"In every single suite, there are personal details from me. It makes me comfortable and happy when I'm away – to feel like I'm stepping into my house. And that's what we've tried to achieve, with the bed cushions and the pillows with 'DB' monogrammed, it's all very personal."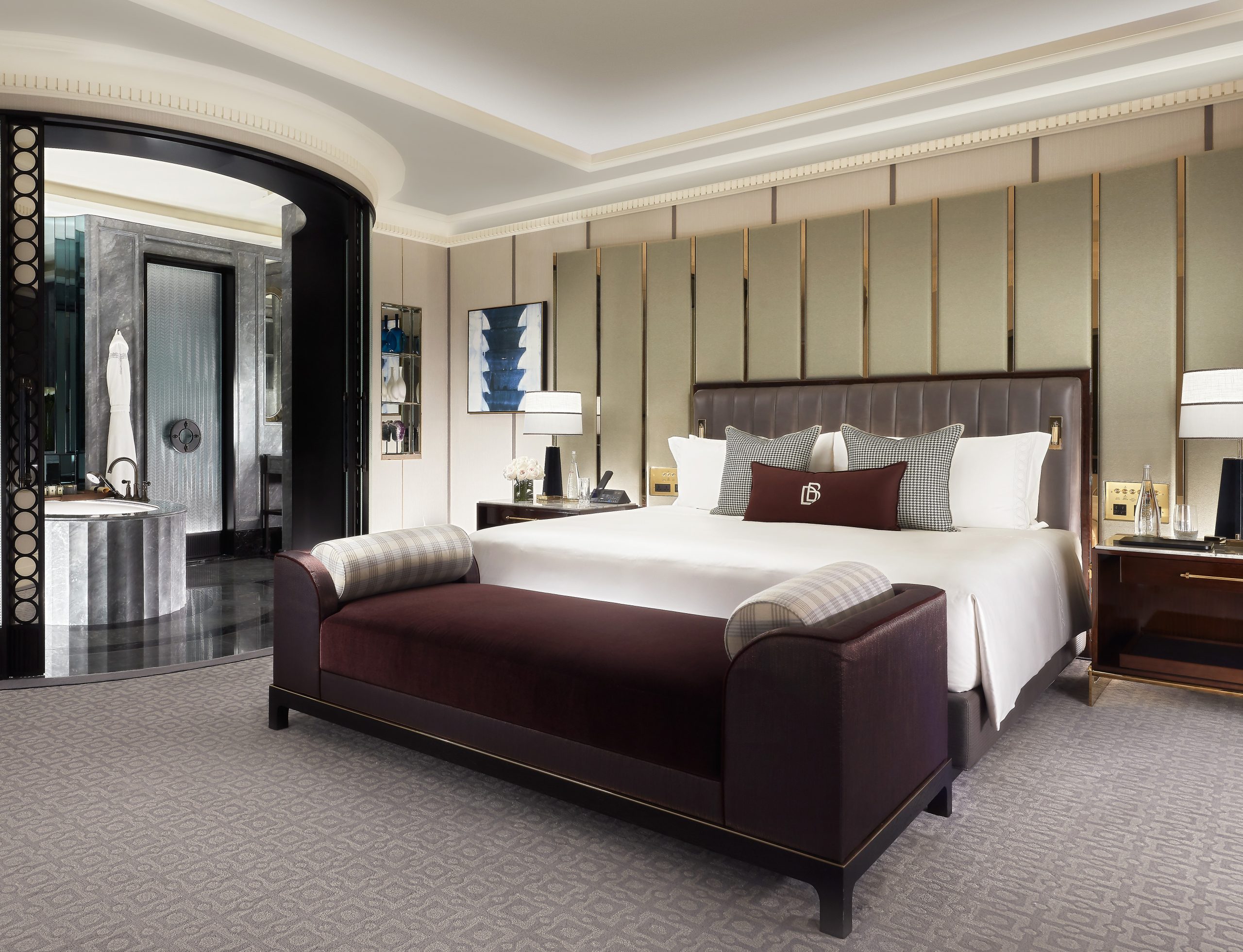 An arbiter of British style  
Besides his storied football career, Beckham has been a successful entrepreneur, fashion icon and ambassador of English style. As a proud Londoner himself, Beckham was the perfect partner for The Londoner's ambitious suites project, which brings the best of London to Macao.
"David is a true ambassador of British style," says Simon Rawlings, the creative director of David Collins Studio. "He has incredible taste, so we felt a strong sense of alignment even before we started."
With Beckham as its stylistic inspiration and collaborator, David Collins Studio spearheaded the project's design stages and execution. Known for its tasteful reinvention of heritage projects, the award-winning London-based design and architecture firm is behind many notable projects, including the iconic Harrods department store, The Wolseley restaurant, and the public areas of Nobu Hotel Portman Square, to name a few. 
During the planning phases, The Studio team had a chance to meet the star in Macao in person and dive deeper into his preferences and pastimes. "We wanted to hear his likes and dislikes and get a sense of his preferred interior style. That way, we could conceptualise his personality three-dimensionally," adds Rawlings. From there, Sands China, David Collins Studio and Beckham began developing a vision for highly personal suites.
"This was a dream project – Beckham and the Sands team were so committed to doing things incredibly well, especially regarding the quality of the materials and attention to detail," says Rawlings. "And that's what true luxury is about. It's not about the splashiest, the brightest, the loudest. It's about being thoughtful. It's about being a bit quiet, a bit more understated."
Creating Beckham's ideal atmosphere
The experience begins in the gorgeous lift lobbies on the top floors of The Londoner Hotel, where gleaming walnut panelling, mohair armchairs and Prince of Wales-checked carpets (a favourite of Beckham's) underfoot signal an atmospheric shift to a life of quiet luxuries. 
When you approach the suites, high-gloss black doors augur well for what's to come. The suites, ranging from 113 to 298 square metres, open into a grand foyer with high ceilings and monochrome marble flooring.
"We wanted to create a real sense of arrival like what you'd find in a luxurious London residence. As soon as you enter, there's a hallway, an umbrella stand, evocative artwork – it has a very British feeling, layered with some eccentricities."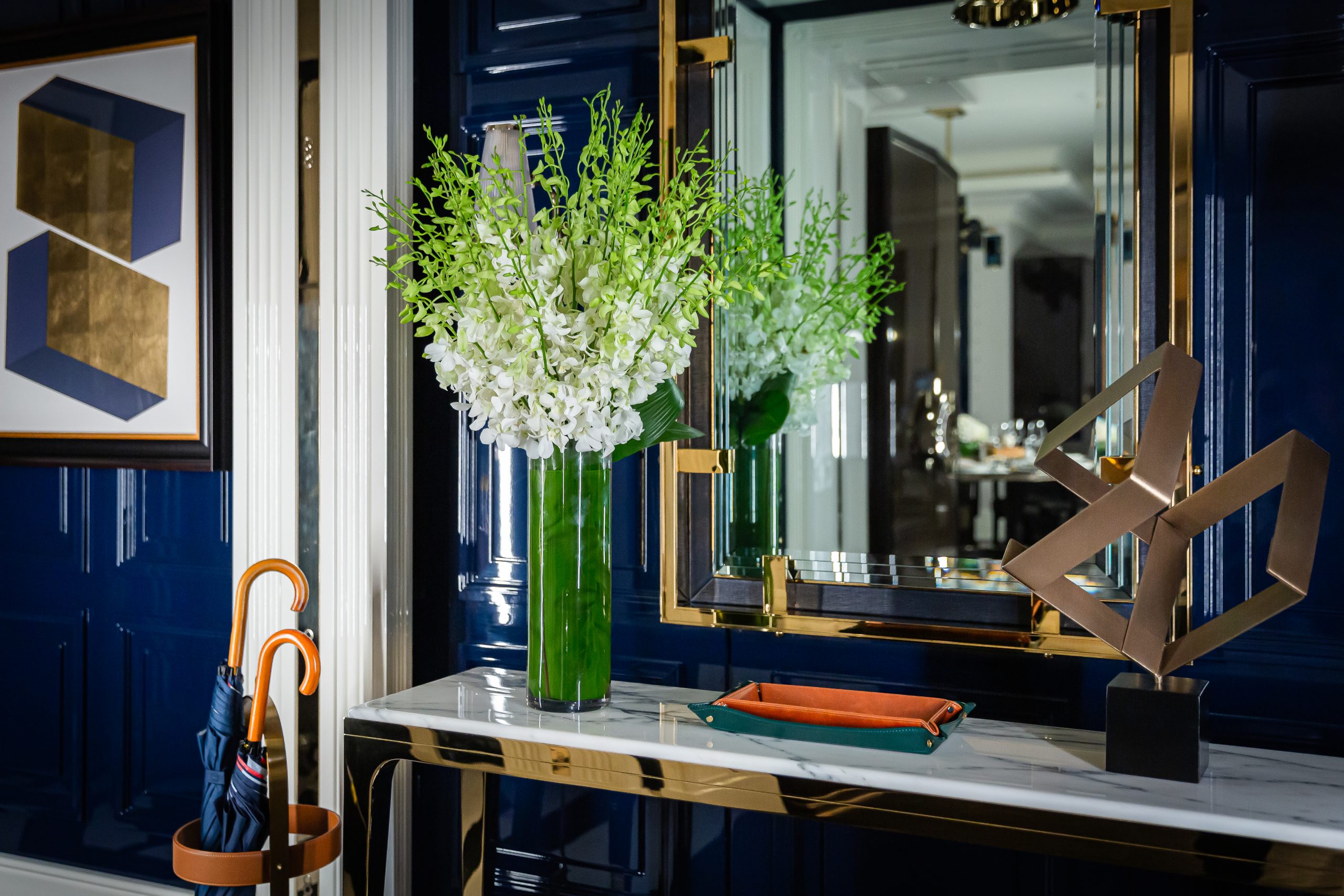 Those who receive an invitation to be Beckham's guests will discover special touches around every corner. In the dining room, a geometric chandelier was created to add a touch of glamour. "It just feels very London to me. It's the cubes and the forms, the moments of randomness within the organised symmetry," says Rawlings of the piece.
In the primary bedroom, you'll find more refined materials, from the chenille wall coverings to hand-tufted carpets, 'DB' embroidered pillows and burgundy sofas. Meanwhile, the primary bathroom feels grounded yet grand, with discreet, green-veined marble and custom bronze fixtures. 
Guests will also experience all the little details that make the celebrity feel right at home. "You have a beautiful bar area where there's alcohol but also a coffee machine, which is exactly what I have at home – I have whiskey next to the coffee, just in case [I'd like an] Irish coffee. Those details are in every suite," says Beckham. 
And one suite even has a secret bar inspired by The Connaught Bar – Beckham's favourite bar in London. Hidden behind lacquered wall panels, the room has been kitted out with custom leather bar stools, walnut panelling and crystal glassware. 
When it comes to relaxing and entertaining, the suites have everything you could need. Beautifully upholstered mid-century furniture invites you to read a book, catch up with friends or unwind after a day of exploring. Around the corner, a separate lounge comes equipped with a massage chair, TV and video game equipment.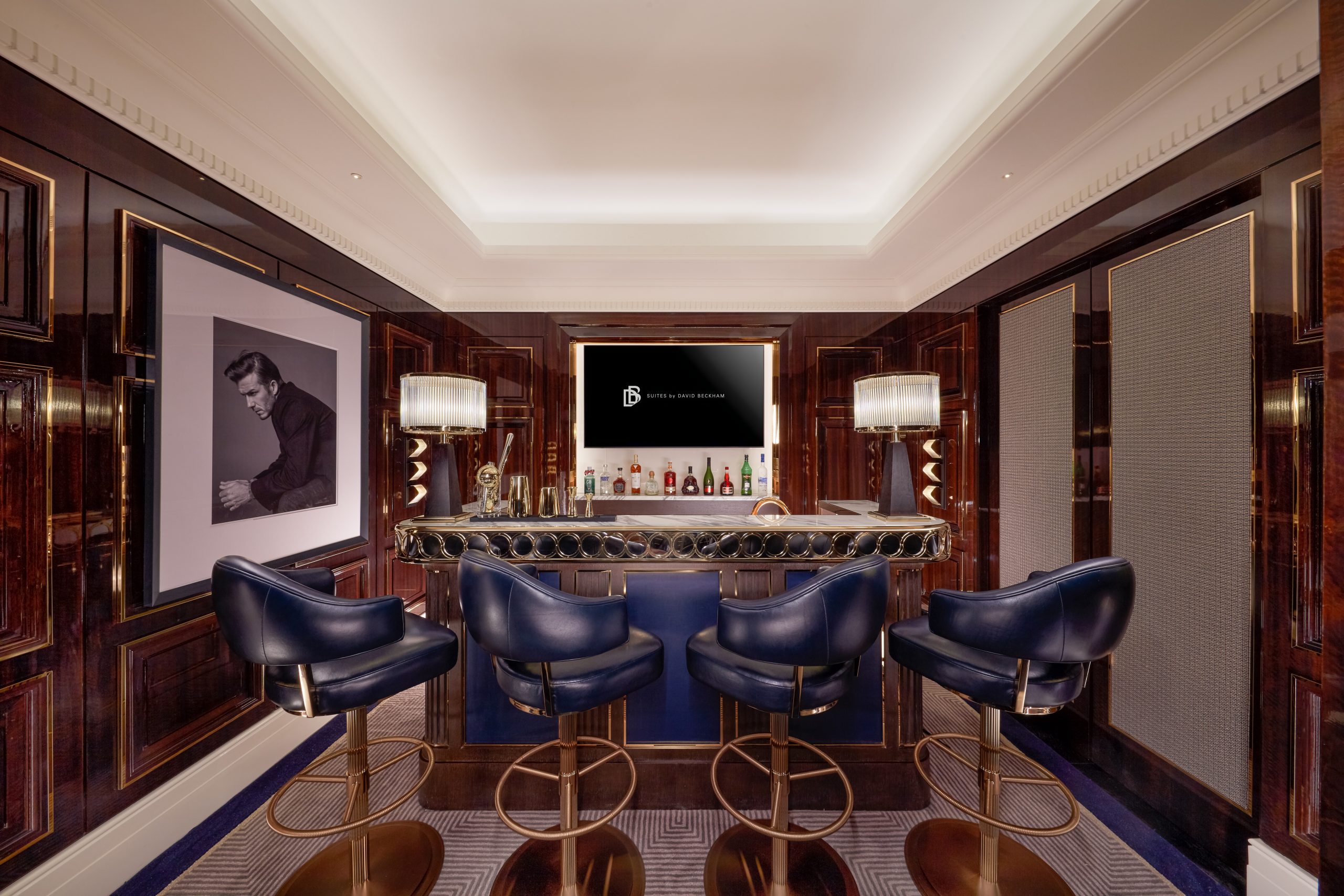 'Every detail has a story'
At various stages of the project, Beckham weighed in on everything from materials to lighting, artwork and finishes. He even visited the design team in London to help refine the depths and tones of the dual colour palette – deep royal blue and British racing green – until they were just right. 
"David was very much involved in critiquing, amending and adding his layer of personal tastes and thoughts as we developed our canvas," says Rawlings. "He really embraced the collaborative nature of the project, and he understood exactly what we had in mind with our drawings and materiality."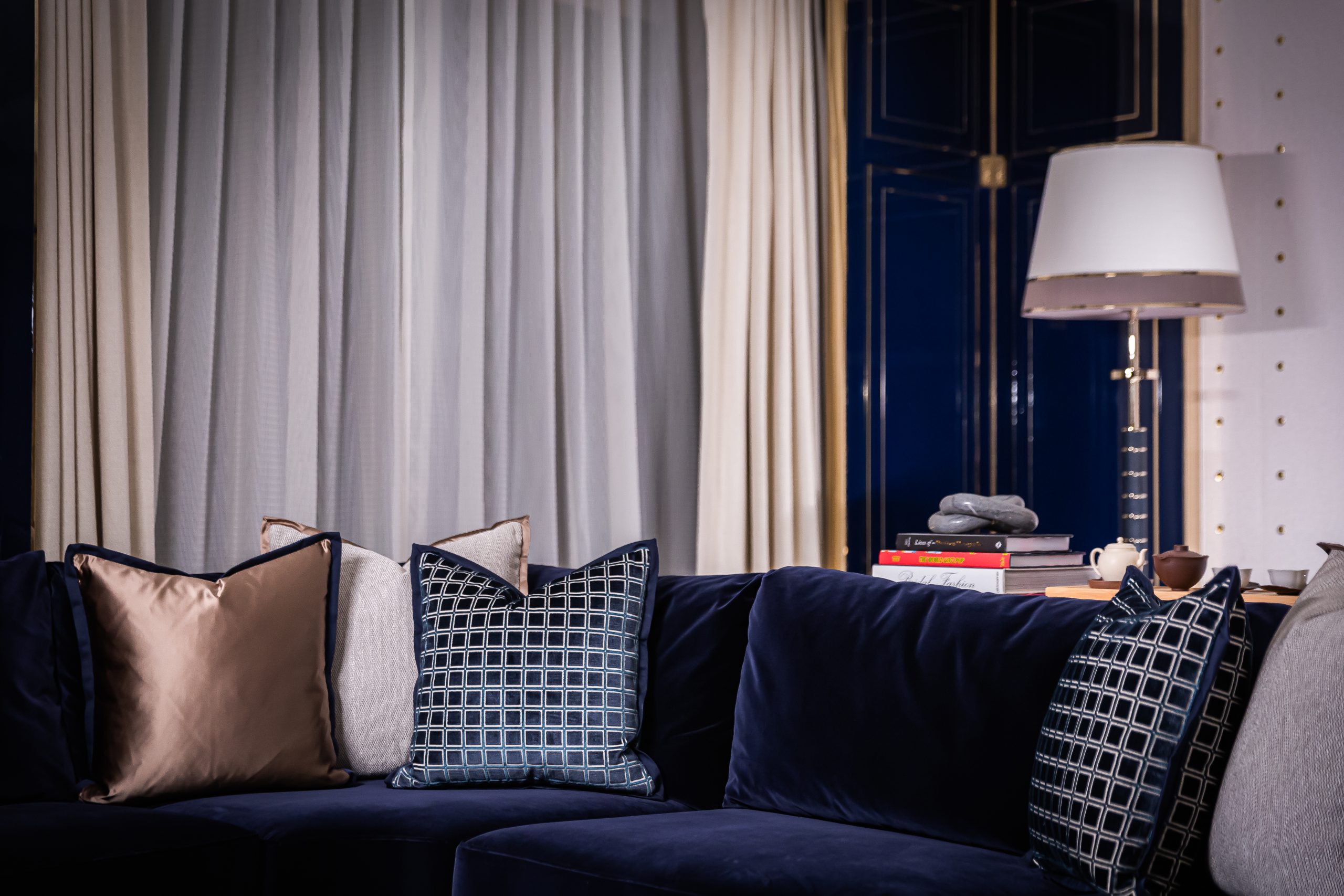 Beckham also provided lots of inspiration to play with when it comes to his passions: family, football, fashion and men's grooming. After the football star shared a love for handmade leather shoes and Savile Row tailoring, tasteful references were peppered throughout the suite.
"It's about understanding British luxuries and reinterpreting them in a way that fits elegantly as an interior design piece without feeling themed," explains Rawlings. 
As another example, you'll find broguing details on the back of a leather-backed sofa in the living room and plaid accents by Holland and Sherry, a renowned London fabric mill, in the primary bedrooms. There are also subtle nods to football throughout, such as a football-inspired pendant light hanging in the guest bathrooms and a hexagonal motif on a bench in the primary bedrooms. 
What's more, a dedicated grooming station comes complete with a barber's chair, an illuminated mirror and a tie box containing instructions on tying a Windsor Knot. Inside the walk-in dressing room, which would feel right at home on Savile Row, you'll find silk-lined walls and built-in storage for watches, ties and belts.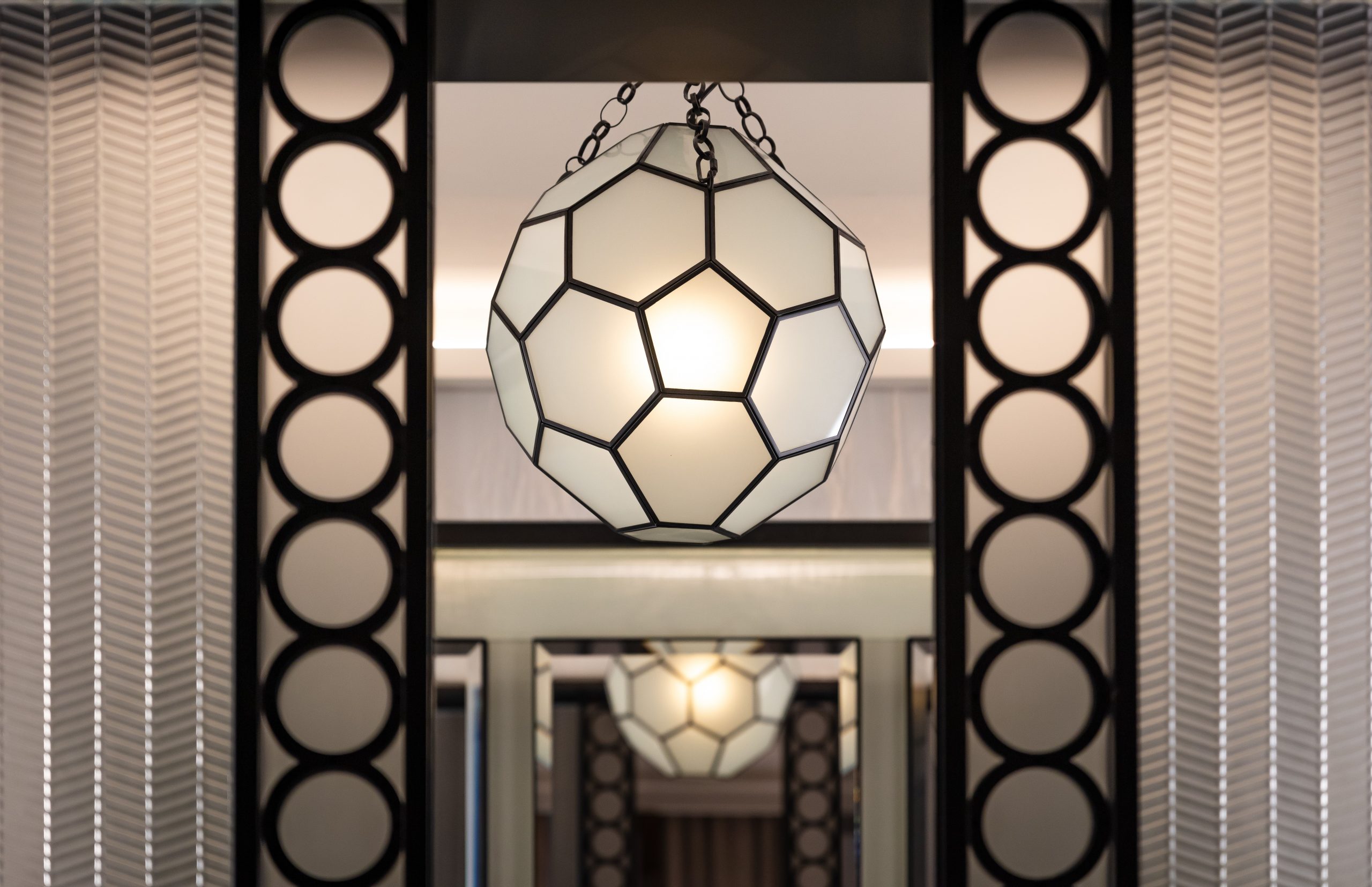 Adding an even more personal feel, Beckham's family is everywhere. Framed photos of his loved ones, taken by his son Brooklyn Beckham, sit by the doorway and adorn bedside tables, while Brooklyn's fine art photography depicts candid moments from the family's trips around the world. 
"In each room, you'll find my favourite pictures and artwork," says Beckham. "It's very personal because I travel so much, and when I'm away, I miss my family. So I wanted to step into the suite and feel at home."
The black-and-white images are displayed alongside commissioned artwork, especially by British artists. Look for pop art pieces by David Spiller and Sir Peter Thomas Blake (who designed album sleeves for The Who and The Beatles), historic football photography by Gerald Penny, and rainbow-hued geometric fine art prints by Czar Catstick. 
"Every single detail has a story to tell. But what really excites me is the way they come together – the feeling that it all creates," says Rawlings. "Ultimately, we are designing experiences – we want the guests to stay here and feel relaxed, inspired, and excited. It's about creating memorable moments that give you that overriding feeling that this can't be replicated anywhere."
Those memorable moments continue throughout The Londoner Macao. Whether it's an immaculate suite designed to be Beckham's second home, incredible London-inspired architecture, award-winning restaurants helmed by celebrity chefs or spectacular entertainment, the integrated resort immerses its guests in unforgettable memories around every corner.  
"After we had designed everything, I wasn't able to return to Macao for several years [due to the pandemic], so coming back and seeing what we've created and just giving people an experience – that's what Sands is all about," says Beckham. "Everything is about the experience."
---
The Londoner Macao invites you to be their guest on your next visit to Macao. Learn more about the integrated resort's luxurious hotels here and the invitation-only Suites by David Beckham here.