The ultimate work family: Meet five of The Venetian Macao's longest-serving team members
The ultimate work family: Meet five of The Venetian Macao's longest-serving team members

Link copied
The Venetian isn't just an architectural landmark or swish place to stay – it's one of the city's most vital employers. Marking its 16th anniversary, we caught up with a few long-serving team members who have grown with the company and supported each other like a family.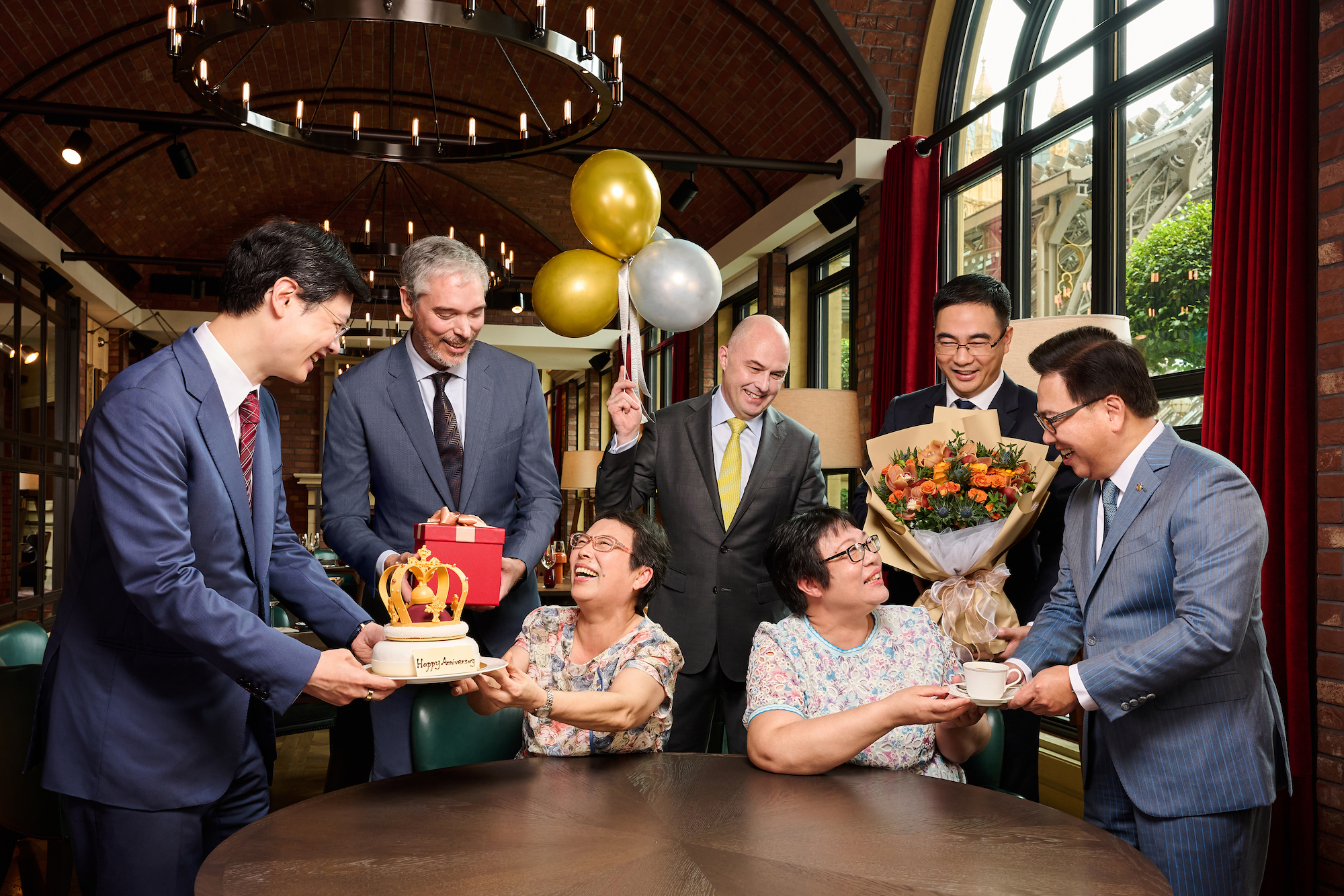 They say that people are a company's biggest asset, and that's certainly the case at The Venetian Macao. Opened in 2007, the integrated resort employs tens of thousands of people who work together, support each other and keep operations running smoothly every day. 
While every department maintains its own responsibilities, the company has built a thriving internal community that encourages collaboration and exchange at every opportunity. This sense of teamwork and connection unites staff, who share a sense of pride in their work and enables growth at all levels of operations. 
To celebrate the integrated resort's 16th anniversary, we spoke with five long-serving team members who have been vital to the iconic integrated resort's success. 
From pioneering new MICE opportunities to developing a sophisticated cyber security programme, taking customer service to new heights and offering essential behind-the-scenes support, we invited each teammate to share how they've grown with their Venetian family over the years.
Paulina Che, Vice President of Conventions & Exhibitions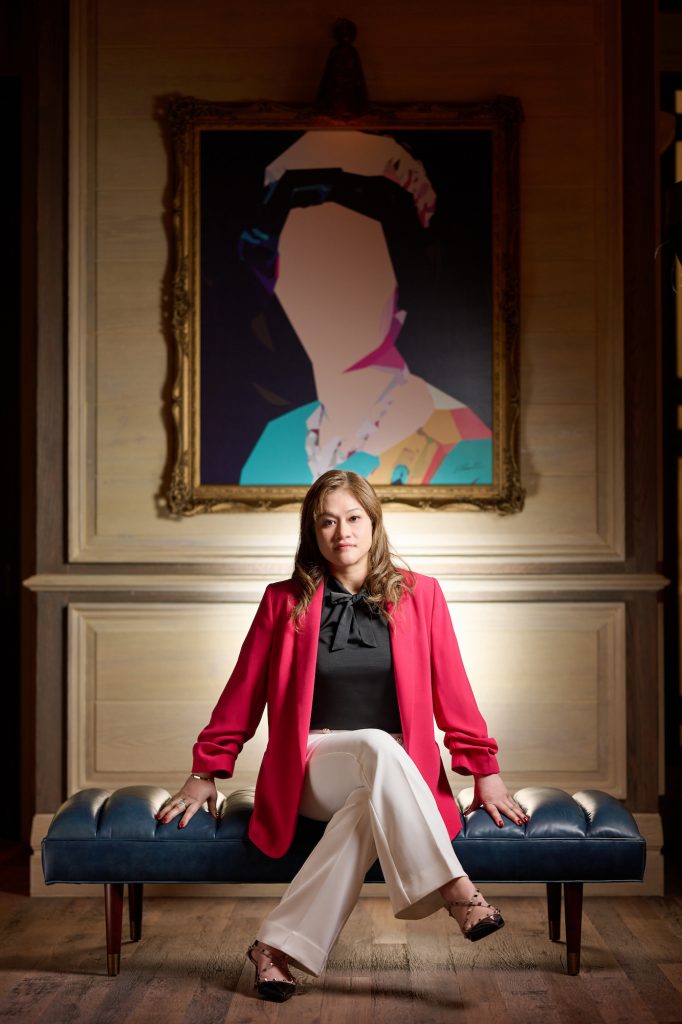 Paulina Che vividly remembers the day she was hired at The Venetian. It was back in 2007 – and she couldn't quite believe the news. 
"I asked the HR team when I needed to report for my first day, and they said the first of April. I thought, 'Isn't that April Fools' Day? Are they playing a joke? Did I really get the job?'"
She did, indeed. Paulina started as a Conventions & Exhibitions department manager, orchestrating large-scale events, and is now the head of the department as the vice president. 
Her workdays can be long, starting around 7 am and ending in the wee hours. But she relishes the daily challenges and wouldn't trade her dynamic, fast-paced job for something predictable. "Every day brings new people and new challenges," she shares. "In a different job, like accounting, I'd be confined to the office doing what? Counting? I'm not even good with numbers!"
Even so, one number does stand out: 12,000. That was the size of the very first large event Paulina organised at The Venetian back in 2014. Held for the American homeware mogul Tupperware, the event required managing logistics for a massive crowd of attendees across various Sands China properties.
Her events experience means she's never short on interesting stories. She recalls working with a Malaysian company that sent a Muslim imam (priest) from Hong Kong to bless the commercial kitchen of the conference hall. To meet the large party's religious needs, Paulina pulled out all the stops, from arranging halal menus to determining which direction was facing Mecca (an essential part of the Muslim prayer ritual) and modifying the toilet facilities for more than 1,000 delegates.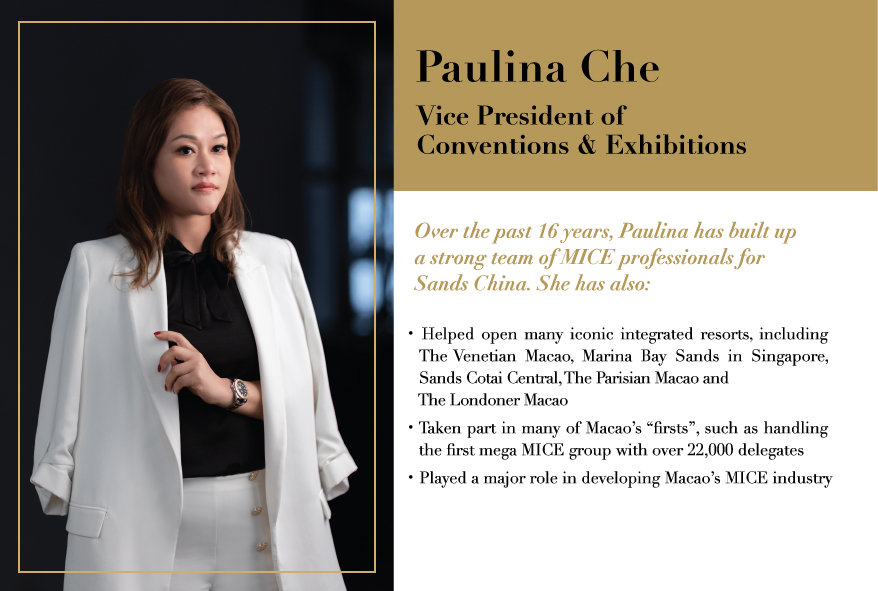 It's a great example of what makes her a consummate professional and inspiring leader who has built a strong, adaptable MICE team. Affectionately referred to as a "walking encyclopaedia" and the "Sands Switchboard" by her colleagues, Paulina is well-known for her supportive personality and ability to solve just about any problem. 
As her seemingly infinite contact list indicates, the social butterfly also cultivates connections wherever she goes. "I will go out sometimes three or four times a week," she laughs. "To be in management, you need to get out and chat with people, learn from what others are doing." 
But whenever the opportunity arises, Paulina cherishes her time at home with her 20-year-old son, whom she adores. "My ideal holiday right now would involve spending more time with my son, as well as some digital detox – turning my phone off, no emails, totally disconnected. I would also embrace health and wellness: eat healthy, go to the spa, hit the gym to sweat it out, and sleep in until 11 or 12 every day!" 
Wilson Wong, Vice President of Cyber Security
A dedicated and highly skilled cyber-security expert, Wilson Wong's career with The Venetian started back in 2006 when he joined as an IT compliance specialist. It was a perfect fit – he quickly succeeded in his role and has grown with the company ever since. 
Among many other accomplishments, Wilson built the integrated resort's first cyber-security team – entirely comprised of local talents – and set up a comprehensive and sophisticated cyber-security programme. He's also the first cyber security officer appointed by the company to maintain compliance to Macao's cyber security law. 
Day to day, Wilson plays an integral role in The Venetian community by keeping its people and assets safe from an ever-changing list of online threats, from phishing scams to hacking attempts. Of course, sometimes digital policing means he has to deliver bad news.
"I don't have many friends," jokes Wilson. "I'm the guy who blocks you from visiting websites or downloading unauthorised software that might pose a risk to the company. If someone does something risky online, I have to tell their manager – but it's necessary to keep the company safe."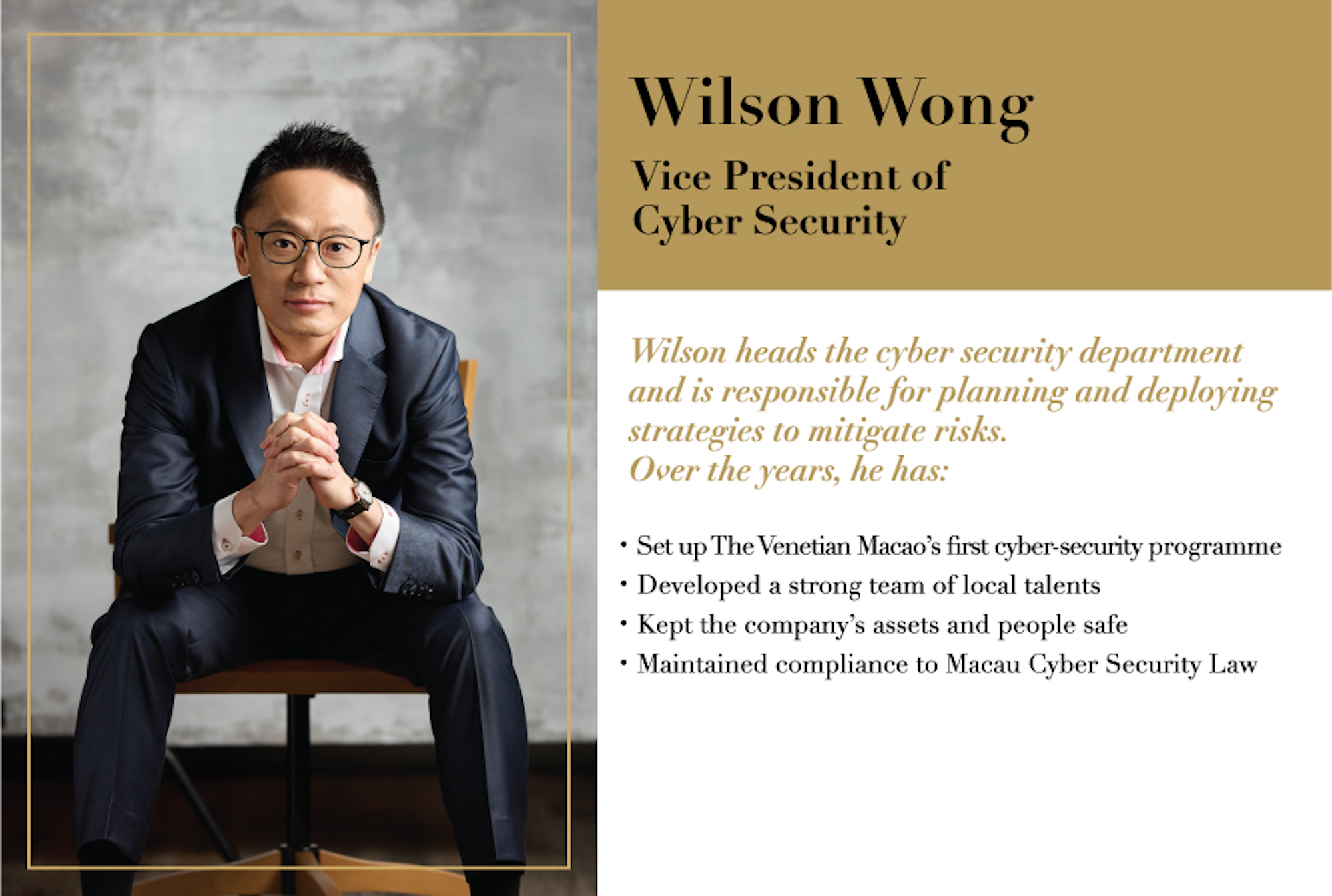 Skilfully toeing the line between friend and enforcer, Wilson loves being part of the company's close-knit family – and it's the caring community that has kept him at The Venetian for over 17 years. "Every person is a valuable asset. I encourage my teammates to believe in their abilities and strive for greatness," he says. "You must dream big and take risks to achieve great things."
Outside work, Wilson recharges by playing badminton, making pottery, spending time with his family and exploring nature. Someday, he hopes to visit Iceland to explore its incredible landscapes and wildlife. He's also eyeing up a polar adventure in Lapland, in northern Finland, where he hopes to see the Northern Lights. 
"I've always wanted to stay in one of those glass-ceiling hotels and gaze at the stars," he says. "The pandemic has changed my perspective a little bit. If I have the time, I want to go somewhere I've always dreamed of going."
Ronald Leong, Executive Director of Transportation and Resort Operations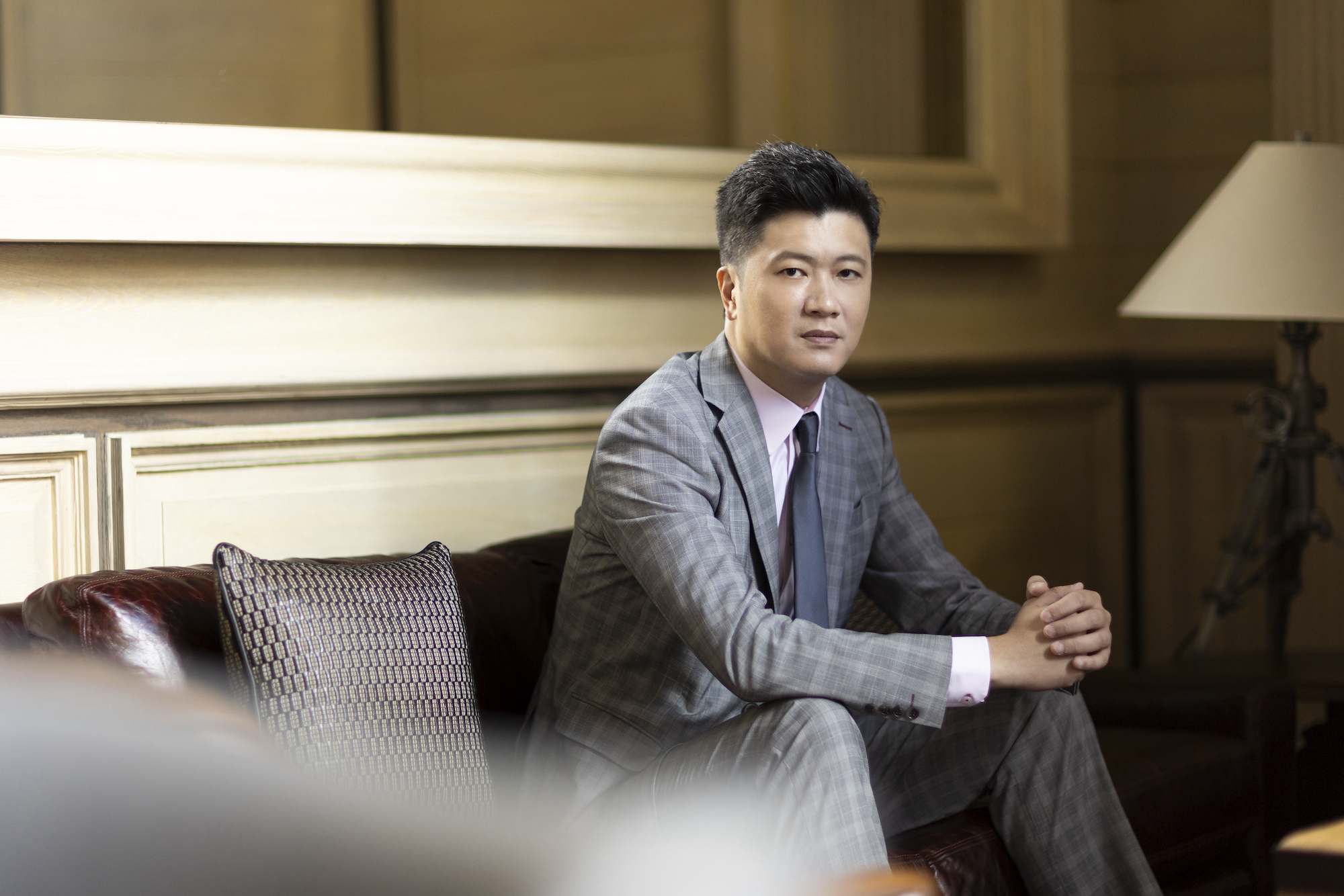 It's telling that if Ronald Leong could have one superpower at work, it would be something that helped him do his job even better than he already does. 
"I would ask to be like [Japanese manga character] Doraemon with a magic pocket that holds whatever we need," he says. "That way, if there's any problem, I can always pull out solutions in an instant."
Over his long career with Sands China, Ronald has progressed from Guest Service Duty Manager to Head of Transportation, where he manages a team of 400 local drivers while also overseeing resort operations, including the company's carparks, limousine service, Cotai Travel, shuttles, recreation and all the gift shops.
"Operations matches my personality because I enjoy tackling different challenges daily," says Ronald, who joined The Venetian in 2007, adding that the most demanding moments tend to be during new openings. 
"When The Venetian opened, it was the first integrated resort in the region with 3,000 rooms. The company invited 4,000 people to join the opening celebration – a volume of guests we've never seen before in Macao."
Ronald and his team rose to the occasion, planning ahead to organise staffing, traffic flows, parking and vehicle supply. "I'm quite proud of my team because the transportation was smooth during all the openings – from The Venetian to The Parisian, Sands Cotai Central and The Londoner Macao. Whenever you finish these high-stress situations, you always come out of it feeling accomplished, especially when there are no complaints!" 
Transportation operations are just one of his responsibilities. The ever-capable Ronald is also in charge of the company's various gift shops and recreation areas. "In retail, you have to study a lot of data, order enough of the best-selling products and plan for holidays and special events," he says. "But for all my roles, you can't just operate day-to-day – you have to plan."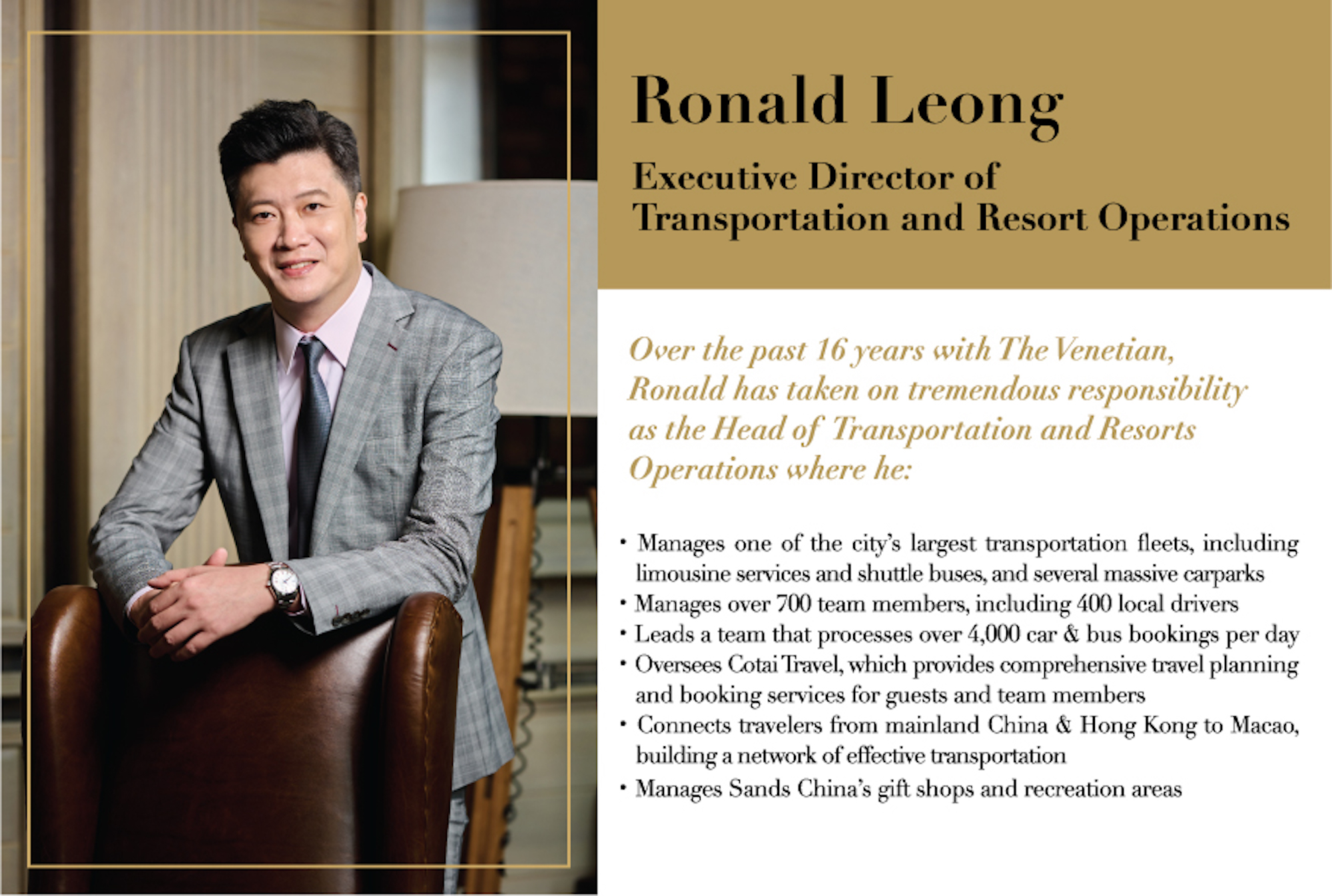 In addition to the versatile atmosphere, Ronald says the opportunities for growth and personal relationships are the most meaningful to him at work. "We're just like family here," he says with a smile. "I appreciate the culture of Sands China, where I've learned Mandarin through work and made many close friends. Sometimes, I even enjoy returning to work on weekends to ensure everything is going smoothly."
He describes the environment as a "mini city within Macao," employing roughly 26,000 people – all of Sands China's citizens go above and beyond to help one another. "Every person is happy to do more," says Ronald. "You don't have to ask them. They always give more than 100 percent." 
Someday, Ronald hopes his 12-year-old daughter finds a career as rewarding as his. "My daughter doesn't really know what I do – she thinks I'm a driver. When I go on training or business trips, she seems puzzled that drivers must go abroad for training!" he laughs. "I tell her that it doesn't matter if you're a driver or an executive – you need to constantly try to improve, be open to feedback and try many different things. That's the only way to learn." 
Loi Sou Kuan and Mui Sou Kam, Executive Office Senior Attendants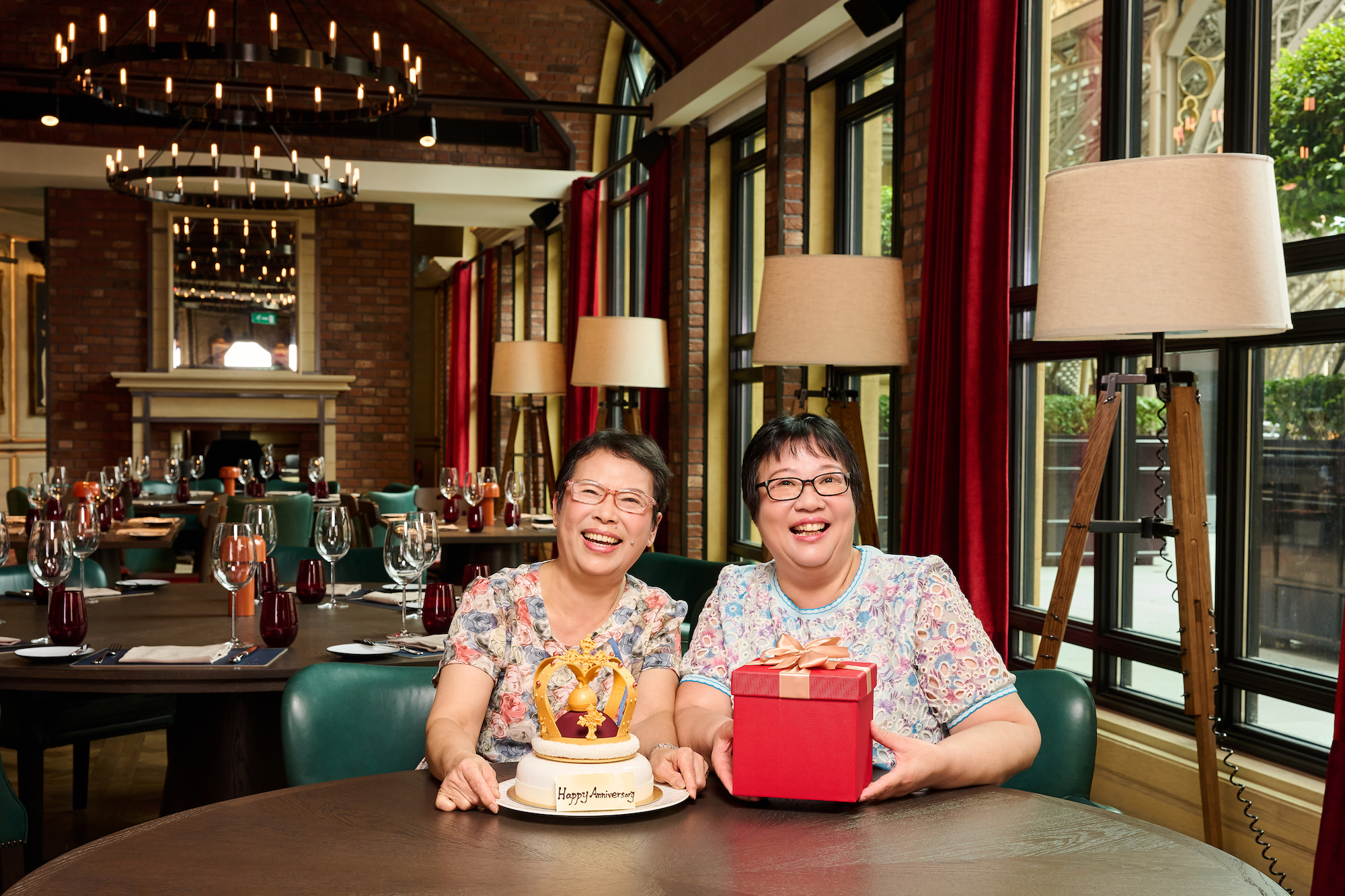 Loi Sou Kuan and Mui Sou Kam's days start early – around 7:30 am in the Executive Office of Sands China, before anyone else arrives. 
The duo, who have both worked as executive office senior attendants for the company since 2007, performs tasks like maintaining the coffee machine, boiling water, preparing hot tea and coffee, stocking the pantry with nourishing snacks, and refilling printer paper and tissue. 
These behind-the-scenes responsibilities set the stage for the company's top decision-makers to effectively lead the integrated resort group and its tens of thousands of employees through another day of operations. 
"Over the years, we've gotten to know the different bosses' personalities and facial expressions," says Loi. 
"And don't think it's easy to learn that!" laughs Kam. 
From knowing the preferences of the company's top brass (Loi says the President of Sands China, Dr Wilfred Wong, usually orders just black coffee) to welcoming and serving guests attending meetings in the executive office, Mui and Loi take tremendous pride in their work. After all, the role of a senior attendant – known affectionately within the company as tea ladies – goes beyond just serving tea, it embodies the traditional Chinese value of hospitality. 
"I've learned so much working here. I knew nothing about the executive office before I joined," explains Loi. "I worked in a garment factory before, so it was quite a big change for me. Even learning how to use the coffee machine might be simple for others, but it was challenging for me." 
Mui also worked in a local garment factory before she was hired to work at the Sands China office in 2003. When asked what has kept them at the company for so many years, both women say they appreciate the positive environment and company culture most. "It's like a big family here," says Loi. "We get along with everyone well; we like to talk and share a laugh." 
That also explains why both women say if they could only eat at one of the resort's restaurants for the rest of their lives, it would be the staff canteen, also known as the Team Dining Room.
"We can eat and chat with our colleagues there," says Mui of the canteen, which provides workers with an array of freshly prepared Chinese and Western meals. 
Loi agrees wholeheartedly: "It's like a family gathering every day, and of course, we don't need to spend any money to dine here." 
As these long-serving teammates would contend, anything is possible when their workplace provides a home from home and becomes an extension of their family. Knowing they have full support from their colleagues and the company, team members feel like they have the support to write their own personal success stories – to push farther, chase their dreams and reach their full potential.
The Venetian provides many opportunities to bring people together and a platform to develop Macao's talents – its tight-knit community also enhances lives outside of work, creating lasting connections for life as team members grow together. 
"Having a supportive work family can help us navigate life's challenges more easily," says Wilson. "We feel a sense of safety and security knowing that we have people who care about each other and are willing to lend a helping hand when we need it most."