First look at The Mews: Discover Thai culinary heritage at The Londoner Macao
First look at The Mews: Discover Thai culinary heritage at The Londoner Macao

Link copied
Behind a secret door lies this exciting culinary addition on the Cotai Strip. We explore The Mews with Bangkok-born chef Nongnuch "Nuch" Sae-eiw to learn more about its intriguing inspiration.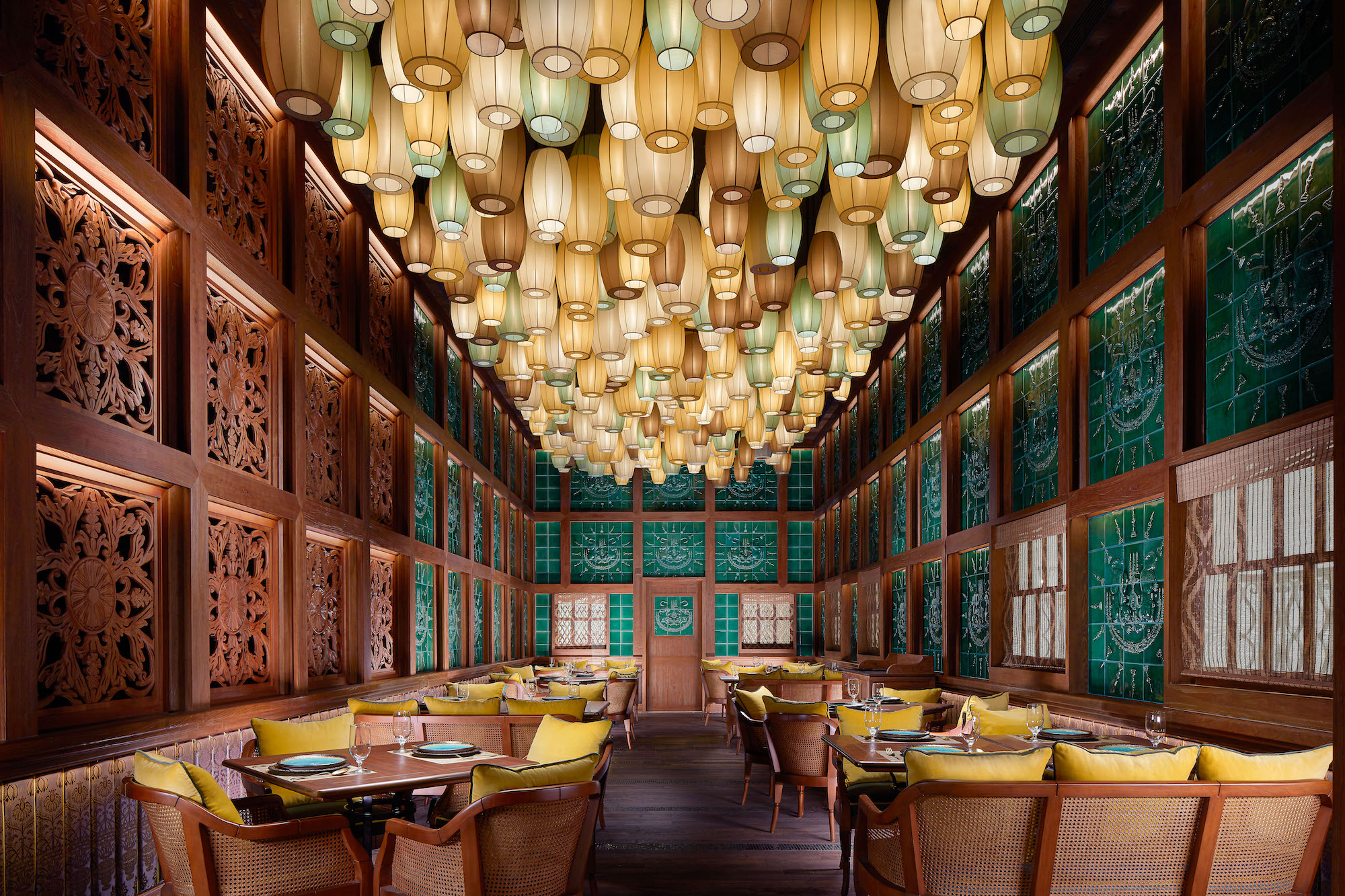 As you stroll past the entrance of The Mews, a recent addition to The Londoner Macao's dining scene, don't miss the blue plaque honouring Sir Robert Bowring. These iconic markers, which have graced British buildings for centuries, celebrate the historical or cultural importance of a site, be it the former residence of renowned figures like author Agatha Christie, former prime minister Margaret Thatcher, or the creator of James Bond, Ian Fleming. 
Continuing this tradition at The Londoner Macao, The Mews' blue plaque weaves an intriguing narrative that sets the tone for what awaits inside. It tells the fictional story of Sir Robert Bowring, a British entrepreneur who amassed a fortune in what was then known as Siam. Upon returning to 19th-century England, Sir Bowring filled an old mews, or stable house, with exotic Asian artefacts, transforming it into his lavish London residence. 
Stepping into The Mews, you'll feel as though you're entering Sir Bowring's sumptuous home, where Thai wonders meet British stateliness for an entirely singular dining experience.
From stables to style
The term "mews" harkens back to the 18th and 19th centuries, when London's elite would keep their horses in stables and carriage houses found in the cobbled lanes behind mansions in some of the most exclusive residential areas. Today, the city's mews have mostly been converted into upscale residences, prized for their charm, historical significance and desirable locations.
Inspired by this history, the restaurant boasts a picturesque entrance inspired by the city's unassuming lanes. Designed by the world-renowned sculptor and restaurant-bar visionary Ashley Sutton, who is celebrated for his unique bars across Asia, the bar area at The Mews artfully employs authentic leather horse harnesses and stirrups as decorative elements, all set against the backdrop of its eye-catching barrel vault brick ceilings.
Inside the dining room, horseshoe-shaped napkin rings and doors panelled with horsewhips nod to the restaurant's equine namesake.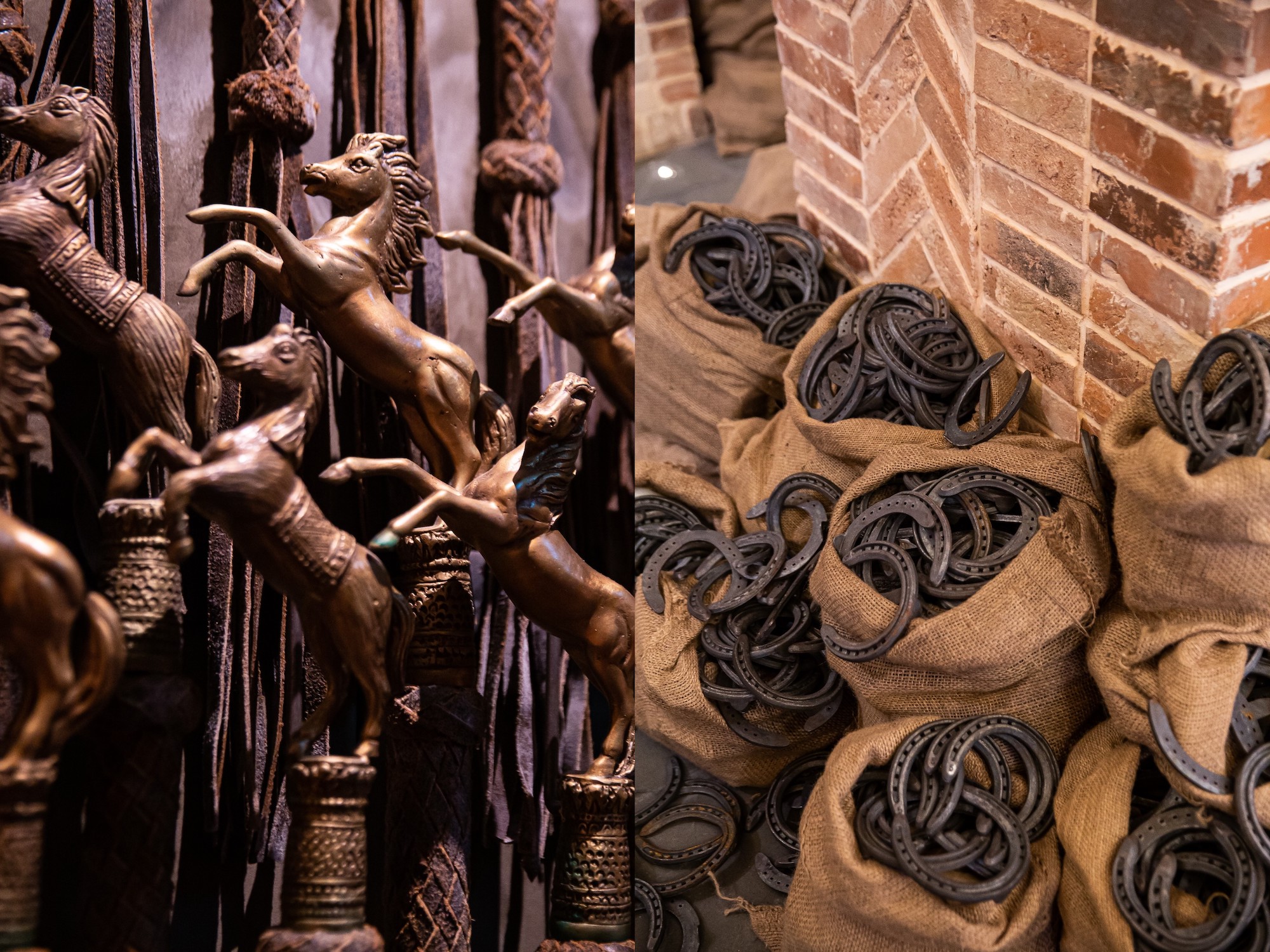 "Guests will be utterly enchanted by the interior – exactly like I was when I saw it for the first time," says chef Nongnuch "Nuch" Sae-eiw. 
Helming The Mews is this Bangkok-born culinarian, who draws upon her vast culinary expertise and childhood memory bank to create soulful dishes that stick with you. Nuch honed her culinary artistry at award-winning restaurants in the Thai capital, before refining her craft under the mentorship of Michelin-starred chef Thitid "Ton" Tassanakajohn, whose restaurant recently claimed the top spot in the 2023 Asia's 50 Best Restaurants list. 
Reawakening the flavours of Thai heritage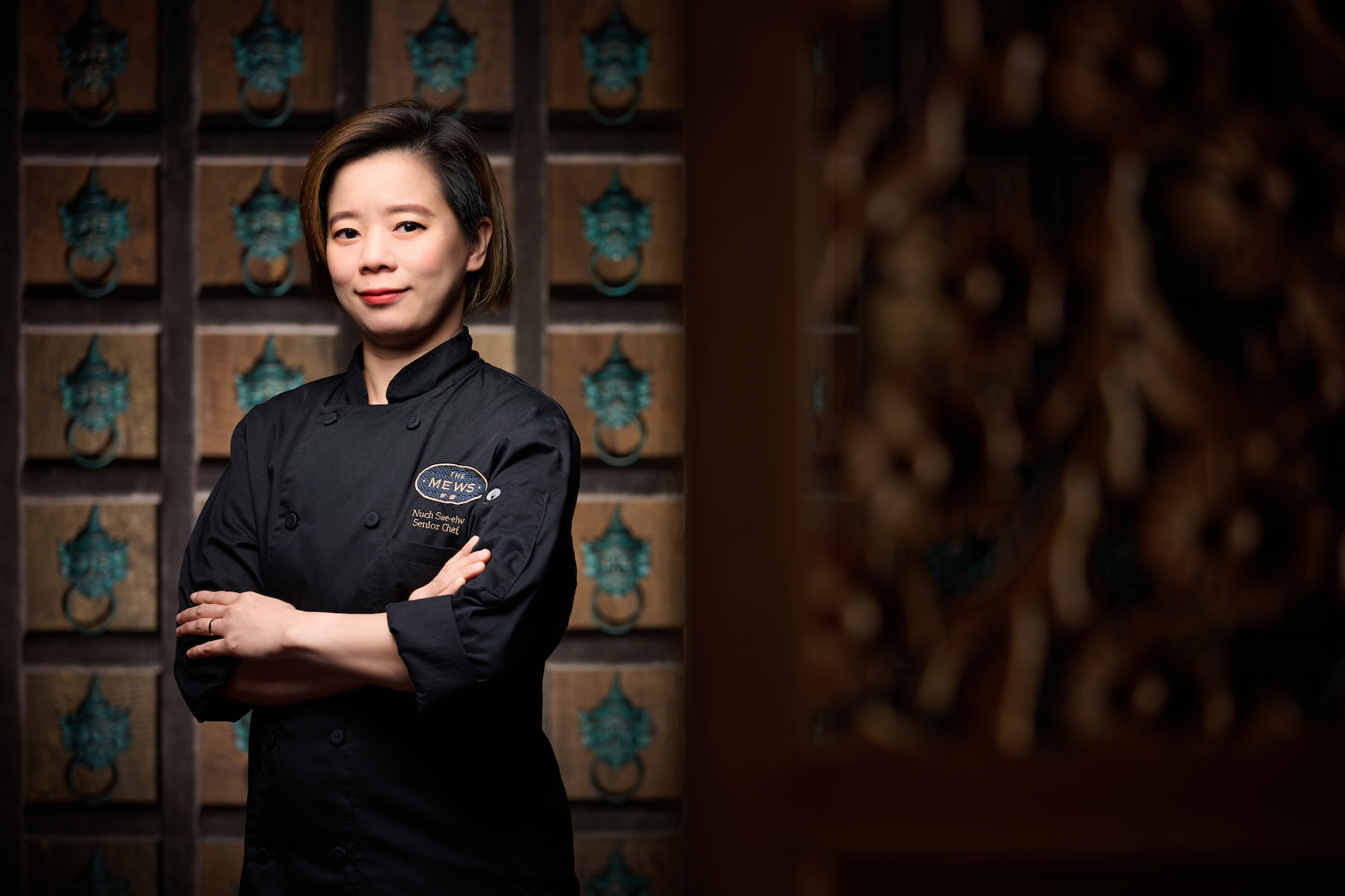 Once guests have primed their senses with an aperitif or two at the bar, the main event begins in the dining room, behind a secret door where bold textiles and rich hues mirror chef Nuch's fondness for full-bodied flavours and vibrant colours. Every detail, from the cushions made with authentic Thai fabrics to hand-carved wooden panels and colourful lanterns, as well as motifs featuring elephants and mythological figures, pay tribute to the chef's homeland, while underscoring the immersive dining experience.
Nuch's ability to infuse her unique perspective while designing menus has been instrumental at The Mews, which includes different menu options, providing a dining experience that's carefully crafted from start to finish. 
"The way the Signature Menu progresses here is my way of achieving balance," she says, adding that the dishes escalate in complexity and spiciness over eight courses. "I want guests at The Mews to get to know authentic Thai cuisine, the different layers and variety of flavours we have." 
Bold yet balanced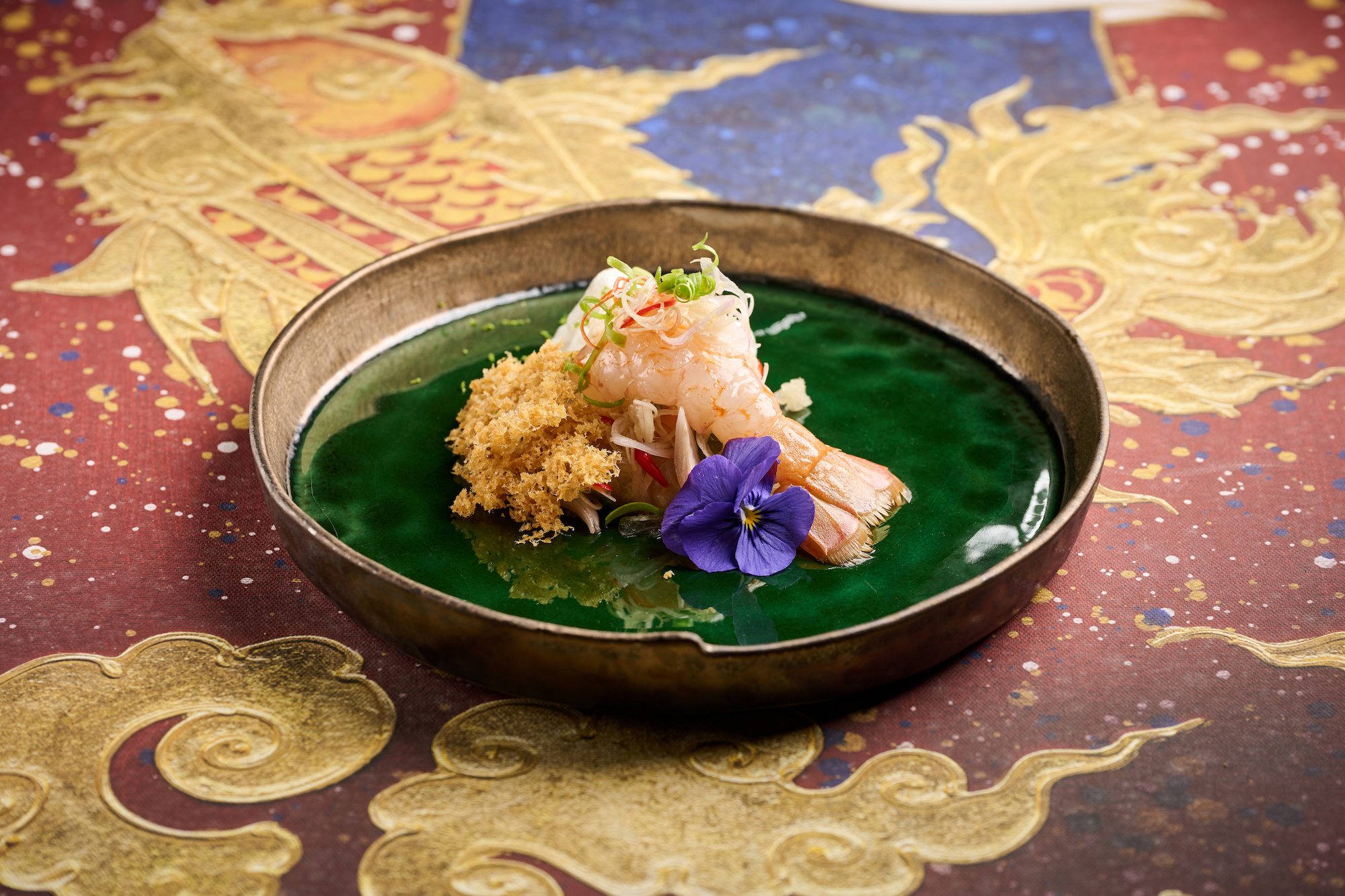 While developing The Mews' menus, chef Nuch has perfected a few signature dishes that serve as testaments to her artistic approach.
Diving deep into the archives of Thai royal cuisine, the chef created her own take on Seang Wa Goong, a beloved classic salad that's not as easily found on menus outside of Thailand. She insists on using langoustine – a rare, giant-sized prawn belonging to the lobster family – in the dish. 
Favoured by most Michelin-starred restaurants, langoustine is prized for its juicy and subtly sweet flavours. These qualities are perfectly complemented by the crispiness of deep-fried snapper, creating a harmonious blend of textures and tastes in every bite.
Adding a dash of creative flair, Nuch tops the dish with a delicate foam dressing infused with Thai flavours, sculpted like a meringue. "I remember when I was training at Royal Orchid Sheraton in Bangkok when I first learned about this dish – I must have only been about 25 years old," she recalls, with a smile.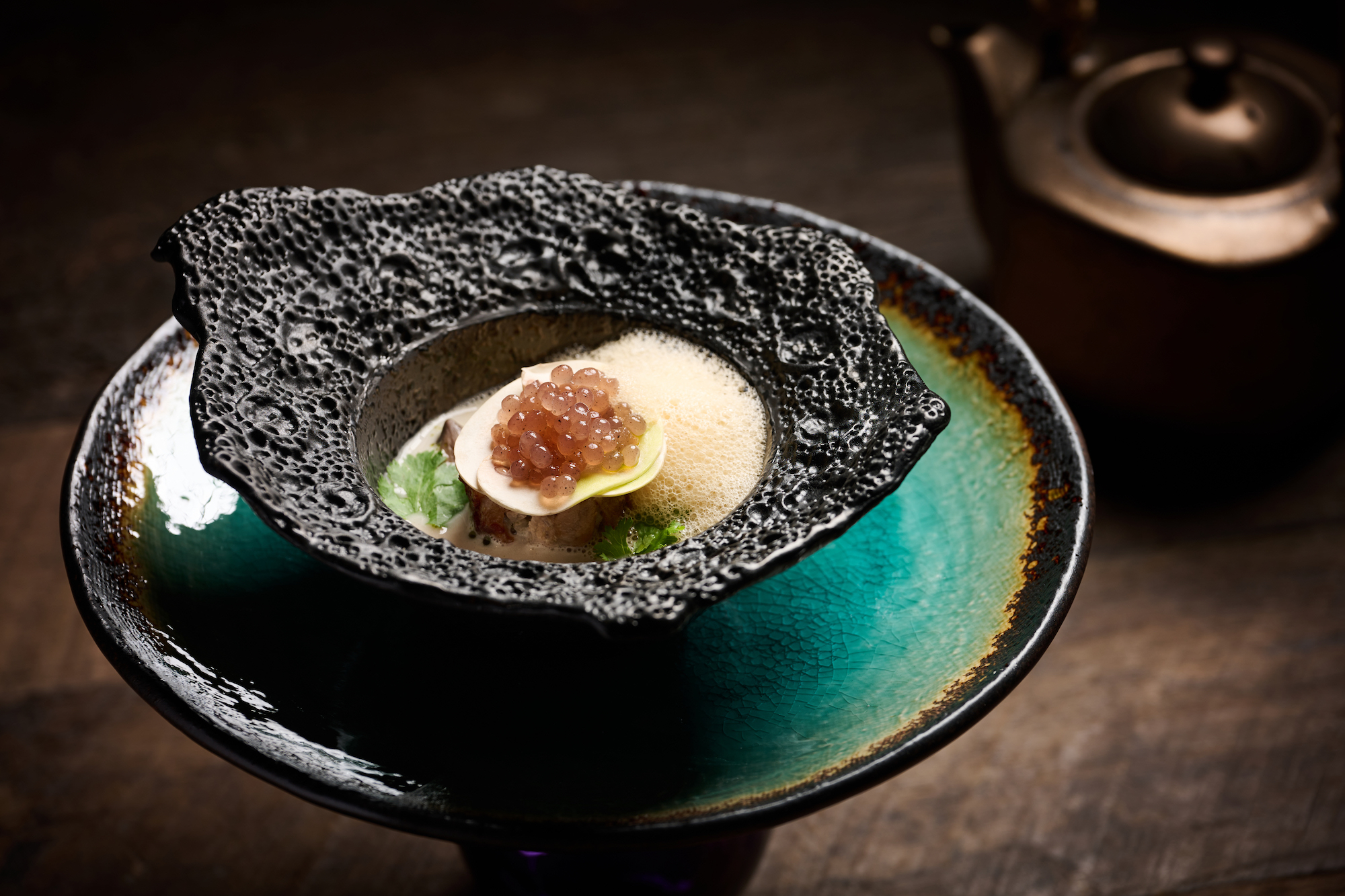 In the soup course, Nuch presents her contemporary take on northern Thailand's traditional Tom Kha Gai – Sunflower Chicken Tom Kha Soup, a Thai coconut chicken soup enriched with classic herbs like lemongrass, galangal, kaffir lime and chilli. Unlike its counterpart, the Tom Yum, the dish boasts a silkier, creamier texture thanks to coconut milk. Nuch's ingenious touch? Sunflower seed-fed chicken, known for its rich nutrition, stuffed with luscious glutinous rice, and steamed in a coconut milk broth. The dish is garnished with delicate red onion caviar and a hint of chilli oil foam, while thinly sliced mushrooms add a delightful texture contrast.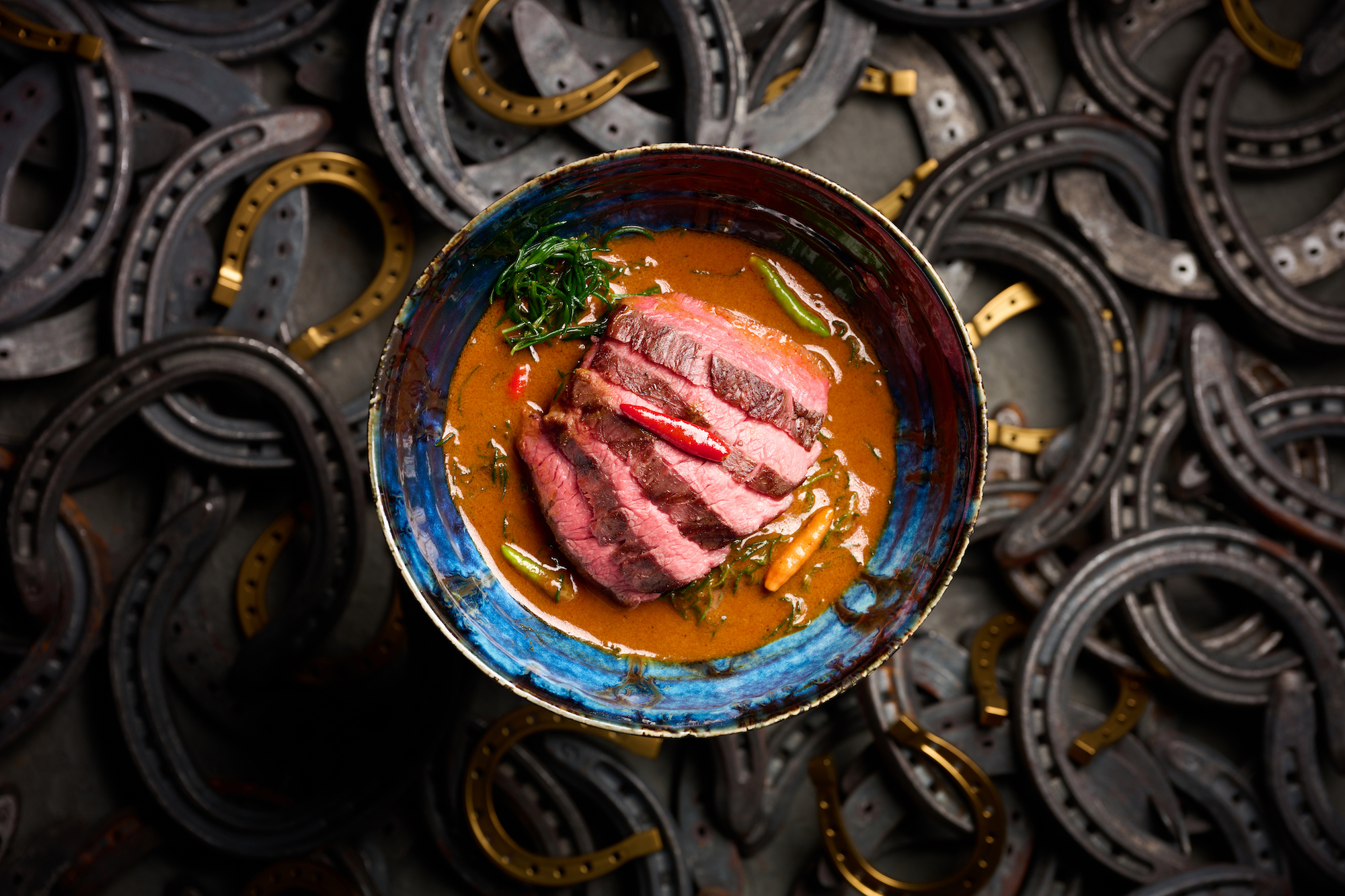 The chef has also translated nostalgic flavours from her childhood into the signature wagyu red curry. Marrying technique with tradition, Nuch first cooks the steak sous vide, then adds smoky notes on a charcoal grill. 
Next, she cradles the meat on a velvety layer of homemade curry paste and coconut milk, boasting rich undertones of beef stock, oil, and coconut sugar. Ingredients for the paste are flown directly from Thailand, and include zesty lemongrass and chakram leaves. 
Chef Nuch says the dish's magic lies in its balance, with the coconut milk mellowing the potent spice of the curry paste and ensuring harmony on the plate. For diners at The Mews, this beef curry is an authentic summation of the world of Thai flavours. 
"Food is at the root of so many of the memories we keep," she explains. "In Thailand, our reputation for warmth and hospitality extends to our food. At The Mews, you're not just a diner, you are my guest, and I welcome you into my culture and my world."
---
Embark on a culinary journey full of authentic yet modernised Thai flavours at The Mews, a new dining experience within The Londoner Macao. Reserve your table today.