How teamLab built a stunning interactive universe inside The Venetian Macao
How teamLab built a stunning interactive universe inside The Venetian Macao

Link copied
Thanks to The Venetian Macao, the Cotai Strip is home to its very own teamLab art experience. Now that the immersive space is officially open, we sat down with the founder, Toshiyuki Inoko, to hear how the art collective brings its ground-breaking works to life.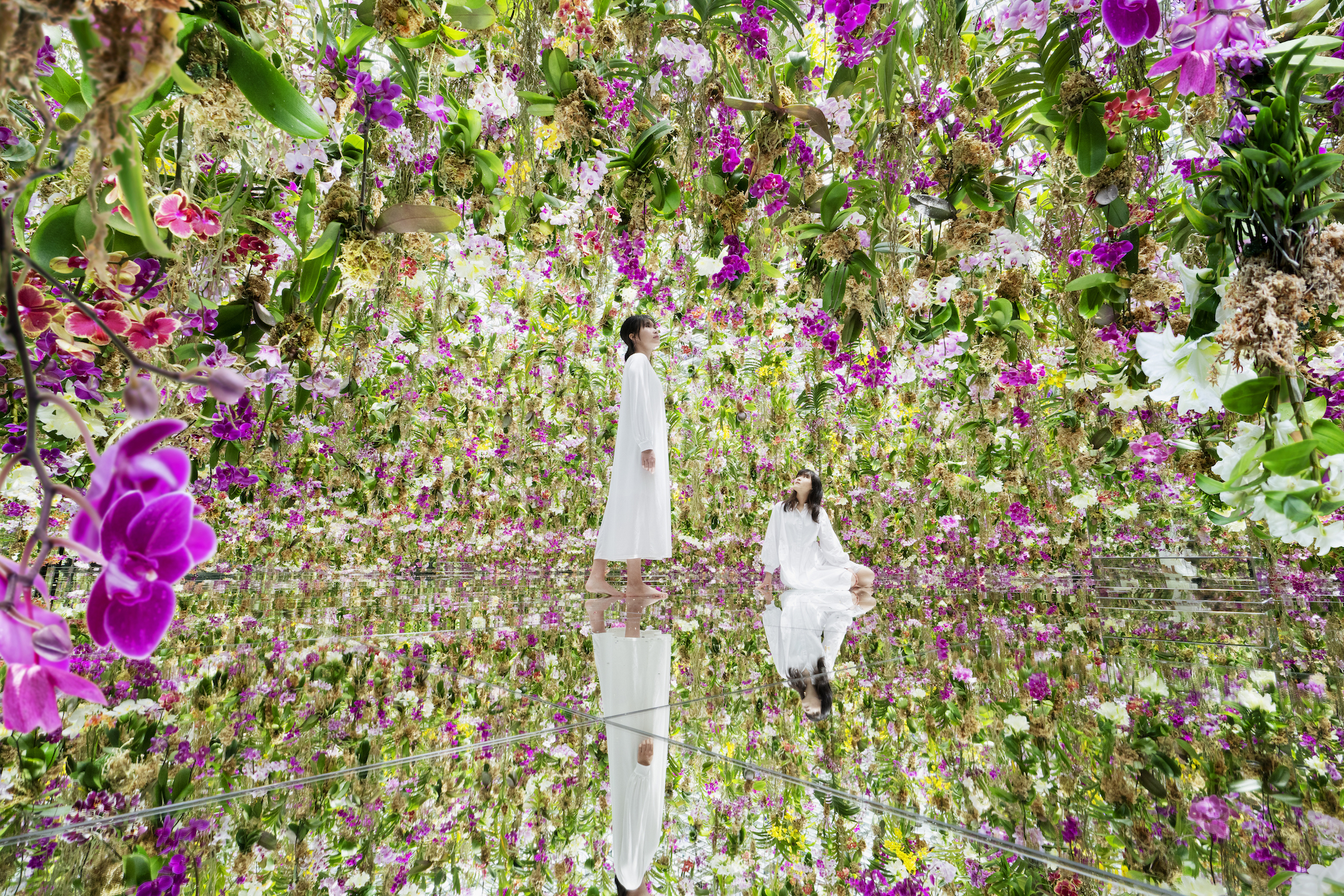 The Venetian Macao has a sterling track record when it comes to bringing world-class experiences to Macao. Ever since its 2007 debut as the first integrated resort on the Cotai Strip, it has been synonymous with the opulence and grandeur of Venice's la dolce vita, not to mention incredible MICE facilities, entertainment, art and dining. 
True to its DNA as one of Macao's most innovative properties, The Venetian Macao introduced yet another ground-breaking experience in the city. In 2019, the company started working with teamLab, the international art collective founded in Tokyo in 2001 by visionary creative Toshiyuki Inoko and four of his friends. 
The collective spent a decade experimenting and developing a passionate following, before breaking into the art world. Since then, teamLab's work has been embraced by fans everywhere. In 2019, teamLab Borderless in Tokyo became the world's most-visited museum, according to the Guinness Book of World Records, recording an incredible 2,198,284 visitors during its first full year in business.
And now that teamLab SuperNature at The Venetian Macao is officially open to visitors, art lovers can explore over 20 three-dimensional, interactive installations across 5,000 square metres. 
In June, Inoko and his team unveiled three new permanent exhibitions that take teamLab's mission to new heights: "Floating Flower Garden: Flowers and I are of the Same Root, the Garden and I are One," "Massless Clouds Between Sculpture and Life," as well as "EN TEA HOUSE."
To learn more about the mind-bending artwork, we sat down with Inoko in Macao to get the scoop on the teamLab experience and the inspiration behind their otherworldly installations.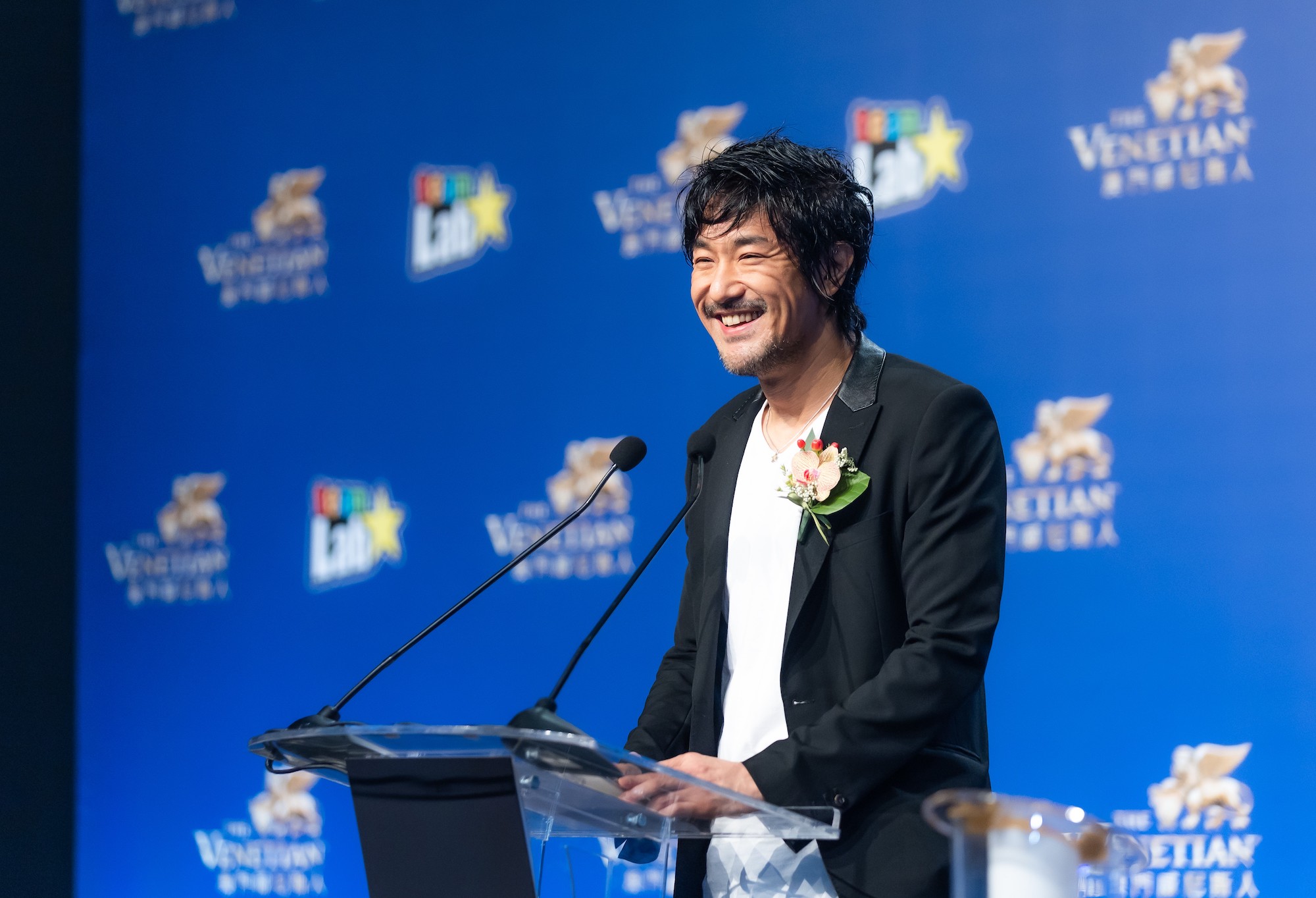 Growing a garden inside The Venetian Macao
As with all teamLab exhibitions, "Floating Flower Garden: Flowers and I are of the Same Root, the Garden and I are One" takes something natural and turns it on its head. In this case, it's orchids. 
More than 8,000 real orchids – including Vanda, one of Inoko's favourite types – are shipped in from their native habitats in places like Thailand and Taiwan and burst to life in a mirror-floored space. 
Most orchids can grow without soil by absorbing water from the air – and that's precisely what they do here. The flowers grow down from the ceiling as if floating in the air. More than an optical illusion, this twist brings visitors face-to-face with their blooms and encourages us to think deeply about how we engage with nature.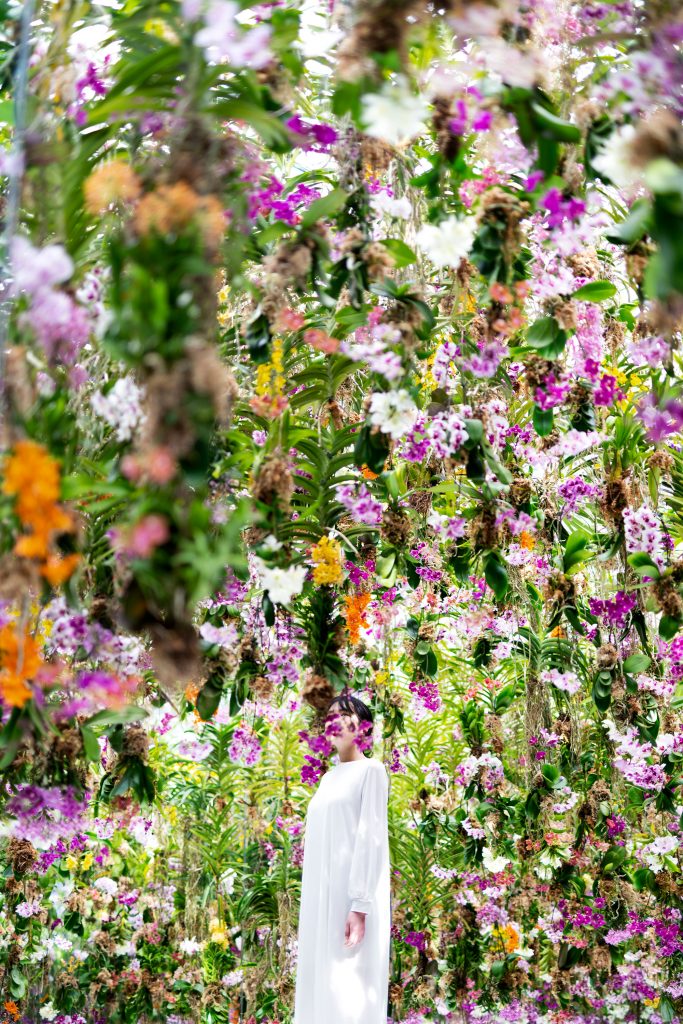 "People think about the world with their bodies a lot more than we imagine – and that's the kind of experience that we want people to have with our work," Inoko says. "Humans and the world are continuous. There are no boundaries between us. We exist as one."
The life cycle of the flowers continues after the exhibition, too. Every day, teamLab replaces about 100 flowers, and Sands China donates them to the community to share their beauty with more people in Macao.
Heads in the clouds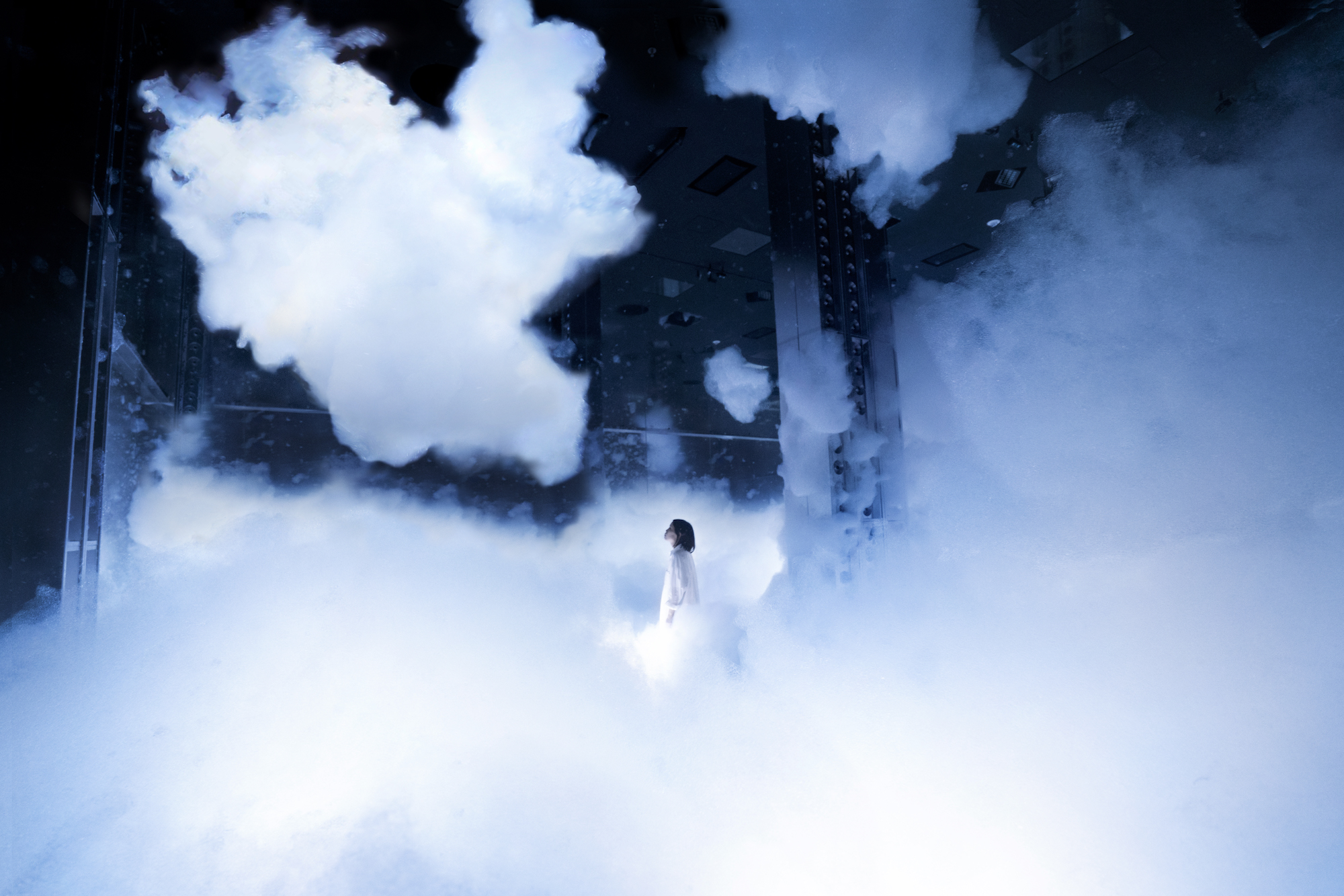 Of the new exhibitions, Inoko says he devoted himself to one above all: "Massless Clouds Between Sculpture and Life." 
This ethereal, steely blue and grey installation envelopes visitors in a constantly shifting 'cloud' made from soap bubbles. As you move through the cloud, it dissipates, but like any living thing, attempts to repair itself into a whole. When it's too broken apart to fully reform, it collapses.
"The cloud itself is just soap bubbles, but there is a unique environment in that space. The cloud appears, then dissolves, then appears again, then dissolves somewhere else," he says.
According to Inoko, this environment reflects the cycle of life and finding peace with nature – a message that resonates for many in the wake of the Covid-19 pandemic. "When the pandemic started and people left Macao in the beginning, we stayed here and kept on creating this installation… a cycle [of creation] that exists almost in the midst of life and death," Inoko says.
That cycle has always defined teamLab's work, too. Their experiences are like organic creatures, constantly growing and evolving, he explains. "There is never an exact date – a start or end – because we are still in that process of creation."
It's the perfect experience for dreamers everywhere, creating a wonderland of possibilities that makes visitors feel like the sky's the limit and anything's possible. In that way, the artwork poetically echoes the words of the late Sheldon G. Adelson, founder of Las Vegas Sands Corp. and Sands China Ltd., who said: "Every project starts out of a dream."  
Breathing new life into ancient traditions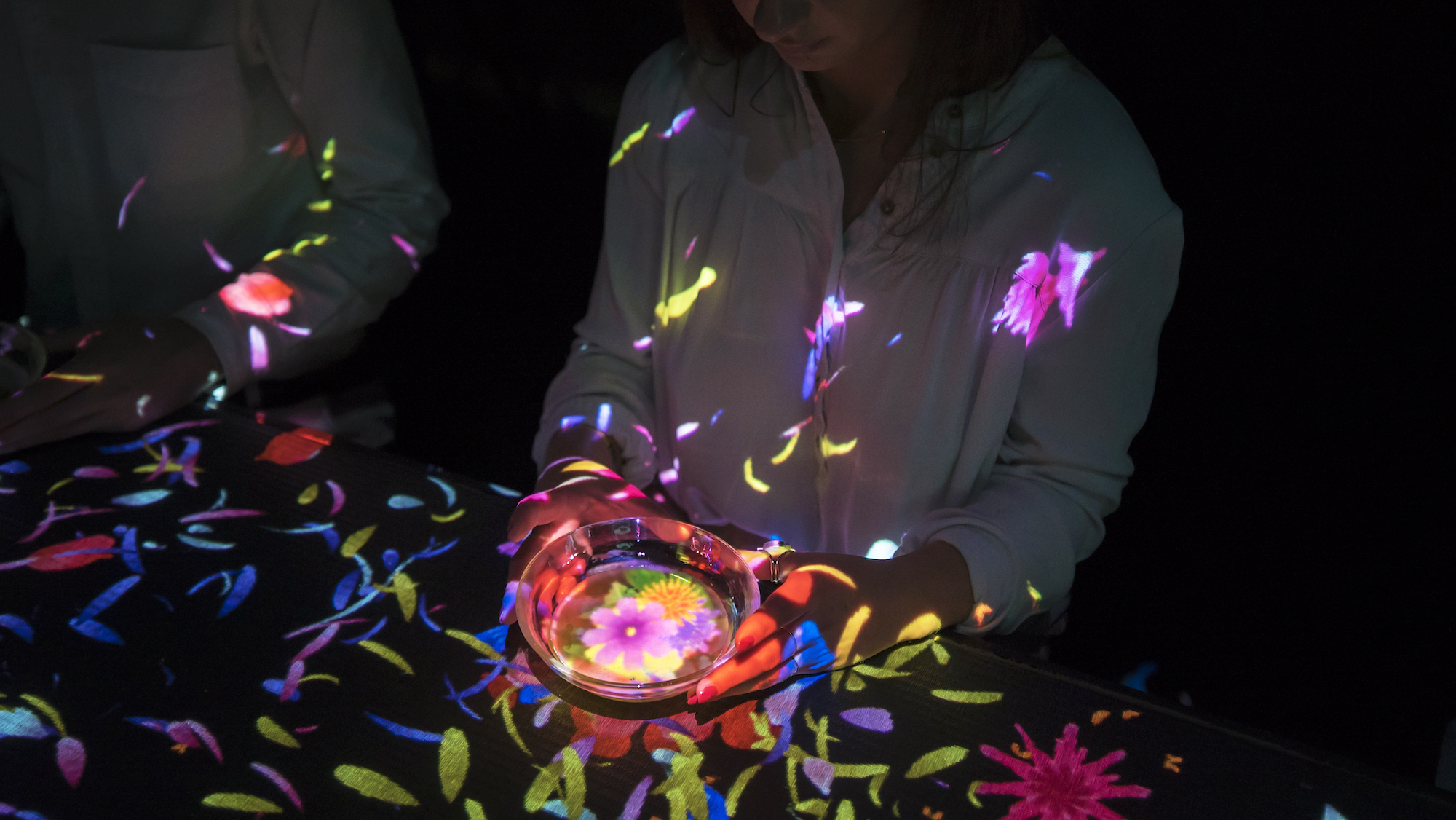 The exhibitions in Macao also mark a new territory for teamLab. For the first time, the group has incorporated food and beverages into an installation with "EN TEA HOUSE."
Across all teamLab's experiences, visitors immerse their bodies into the art around them. The idea, as Inoko explains, is to bring humans into the creative process. That takes on a different meaning with "EN TEA HOUSE." As visitors enjoy a cup of ice cream or drink glasses of tea, made with green tea leaves from an ancient tea field in Kyushu, flowers appear to bloom in their cups and colourful petals fall all around them. 
"When people drink the tea, they drink the artwork in its entirety," Inoko says. "Whether the body goes into the artwork, or the artwork goes into the body – both ways make you become one with it, and that's what we wanted to do."
Notably, each experience is unique for every visitor. The flowers and petals reflect what's in bloom each season and are created by a computer programme that renders the images in real time. Depending on how you interact with the installation, you'll experience different results, making each visit unique. 
"There's a way of thinking in traditional tea culture where an infinite universe exists every minute," says Inoko. "Either you're putting your body into a really expansive world or becoming one with something that is very fleeting. I think it's the same sensation of feeling with this exhibition."
With its selection of premium hot and cold green teas, and delicious green tea ice cream, the magical exhibition not only provides a refreshment in the midst of your teamLab journey, but also underscores The Venetian Macao's reputation as a gourmet hotspot in Macao.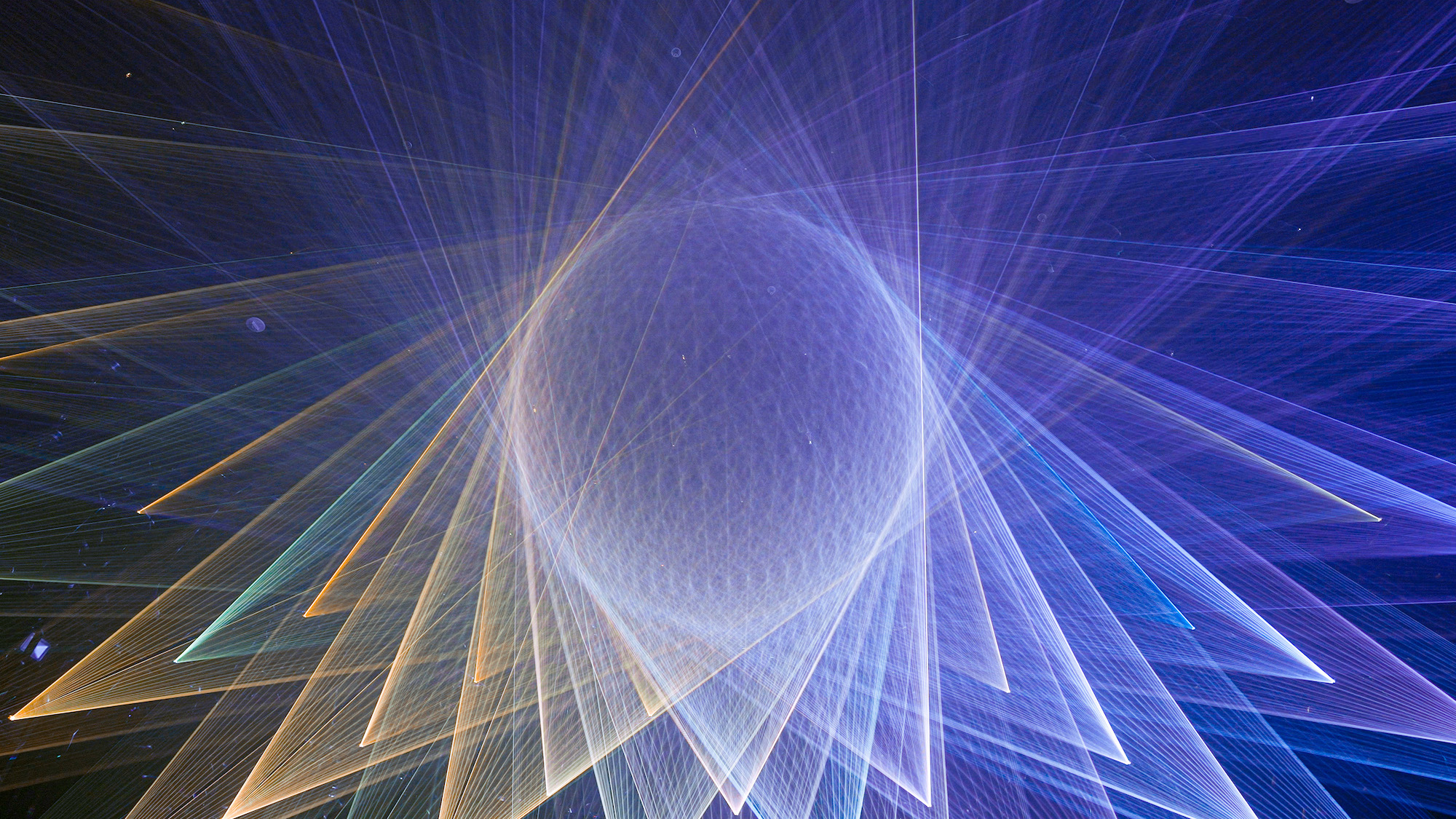 These three new exhibitions are just the beginning. Other must-see experiences include a series of recently updated light sculptures, dubbed "Light Sculpture – Plane", which is currently exclusive to The Venetian Macao. And then there's "Autonomous Abstractions, Continuous Phenomena from the Universe to the Self", in which kaleidoscopic dots spontaneously blink and create musical tones until they begin to synchronise. When you touch a dot, the form disperses only to eventually find unison again, mimicking the "spontaneous order" phenomenon found in nature.
Whether you're keen to get lost in an upside-down garden of orchids or chase your dreams into the clouds, teamLab SuperNature at The Venetian Macao offers unforgettable encounters with digital art that will delight the senses and fuel your imagination.
---
Visit The Venetian Macao or Sands Resorts Macao's website to read more about teamLab SuperNature Macao and plan your visit.