Strokes of genius: How Sands China helps to bring out the best in Macao's young golfers
Strokes of genius: How Sands China helps to bring out the best in Macao's young golfers

Link copied
By hosting four top-tier golfers at Sands Golf Day, Sands China aims to solidify the city's reputation as a leading sports tourism destination and a hub for nurturing young talent.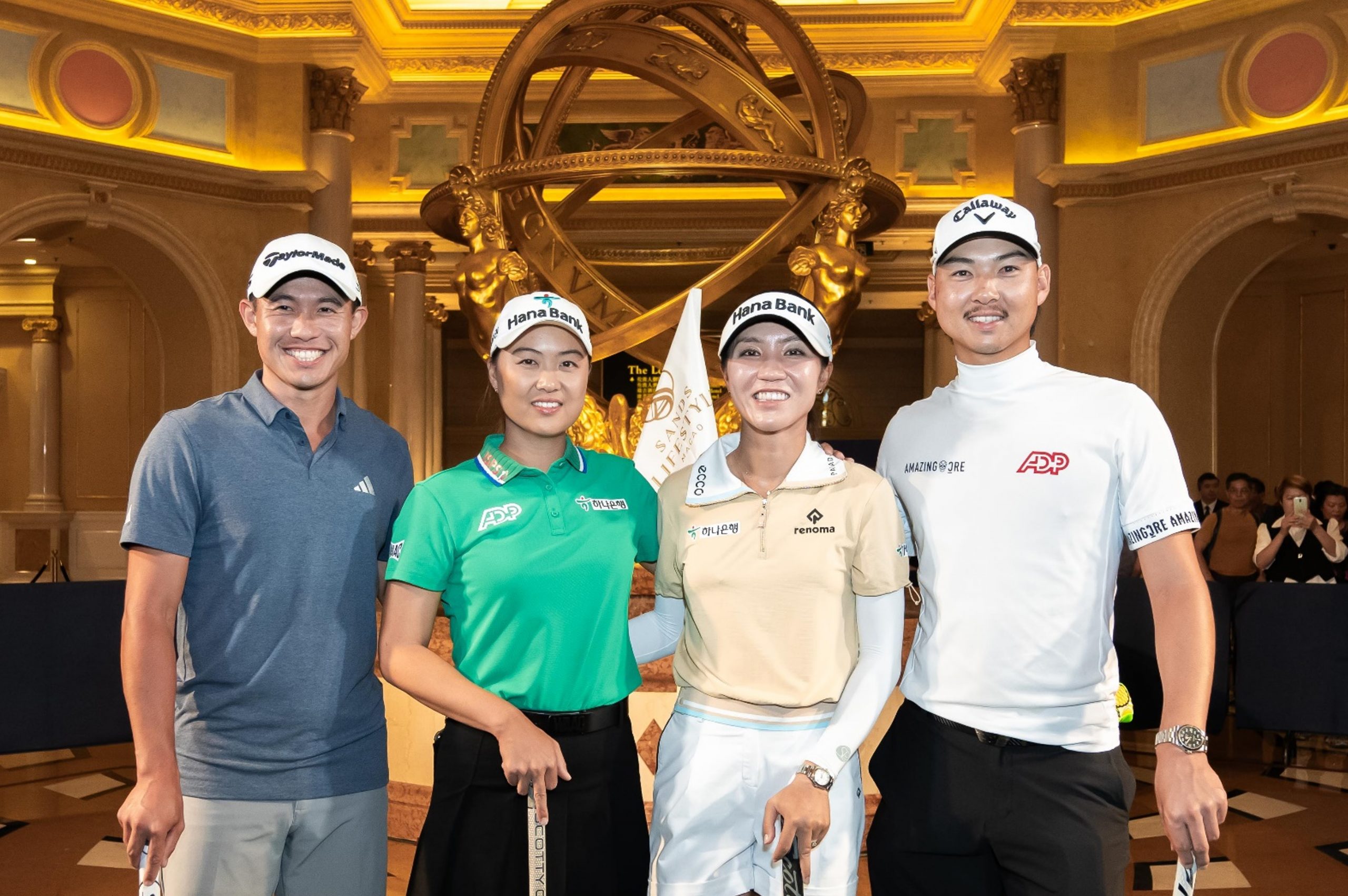 Sands Golf Day, a one-day event presented by Sands Lifestyle which took place earlier this week on 23 October, saw four of the world's best players – Minjee Lee, Lydia Ko, Min Woo Lee and Collin Morikawa – team up with 16 youngsters from the Macau Junior Golf Association to enjoy a fun afternoon together, in addition to VIP events organised for golf-lovers in town.
After the professional golfers demonstrated their skills to the junior golfers on the picturesque front lawn between The Parisian Macao and the Four Seasons Hotel Macao, the group was then split into teams of four. Each team was led by a pro golfer to take on a Long Putt Challenge at The Venetian Macao, with Sands China Ltd. pledging to donate a total of 100,000 patacas to local organisations Macau Deaf Association and Orbis Macau on behalf of the teams. 
Beyond the putting green, however, the event was an opportunity to connect the local community through sports and support local talent.
Teaching beyond the tee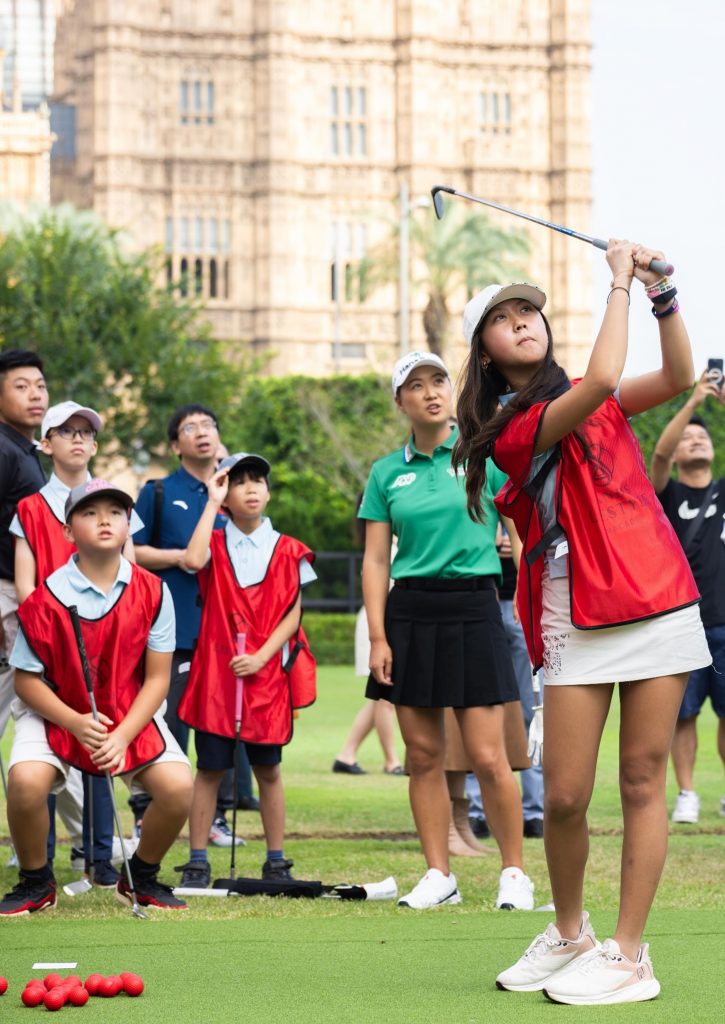 Taking centre stage was the first woman brand ambassador for Las Vegas Sands, Minjee Lee. An Australian golfer, Lee is a ten-time LPGA Tour winner boasting titles from the Evian Championship and the US Women's Open. With her recent victory at the BMW Ladies Championship in South Korea, her second LPGA title this season, Lee's influence in the sport is undeniably growing.
Speaking at the event, 27-year-old Lee emphasised the crucial role of women athletes in her journey, naming tennis legend Serena Williams as a prime inspiration. "I always thought [Serena] was such an empowering woman – all the accolades that she had as a tennis professional, I think they really inspired me to bring the same hard work and determination that she brought to the court."
Lee sees connection "with the younger generation" as part of her mission. "It's not just about playing golf, it's also a fantastic way to give back," she says.
"I didn't see a single face without a smile. The young golfers were all laughing and I think that's how you really connect with the younger generation – the serious approach doesn't work as well."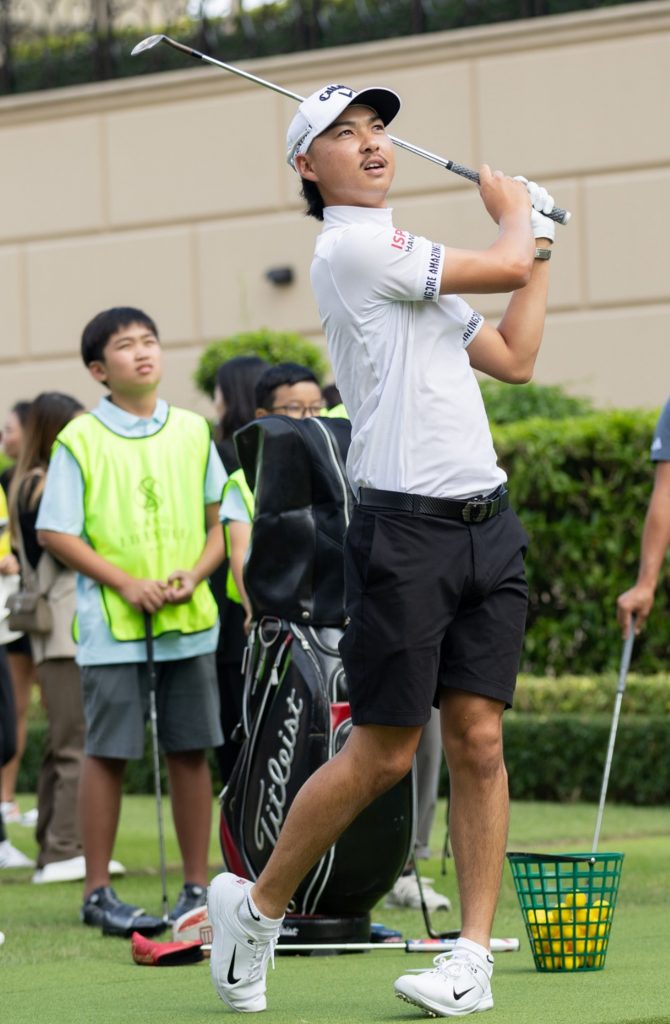 Also passionate about the event's impact was Minjee's brother, Min Woo Lee, 25. Riding the momentum of his recent win at the 2023 Macao Open, where he set a new record with a four-round aggregate of 30 under par, Min Woo is not just a rising star in the European and Asian Tours but a passionate mentor for the next generation.
"I absolutely love teaching kids – it seems like just a few years ago, I was one of them!" laughed the younger Lee. "I love giving back, and sharing what I wished I'd known at their age. I just wanted them to have fun and enjoy themselves and I hope I did that today."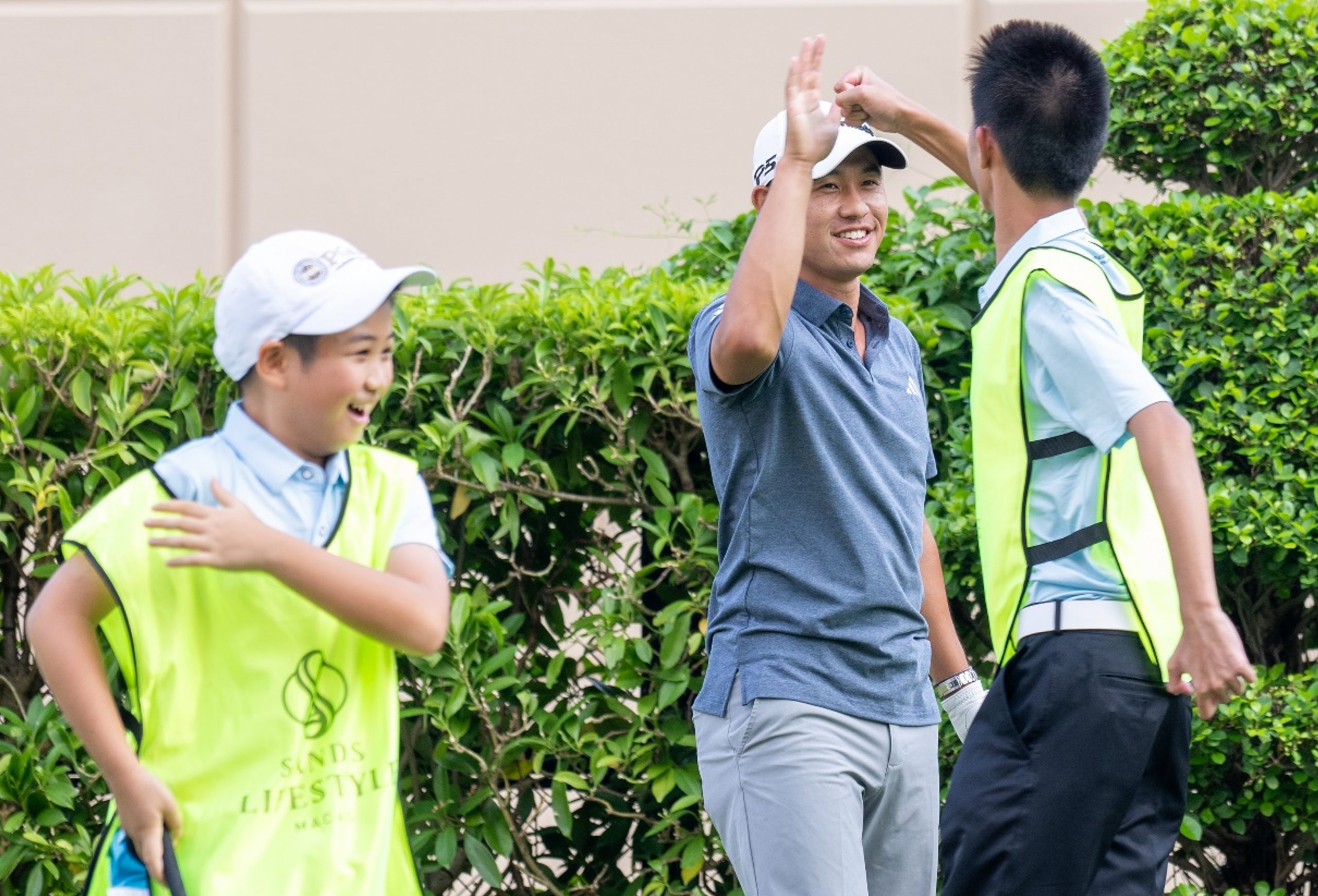 The fun and accessibility of golf is also important to Collin Morikawa, who came to Macao hot on the heels of his latest win at the PGA Tour Zozo Championship in Tokyo just a day prior.
Morikawa's credentials are impressive. He's a two-time Ryder Cup player for the US, with six PGA tour wins and a two-time Major champion under his belt. A trailblazer with Chinese and Japanese roots, he's made history as the first to win on two major championship debuts. But for Morikawa, this event was about breaking barriers.
"There's a stigma around golf being elite and expensive, but there are plenty of initiatives introducing people to the sport in accessible ways, like mini golf or indoor golf," he said. 
"Golf represents more than just what it is. As a sport and what you see on the course, there's so many other values like honesty, integrity, respect, courage that I think builds out of becoming a golfer."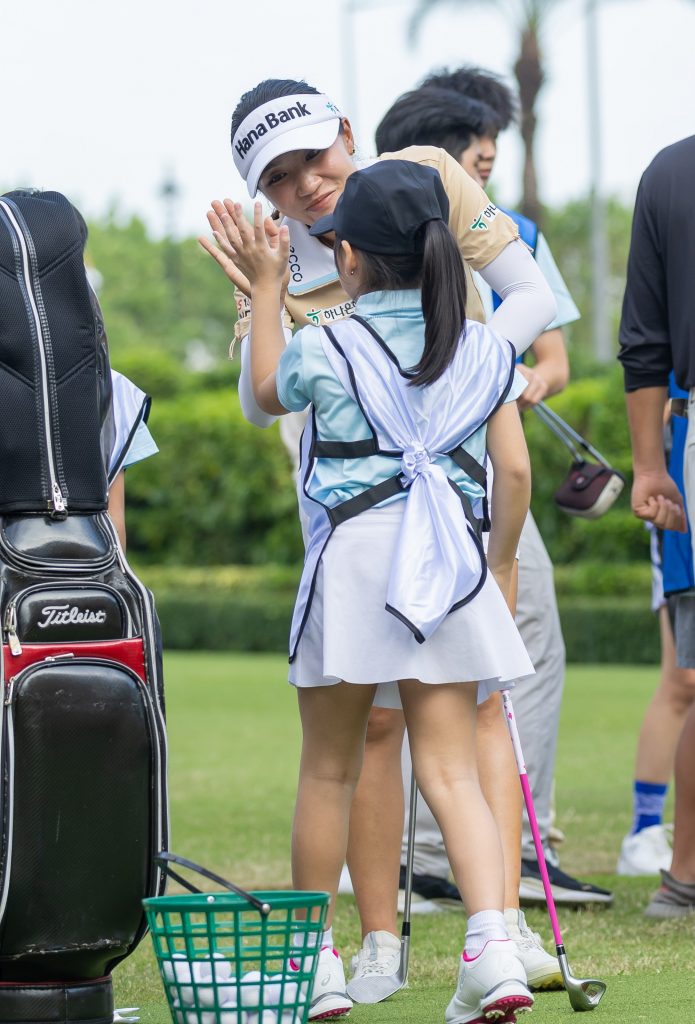 Meanwhile, as a former child athlete herself, Lydia Ko said that events like the Sands Golf Day are not just about the game – they're pivotal in kindling the dreams of young aspirants.
Hailing from New Zealand, the 26-year-old Ko boasts 19 LPGA Tour wins, two of which are majors. In 2015, when Ko was just 17, she also had the distinction of becoming the youngest player to become World No. 1 in Ladies Professional Golf. 
"I think it's really exciting for these juniors to have the opportunity to meet Collin, Min Woo, Minjee and myself. I remember attending junior clinics, being awestruck by the pros and soaking in their lessons," she shared. "If we can kindle that same inspiration and answer their burning questions, then from our perspective as players, we've done our job."
As top-tier athletes discover Macao, the city shines brighter on the international stage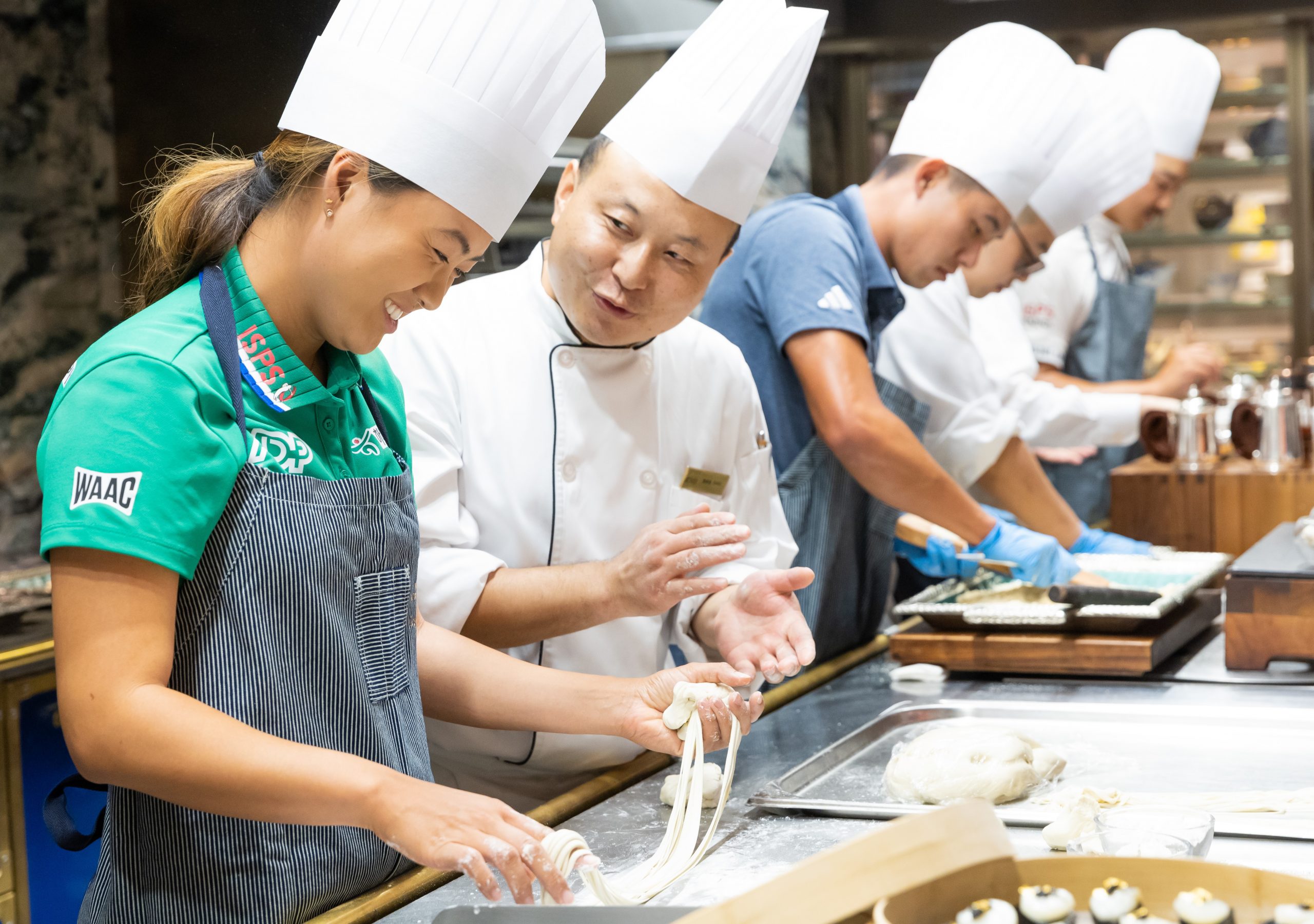 The inclusion of top-tier players in events such as these are a boon for Sands China, which sees an important place for sports tourism in the city's future. The company has already played an active role over the past 20 years in developing the sector, from hosting high-profile sporting events like Macao's first ever NBA basketball game to collaborations with global sports icons, like David Beckham, and now Minjee Lee, all of which have helped to promote Macao as a premier sports and entertainment destination.
Through initiatives like the Sands Golf Day, the company aims to do more than just host world-class events. They see an opportunity to invest in the city's sports development and give back to the local community by inviting high-calibre athletes to impart their wisdom on the next generation of sports superstars.
From the feedback of the elite athletes, it's clear that the Sands Golf Day left a lasting impact – and not just on the youngsters. Gazing ahead, could one of these young talents be the next golf sensation? Minjee Lee says she sees great promise in Macao. 
"I think they all have a really great future. They seem like they're really interested in playing golf, and even with just the little challenges that we did, they were all really competitive. So I think they all have potential to become great players."
---
As a key stakeholder in Macao's future, Sands China has long demonstrated its commitment to the local community. Read more about the company's community initiatives here.