Sands China celebrates quality and capacity of local tea supplier Va Lun Tea Shop
Sands China celebrates quality and capacity of local tea supplier Va Lun Tea Shop

Link copied
As Macao's only wholesale distributor of imported Chinese tea, Va Lun Tea Shop has been one of Sands China's most reliable local suppliers for nearly 20 years.
Opening a hotel or restaurant without tea in Macao would be like running a gym without yoga mats or an airport without duty-free shops. It's possible, but the experience won't feel quite complete. Guests not only expect to enjoy tea while eating out or staying as a guest at a hotel, but they expect high-quality varieties, especially at luxury properties. 
So when it came time for Sands China to open the Sands Macao in 2004, the company sought out a trusted local tea supplier who could fill their large volume requirements without compromising quality or consistency. 
Sands China found its ideal partner, Va Lun Tea Shop, on Rua de Cinco de Outubro, which runs through a historical area near Macao's commercial centre and inner harbour. Founded by local businessman Tsang Chi Fai with four other investors in 1965, Va Lun is the only wholesaler of imported Chinese tea in Macao. The company's capacity and exclusive partnerships have enabled it to dominate the local market and provide a steady stream of premium teas to clients like Sands China. 
The company commands 90 per cent of the local tea trade and supplies roughly 4 tons of tea daily to restaurants, tea shops, and hotels, including those of Sands China. Va Lun also runs a warehouse and three branches in mainland China, one of which opened in Zhuhai in August 2021.
"Va Lun was a great fit, because the company has a very large stock of tea and a large warehouse, which enables them to keep their tea in the best condition. As a tea enthusiast, Tsang also presented his prized collection of award-winning teas to us," explains Rachel Zheng, Venetian Macau Limited's senior procurement manager.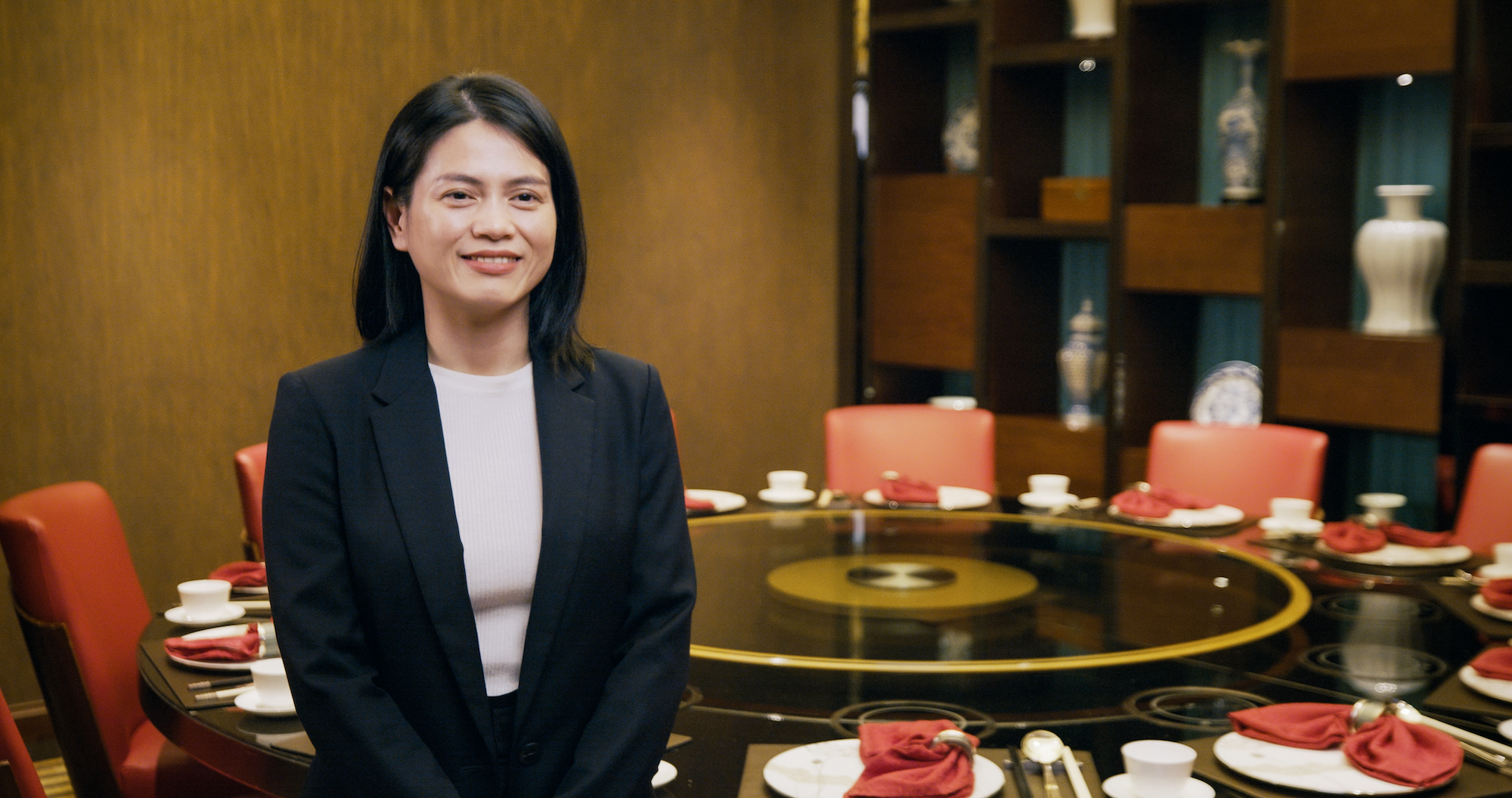 Today, Va Lun supplies tea to over 50 outlets across Sands Macao, The Venetian Macao, The Londoner Hotel, Londoner Court, Conrad Macao, Sheraton Grand Macao, The St Regis Macao and The Parisian Macao. "Between 2017 and 2019, Va Lun supplied Sands China with tens of thousands of US dollars worth of tea each month," says Zheng. 
In early 2002, when Tsang was offering tea training classes at the Macao Institute for Tourism Studies (IFTM), a foreigner approached him and said he wanted to learn the art of Chinese tea. At first, without knowing he was an F&B manager at Sands Macao, Tsang offered him seven days of lessons. Tsang said the experience showed him that Sands China was taking its operations very seriously, including in gaining knowledge of different teas, their origins, specialities, and so forth.
'A tiger with wings'
When Tsang established Va Lun nearly 60 years ago, he was just 30 years old. Born in Jiujiang in Jiangxi province, the entrepreneur was more prepared than most, thanks to his family's entrepreneurial background. 
In 1941, when he was five, Tsang's family fled China during the Second Sino-Japanese War and moved to the relatively peaceful Macao. His father, who had run a Chinese wine production business, established a winery and shop called Tai Cheong in Macao. 
The young Tsang joined his father's business when he was 18. With over a decade of experience running a beverage company and building client relationships, Tsang knew he had the knowledge and motivation to start his own venture. 
He also saw an enticing opportunity. When China began regulating the tea market in the 1960s, it became easier to source high-quality teas from specific areas, such as pu'er from Yunnan, thanks to new systems in place that established regional varieties and criteria.  
"Before 1965, tea management was not orderly in China. Tea evaluation lacked a set of criteria," recalls Tsang. "The Chinese government was looking for [tea] wholesalers in Hong Kong and Macao. I was the vice president of the Industrial and Commercial Affairs Department of the Macao Chamber of Commerce, so I was recommended [to become one of the wholesalers]." 
Back then, he says, tea was not an easy trade in Macao. Even though tea houses were thriving, they typically served low-quality, mass-market teas. As tea appreciation developed, Va Lun managed to keep his company afloat by supplying tea to the five Hong Kong restaurants he had invested in. "That's how I maintained Va Lun."
At the same time, Tsang also invested in his personal knowledge of tea. He spent half a year visiting tea factories in China, identifying top producers and learning about new varieties that he could bring to Macao.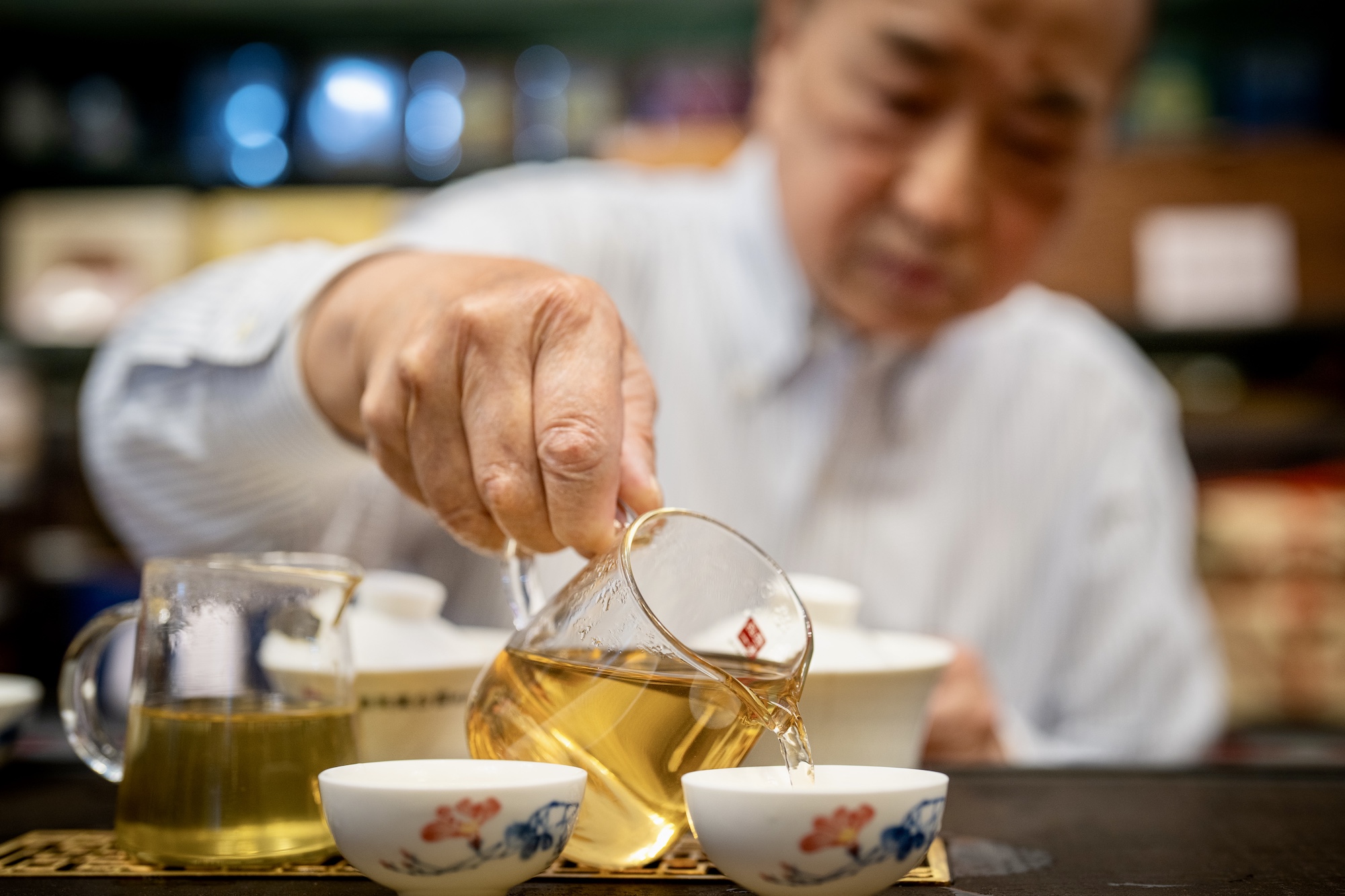 "We sell all kinds of tea imported from China, including longjing [pan-roasted green tea] from Zhejiang province, da hong pao [an oolong tea with a mineral flavour] from the Wuyi Mountains [of Fujian Province], tieguanyin [a kind of oolong tea] from the Minnan region [of Fujian province], pu'er [fermented black tea] from Yunnan province and lu'an tea from Guangdong province," says Tsang.
"As a wholesaler, I must understand their production process and storage methods. I became interested in chemistry during high school. I still remember the chemical elements by heart, so I know how to master the whole [production] process," he adds.
Back then, storage was a major problem because vaporisers and dehumidifiers did not exist and it was challenging to control humidity levels to protect the tea. "For older teas and those with large leaves, you must store them in a warehouse for 10 months," he explains. "Then, you've got to move them to a dry warehouse to ferment for another 10 months." 
Over time, he built six warehouses in Macao that span 60,000 square feet and can store upwards of over 1,000 tons of tea in total. With these storage and quality-controls in place, the business rode a wave of momentum. When Va Lun started, the company had four employees and one location. After three years, the business controlled 80 per cent of the market, according to Tsang. 
Part of Va Lun's success can be attributed to timing: Tsang started the business just as Macao's dining, hospitality and tourism industries started to expand. "Since the opening of Dai Wa restaurant (大華飯店) in Macao in the late '60s, things began to pick up," says Tsang, who was already supplying tea to the restaurant's Hong Kong branches at the time. As more luxury hotels opened, the business became "a tiger with wings."
After three decades of growth, Va Lun hit a setback in the 1990s when many industries declined during the Asian financial crisis. But within a few years, Va Lun found itself poised to thrive after Macao liberalised gaming in 2002. 
Steeping new partnerships 
In the early 2000s, Tsang saw both the writing on the wall and an opportunity. With Stanley Ho's 40-year gaming monopoly coming to an end, the city would undoubtedly attract international investors and welcome more hotels, restaurants, resorts and casinos. Va Lun was ready with capacity, quality and variety.
In 2004, Sands China became the first international entity to open a casino in Macao – and the company chose Va Lun as its tea supplier. Tsang's unrivalled knowledge of the tea industry, Rolodex of Chinese tea suppliers, and vast storage facilities made Va Lun the best choice.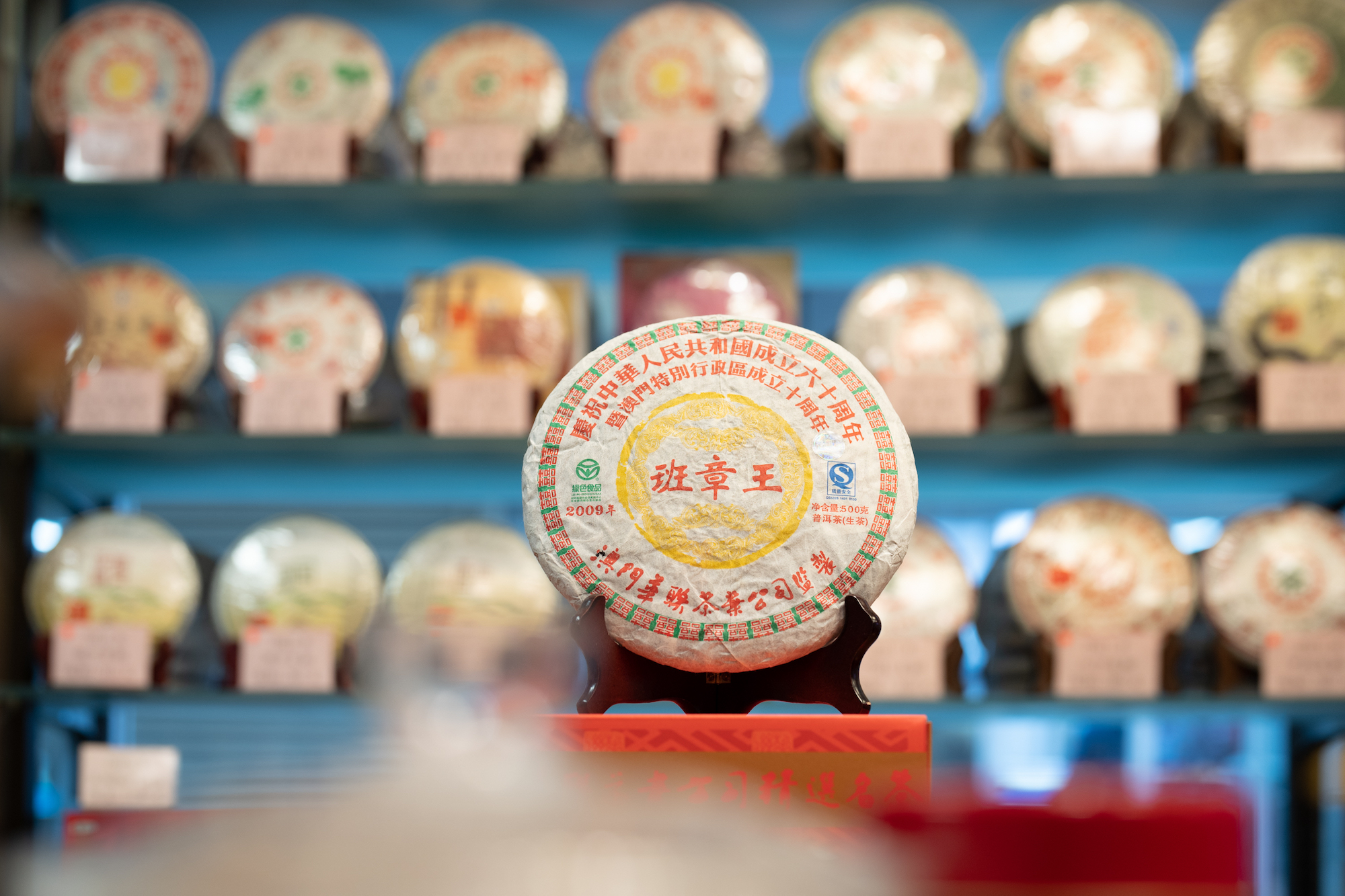 "We strive to support and work with local companies as part of our social responsibility efforts. It is essential for Sands China to cooperate with capable and reliable local suppliers," says Zheng.
The integrated resort operator orders a variety of exquisite teas from Va Lun, ranging from dragon pearl jasmine to white peony and Lapsang Souchong (a smoky black tea), to serve at its Chinese restaurants. At Lotus Palace, a sophisticated address at The Parisian Macao, tea lovers can also find raw pu'er and Bi Luo Chun (a famous green tea originally grown in the Dongting mountains near Suzhou). 
According to Zheng, chrysanthemum tea and Yunnan pu'er are the most popular. "These two teas have been used for over 10 years in all our restaurants and at Paiza's service bars and they have been well received by the customers," she notes.
Some of Sands China's VIP customers opt for fine and rare tea products, such as the commemorative edition of da hong pao that celebrated the 70th anniversary of the People's Republic of China, Lion's Peak longjing and Rougui tea (a kind of oolong tea) from the Wuyi mountains of Fujian province.
Over the nearly 20-year collaboration, Va Lun has also provided more than just tea. The company's tea experts have also trained restaurant staff across Sands China outlets in tea knowledge, brewing skills and proper storage. "Van Lun has improved our service level," says Zheng. This knowledge then trickles down to consumers, who learn about different tea varieties and quality levels when dining out. 
In the future, Zheng plans to bring more contemporary tea styles to Sands China outlets. "Tea is widely known as a healthy drink, and the demand for tea is rising steadily across the world," she says. "We look forward to bringing in more innovative ideas for tea mixtures from Va Lun and a more enticing tea selection to our customers." 
Tsang also looks forward to expanding his business and continuing his relationship with Sands China. "We will develop the business step by step," he says of future plans. "Va Lun tea is high quality – providing good quality is always our mission."