Past meets present: Contemporary Cantonese shines at Pin Yue Xuan
Past meets present: Contemporary Cantonese shines at Pin Yue Xuan

Link copied
Executive Chef Darren Cheung brings years of extensive cooking experience and a penchant for adapting Western techniques to Chinese cuisine at The Venetian Macao's award-winning restaurant.
The first character of Pin Yue Xuan (品粵軒) at The Venetian Macao loosely translates to "taste or appreciate" – and has been a source of inspiration for Executive Chef Darren Cheung.
"The character pin (品) has three mouths [each square radical means 'mouth' in Chinese] – and for me, each mouth represents tasting tea, wine and delicacies," explains Cheung. "When I started in this role, I wondered if it was possible to integrate those three aspects."
And integrate them he did. Opened in December 2021, the restaurant takes Cantonese cuisine to new heights with its modern dishes, the finest Chinese teas and an enviable wine selection. The chef's thoughtful approach comes as no surprise. At just 39 years old, Cheung is a rising star in the Cantonese culinary world, earning Pin Yue Xuan several accolades, including the 2023 Trip.com Global Elite Restaurant List Platinum award.
"Compared to other Chinese cuisines, I feel like there's more room for creativity in Cantonese gastronomy," he says. "Sure, we might talk about what's traditional, but we have less of an emphasis on fixed recipes and more of a focus on high-quality ingredients."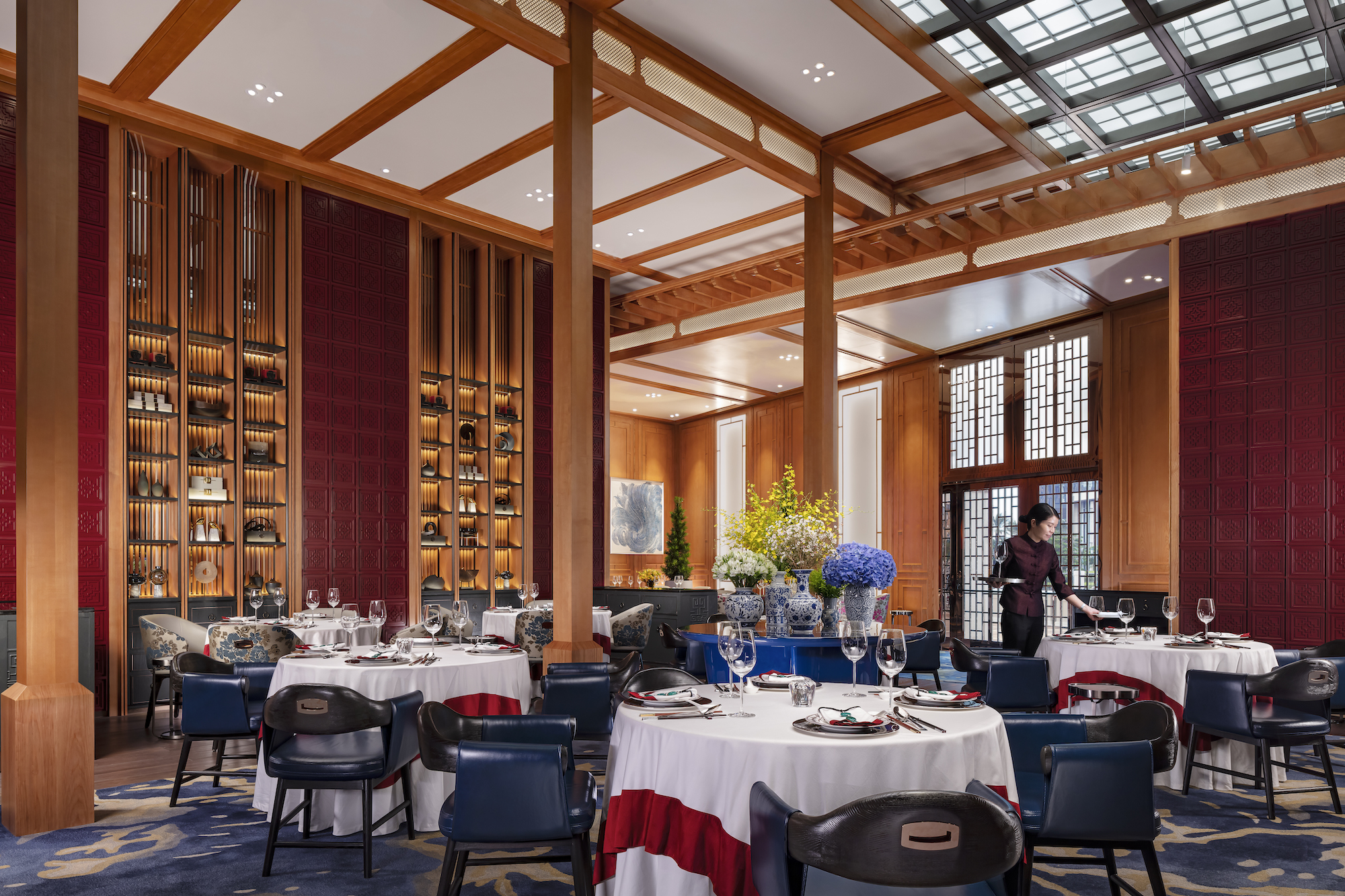 Cultivating new ideas
Cheung's culinary journey was born from necessity. The young chef spent his early childhood working on his family's peanut farm in the countryside of Guangdong province. In 1996, when he was 12, his family left Guangdong and moved to Hong Kong. His parents worked tirelessly to make ends meet, and Cheung, in middle school at the time, helped wherever he could. 
"I was usually responsible for cooking for my elder brother and younger brother," he recalls. "To provide for everyone, I had to learn how to cook properly." 
His local library provided a fountain of knowledge. Cheung especially admired the recipes and methods of Pearl Kong Chen, the granddaughter of famed Cantonese epicurean and food critic Jiang Taishi.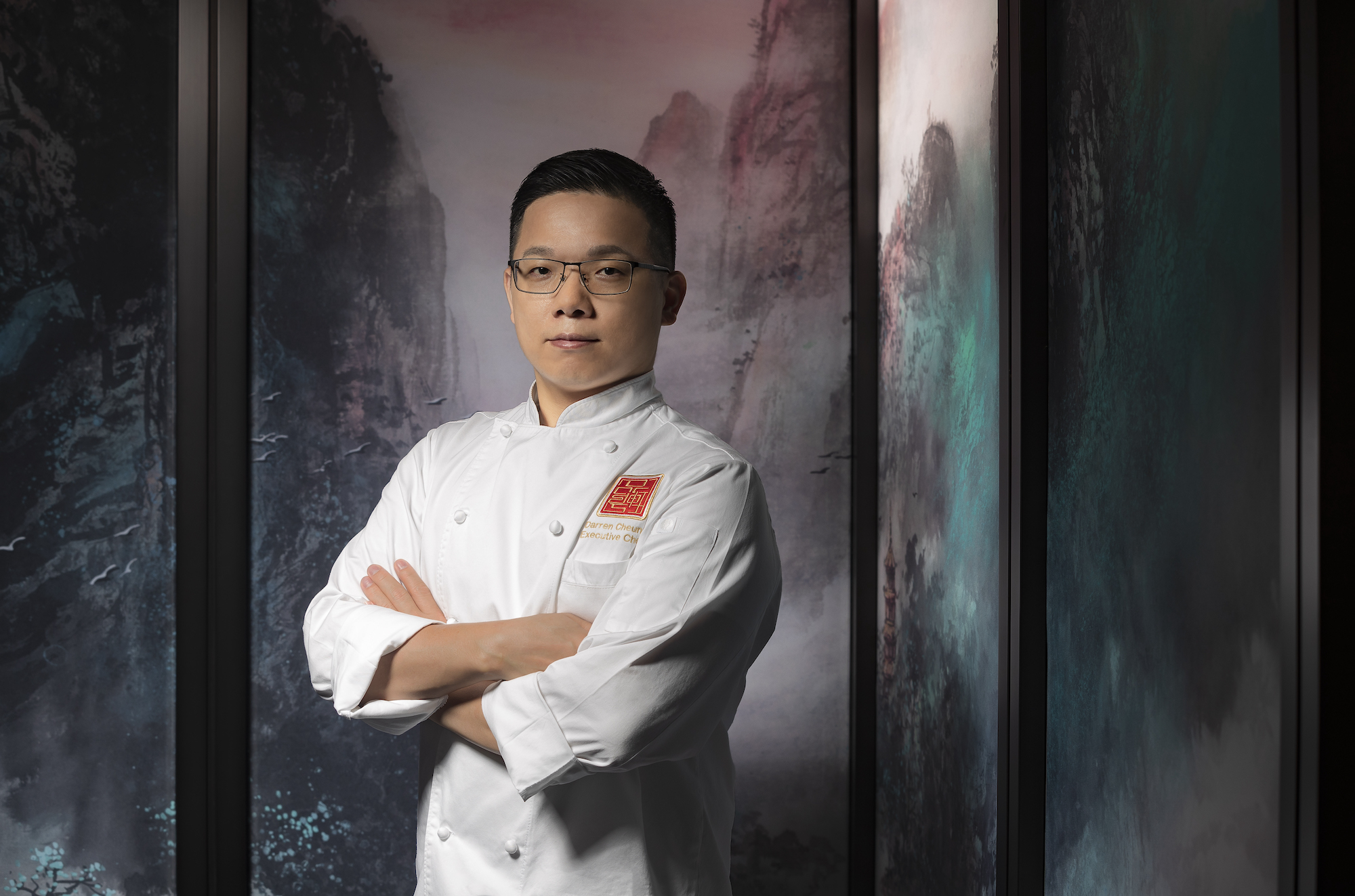 "I've read her books since middle school," Cheung shares. "She wrote about traditional Cantonese, Hakka, Chiu Chou and Shunde cuisines. And she delved into areas like the history and stories behind Cantonese cuisine, which expanded my appreciation." 
It wasn't long before the teenager was whipping up impressive dishes. Soon enough, he started working as a cook in local restaurants in Hong Kong. 
Over the next few years, he held several senior roles, including head chef of Lei Garden Restaurant Group and Chinese Chef de Cuisine at the Beijing Hong Kong Jockey Club Clubhouse. Cheung also studied French haute cuisine, enrolling in a handful of Le Cordon Bleu courses before returning to Hong Kong and eventually relocating to Macao for new opportunities.
A pavilion of Cantonese delights 
Setting the tone for the refined experience, Pin Yue Xuan greets guests with a beautifully designed lobby adorned with 12 hand-crafted teapots – each of which relates to one of the legendary creatures from Chinese mythology. Guests are invited to choose from a selection of custom teapots, creating a highly personalised experience.
Inside, the dining room opens into a courtyard-like space reminiscent of siheyuan, historical courtyard residences that were once foundational in Chinese architecture. Ornate wooden latticework adorns the walls, exposed columns and beams evoke classical Chinese temples, and large windows offer views of The Venetian Macao's lagoon.
While surrounded by carefully crafted details, diners can savour equally inspired dishes that balance tradition and innovation. Take one of Cheung's signatures, the "Golden Fish" dumplings with grouper and crab roe, for example. A popular choice on the restaurant's dim sum menu, the handmade dumplings require no small amount of precision. The wrapper is tinted with natural colouring to mimic the orange-pink skin of a goldfish, then stuffed, artfully pleated to create the illusion of a fish body and tail, and steamed to the perfect temperature. 
Demonstrating characteristic curiosity, Cheung updated this classic Cantonese dish by changing the traditional shrimp filling to freshly cut grouper and crab roe – even if it made the process more complex.
"The shape of each goldfish dumpling varies after cooking, because fish meat is more moist than shrimp and starts to fall apart when it steams," he explains. "But the taste is infinitely superior, so we solved this problem by refrigerating the dumplings first to seal in moisture before steaming them."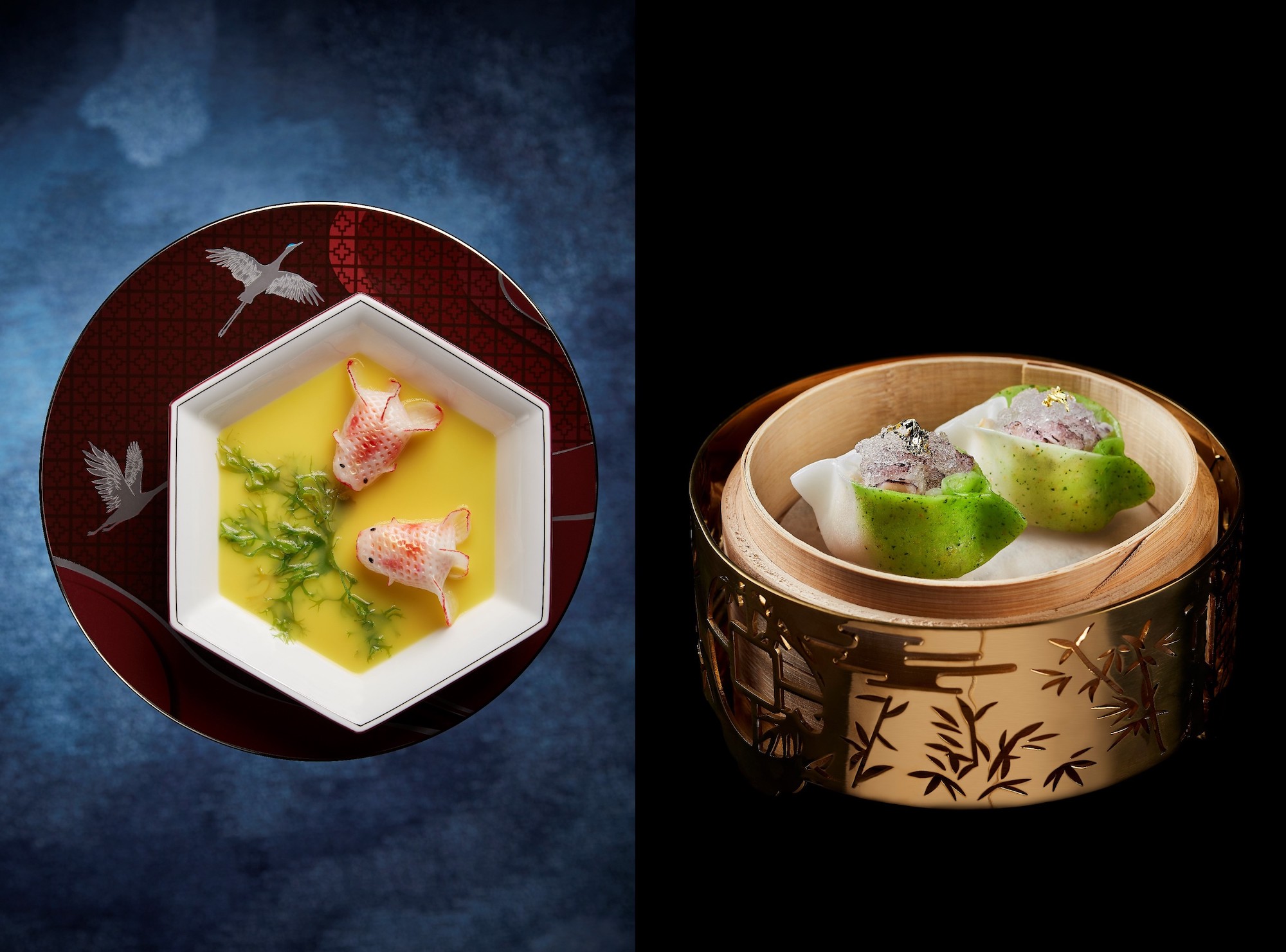 Adding the extra step of refrigeration to ensure the dumpling's aesthetic consistency means that only so many goldfish dumplings are made by Cheung's team each day – and when they're gone, they're gone. "It's one of the most exquisite items on our menu," he says. "It's precise yet playful, and most importantly, delicious.
Having handpicked every member of his dim sum team, Cheung is deservedly proud of Pin Yue Xuan's offerings. "Our baked barbecue pork buns are better than anywhere else, because we use the same Iberico pork from Spain as our char siu and bake them to order," says Cheung, adding that this method also reduces food waste in the kitchen. 
A more personal highlight for the chef? The Hakka radish rice dumpling, inspired by his roots. He's quick to add, however, that he and his team have improved on the traditional recipe several times over, tinkering with the length of steaming time and elevating the presentation.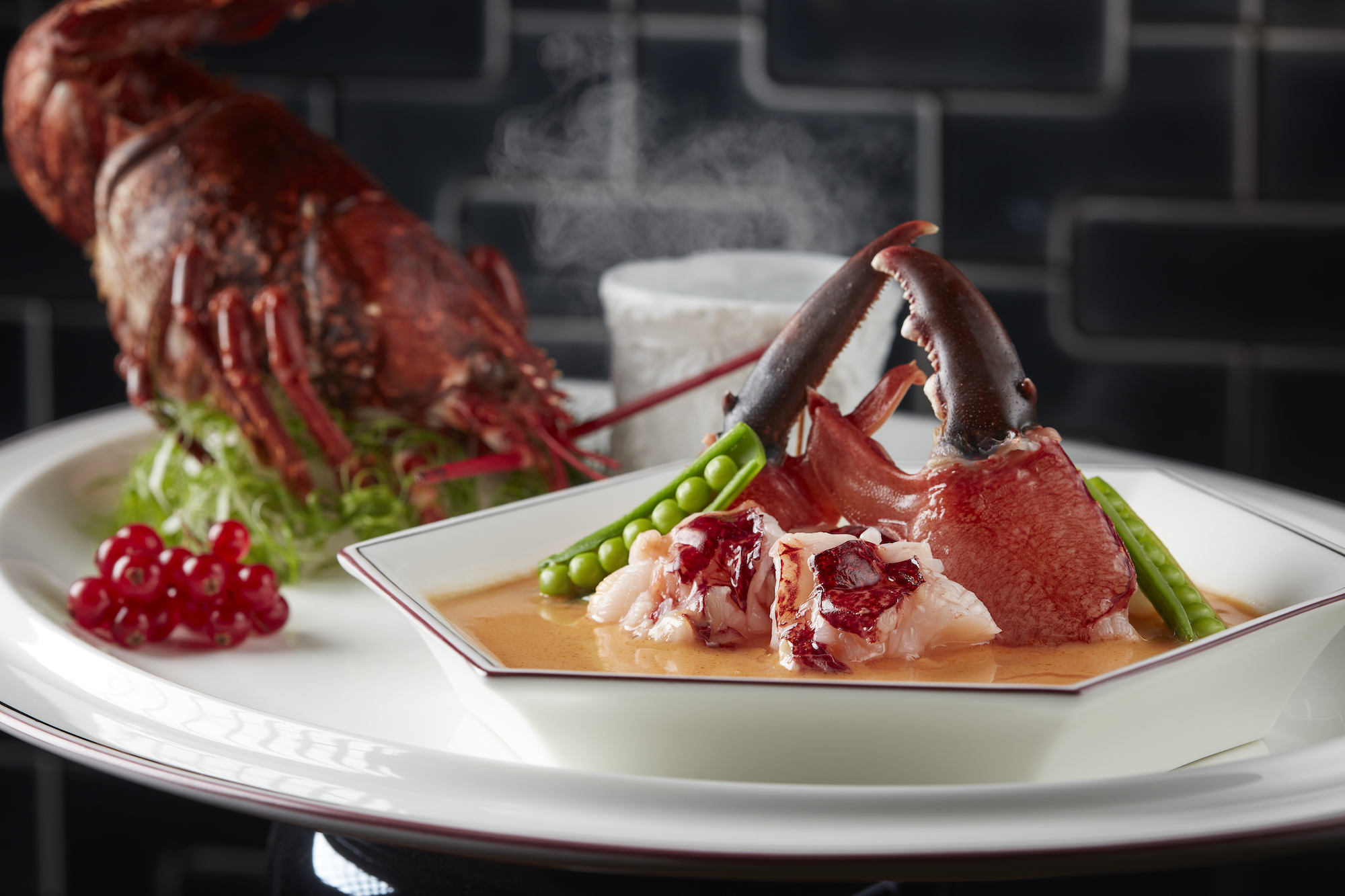 The best of both worlds
Given his bicultural culinary training, Cheung has a distinctive flair that sets him apart. He believes that the strengths of one culinary style can complement the limitations of another, creating a harmonious blend of techniques and flavours.
"We can learn from each other, when we appreciate different cooking styles and techniques," he says. "We see the shortcomings of Cantonese cuisine sometimes. For example, we seldom focus on presentation, because there is a saying that 'heat covers all failures'. Instead, we pay more attention to the wok hei [wok energy] and heat."
According to Cheung, French cuisine uses a range of different cooking techniques – from braising to blanching, en papillote to au gratin – while paying less attention to a blisteringly hot cooking surface. 
The steamed Brittany lobster with egg white in seafood broth – the chef's masterpiece – brings the delicate flavours of blue lobster to light through a low-temperature, slow-cooking method. First, it's gently glazed in a warm oil, then soaked in broth and served in a rich pool of lobster juices and egg whites from imported Ran Oh eggs – considered the best-quality (and most expensive) eggs in Japan. 
"When we create dishes, we always consider whether the ingredients are compatible with one another," says Cheung. "I think in this case, pairing an egg base with lobster soup, then thickening with the lobster broth, brings out the dish's freshness, tenderness and smoothness."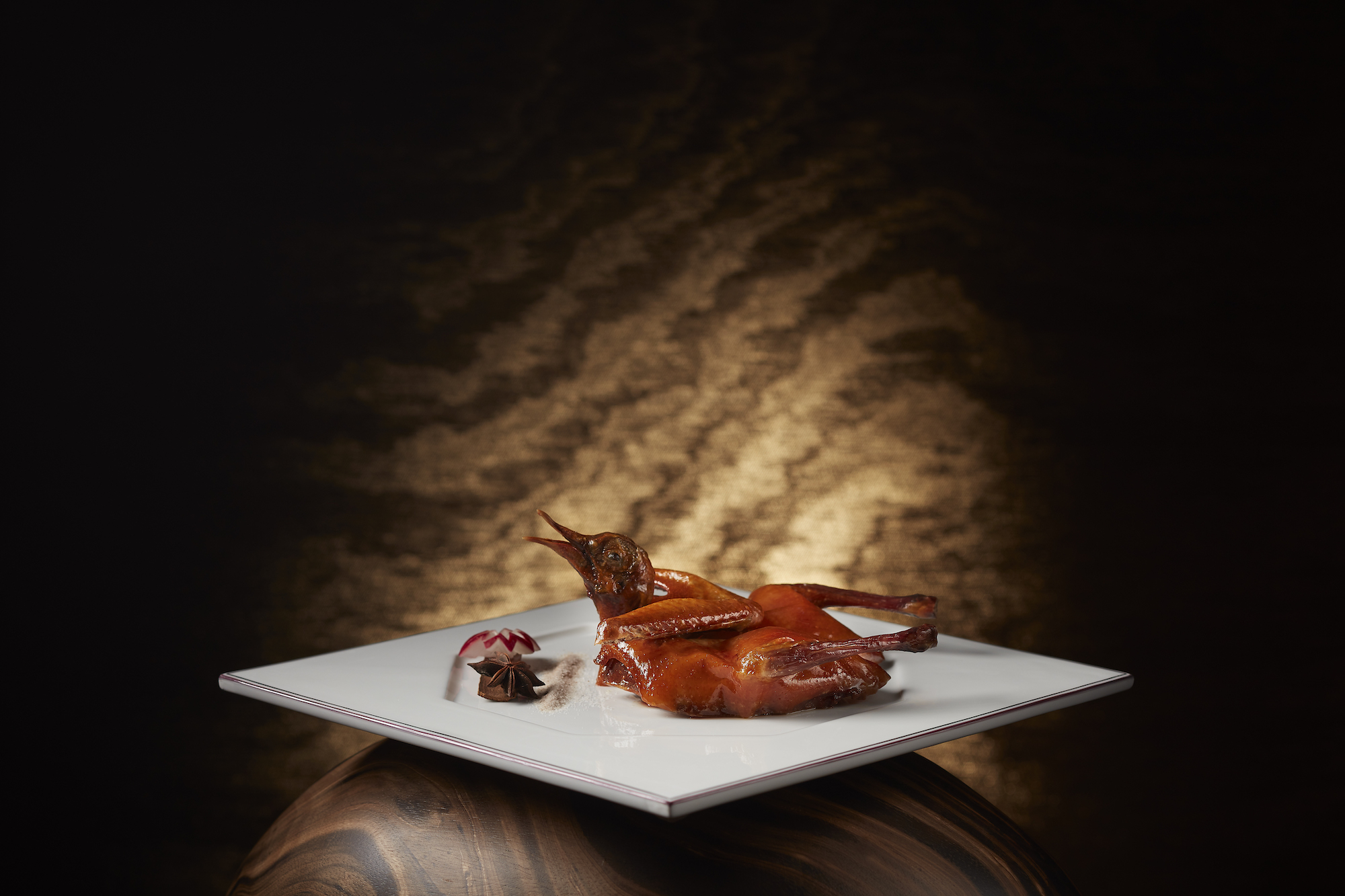 His love for classic delicacies is evident in star dishes like the Cantonese crispy baby pigeon. A traditional dish in Guangdong, Shiqi-style squab is highly regarded for its crispy skin and tender meat. Traditionally, it's prepared by air-drying the marinated pigeon in a simple vinegar and malt syrup before deep-frying.
Cheung changes it up by marinating a 33-day pigeon in a complex blend of more than 18 spices, then using a special blowing machine to ensure it air-dries uniformly for a better-roasted skin. Then, the bird is coated in a thin pulp of egg whites and flour. This helps to create an extra crispy skin that's golden brown on the outside, while perfectly juicy and flavourful on the inside. 
Those hungry for a more comprehensive scope of the chef's talents typically opt for the tasting menu — a showcase of eight to 10 marquee dishes.
On hand to help guests stoke their sense of pin (品) is the restaurant's tea sommelier, who matches Pin Yue Xuan's carefully curated library of teas for every dish Cheung prepares. The menu includes some of the most sought-after varieties, from eight-year raw-aged pu'er to 'Shuangji' Mountain Dan Cong and Yinghong No. 9, and the chef also draws from the treasure trove to create special dishes, such as tea-smoked bean curd rolls.
"We have a strong tea culture at Pin Yue Xuan and a very experienced tea expert," says Cheung. "Tea is a very important pairing for us, even more so than wine. That's because wine doesn't appeal to some, but everyone can appreciate a fine cup of tea."
---
To try Cheung's refined, contemporary interpretations of Cantonese classics, make an online reservation at Pin Yue Xuan at The Venetian Macao here.