The world's top chefs gathered at MGM COTAI for Asia's first 'RR1 Culinary Masters' event
The world's top chefs gathered at MGM COTAI for Asia's first 'RR1 Culinary Masters' event

Link copied
During this highly anticipated event, affluent international guests and celebrated chefs came together for an exciting line-up of immersive tours, tastings and cooking classes while exploring Macao's rich culinary heritage.
Every year, luxury lifestyle publication Robb Report pulls out all the stops during its signature Culinary Masters event in North America. Open to members of RR1, the publication's private club, the annual gastronomic retreat offers guests a chance to meet some of the world's most celebrated chefs and enjoy an exciting calendar of events, from cooking classes to wine tastings, tai chi, tours, art experiences, dinners and more.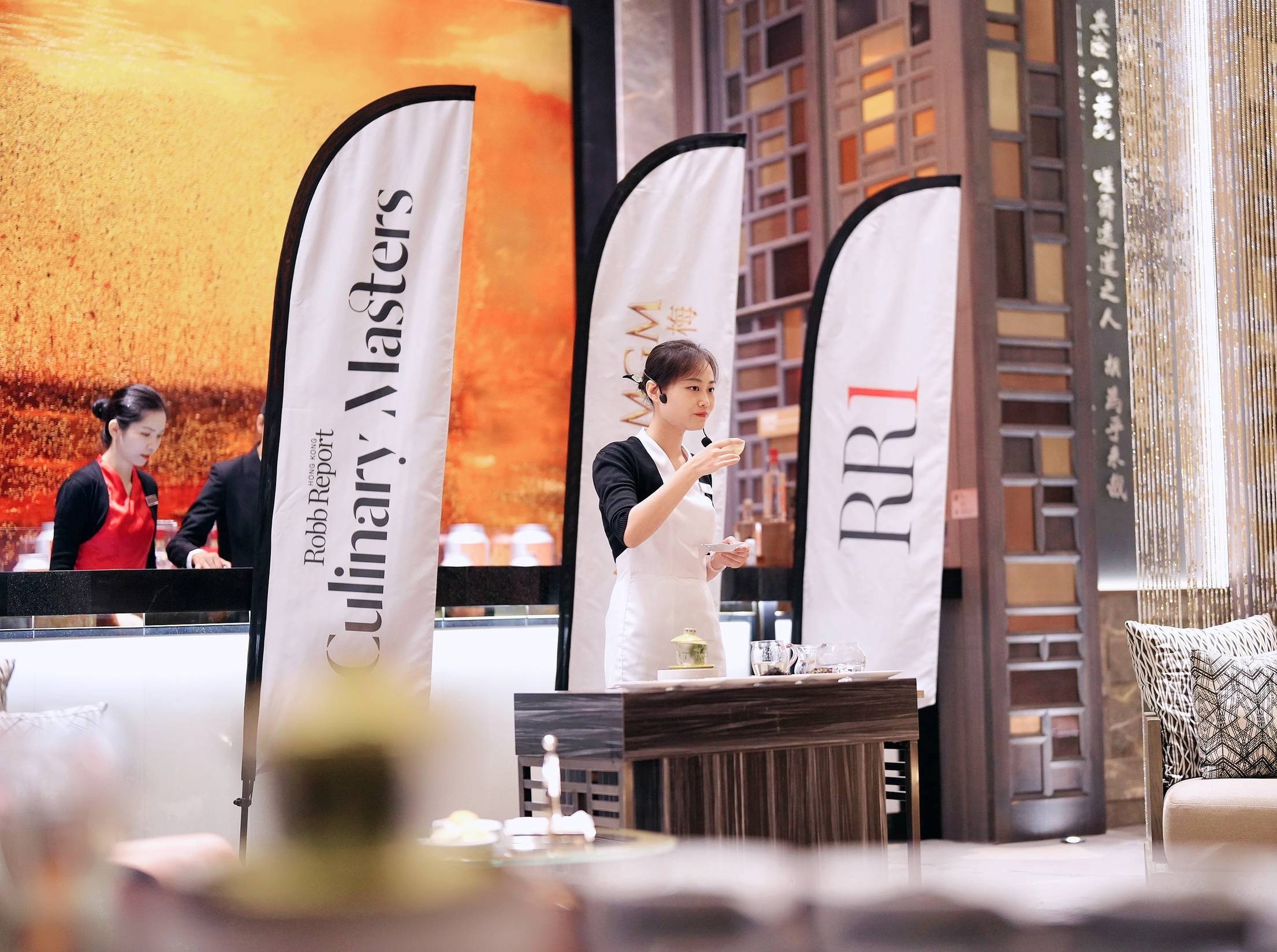 For the first time ever, Robb Report Hong Kong teamed up with MGM to bring this signature multi-day event to Asia. Held at MGM COTAI from 10-13 August, the "MGM x RR1 Culinary Masters Macau" welcomed over 150 guests from 10 international destinations for four days of exclusive experiences with respected names in the restaurant world, like Massimo Bottura, Yim Jung-sik and Shane Osborn, and local celebrated chefs including  Yang Dengquan, Homan Tsui and Palmira Pena.
A UNESCO Creative City of Gastronomy, Macao was the perfect destination for the inaugural Asia edition. While enjoying hands-on activities and delectable bites, guests had a chance to explore Macao's prestigious dining scene, learn more about its fascinating Sino-Portuguese culture and meet a wellspring of local culinary talent.
Hubert Wang, President and Chief Operating Officer of MGM China Holdings Limited, reinforced MGM's unwavering commitment to strengthening the city's position as a prominent global gastronomic and tourism hub. "This very gastronomic extravaganza is a testament that MGM continuously endeavours to elevate Macao's status as a UNESCO City of Gastronomy and a top tourism destination in the globe, by bringing global travellers to the best of the best the dining world has to offer, alongside experiences of the city's distinctive blend of East-meets-West culture."
The event's theme, "The Flavours of Tomorrow: Savouring the Future", added a layer of insight and purpose to the weekend. Inspired by the United Nations Sustainable Gastronomy Day in June, the chefs explored greener and more innovative approaches to fine dining through meticulously crafted dishes presented in Macao.
Read on for a sneak peek into this immersive experience.
When culinary masters converge
With Macao's rich heritage and scenic landmarks as a backdrop, an array of star chefs came together during the RR1 Culinary Masters to provide a delicious glimpse into the future of gastronomy.
Among the many culinary stars was headliner Massimo Bottura, of three-Michelin-starred Osteria Francescana in northern Italy, who is often hailed as one of the world's best chefs.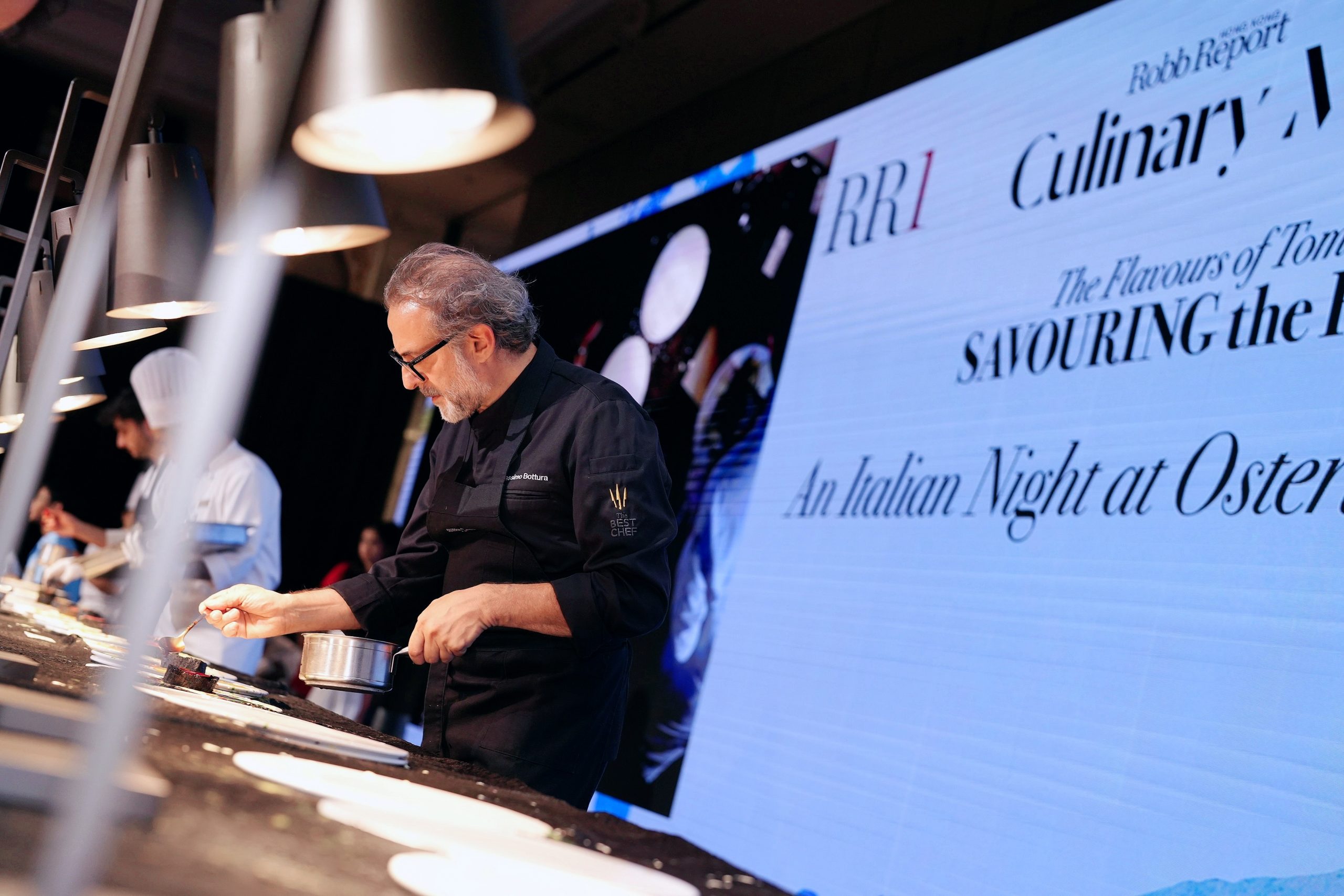 In his Modena institution, which ranked No. 1 on the World's 50 Best Restaurants in 2016 and 2018, Bottura serves up contemporary Italian cuisine sustainably crafted to avoid food waste – an effort that earned Osteria Francescana a Michelin green star in 2020.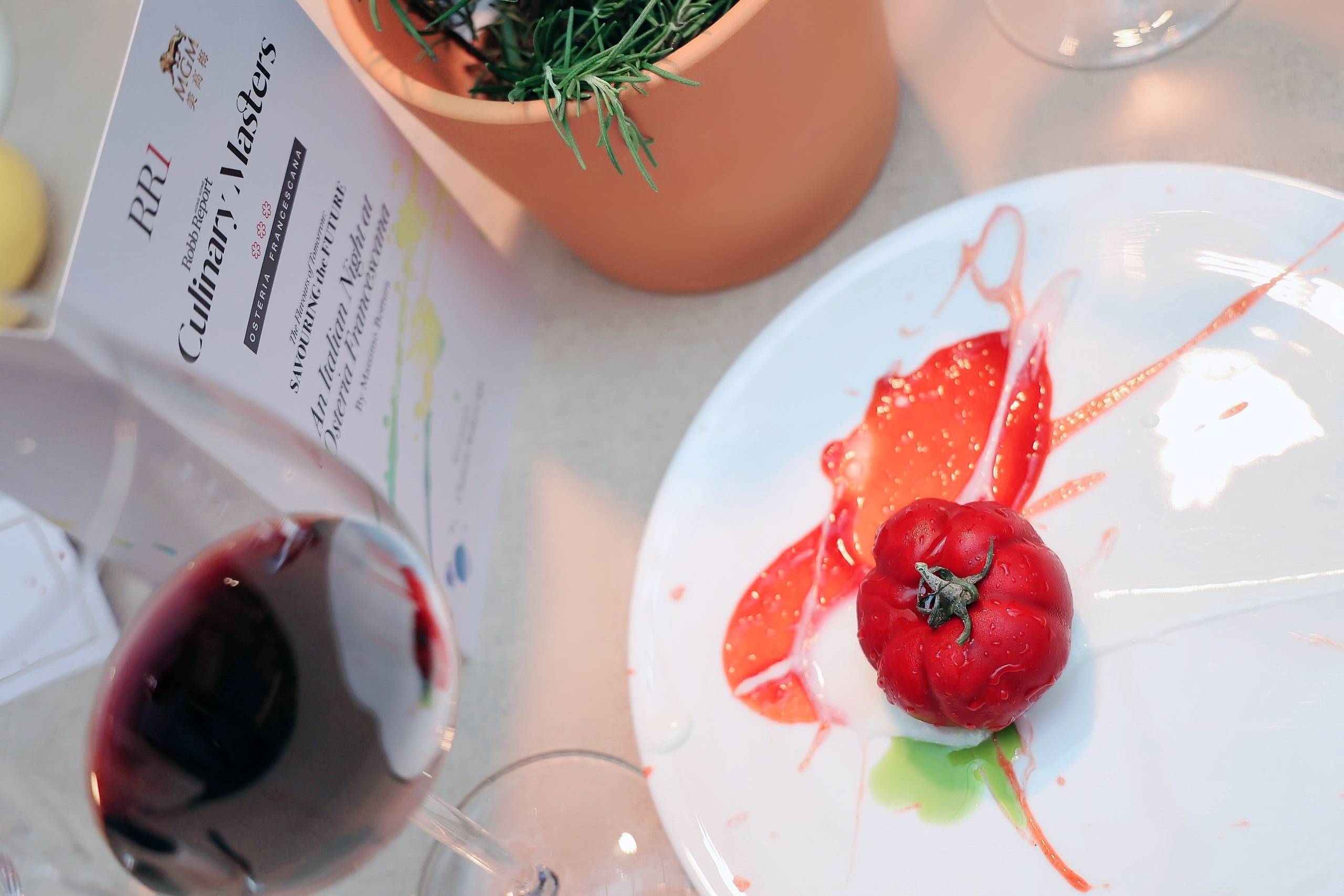 Working alongside MGM's chefs and culinary team, Bottura delighted guests on Saturday, 12 August with an unforgettable progressive menu dubbed "An Italian Night at Osteria Francescana." With their whimsical names ( "Oops! I forgot the caprese salad", "Pasta al pesto in abstract" and "This little piggy went to the market") and creative presentations, each dish told a story through immaculate craftsmanship and quintessential Italian ingredients.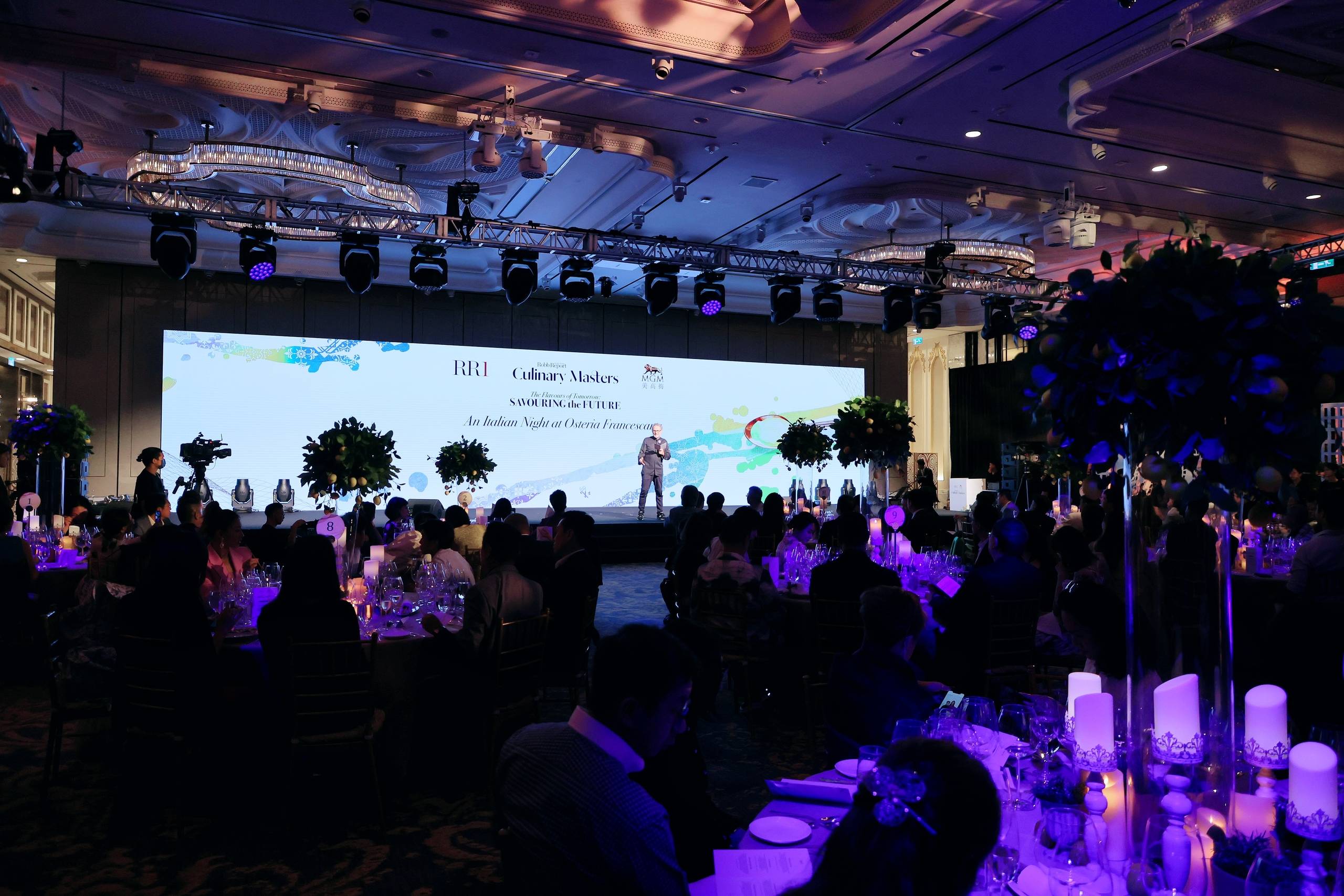 Another culinary heavyweight at the event was Yim Jung-sik, a master of contemporary Korean cuisine. The chef showcases his unique style at his eponymous two-Michelin-starred restaurant Junk-sik in Seoul, as well as a star-studded establishment in New York.
At the opening gala dinner on Friday, 11 August, lucky guests had the opportunity to try one of the restaurant's signature dishes, Sea Urchin & Kimchi Gimbap, which takes inspiration from traditional Korean seaweed rice rolls. The chef elevated the everyday Korean classic with a modern twist. "It's a very special version that's exclusive to Jungsik cuisine," he says. "I deep-fried the seaweed a little bit to enhance the texture, so that it tastes very crispy."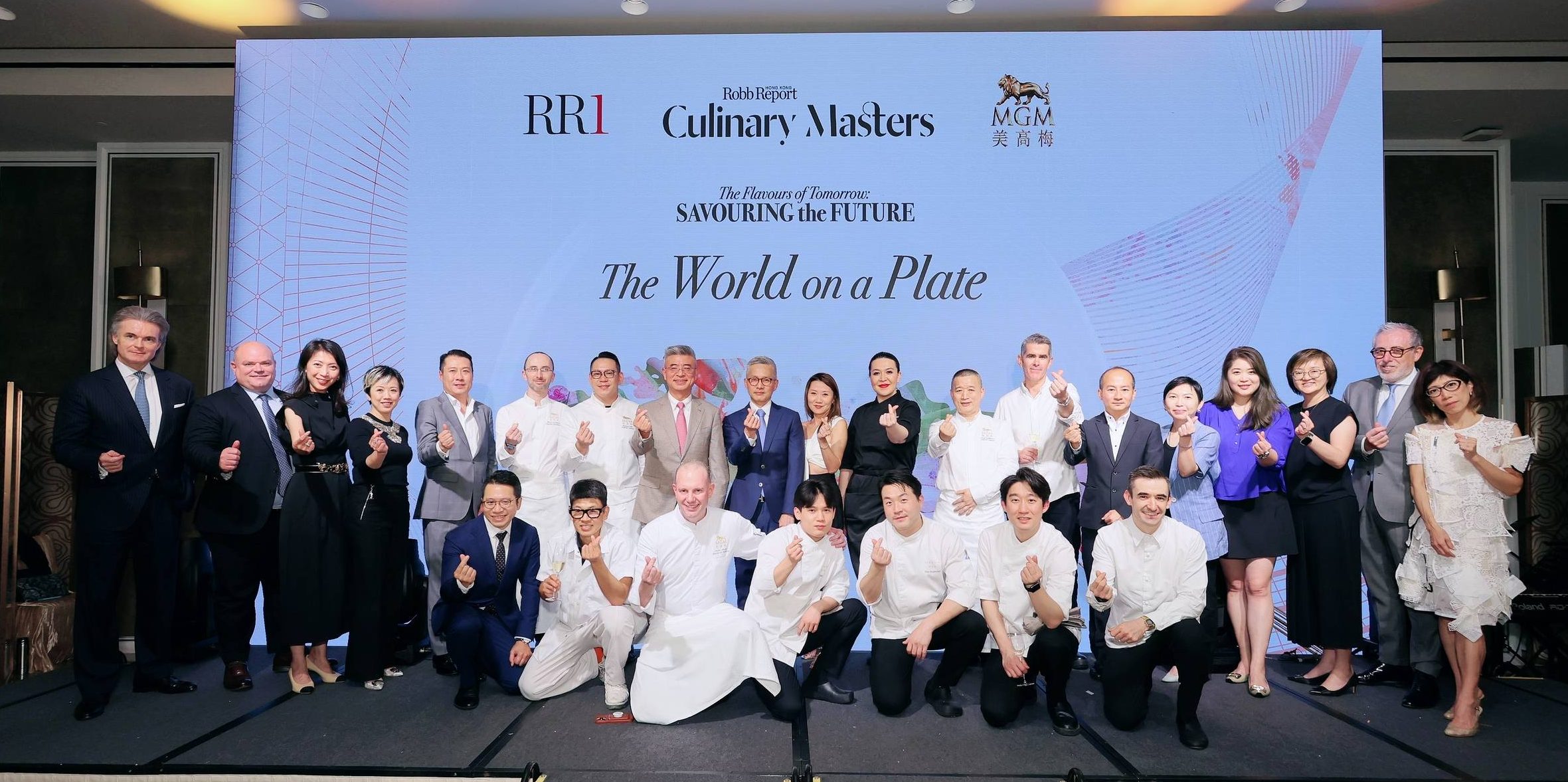 From across the Delta, Hong Kong-based chef Osborn also brought his pioneering ideas to the table. The Australian chef has led a remarkable career: After Pied-a-Terre in London earned two Michelin stars during his tenure, the chef ventured to Hong Kong and opened Arcane in 2014, which has since garnered a passionate fanbase and one Michelin star. 
With his sustainable dining philosophy, Osborn dedicates at least a third of Arcane's menu to plant-based or vegetarian dishes. Showcasing his approach at the opening gala dinner, the chef presented an exquisite tarte fine made with Japanese peas, girolles mushrooms, cippolini onion, macadamia ricotta and black truffle. "Plant-based food can be really delicious, good for you and also for the planet," he says.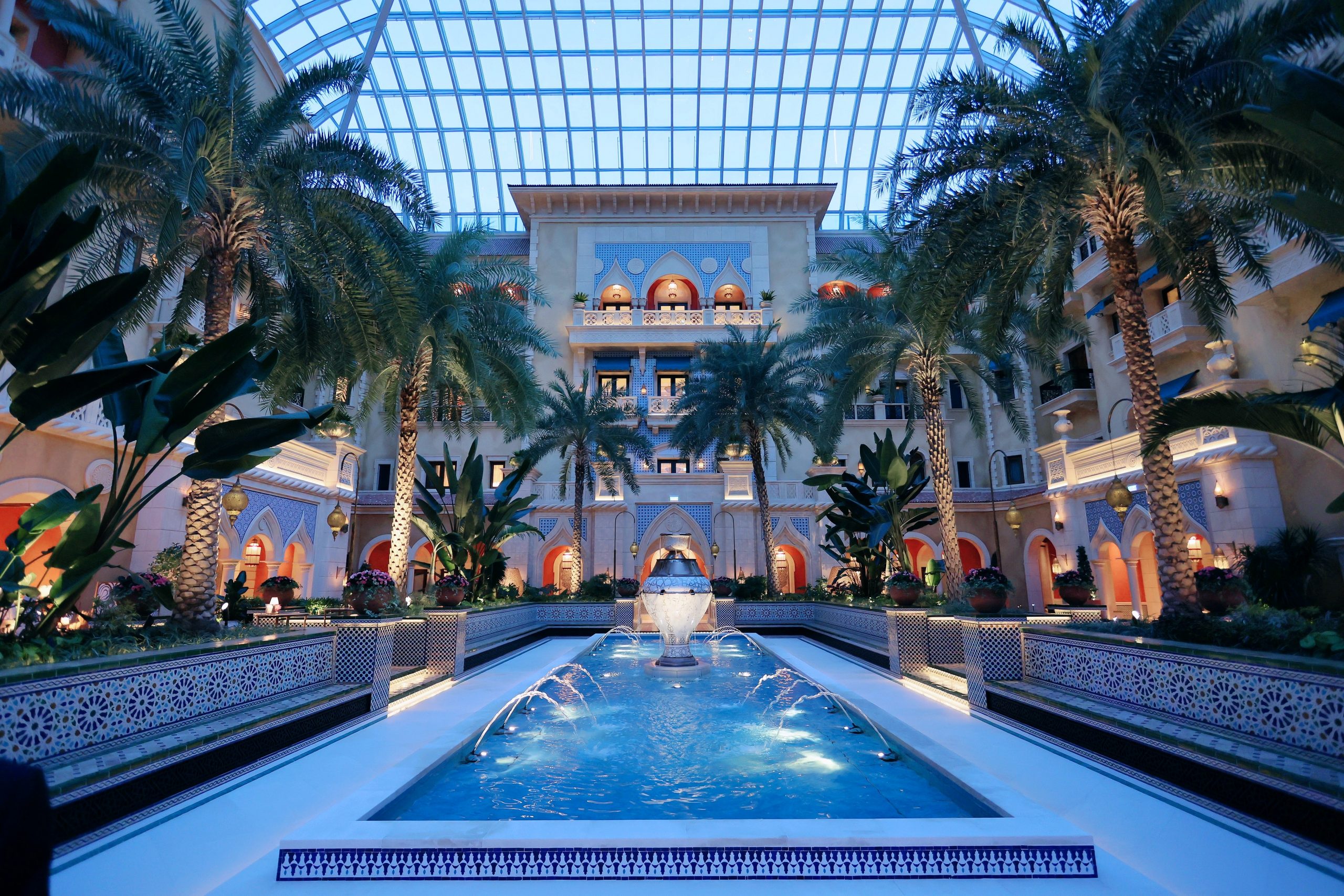 Macao's got talent
When it comes to fine-dining and gourmet experiences, MGM properties are held in high regard thanks to an array of superb restaurants and talented chefs. It's no surprise, then, that the MGM x RR1 Culinary Masters invited two of MGM's most-lauded chefs to represent Macao: Homan Tsui of MGM MACAU's Imperial Court restaurant, awarded one diamond by the Black Pearl Restaurant Guide, and Yang Dengquan of MGM COTAI's Five Foot Road, a Sichuanese restaurant that earned its first Michelin star this year. 
"I feel very honoured to be able to participate in this event. Both Macao and Chengdu are culinary capitals, and this is a wonderful opportunity to showcase these Chinese cuisines on the international stage," said Yang.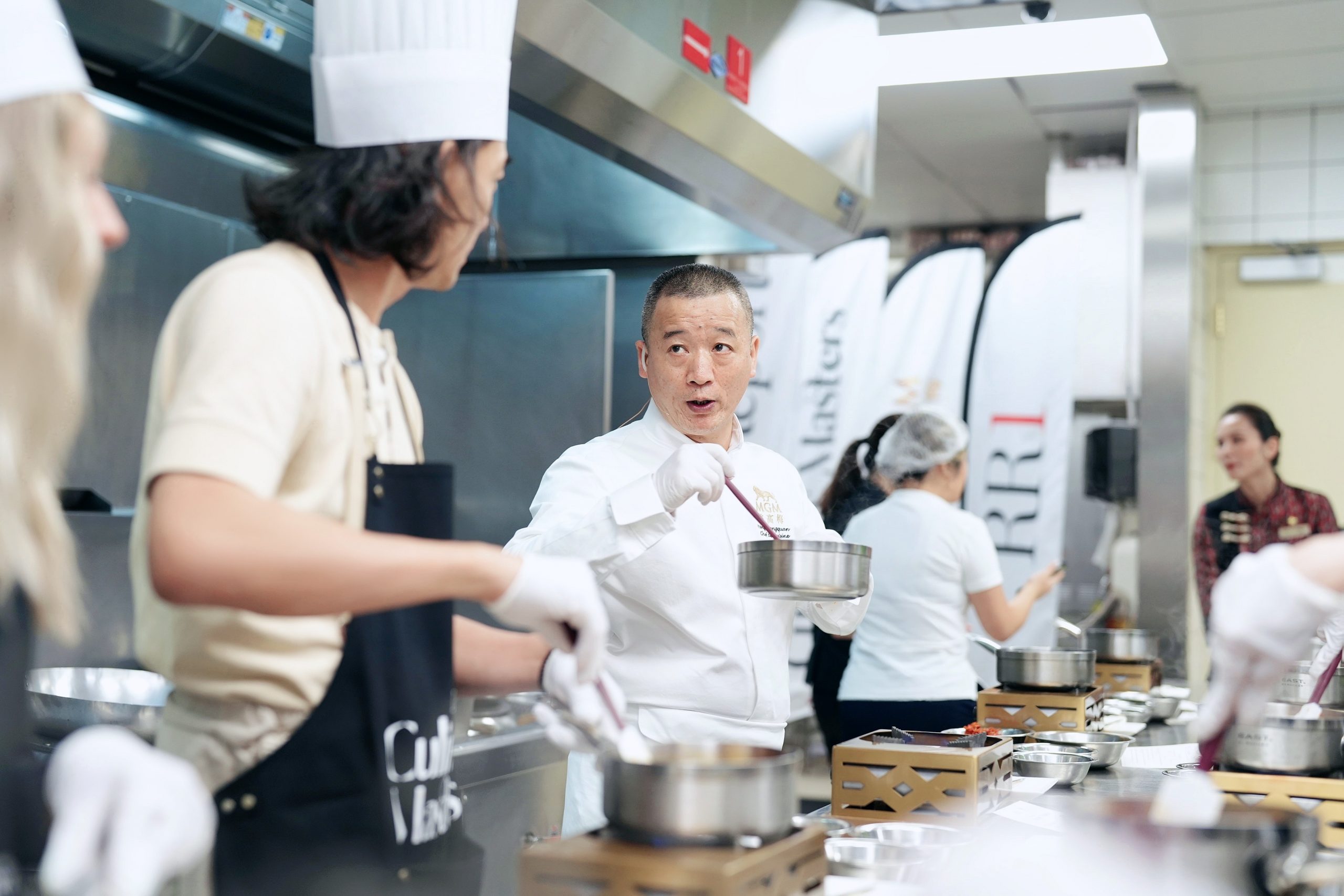 Adding more local talent to the lineup, Macanese chef Palmira Pena, also participated in the gala dinner and multi-day dining extravaganza. During the exclusive gourmet experience, she presented polvo à lagareiro – a quintessential Portuguese dish of braised octopus traditionally served with baby potatoes with their skin on. 
"Not a lot of people know about Macao's great cuisine, but we have very special food here," said Pena, who attended hospitality school in Switzerland. "The MGM x RR1 Culinary Masters will bring the city much-needed recognition."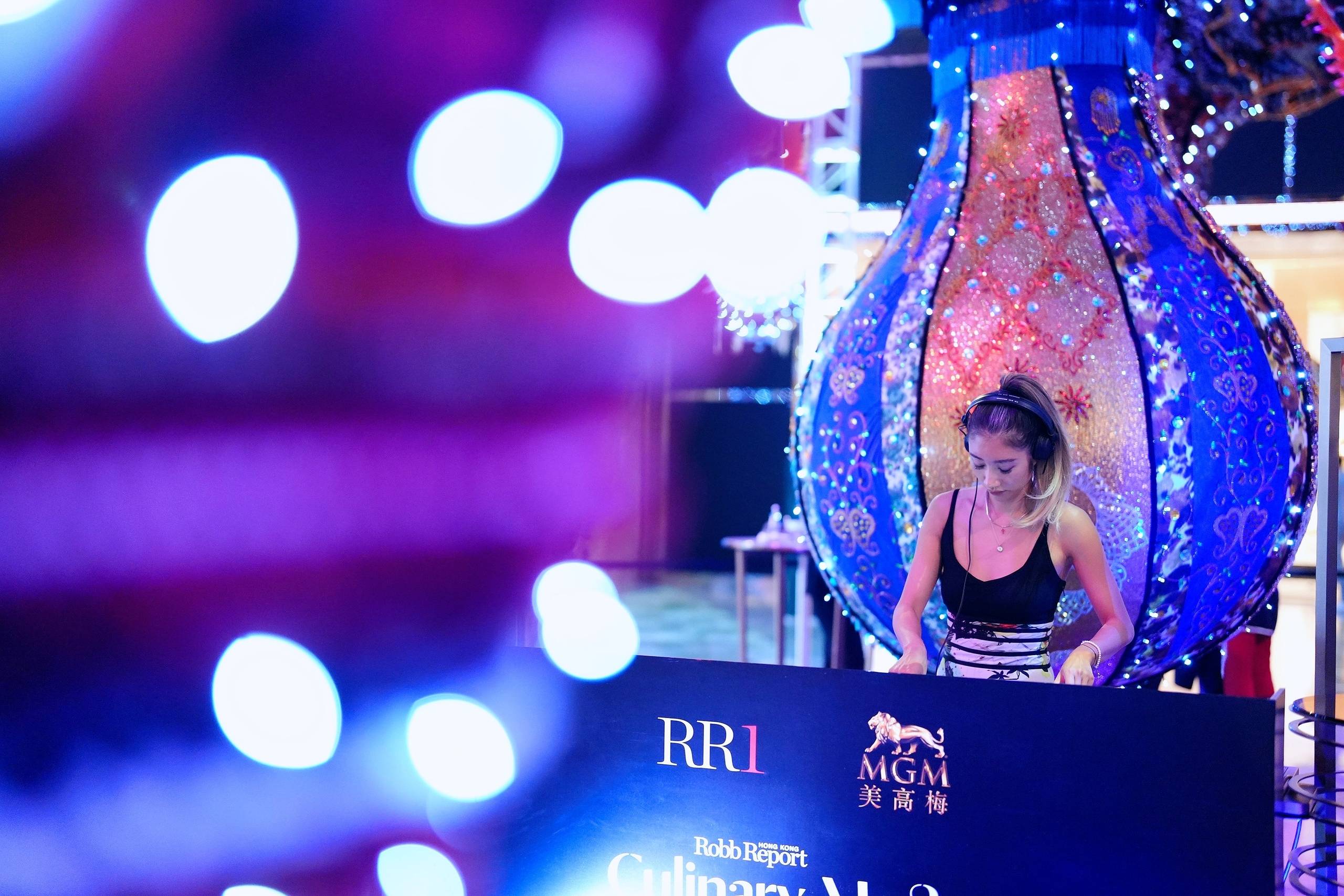 As the chosen destination for Robb Report's first Culinary Masters event in Asia, Macao has solidified its place as the gastronomic destination to watch. Over the span of four days, all eyes were on the city, witnessing its vibrant dining scene, multicultural charisma and unique East-meets-West culture. 
For Osborn, Robb Report's choice to hold its first RR1 Culinary Masters in Macao at MGM COTAI is a testament to the city's reputation as a gourmet destination and a sign of Asia's strong recovery.
"It's a real flag in the sand saying that the region is back after three years of everything being on hold," he shared. "The Culinary Masters are incredible, and I'm really excited to be a part of the inaugural event in Asia. I think it will be something that grows year on year, and it'll be great for Macao but also for the region."
---
Discover MGM's outstanding dining destinations here and see more of the MGM x RR1 Culinary Masters here