Local vegetable supplier Kin Nam Hong sees business flourish with Sands China
Local vegetable supplier Kin Nam Hong sees business flourish with Sands China

Link copied
Local vegetable supplier Kin Nam Hong has seen revenue increase 10-fold at its peak since joining forces with Sands China in 2004.
From grocers to butchers, florists, bakers, cleaners, laundromats and tea purveyors, small businesses are the lifeblood of a community. They create job opportunities, generate income, sustain families and cultivate social bonds across society. 
But when opportunities knock, they can't always scale up at a moment's notice. At one point in time, that was true for Kin Nam Hong, a locally run vegetable supplier founded in 1992. Kin Nam Hong got its start by importing cauliflower, lettuce and celery from California via Hong Kong. 
However, after a couple of years in business, owner Lei Iong Fai began working primarily with producers in mainland China; he was impressed by their advanced growing techniques and a wide array of vegetable varieties. It was also easier to source local favourites, such as choy sum, pak choi, and kailan (Chinese kale).  
The business was going fairly well in the 1990s and early 2000s. Lei worked primarily with small-scale hotels and a few supermarkets, supplying 3 to 4 tonnes of vegetables, worth roughly MOP 200,000 to MOP 400,000, each month. But he didn't know how to scale up.
That is, until he got a big break. In 2004, Sands China chose Kin Nam Hong as one of its official vegetable suppliers for Sands Macao. "Since I started working with Sands China, the highest revenue I've earned was MOP 2 million a month in 2017 and 2018. For a small business like us, this is a huge amount."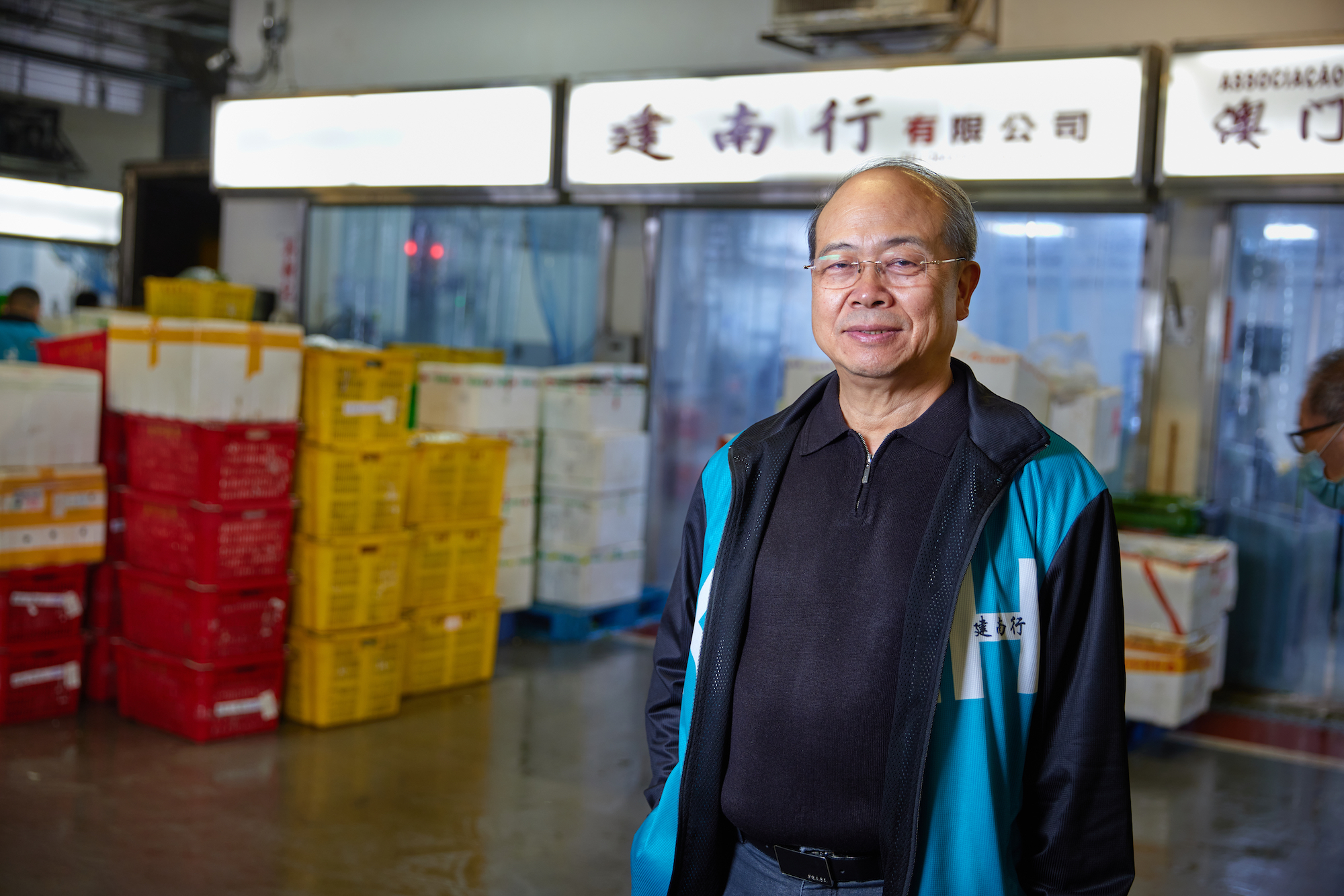 Onwards and upwards 
With stable business from Sands China, Lei has been able to expand the company from five to 35 employees and invest in his first freezer truck, which was a requirement by the integrated resort operator. 
"At first, I wondered if it was necessary because the distances are short in Macao, and we were only a small company," recalls Lei. "But Sands [China] said it was a learning process. I spoke to other peers in the industry and thought it was an opportunity, so I was the first vegetable supplier in Macao to get a refrigerated truck."
Lei also modernised his storage methods to meet Sands China's international food hygiene, safety and freshness standards. "Before we collaborated with Sands [China], the vegetable supply process was very simple. We often used bamboo baskets to transfer our vegetables; however, Sands [China] required us to use plastic baskets due to safety issues." 
Tiny bamboo sticks could snap off during transfer without anyone noticing, which could pose a food safety issue, he points out. In addition, the baskets they used did not always have lids, which could expose vegetables to contamination. To maintain good hygiene, Kin Nam Hong started covering plastic baskets with protective film. 
"Since their requirements for quality are so high, we had to work on processing, quality and hygiene control," says Lei. "It was a challenge. However, there was indeed a lot of room for development." 
Over the past 17 years, Lei says his company has "climbed a big step on the professional ladder" thanks to the partnership with Sands China. It has also generated more business growth. In 2018, Lei's business sold MOP 20 million worth of vegetables, 70 per cent of which were to Sands China's properties in Macao – a testament to his company's abilities to maintain standards while growing with Sands China. 
More room to expand 
During the Covid-19 pandemic, Lei says monthly business took a hit at first. Kin Nam Hong's Sands China account plummeted 60 per cent to MOP 100,000 per month in early 2019 but was back up to MOP 800,000 a month in 2021. 
Nearly all of Sands China's hotel restaurants and staff dining rooms source their vegetables from Kin Nam Hong, with five of Lei's eight freezer trucks serving The Venetian Macao alone. "We believed in Sands China, which has provided us with more work and room to expand," he says. 
To prepare for the future, Kin Nam Hong has been working behind the scenes to diversify its supply chain and production partners. Today, the business imports around 90 per cent of its vegetables from mainland China. "Only some vegetables, such as American onions and celery, are imported from the West because of their dense fibres and aroma," he adds. 
"Due to the large demand of Sands China, we cannot only source what is needed [at the moment]," says Lei. "We must proactively source vegetables from more producers from provinces and cities in mainland China, such as Yunnan, Ningxia, Henan, Hunan, Hubei, Gansu, Guangxi and Guizhou." 
Since most vegetables are seasonal, Lei says it's essential to work with vegetable suppliers across various regions to ensure only the freshest produce reaches consumers. "We have a deep understanding of vegetable trends," he says, adding that the company regularly carries out inspections to monitor quality. "For wintery vegetables, we tend to go for Hainan Island, and summery ones for Gansu and Ningxia."  
In addition, this diversification enables the supplier to continue fulfilling Sands China's needs should there be a natural disaster or production problem. 
When it comes to his ideal vegetable producers, Lei considered a few factors: quality, volume, growing techniques and management. "We have a social responsibility to import good vegetables to Macao. I always work with producers that have certificates granted by the country's Commodity Inspection Bureau," says Lei. "It demonstrates their manure, insecticides, water and clean air are all up to international standards."
Doing better business 
Working with Kin Nam Hong has benefited Sands China, too, says Sam Hao, the Director of Procurement and Supply Chain of Venetian Macau Limited. Back in 2004, when the integrated resort first enlisted Kin Nam Hong, many local suppliers were not used to the high criteria, but Lei showed a keen interest to learn and adapt.  
"That's the kind of flexibility that made them stand out from other suppliers," says Hao, adding that it's important to Sands China to work with local suppliers whenever possible.
"Local SMEs [small- and medium-sized enterprises] help us [improve] the efficiency of delivery, because they are so close to us."
If there's a problem, a local supplier can solve it more quickly and communicate immediately, says Hao. In addition, it ensures more control and oversight, reduces supply chain costs, and benefits the local community. 
Working with local suppliers also benefits the environment. Shorter supply chains means less shipping and storage, which in turn reduces carbon dioxide emissions – one of the primary greenhouse gases fueling climate change. 

Taking the relationship beyond purchase orders, Hao says Sands China also strives to support its local suppliers by offering valuable consultations and advice. In Lei's case, Sands China's procurement staff and engineers usually pay two to three visits to his vegetable warehouse a year. During each visit, they holistically examine operations, conditions, processes, staff and share advice on how to enhance the business.  
"We are always looking for ways to improve health and safety, in particular," says Lei. "With their advice, we've been able to make great improvements."
More support for SMEs 
Working with local SMEs has long been part of Sands China's business approach. And in recent years, the integrated resort operator introduced a few new initiatives to strengthen its bond with local vendors and suppliers. In 2015, the Macao Chamber of Commerce and Sands China worked together to initiate Sands China's Local Small, Medium and Micro Suppliers Support programme.
As part of that initiative, Sands China introduced its F.I.T. programme in 2017, which further invests in local SME suppliers with Financial support, Invitational matching, Training and development. 
In 2019, Sands China began cooperating with local banks to provide a financial support programme for its local partners as part of F.I.T. "We provide a platform and connect Macao's SMEs with six banks to make sure, if they need help, the banks can give them support," says Hao. 
"And once or twice a year, we invite our facility, housekeeping, outside services, and gaming teams to meet the local SMEs." ​​Through those invitational matching sessions, the suppliers can better understand Sands China's requirements and reduce instances of miscommunication. "When they have a chance to talk to each other, it makes working together more efficient," he adds. 
Sands China also trains local suppliers so they are well-versed in the company's procurement processes, hygiene requirements, supply chain management, logistics and cost control. This knowledge and experience also makes it easier for suppliers to work with other integrated resorts. "We have [thus far] held 10 academic training sessions – many suppliers and individual staff find them beneficial," adds Hao.
The training and meetings not only allow local SMEs to be professionally equipped and enhance their capacity in the long run, but also help diversify the economy. In addition, the integrated resort operator is also eager to support local SMEs to overcome economic challenges during the pandemic. 
Most recently, Sands China launched an expedited payment scheme to ensure SMEs get paid quickly and efficiently during the pandemic period. According to Hao, between 1 November 2012 and 31 January 2022, the company reduced the payment period from 30 days to 7 days. 
Just as the Chinese idiom, "Offer fuel in snowy weather", encourages us to help those in need during tough times, Sands China has extended its hand to support the local community during this challenging period. The integrated resort operator has provided stability for many local SMEs, not to mention insights and advice that have enabled businesses to overcome the economic hardships incurred by the pandemic and prepare them for greater success in the future. 
Learn more about Sands China's Local Small, Medium and Micro Suppliers Support Programme, browse the company's SME Booklet for more information.