The wait is over: Portuguese celebrity chef Henrique Sá Pessoa unveils the new Chiado
The wait is over: Portuguese celebrity chef Henrique Sá Pessoa unveils the new Chiado

Link copied
We caught up with the celebrated Portuguese chef about what to look forward to in the reimagined Chiado, the next chapter in his first-ever Asian venture at The Londoner Macao.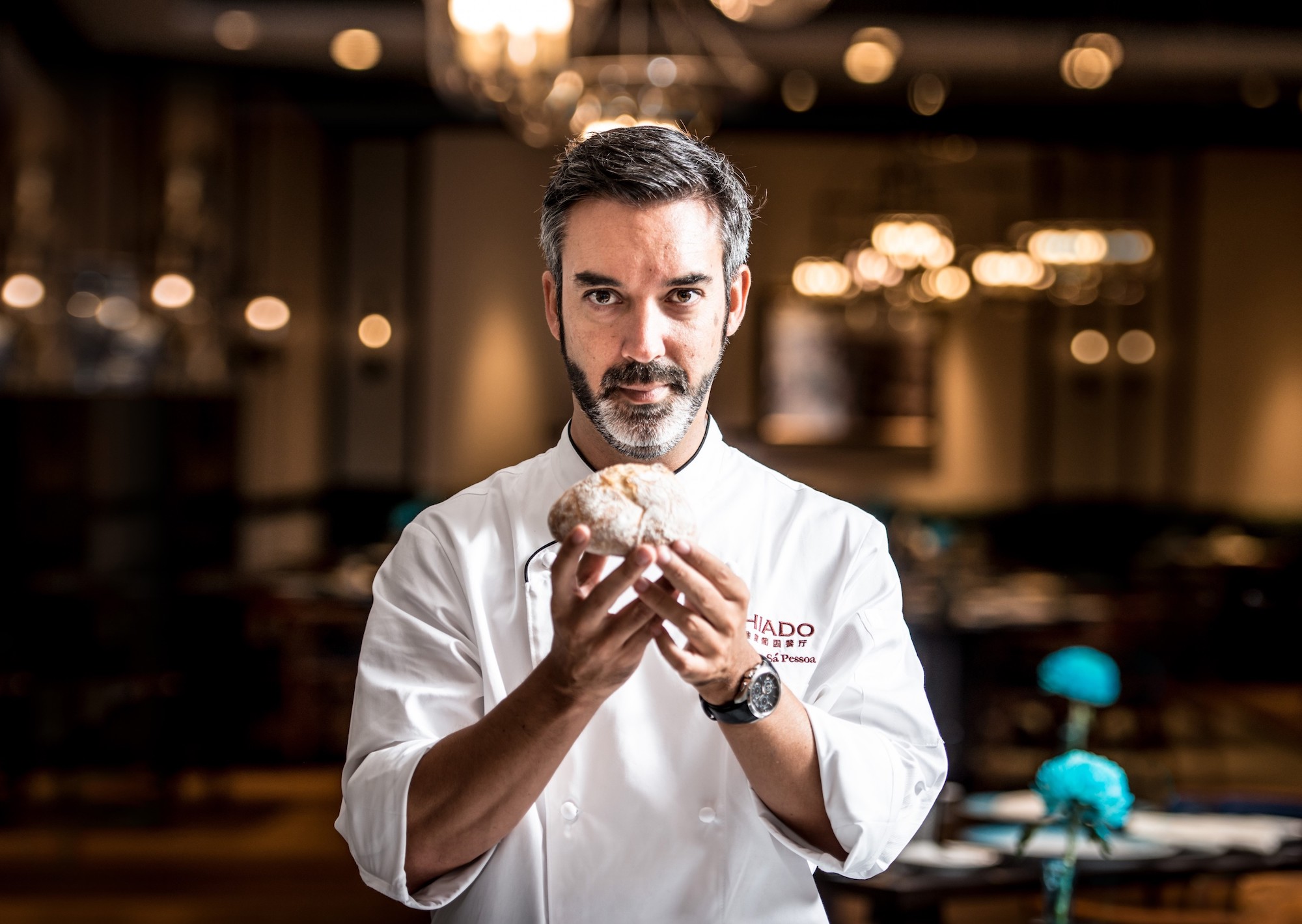 A visit to Macao isn't complete without savouring authentic Portuguese cuisine, a delectable testament to the shared history that has linked these two cultures for centuries. Known for their hospitality and tradition of celebrating life with fine food and wine, the Portuguese really know how to make guests feel like family. Embodying that spirit, celebrity chef Henrique Sá Pessoa plans to offer diners a taste of his native Portugal at Chiado at The Londoner Macao, back and better than ever. 
With roots in Portugal, formative culinary years in London, and a special affinity for Macao, Sá Pessoa has been right at home at The Londoner Macao, a venue that complements his unique artistry and echoes his international perspective.
Armed with two Michelin stars, eight cookbooks, and a string of television appearances under his belt, the 47-year-old has become the unofficial global ambassador of Portugal's culinary renaissance. He has opened six establishments in Portugal and is leveraging that culinary expertise at Chiado – his Asian debut that opened in 2018. Sá Pessoa says he's aiming to set new standards in the next evolution of Chiado.
"We're raising the bar when it comes to Macao's Portuguese gastronomy, as we have an amazing, highly motivated team and strong support from Sands China – consider this your personal invitation to be our guest and experience it with us firsthand."
A Michelin star is born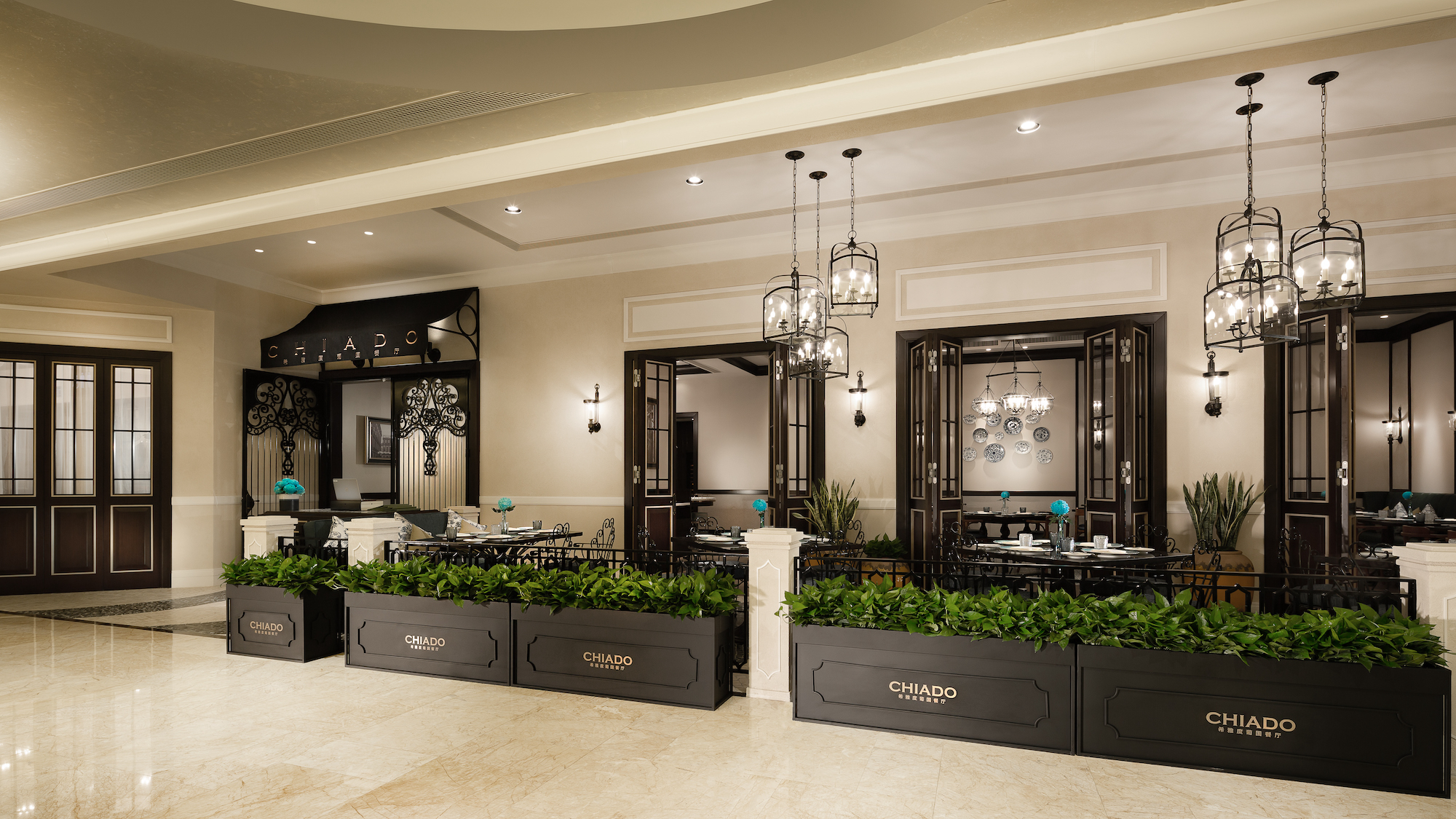 Charting the rise of Henrique Sá Pessoa reveals a chef deeply committed to elevating Portuguese cuisine on the global stage. 
His culinary journey began at 15 in his hometown of Oeiras, near Lisbon. By 18, he was studying at the Pennsylvania Institute of Culinary Arts in the US. His first significant role came in 1997 at London's Sheraton Grand Park Lane Hotel, followed by a position at Sydney's Sheraton on the Park in 2000. These early international experiences shaped his budding career.
"The kitchens of 90s London were rigorous," reflects Sá Pessoa "but I learned a lot about the importance of working hard and perfecting the basics." 
Those lessons served him well when he returned to Portugal to eventually open his own flagship restaurant right in the heart of the Chiado neighbourhood: Alma.
Alma struck the perfect balance between quality and affordability, winning over diners and critics with signature dishes like seared foie gras with granola, and Sá Pessoa's take on the Portuguese classic, bacalhau (salted cod). After a temporary closure brought on by the Portuguese financial crisis, Alma reopened in 2017 – and was awarded its first Michelin star nine months later. A second Michelin star was awarded in 2019, cementing Sá Pessoa as a prominent figure in the global culinary landscape. 
Today, he's eager to reintroduce Chiado to Macao's diners – with star dishes from his restaurant in Portugal – and gauge their reactions.
"Our vision remains rooted in authentic Portuguese recipes and top-quality ingredients, but we've fine-tuned our menu and service to impress our guests and really deliver that wow factor," he says.
A new gathering point for Portuguese culture-lovers in Macao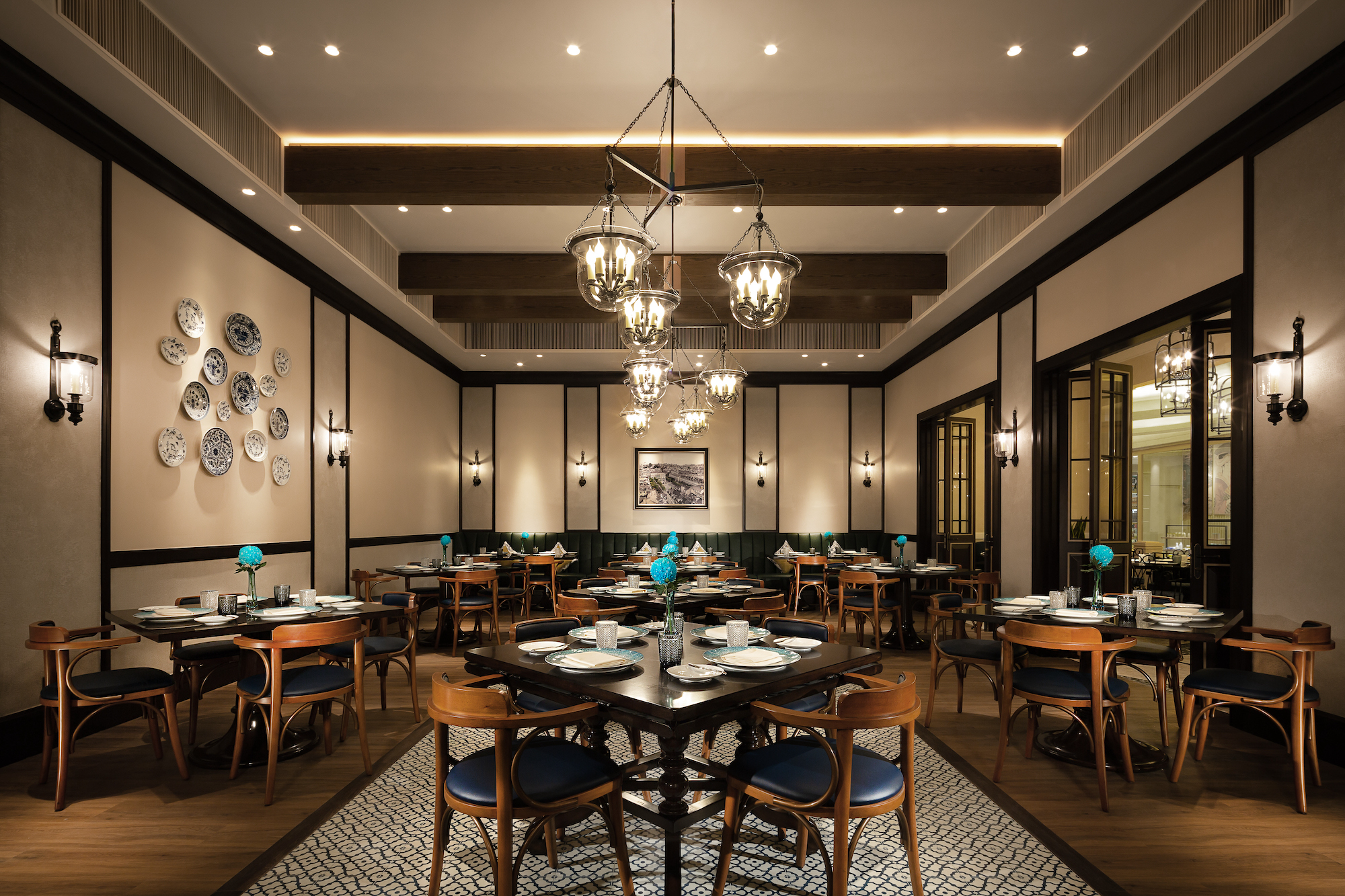 From its home inside The Londoner Macao, Chiado is a window into chef Sá Pessoa's love for his native cuisine. 
Named after Lisbon's iconic Chiado neighbourhood, the restaurant captures the essence of the area's atmospheric street life. And just as the Chiado district serves as a wellspring of Portuguese culture and tradition, its namesake seeks to do the same in Macao. 
"Chiado is inspired by Portuguese classics with my own personal spin and approach," explains Sá Pessoa."But no matter how much we innovate, we always take care to preserve the flavours on the plate – that's the key to experiencing a real taste of Portugal!" 
A peek inside the new Chiado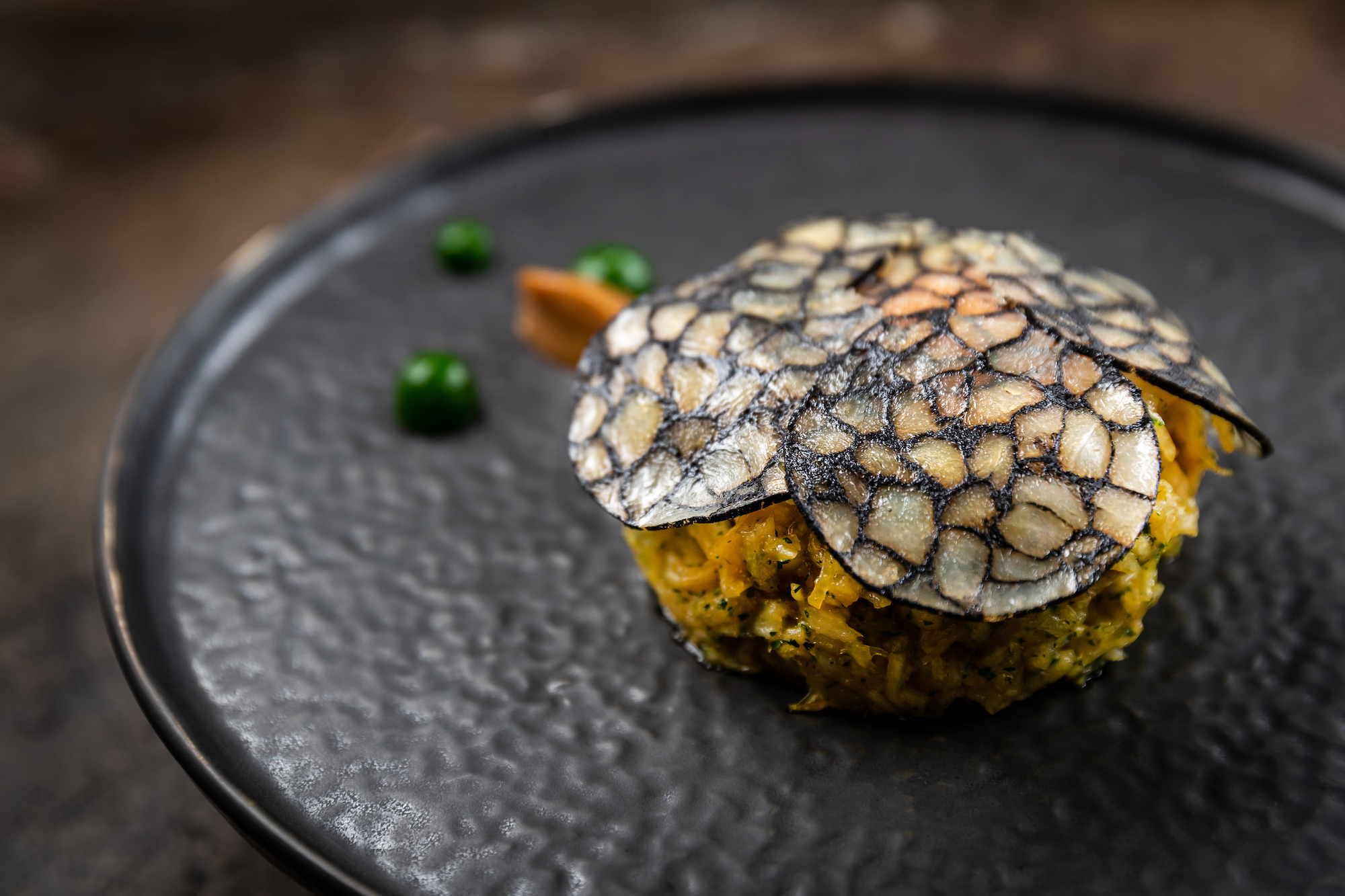 Guests who enjoyed Chiado before will find the same attentive service and gourmet ingredients they remember, alongside a menu that seamlessly blends the traditional and contemporary.
The restaurant's standout dish remains Sá Pessoa's renowned salted cod "À Brás." This dish elevates bacalhau to new heights, featuring a slow-cooked egg yolk placed underneath confit-style salted cod carpaccio, accented by olive paste and a velvety onion purée with deep-fried shredded potatoes. It serves as a tantalising testament to the chef's expertise and the culinary heritage he champions.
But there are some changes afoot, too. The newly added tasting menu features a carefully curated progression of six courses. 
"The Chiado Degustation Journey is based on some of my classic dishes from my two-Michelin-starred restaurant in Lisbon. We've subtly adapted them to suit our Macao audience, as we're aiming for Chiado to stand out with its own unique identity," the chef explains. 
In true Portuguese fashion, the meal starts with freshly baked bread, which comes accompanied by homemade butter, sea salt, and top-quality extra virgin olive oil. This is followed by an array of amuse-bouches and snacks, including carrot chips seasoned with paprika and made from carrots flown in from the Algarve.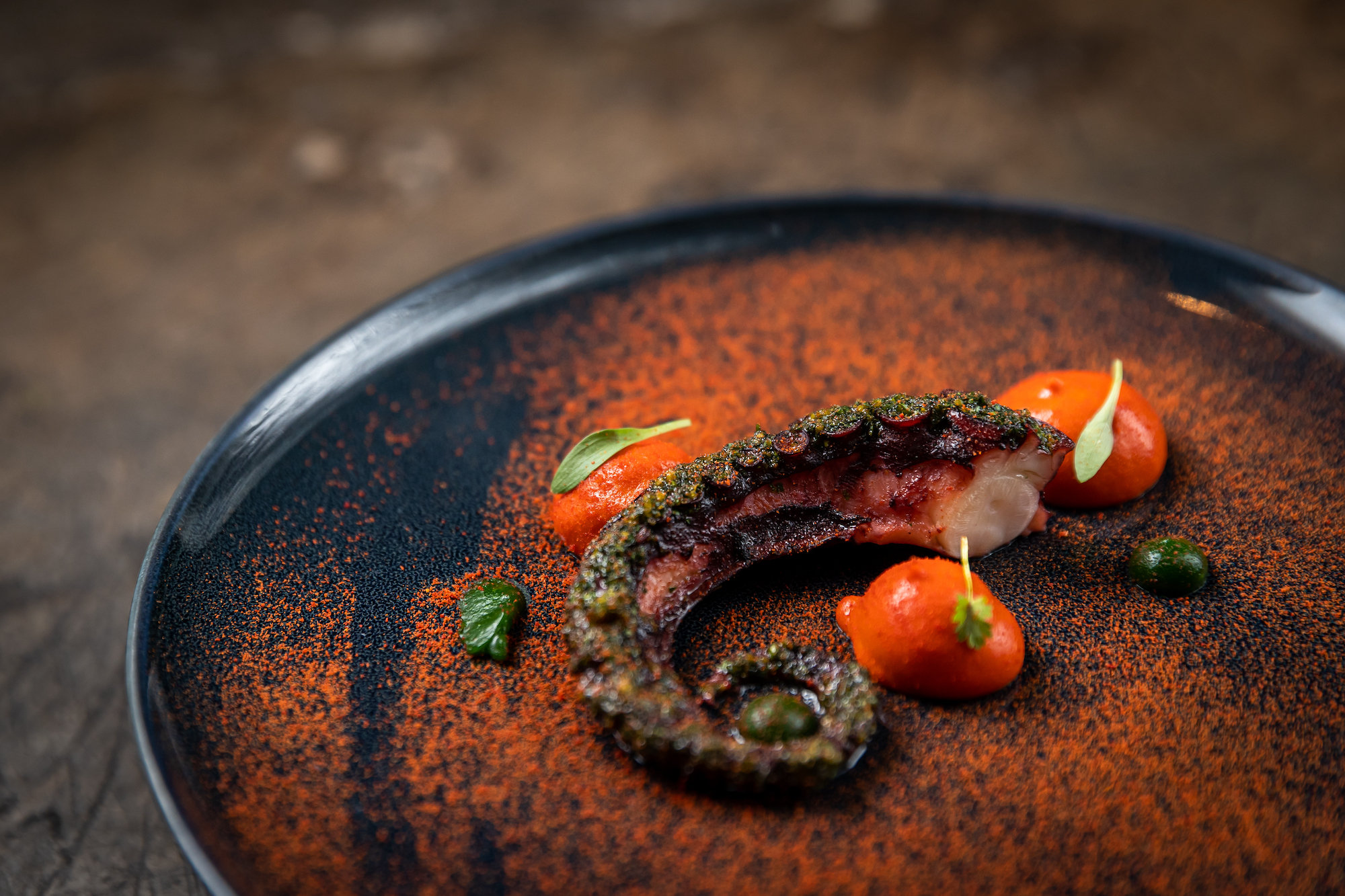 Portugal's exceptional seafood is showcased in dishes like the slow-roasted octopus, enhanced with a zesty miso romesco. Meanwhile, the poached deep-sea prawns, known as carabineros, are specially selected for their succulent texture and robust flavour, and presented atop a creamy, umami-infused risotto.
More signature dishes include the aforementioned foie gras, a masterful blend that defies convention, pairing duck liver with delicate coffee foam and cream, accented by pickled beetroot, crisp apple, and crunchy granola. 
Sá Pessoa's popular 24-hour slow-cooked suckling pig confit with crispy skin, turnip puree, pickled onions, and pepper jus also makes an appearance, as does the refreshing dessert, sea flavours and citrus with yuzu sorbet and crystallised algae. 
"We've worked hard to create a menu at Chiado that reflects my personal tastes, influences from my travels, and the core of traditional Portuguese cuisine," says Sá Pessoa. 
And there's no better time for it, what with Portuguese cuisine enjoying a well-deserved moment in the international spotlight – something Sá Pessoa is gratified to contribute to with his latest offering. 
"The fact that in the last six years, Portuguese restaurants have received more Michelin stars than the previous 60 shows how much our culinary scene has expanded and grown," he says. "I'm proud to have Chiado be a chapter of that gastronomic evolution in Macao."
---
Reserve your table at the new Chiado here and embark on a journey through Portuguese culinary heritage reimagined for the modern palate.