Harrow Zhuhai: Inside the first bilingual school in the Greater Bay Area
Harrow Zhuhai: Inside the first bilingual school in the Greater Bay Area

Link copied
Centuries of English tradition merge with Chinese values at Harrow Zhuhai, a school dedicated to nurturing the next generation of national and international leaders.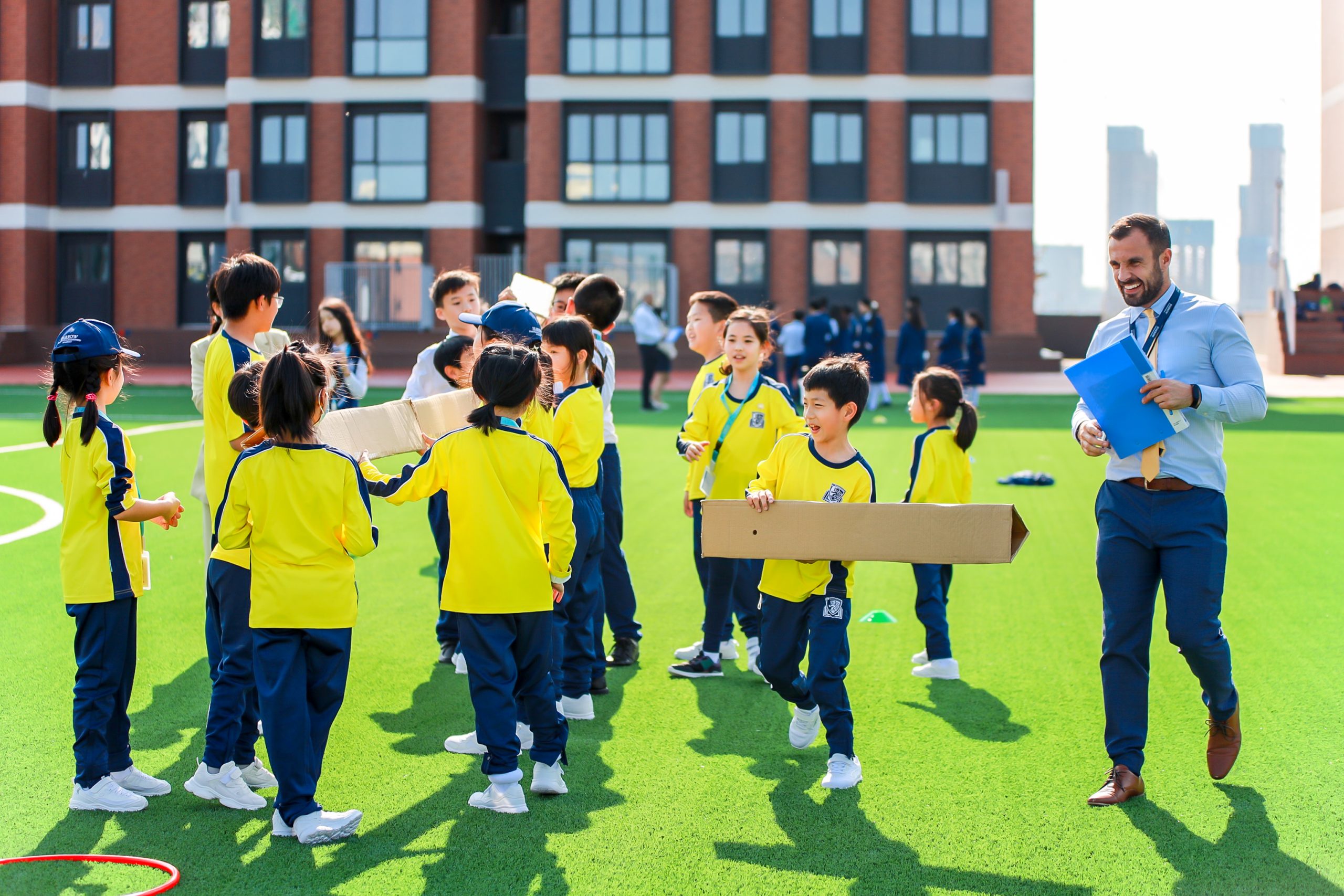 On a sunny Monday morning, Dr Max Caruso, Head Master of Harrow Innovation Leadership Academy Zhuhai, stands at the school's front gates, welcoming the students back for another week. A diverse mix of children, from 3 to 17 years old, greet Dr. Caruso as they climb the stairs to the inviting, red-brick academy.
The prestigious new academy offers a unique bilingual experience to students from Kindergarten through 12th grade. Drawing on the extraordinary 450-year heritage of Harrow School in London, Harrow Zhuhai blends the best of Chinese and Western cultures, preparing day students and boarders for an ever-changing world. 
The boarding school opened in February 2021 and is the only one of its kind in the Hengqin Guangdong-Macao In-Depth Cooperation Zone. Providing lessons in both Mandarin and English, it attracts local and expatriate families throughout the Greater Bay Area, including Macao and Hong Kong, seeking a world-class bilingual education for their children.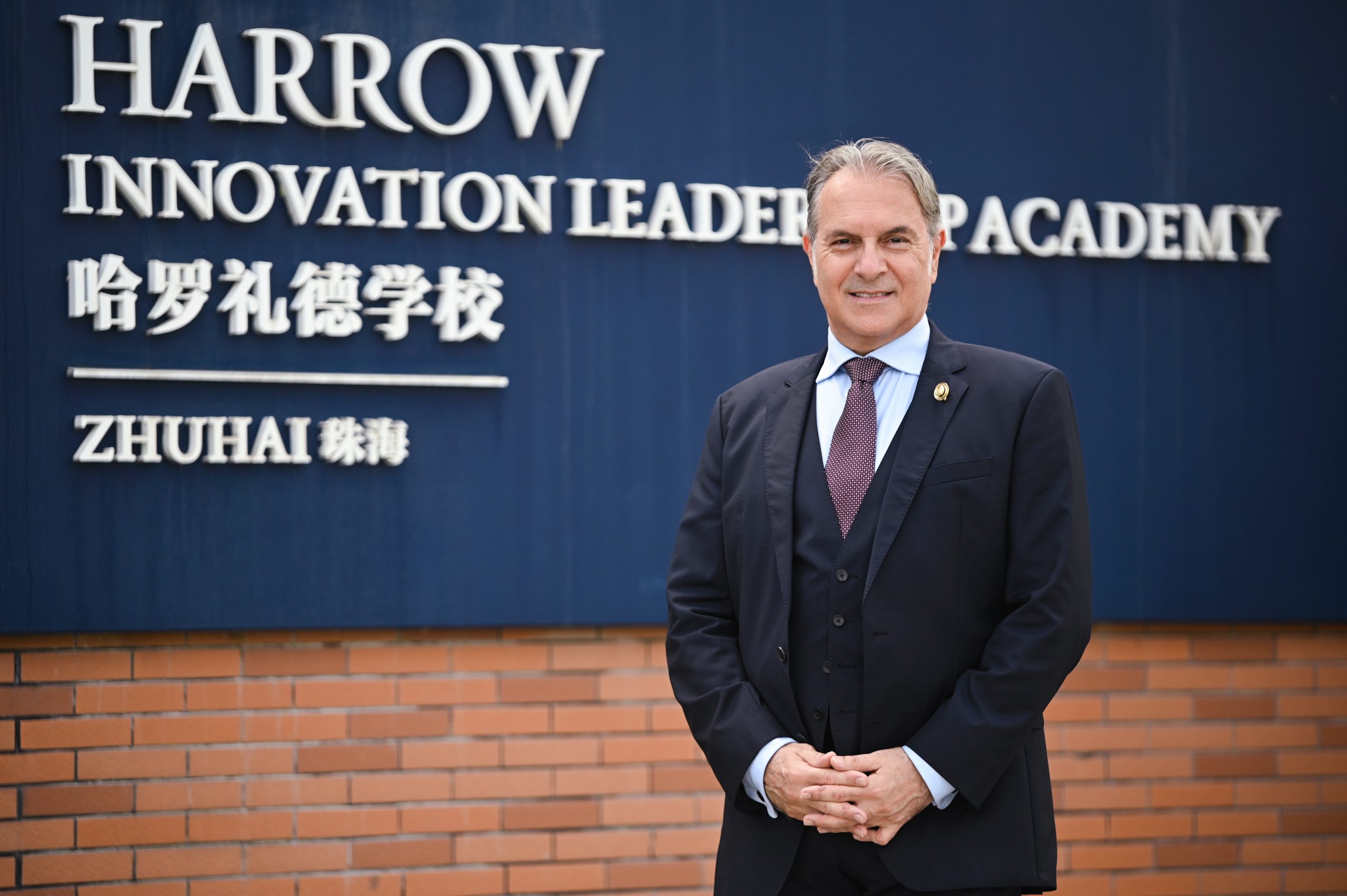 "Our vision and goals are very simple," says Dr. Caruso. "We aim to be not a gold medal school but a platinum medal school in the Macao Guangdong region. We aim to offer the very best education for our children so that they can live up to our vision of excellence for life and leadership." 
Harrow Zhuhai integrates the original London school's core values – Courage, Honour, Humility and Fellowship – into its teachings alongside traditional Chinese virtues. Dr. Caruso says this approach prepares students to contribute as leaders both nationally and internationally.
450 years of Harrow
Harrow was founded in 1572 by a farmer named John Lyon under a royal charter from Queen Elizabeth I. Originally established to provide free education to underprivileged boys from the parish, the school soon started accepting fee-paying students from surrounding areas. Known for its holistic approach to education, Harrow strives to enable students to shine in many areas beyond academics. 
Distinguished "Old Harrovians" include seven former British Prime Ministers (including Winston Churchill), several members of various royal families, three Nobel Prize winners, 20 Victoria Cross holders (the highest recognition in the British honours system, awarded to members of the British Armed Forces), and numerous prominent figures in the arts and sciences.
Harrow's global presence began in 1998 with the opening of Harrow International School Bangkok. Since then, the Harrow Family of Schools has spread throughout China and Asia, from Harrow Beijing to Haikou, Hong Kong, Shanghai and Zhuhai, among others. Despite their geographic diversity, all look to the centuries-old heritage of Harrow School to anchor their guiding principles and produce the leaders of tomorrow. 
A new benchmark for bilingual education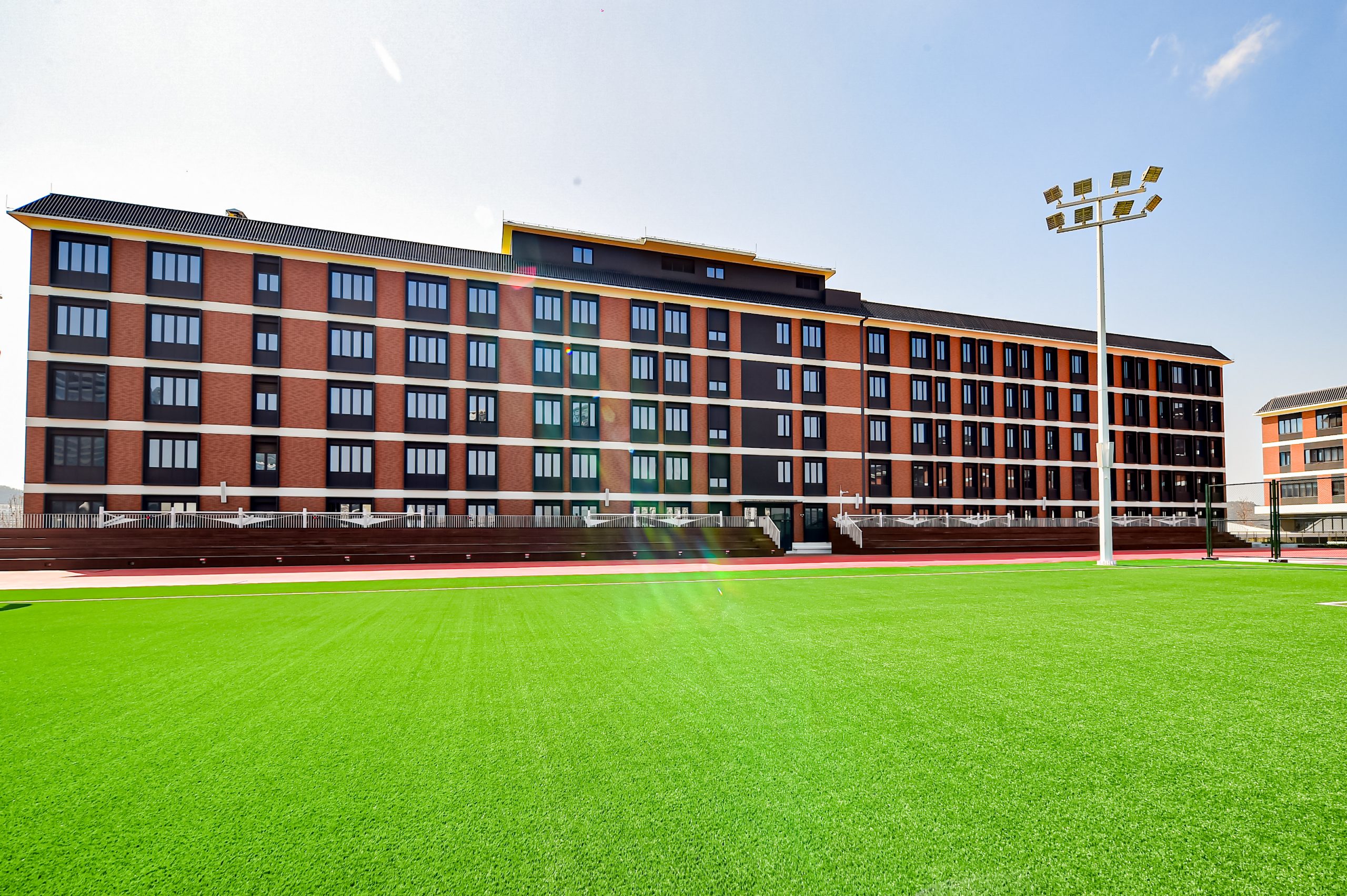 As China's role becomes increasingly international in the globalising world, more Chinese families are seeking bilingual curricula. And Harrow Zhuhai is uniquely positioned to meet their needs. 
"Learning in a bilingual school really helps to create this idea of a bilingual mind," says Dr. Caruso. "Eventually, the child can get to the point where they can think, speak and express [themselves] in Chinese and English." 
He describes a recent morning at the school gates, where he heard three languages in one conversation: "They weren't translating for each other – they were conversing, breaking in and out of Chinese and English with a few Portuguese words, and understanding each other," Dr. Caruso recalls. He sees such interactions as a "powerful" indicator of Harrow Zhuhai's unique culture. 
Dr. Caruso is no stranger to multicultural schools, having held senior leadership positions at several in the Middle East and Asia. In prior roles, however, instructors taught lessons only in English. Bilingual schools are a different ball game. 
"We have to ensure that the learning occurs, and that the learning is deep, and that we are faithful to the two masters that we serve: the Chinese national curriculum and our Harrow curriculum," Dr. Caruso says. "While that's challenging, it's also an incredible opportunity." He believes it sets students up for greater academic success, as bilingual education has been proven to "create positive cognitive changes."
From first to ninth grades, the curriculum blends the best of East and West, delivering the Chinese National Compulsory Education Curriculum combined with Harrow's approach to holistic education. Subjects such as history, geography, Chinese language, calligraphy, culture and moral education are taught in Chinese. Whereas subjects like biology, chemistry, English language, ICT, maths, arts, physical education and music are taught in English with support in Chinese.  
Deep, holistic learning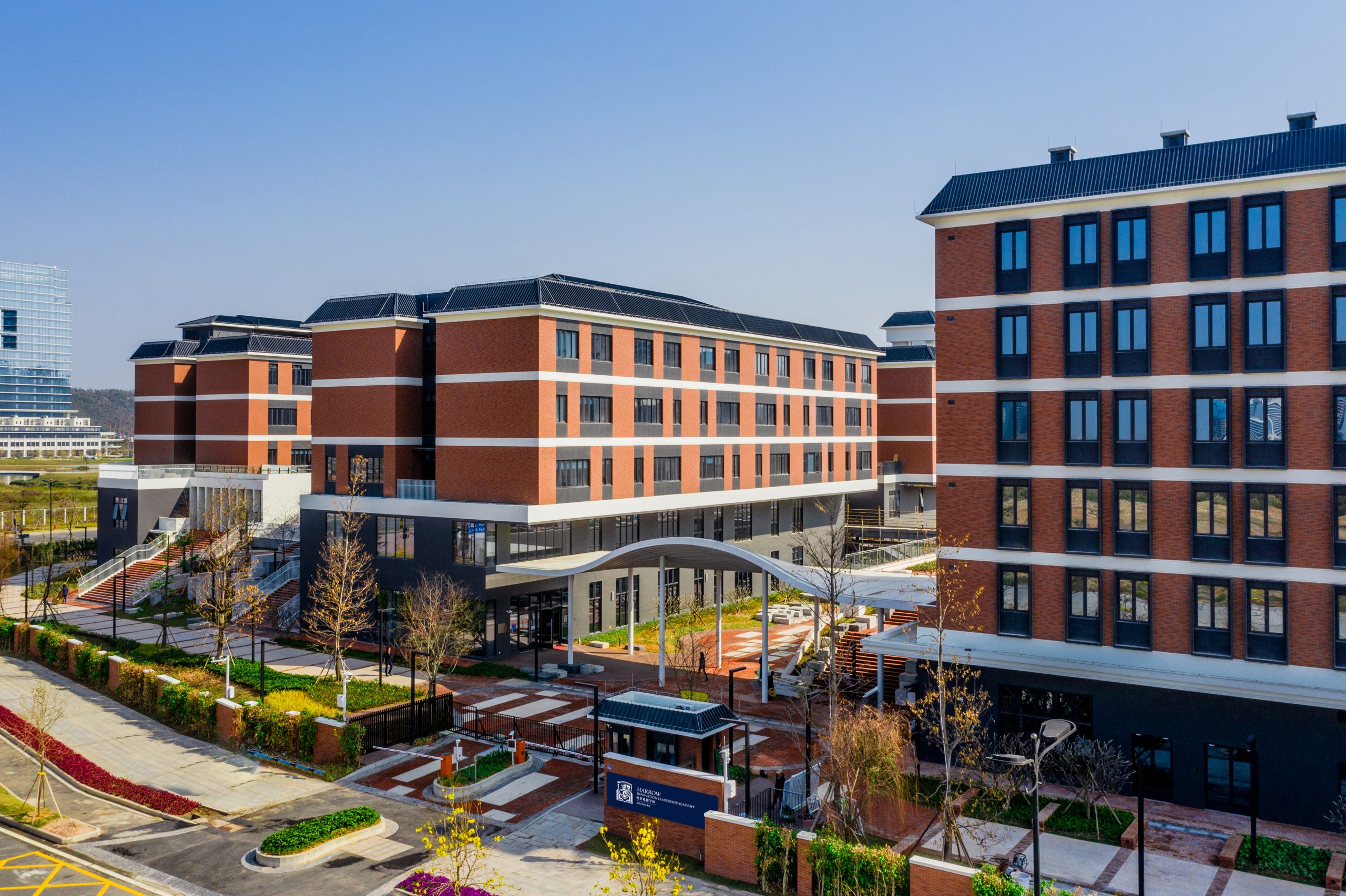 Students at Harrow Zhuhai are encouraged to strive academically while developing their whole selves through opportunities provided by the school. To that end, Harrow Zhuhai emphasises well-being and the arts with two special programmes. 
The school inducted its first student Wellbeing Ambassadors in October 2022, providing an essential link between students and staff. "Our Well-being Ambassadors are an additional communication channel for the students," says Dr. Caruso. "Sometimes, students can feel more comfortable talking to their peers. They also help to deliver wellbeing messages through assemblies and tutor time."  
In addition, Dr Caruso recently announced plans to appoint two student poets laureate in December. They will enjoy a special role, composing original poems for the school's events and assemblies.
"This was inspired by [US poet laureate] Amanda Gorman and the poem she read at President Biden's inauguration in January 2021," says Dr. Caruso. "I took that idea and made it happen in Dubai [where Dr. Caruso previously worked at Al Ittihad Private School as director general], and now I'm making it happen here."
When it comes to attending Harrow Zhuhai, Dr. Caruso says admittance has many factors. "We look for children who have the capacity to contribute to the life of our wider Harrow community and will engage with all the different opportunities that we offer," says Dr. Caruso. "We are looking for families who accept and understand our vision and families who are proud to be Harrovians – proud to contribute to the life of the school and its ongoing development."
---
Keen for your child to become a Harrovian? To find out more about Harrow Zhuhai or to request admissions information, visit the school's official website or contact them directly at [email protected] or by phone at (86) 1816550 7907.