Gordon Ramsay unveils the top 5 highlights at his new restaurant at The Londoner Macao
Gordon Ramsay unveils the top 5 highlights at his new restaurant at The Londoner Macao

Link copied
From frosty pints to ale-battered fish and triple-fried chips, and the ultimate Beef Wellington, the chef opens up about his proudest moments in his newest endeavour.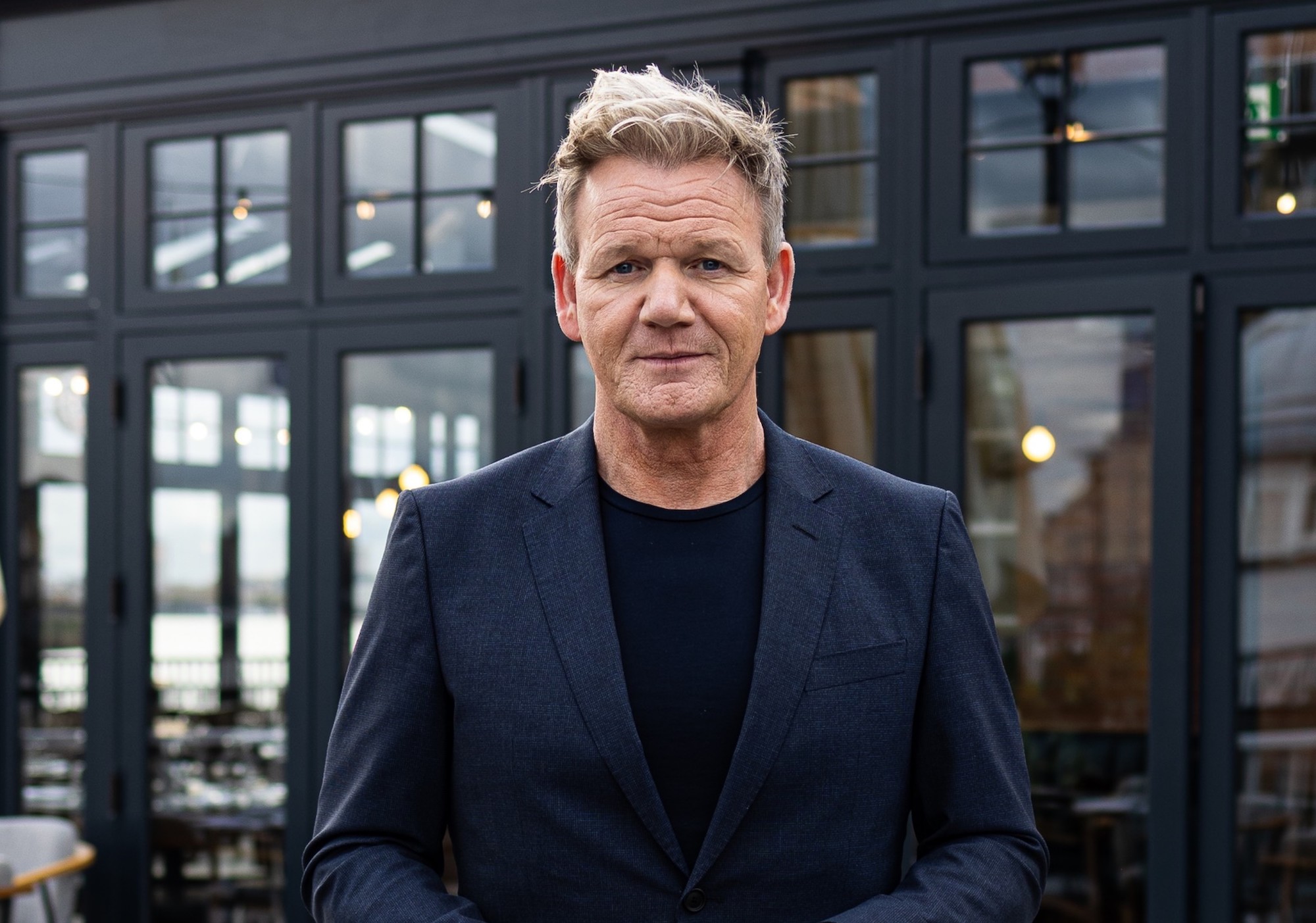 Famed for his kitchen skills and a dash of televised drama, Chef Gordon Ramsay cuts a formidable figure in the global culinary landscape. 
When he hasn't been busy appearing on cooking and competition shows like Hell's Kitchen, MasterChef, and Kitchen Nightmares, the renowned chef and restaurateur has been opening a vast empire of restaurants across countries and continents, from Michelin-starred fine dining to casual eateries. 
His sights are now set on Macao, opening Gordon Ramsay Pub & Grill at The Londoner Macao just last week. We caught up with the acclaimed chef to find out which five highlights he's most excited to share with diners, ensuring they experience a warm, British welcome as they embark on a gastronomic journey as his guest. 
Soak up authentic British pub culture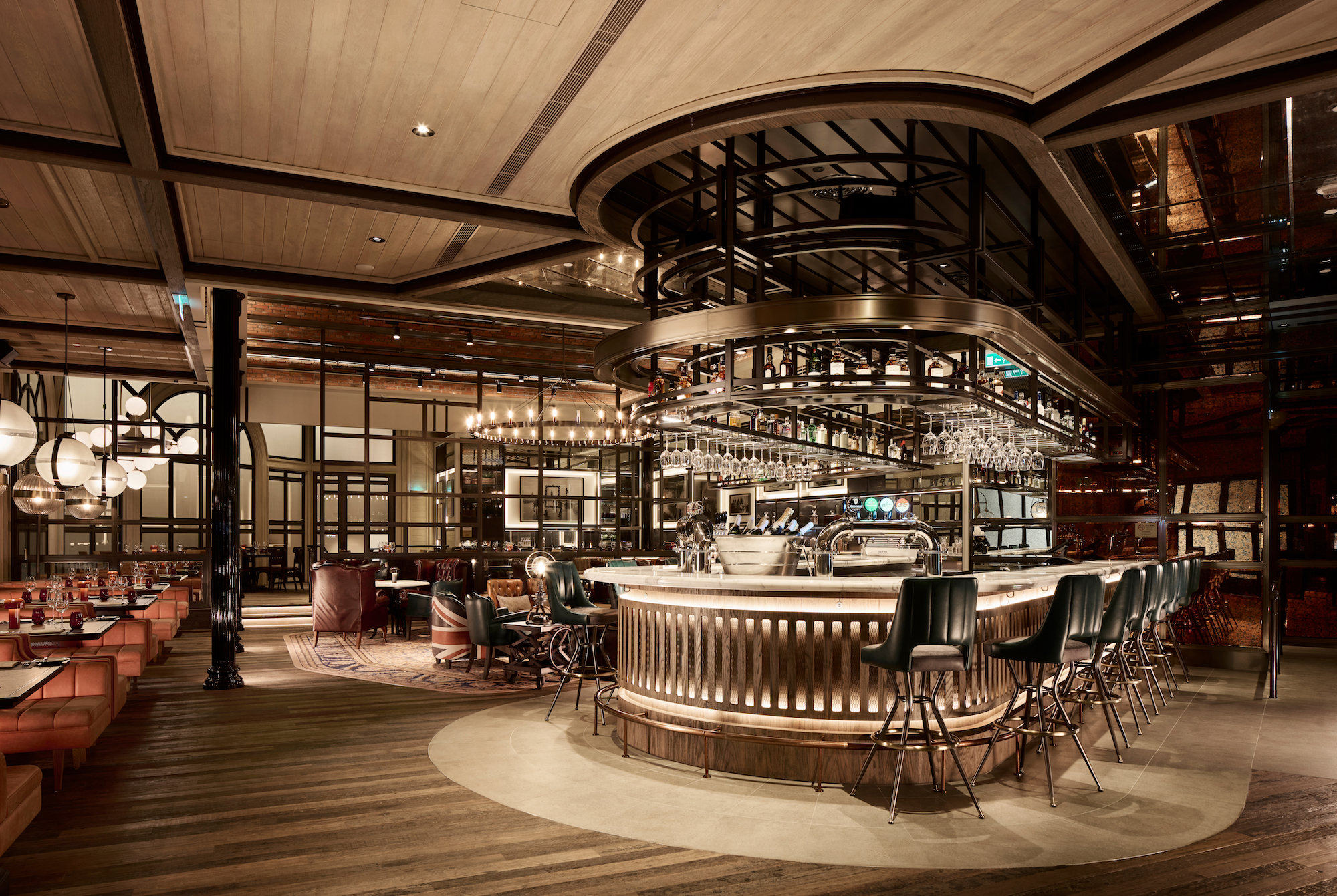 As guests step into Gordon Ramsay's Pub & Grill at The Londoner, the centrally-located bar immediately commands attention, embodying the spirit of quintessential London pubs where the bar is the establishment's heart. 
"Pub & Grill is an elevated British pub experience in Macao, but I still wanted the restaurant to preserve the essence of the pubs I love at home," he explains, noting the exposed brickwork and subtle nods to the United Kingdom through thoughtful design details, from artwork to furniture, providing a "cool, modern Britannia feel."
Traditionally, British pubs have stood as much more than simple watering holes, acting as gathering spaces where communities connect, friendships blossom, and meals are shared in warm conviviality.
For Ramsay, the pub institution is one he still holds dear, and he views his latest opening as an invitation to diners in Macao, encouraging them to join a rich legacy of communal dining and camaraderie.
It's a formula that has worked before. Ramsay says he's looking forward to recreating it – albeit with a few changes that reflect the region's own rich history and culture. "It's taking the pub concept we've perfected in America and elevating it in Macao, while interweaving influences from the region," he says, adding: "The décor is unlike any of the other restaurants we've opened before." 
A perfect pint: savouring the art of English brewing (and beyond)
Many authentic pub journeys start with a freshly pulled pint of beer. To whet your whistle in true British fashion, pull up a seat at the exquisitely designed bar where a knowledgeable barman is on hand to talk punters through the extensive beer list.
Boasting eight draught beers on tap, alongside a worldly selection of over 16 bottled options – including four crafted in England – there's a brew to satisfy every palate. For those less inclined towards beer, a collection of expertly mixed cocktails and a premium selection of wines are also on offer.
From their perch on the traditional yet modern-accented bar stools, guests can participate in this time-honoured British ritual. A bartender expertly tilting a glass, the amber liquid cascading with precision, and the glass filled to the brim – it's a spectacle befitting of a true British pub experience, and a perfect way to start your Gordon Ramsay experience. 
Classic British dishes, reimagined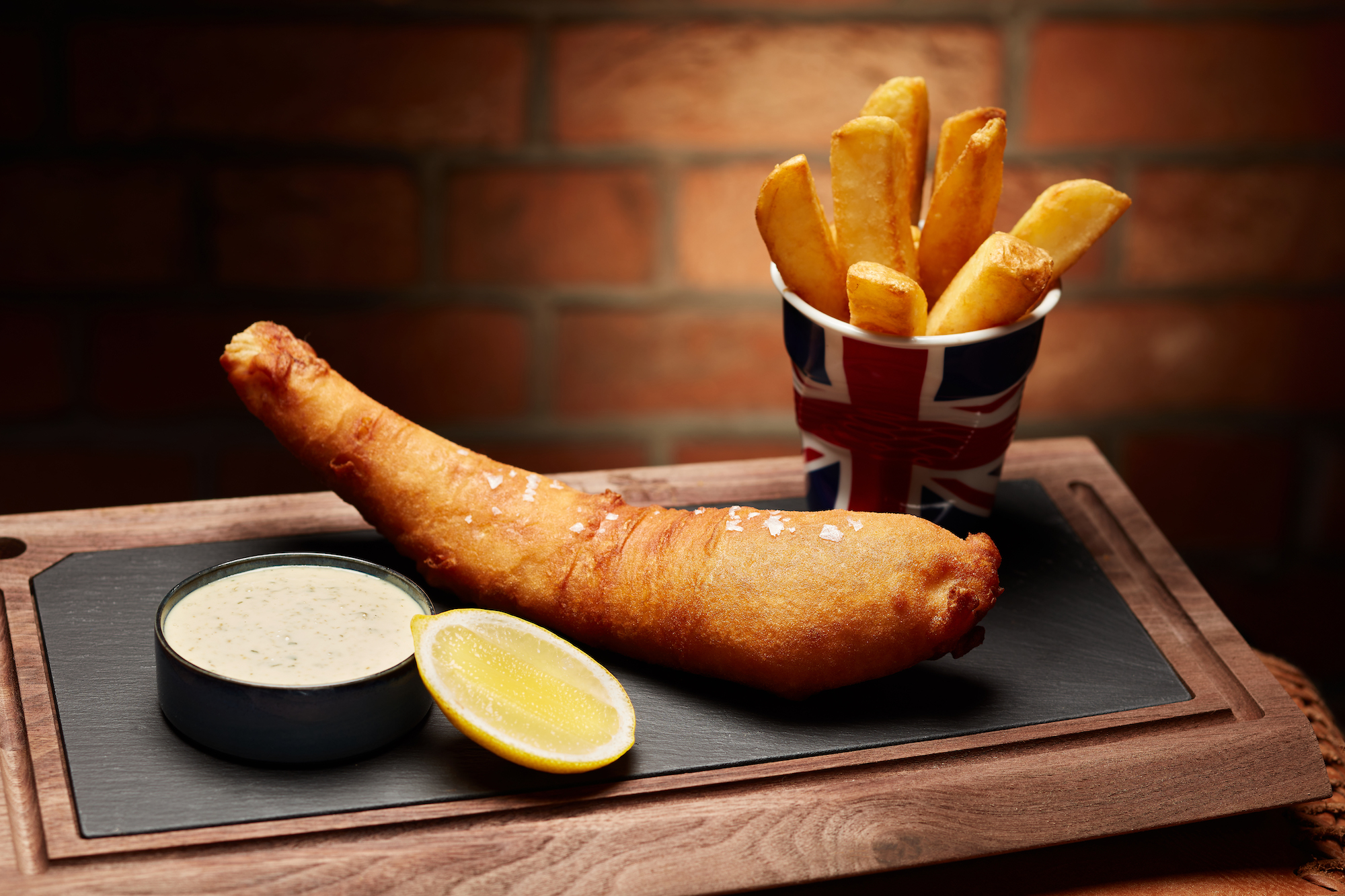 Beyond a well-curated bar, the menu boasts dishes that celebrate British gastronomy, each carefully crafted by Ramsay and his team. Take, for instance, the classic fish and chips. Ramsay reveals that after years of painstaking research and development, he and his team have finally cracked the code to perfecting the recipe.
"The secret is the perfect batter – if you don't have the perfect batter your fish will become mushy and the whole dish is ruined," he explains. "We perfected our fish and chips using an ale in the batter so when it fries it finishes with this beautiful light texture and that amazing golden-brown finish." 
Diners will also find a fresh take on some unique offerings, with British pies making their debut for the first time in Ramsay's global restaurant collection. The chef has also infused a bit of Macao into the menu, featuring a Duck Bolognese with homemade pasta and a fried duck egg. 
Spaghetti bolognese, or "spag bol," has become a staple and beloved item in British cuisine. Though originally an Italian recipe, it has been embraced and adapted by Britons to the extent that it's often considered a classic of British comfort food – a dish Ramsay is proud to introduce to his Macao guests. 
"We've infused a touch of Macao into the Duck Bolognese, prepared with homemade pappardelle pasta and a fried duck egg," he shares. The duck egg, with its rich yolk and distinctive flavour, cleverly acknowledges cherished Asian ingredients. "This dish beautifully unites East and West in such a cohesive and delicious way."
Premium steaks, a cut above the rest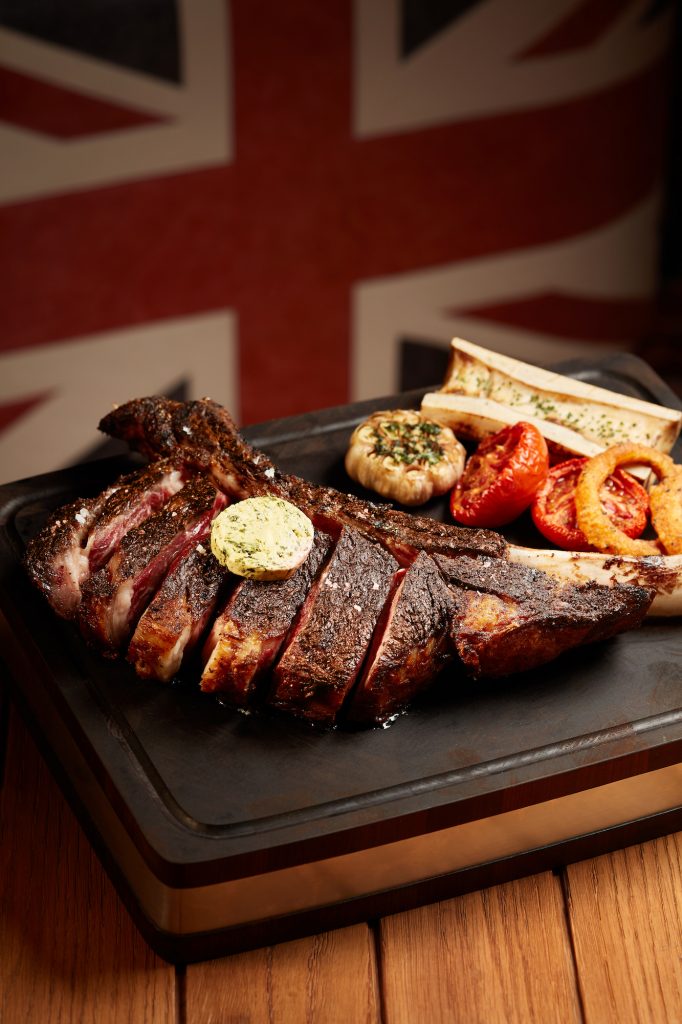 Whether it's a perfectly marbled tenderloin or a tender, juicy striploin, if there's one thing Gordon Ramsay stands by, it's the quality of the steaks coming off his grill. 
"I love making sure we use farms that have premium meat, and working with the team at Sands China, we were able to source some of the best cuts possible for the Pub & Grill," the chef explains. In fact, all of the beef on the menu is sourced from producers in Queensland in Australia and Idaho, in the US, focusing on particular breeds known for their greater complexity, high marbling, and rich, buttery flavours. 
Each cut is treated with the utmost respect, prepared to perfection on a charcoal-fired grill under the expert guidance of Ramsay's trained chef. Cuts including a Stockyard M6+ tomahawk, Westholme Chateaubriand tenderloin M5+, and David Blackmore striploin M9+ are served with herb butter, golden-crisp fried onion ring, fresh salad and tomatoes, and a choice of four sauces. 
Ramsay is so confident in his restaurant's steaks that he often orders them himself, with one cut standing out as a favourite. "I especially like the tomahawk steak, to share with my son, Jack. He loves a nice steak and it's a nice big piece that's perfect to share and get some sides," he laughs. 
Introducing a Ramsay favourite: The inimitable Beef Wellington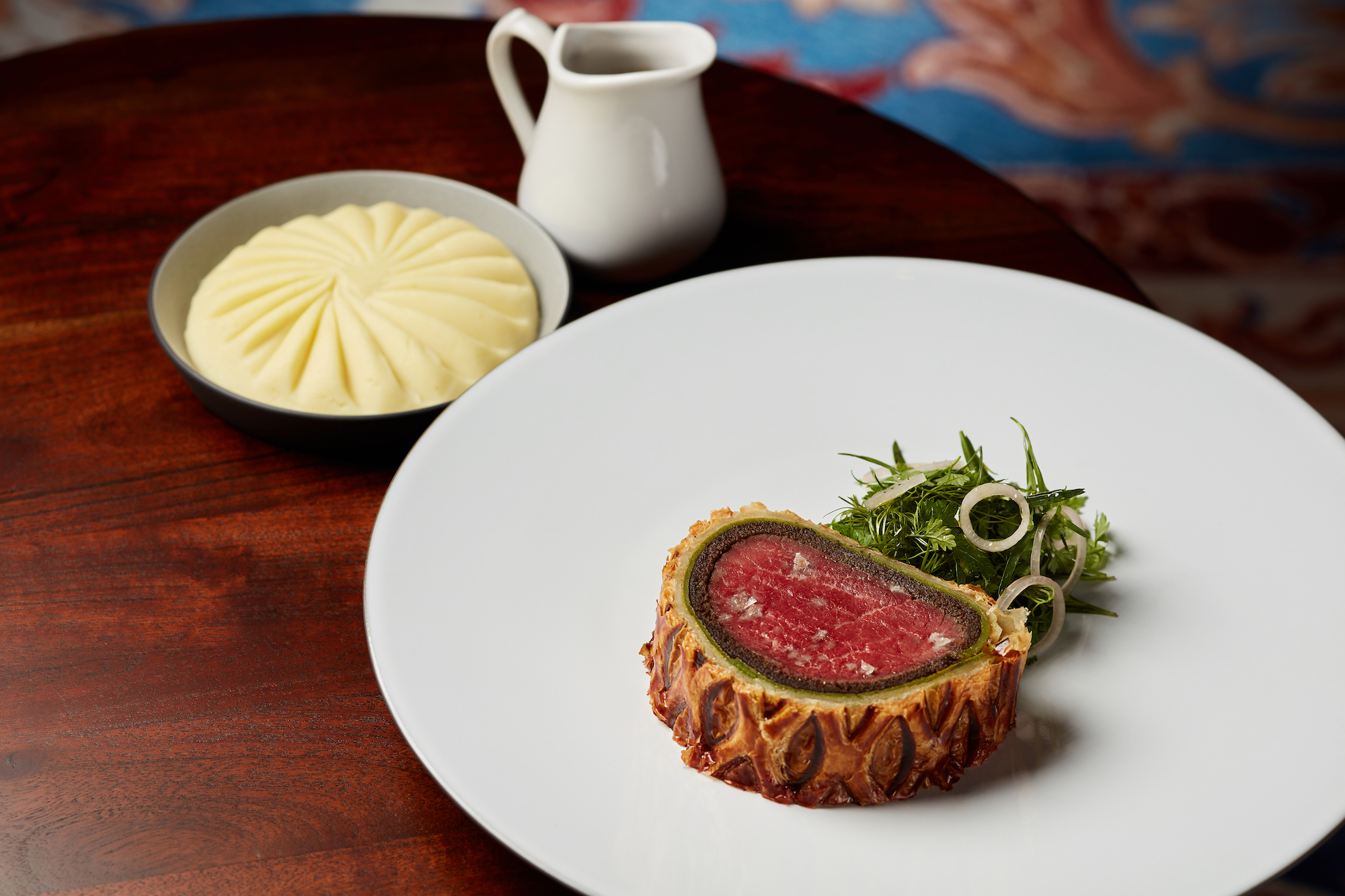 When it comes to his personal favourite specialty on the menu, Ramsays says the classic Beef Wellington comes out on top every time. This classic recipe is one of the most celebrated meals of British cuisine, one that has become intrinsically associated with the country's culinary tradition, and with good reason. 
The dish is famed for its rich flavours, combining tender and juicy beef with crispy, flaky pastry. It's an entree for celebrations and festivities, a luxurious and indulgent course that exists as a symbol of British culinary tradition and sophistication.
According to Ramsay, preparing a perfect Wellington is no easy feat. "It comes down to cooking the beef inside perfectly; that all starts with the perfect sear," he says. "Following that, we ensure the beef is wrapped with a beautiful truffle and mushroom duxelle and a stunning puff pastry, then finished off with an egg wash. All these elements combine and are cooked in the oven, until it reaches a perfect medium-rare inside and a gold brown exterior. It's always so beautiful every time I cut one open!"
---
Those keen to accept Chef Ramsay's invitation to be his guest at The Londoner Macao can reserve their table now at Gordon Ramsay Pub & Grill, for an unmatched experience in British culinary traditions.