Inside Art Macao: Larger-than-life pop art reigns at 'Meet the Magic' exhibition on the Cotai Strip
Inside Art Macao: Larger-than-life pop art reigns at 'Meet the Magic' exhibition on the Cotai Strip

Link copied
From 5-metre-tall riffs on Mickey Mouse to kaleidoscopic paintings, international pop artists Philip Colbert and Jason Naylor have teamed up with Sands China to present whimsical works at this year's festival.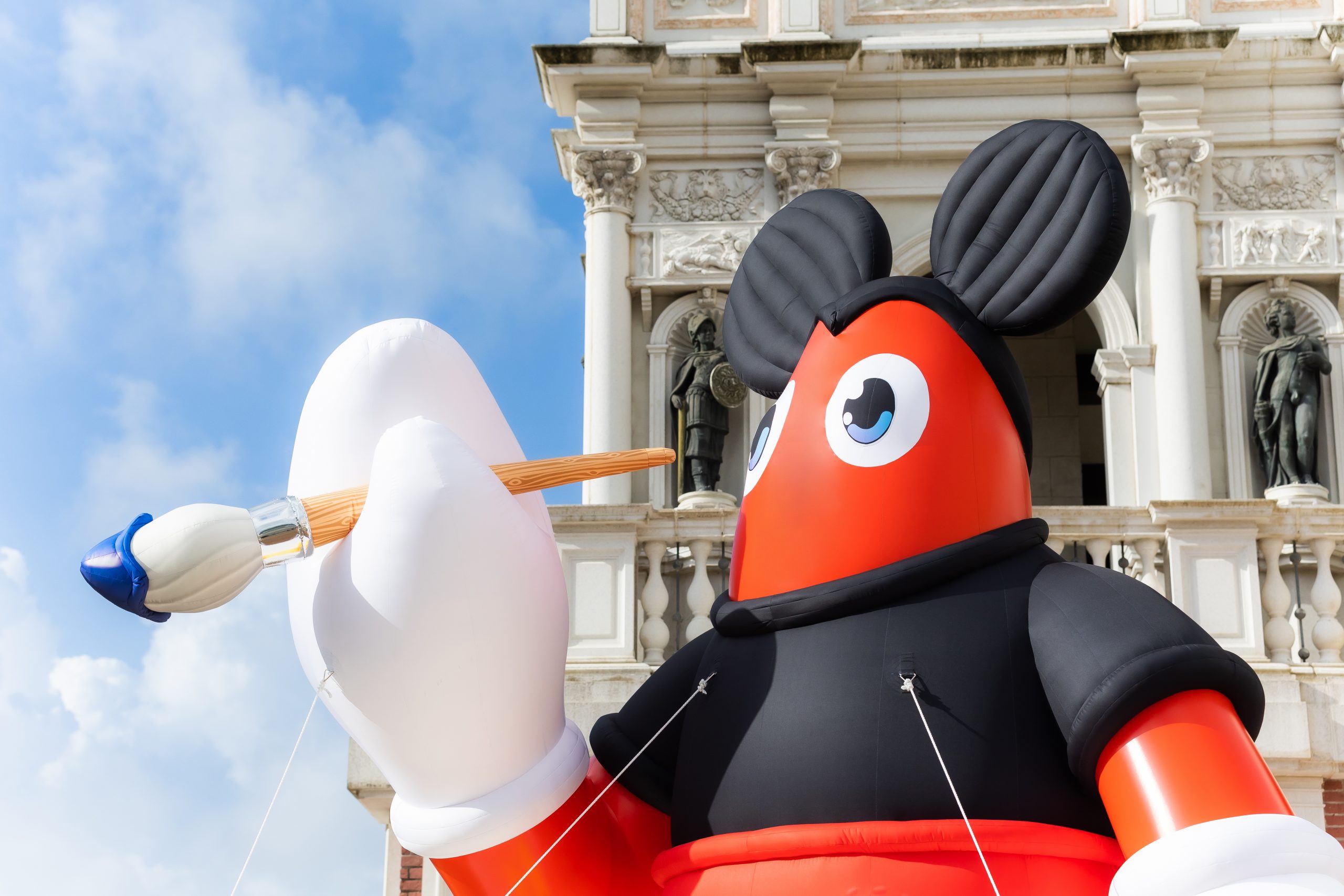 Few arts and cultural events transform the city quite like Art Macao. Since its debut in 2019, the contemporary art festival has closely worked with internationally acclaimed artists around the world to showcase their work across the city's integrated resorts, museums and public spaces.
Running until the end of October, Art Macao: Macao International Art Biennale 2023 promises to be bigger and better than ever, featuring 30 exhibitions with works by more than 200 artists hailing from 20 countries and regions.
A long-time champion of arts and culture, Sands China Ltd. has once again been working behind the scenes as one of the festival's key organisers to bring head-turning exhibitions to Macao. Among the highlights, Sands China has collaborated with ASCE and ARTOX GROUP to invite two award-winning artists – Scottish neo-pop artist Philip Colbert and New York-based muralist Jason Naylor – to create a series of exclusive "Meet the Magic" artworks celebrating Disney's 100th Anniversary, which coincides with the festival. 
A little playful, a little pop, a little punk, the exhibition has added even more colour and excitement to the buzzing Cotai Strip. We caught up with Colbert and Naylor to hear what they have in store for arts and culture lovers at Sands China's integrated resorts.
Pop art explosion
Growing up in Scotland, award-winning pop artist Colbert recalls being obsessed with drawing, painting and reading about art. Unsure how to make a living as a professional artist at first, he studied philosophy at the University of St Andrews, ventured into fashion design and eventually found his way back to art in London.
"Studying philosophy was fundamental for my art because it helped evolve my sense of self and my view on the world," he says. "I am a staunch individualist and believe anyone can do anything. I am also into the poetry of everyday language and aim to celebrate the accessible – stripping things of pretension while still creating something thoughtful."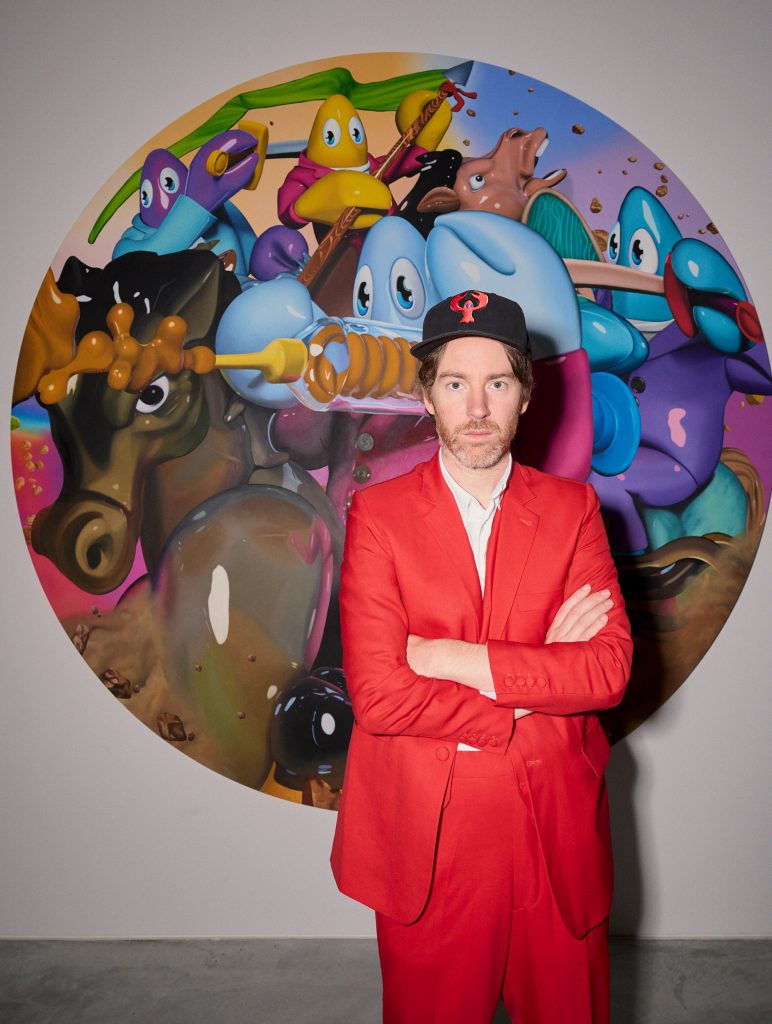 In his paintings and virtual artwork, Colbert often layers historical art references with recognisable everyday symbols like emojis, iconic architecture, computer error windows and sports brand logos as a commentary on mass consumerism and digital culture.
But the most iconic element of his work has to be his cartoon lobster persona, which Colbert likens to an alter-ego. "By becoming a cartoon lobster, it's like my artistic persona is almost freer. It can live in a hybrid dimension of reality and digital, threading between these realities as an avatar," he says.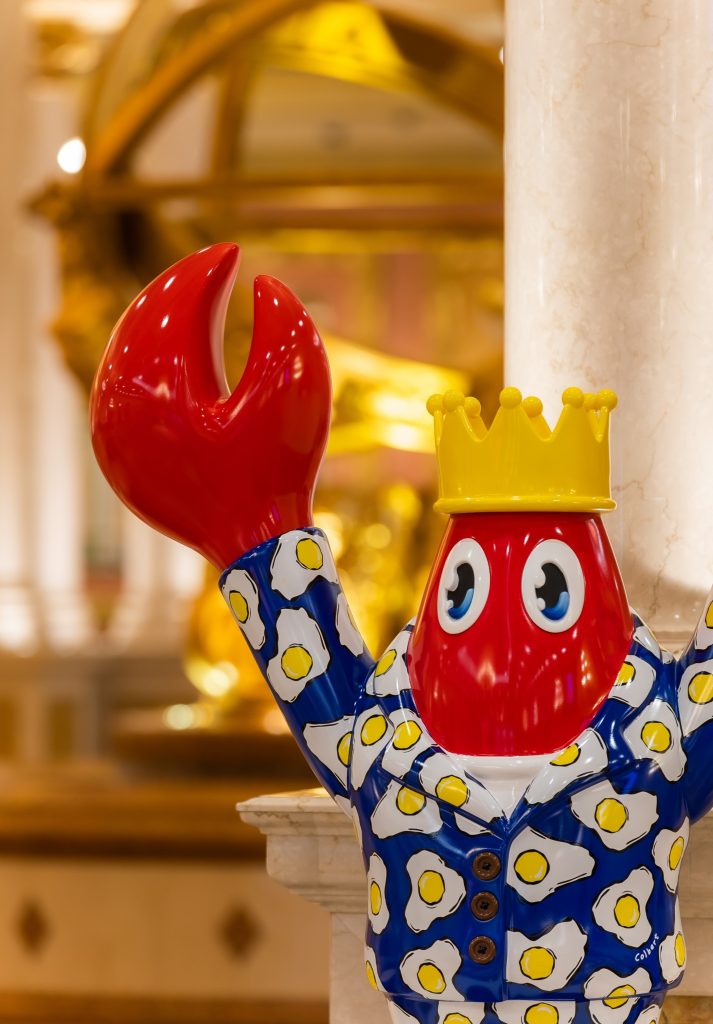 As a motif, lobsters resonated with Colbert partly due to their historical significance. The crustacean is an ancient symbol of life and death, appearing in ancient Roman and Greek mosaics and ceramics, and later, was closely associated with the works of Spanish surrealist artist Salvador Dalí.
"There's amazing history behind the symbol," he says. "My lobster is me, but also everyone – a bit of a Charlie Chaplin-like figure. Slightly adventurous and slightly clueless, beyond sex or gender – just a symbol of the individual against the elements, navigating this crazy world."
Fresh from showcasing major online and offline exhibitions – including a "Lobster Empire" takeover in Rome, a giant lobster sculpture floating around Venice at the 59th Biennale, and an experimental "Lobstars" NFT project – Colbert says he's excited to bring his lobster persona to Macao.
Easily recognisable in white gloves, yellow shoes and red shorts, the artist's whimsical "Mickey Lobster" stands 5 metres tall at the Lagoon outside The Venetian Macao. Colbert displays another Mickey Lobster, a "Lobster King" and "Lobster & Sunflower" sculptures inside The Venetian Macao lobby alongside Naylor's works.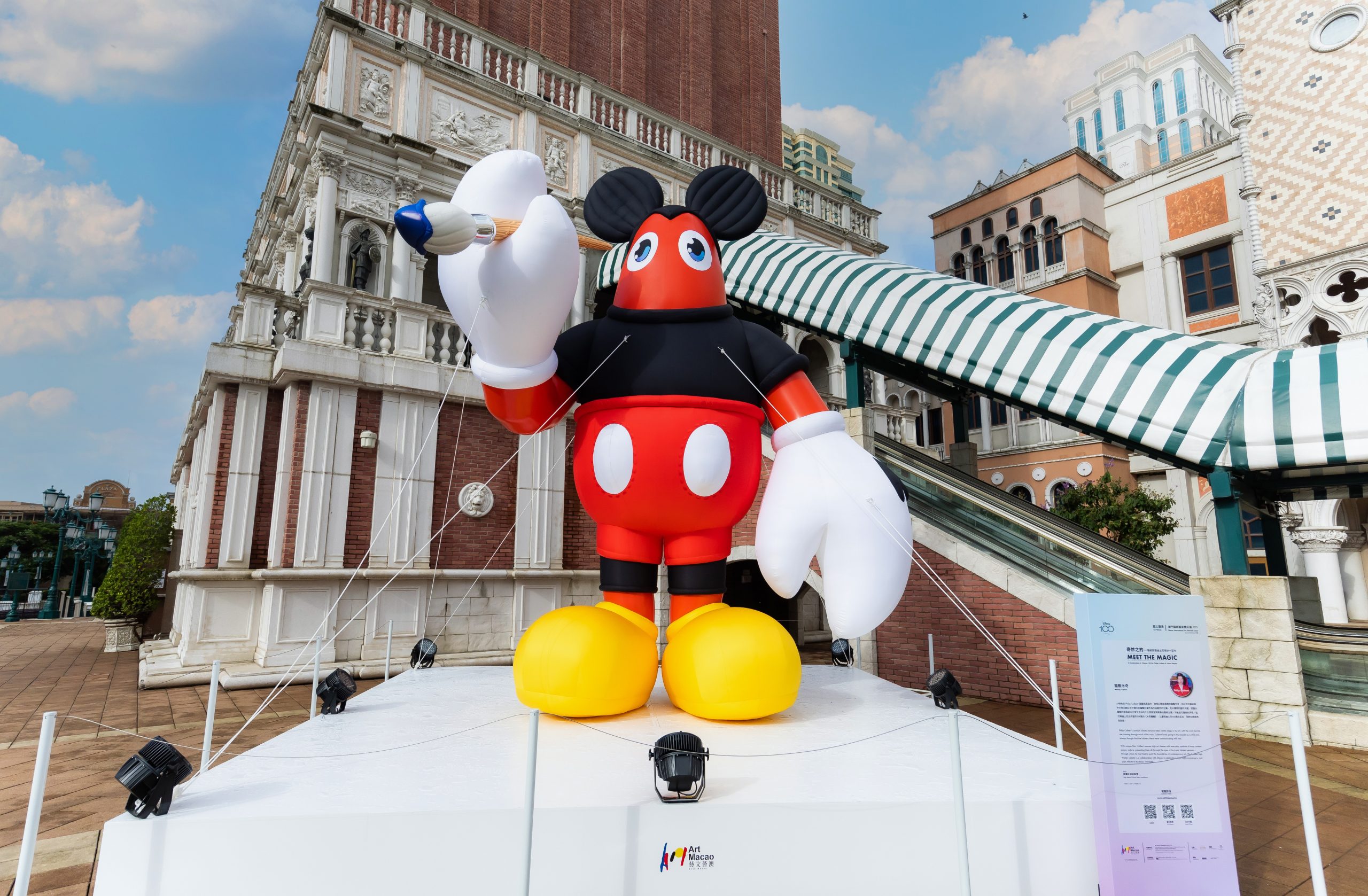 "Mickey Mouse embodies the ultimate power of character, so I loved the idea of creating a homage to this definitive pop icon with my lobster persona," says Colbert of the pieces, which are exclusive to Sands China. "It's a playful way to reinvent Mickey – and a really fun marriage of these two worlds." 
When it comes to designing the colour palette, finish and materials, the artist hopes to make an impact with high-energy hues and a touch of humour. "We made a more iconic sculpture, a chromatic version, a surreal one that's trippy looking," he says. "For me, it's very exciting as someone who is very inspired by the power of the symbol and the language of pop culture."
Joy to the world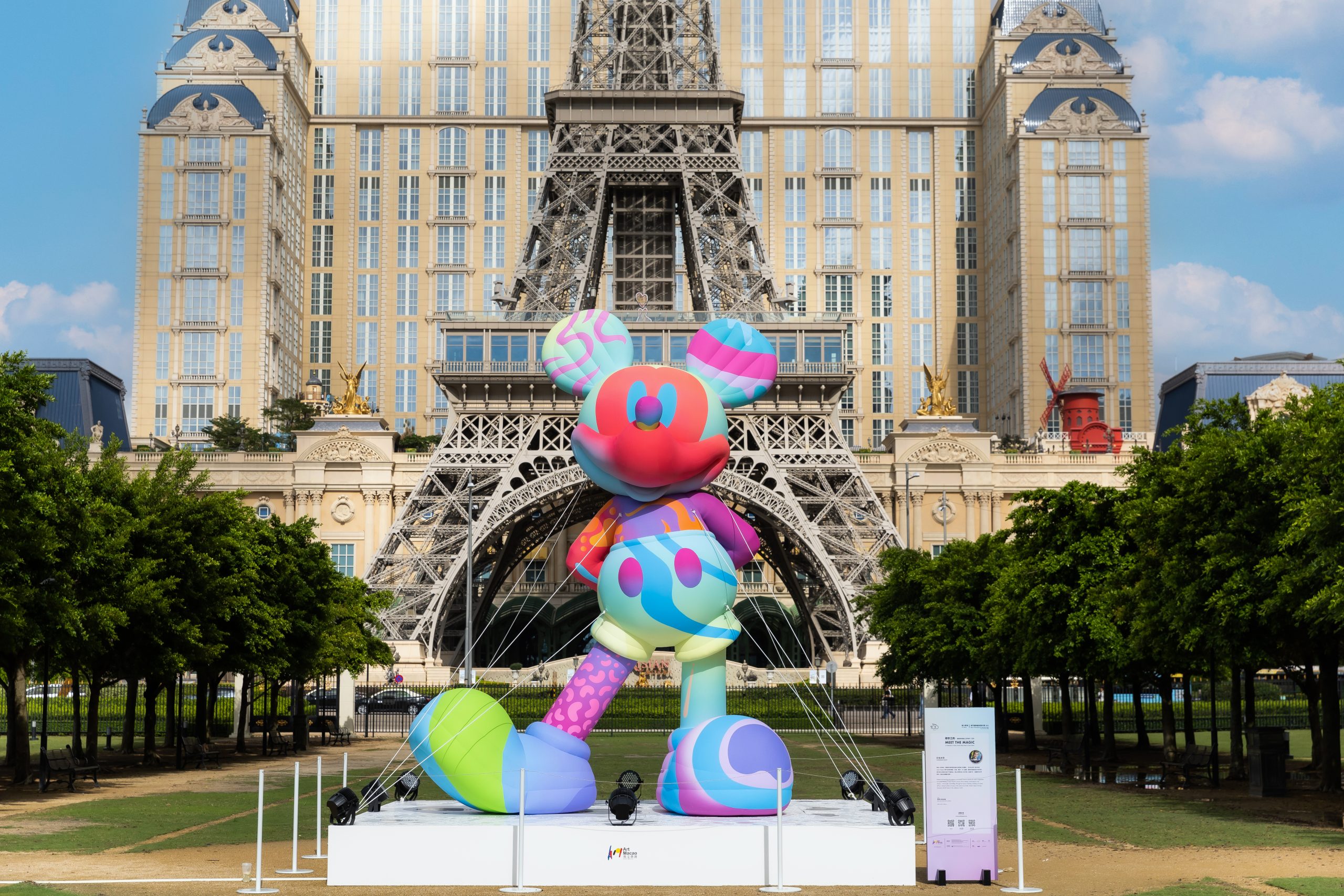 Whether creating large-scale street murals or digital illustrations with his iPad, Naylor has an instantly recognisable style, thanks to his bold use of colour and recurring heart motifs.
Before he found success as a fine artist, Naylor worked in design for MAC Cosmetics, which contributed to his vivid, graphic approach. "My process goes back to design school and my job with MAC, working with many colours, typographic elements and communicating concepts," says Naylor.
"There is a lot of darkness in my work, juxtaposed with brightness and light. That balance reflects my process of finding out who I am as a human being, experiencing challenges and losses and troubles, wins and excitements – all culminating in my art."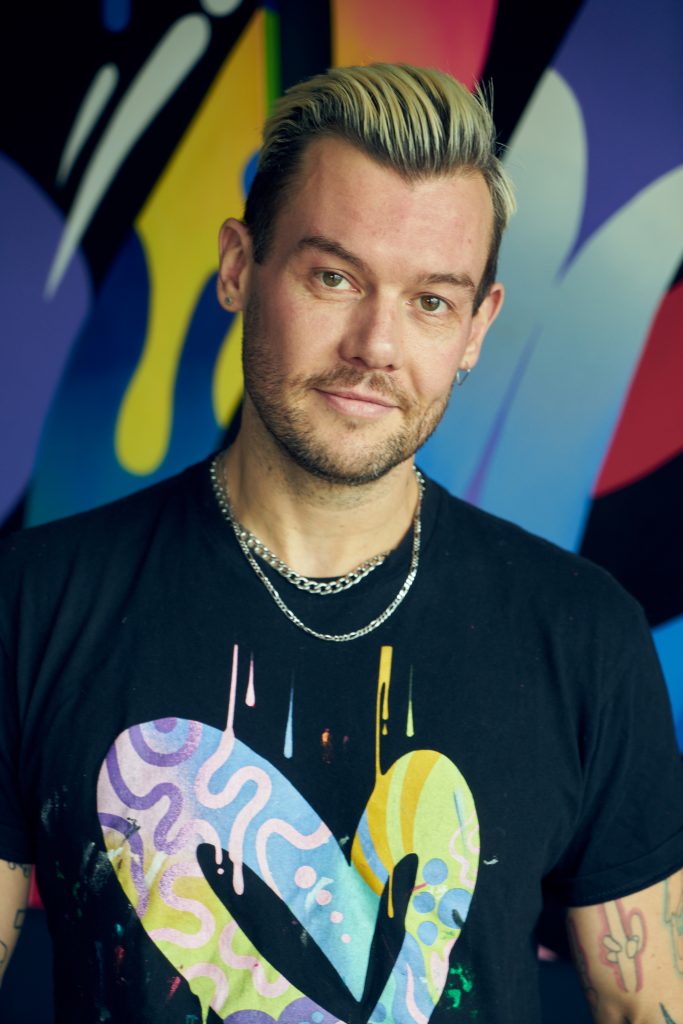 Always eager to express himself in new ways, the artist jumped at the opportunity to design a 5-metre-tall inflatable sculpture, "TECHNICOLOR MICKEY". Exclusive to Sands China, the rainbow-hued installation stands in front of The Parisian Macao's Eiffel Tower at Le Jardin, a French-inspired garden opposite 'The City of Light' on the Cotai Strip.
"I'm used to seeing my work at scale, but it's always flat, so it's really exciting for me to see Mickey come to life in 3D," says Naylor. "I like to use psychedelic colours because, for me, they represent a kind of flow state – a feeling of catharsis when you're really one with yourself. And while there's a youthful quality to my work, the colours feel more electric and adult."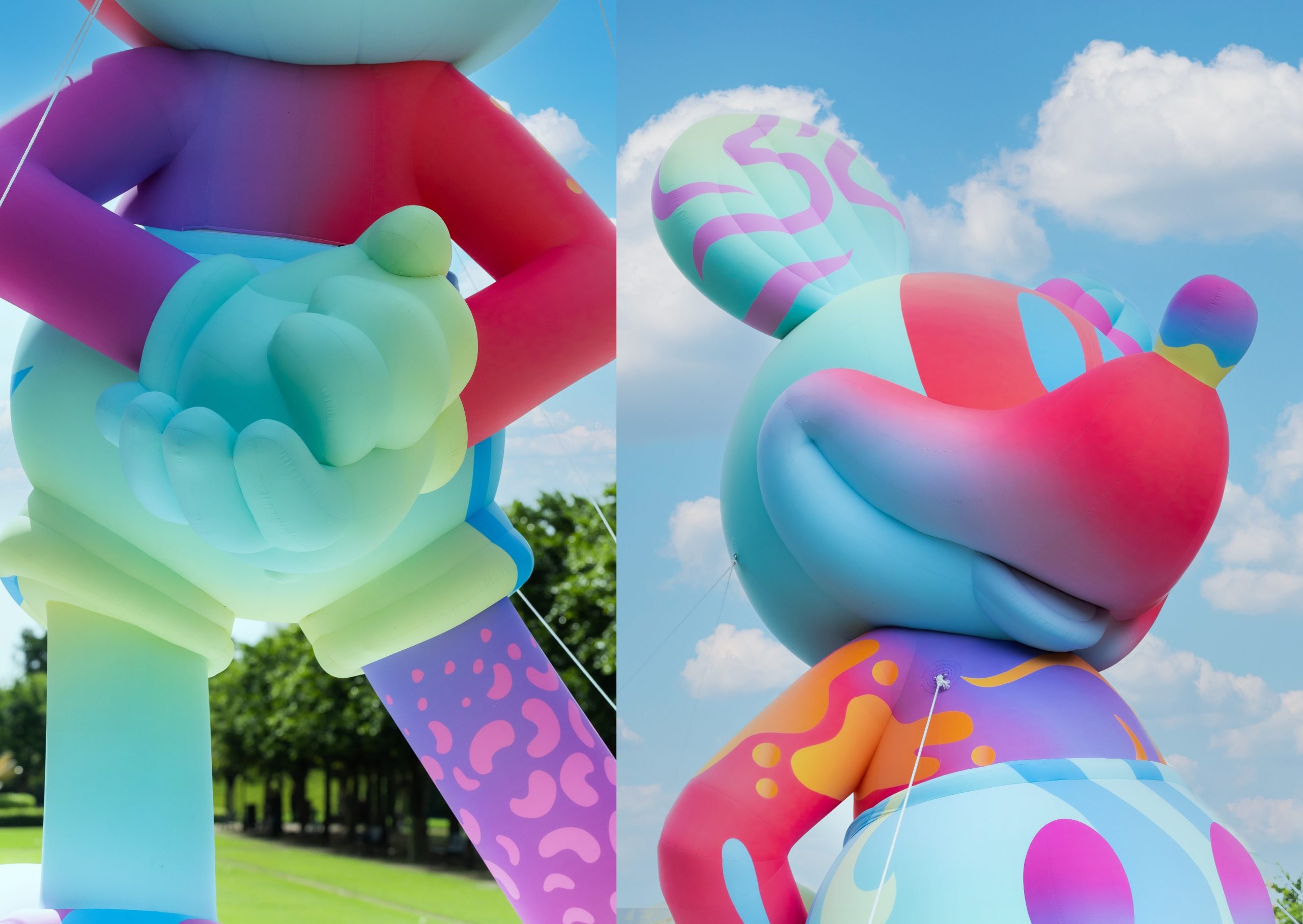 You can check out another sculpture by Naylor in The Venetian's main lobby. Depicting his most iconic motif, the "OPN Heart", this 2-metre-tall piece drips with vibrant colours and symbolises individuality, kindness and positivity.
"My mission is to spread love with my work, so the heart is a perfect motif. There's a hole in the centre, but it's not about emptiness – it's about having room for more love and having an open mind, heart and arms… The more love you give or spread, the more you can accept, and the more love will go into the world."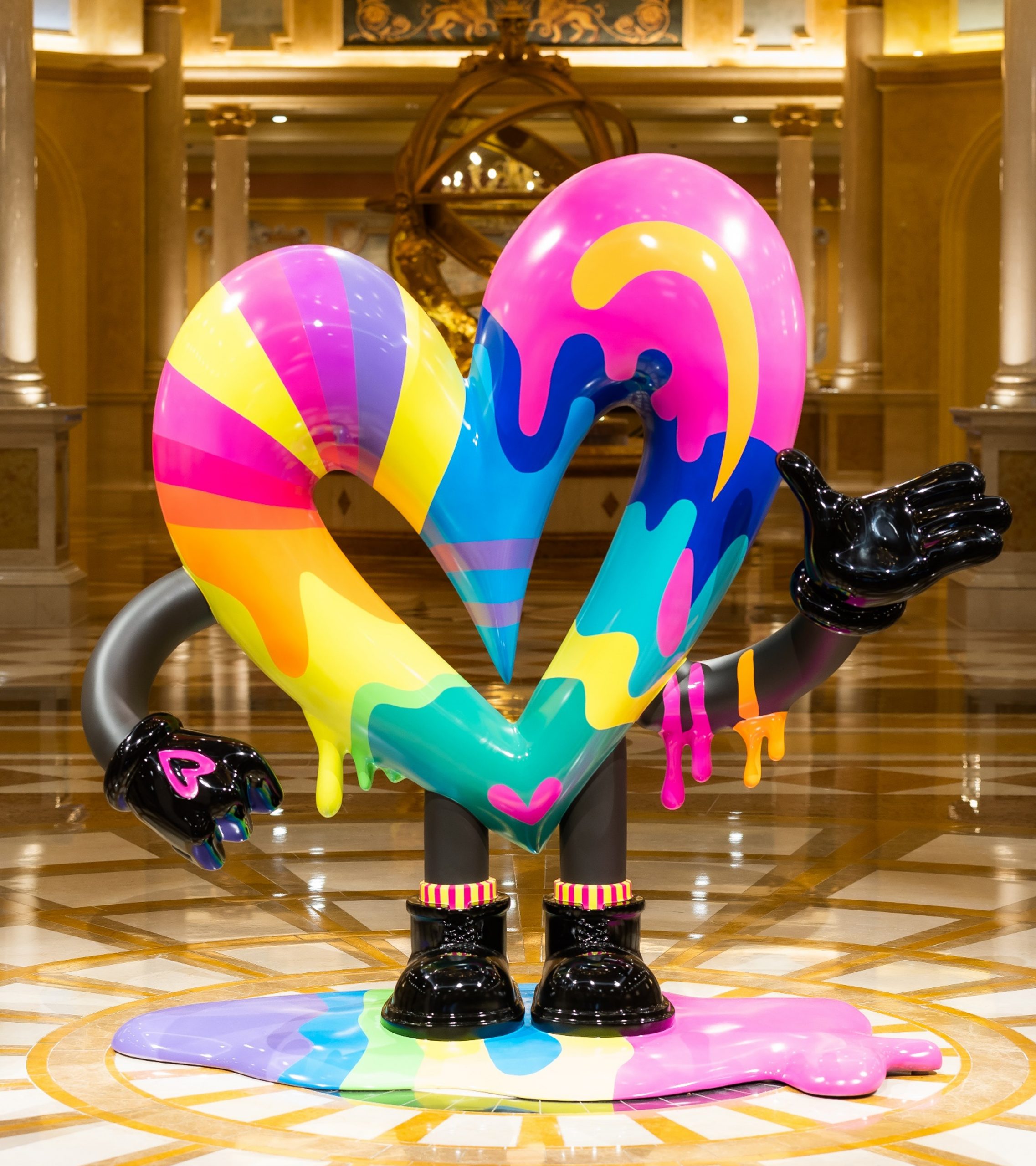 What's more, The Londoner Macao's extended exhibition area, the ASCE Diverse and Explorative Art Hub, is a hive of artistic activity during the festival. Located on the second floor of Shoppes at Londoner, the centre presents 10 original paintings by Colbert and Naylor in addition to their three-dimensional artworks across the integrated resorts, plus interactive art sharing, discussions and guided art tours. 
Whether looking forward to exploring internationally acclaimed pop art or diving into the city's local contemporary art scene, Sands China's integrated resorts are brimming with inspiring Art Macao experiences this summer and autumn.
---
Learn more about Art Macao here and 'Meet the Magic' here. Feeling inspired? Plan your holiday here to embark on an arts and culture journey with Sands Resorts Macao.