A celebration of place: The Andaz Macau opens its doors
A celebration of place: The Andaz Macau opens its doors

Link copied
With locally inspired design and cuisine, the city's newest hotel offers guests a chance to experience the real Macao.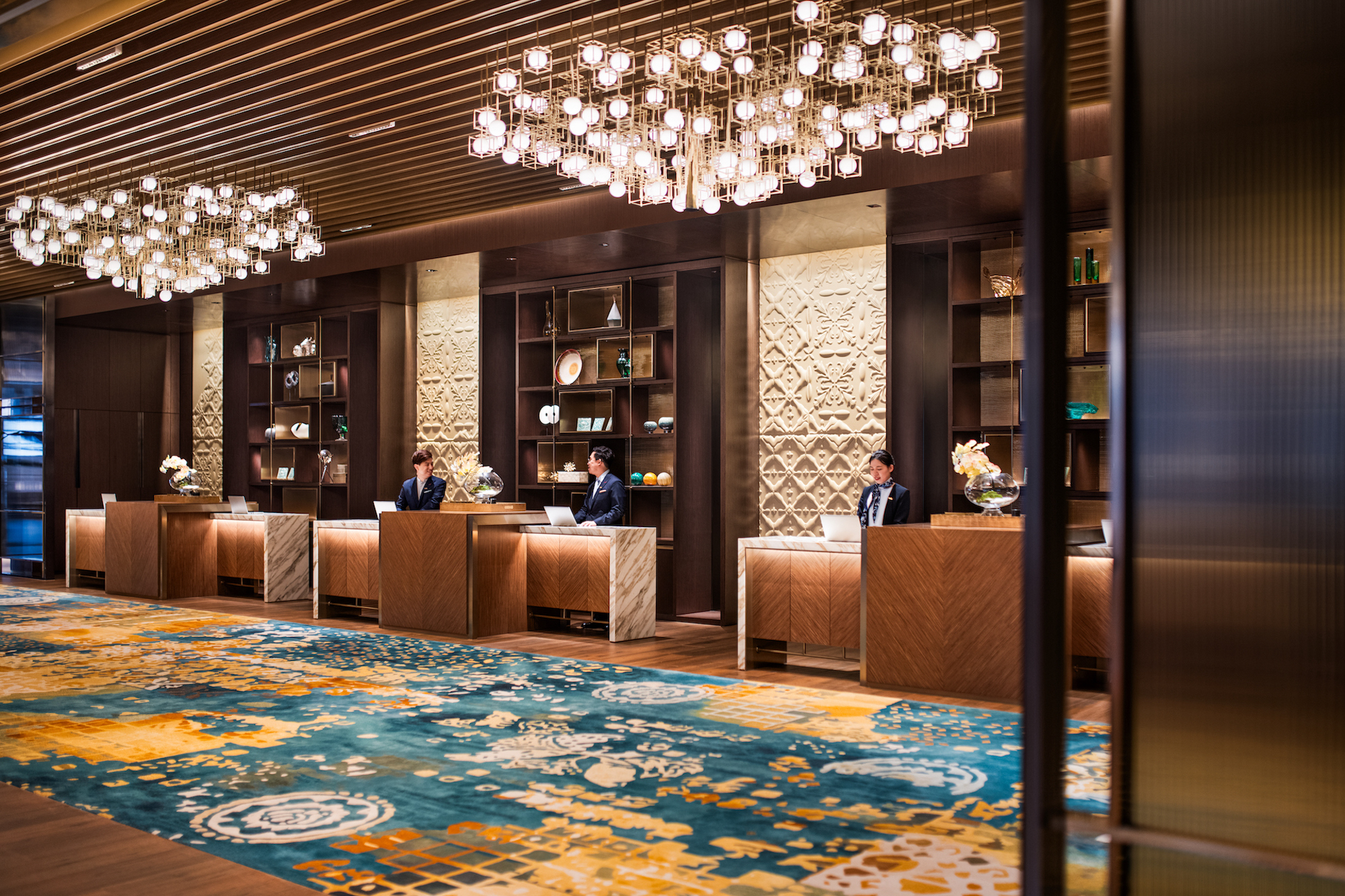 Local cuisine, Macao-inspired cocktails and art, and interiors that subtly restate the world of Old Taipa with a contemporary flair: the city's character and culture are front and centre at Andaz Macau.
The hotel – the eighth property at the Galaxy Macau resort – held its opening today. With over 700 rooms and suites, contemporary F&B options, a 24-hour state-of-the-art gym, and a heated indoor pool, it is the world's largest hotel to carry Hyatt's Andaz marque.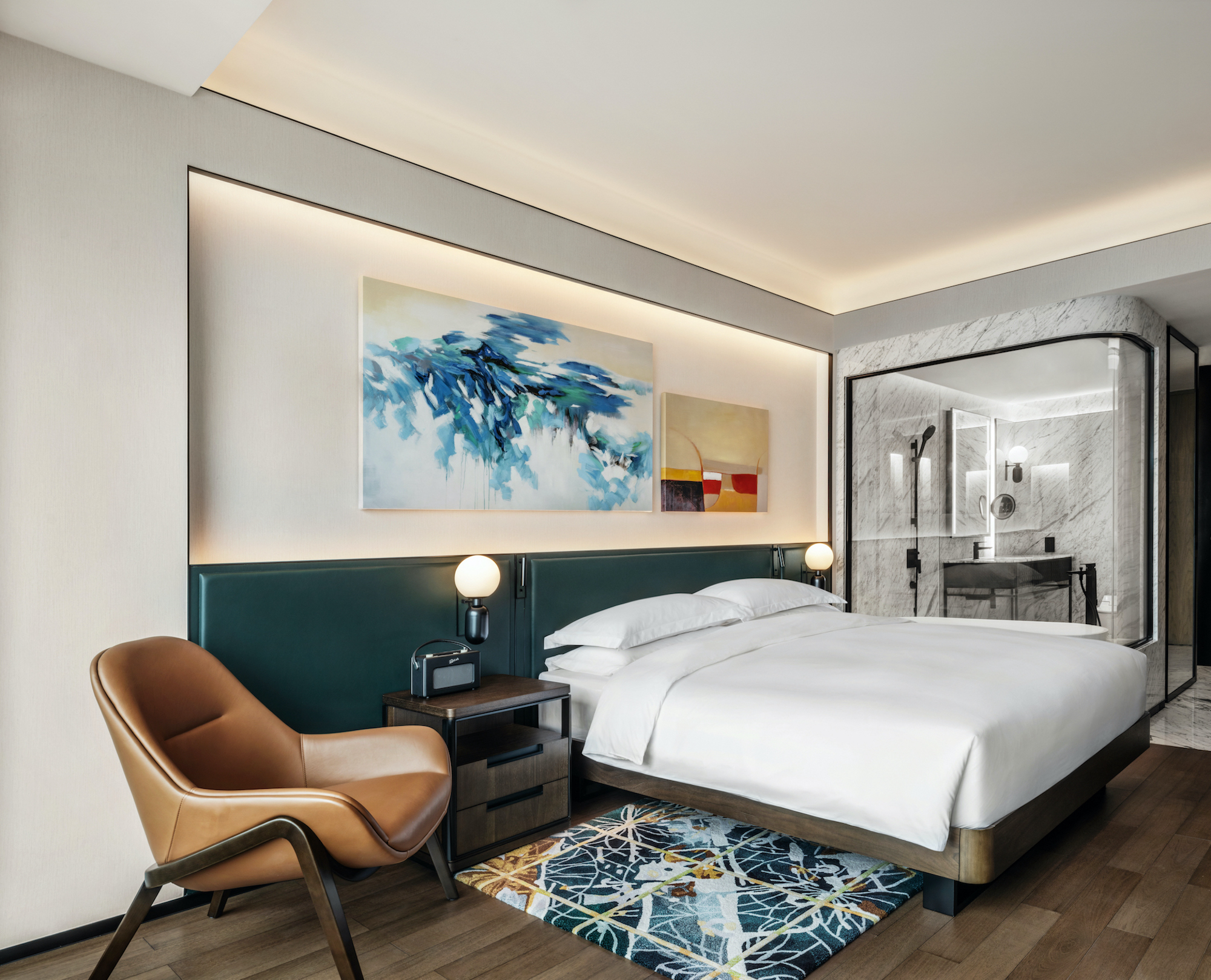 Like its sister properties in London, New York, Tokyo and elsewhere, Andaz Macau will offer a beautifully fashioned sense of place. Its thoughtfully designed interiors are a modern take on the traditional visual elements of Macao – from the village charm of Taipa, to the green hills of Coloane, and the area's maritime past.
As part of Galaxy Macau, the hotel can also offer guests more than 1.1 million square metres of entertainment, shopping and dining. While a free shuttle bus operates to Galaxy Macau, there is direct access from the Andaz to both the Galaxy International Convention Center and the 16,000-seat Galaxy Arena, along with a dedicated check-in lounge catering to large MICE groups.
Above all, through art, design, cuisine – and a style of service that's as spontaneous as it is warm – Andaz Macau will immerse guests in the inimitable vibrancy of the city and culture that surrounds them.
Local style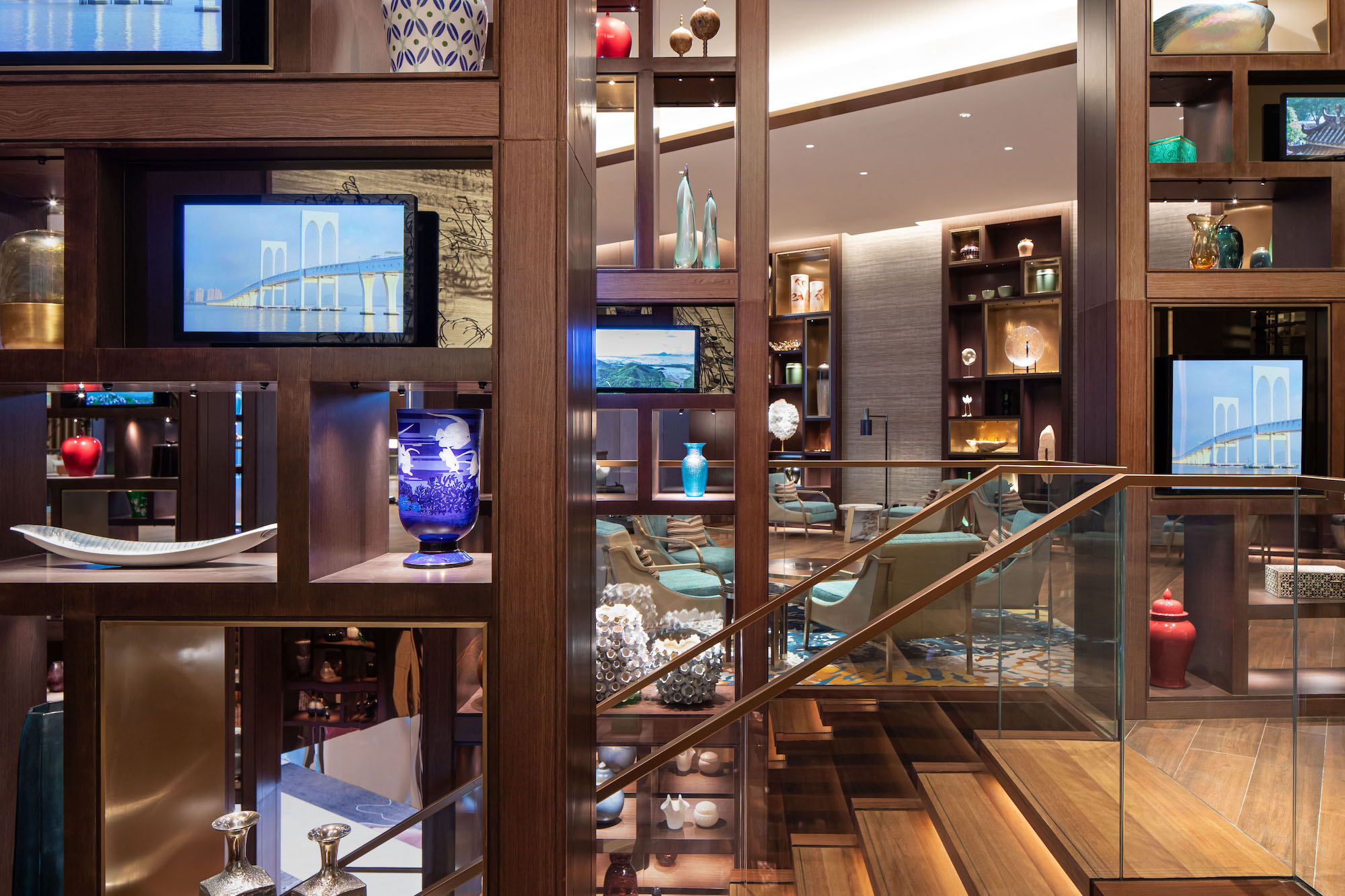 Visually, the hotel has a rich legacy to draw on: Macao's UNESCO-listed Historic Centre, the grace and subtlety of Chinese design, seafaring traditions, village life, and wooded hillsides, all seamlessly coexisting with lively downtown districts. From the teal and orange colour palettes of the guestrooms, to the aesthetics of the restaurants, bar and lounge, Andaz Macau pays homage to the city it calls home.
The art found throughout the property, from antique vases to glass sculptures, echoes the overarching theme. One of the highlights is Juxtapose, a striking series of steel sculptures by 
Malaysian artist Tang Mun Kian takes inspiration from local landmarks.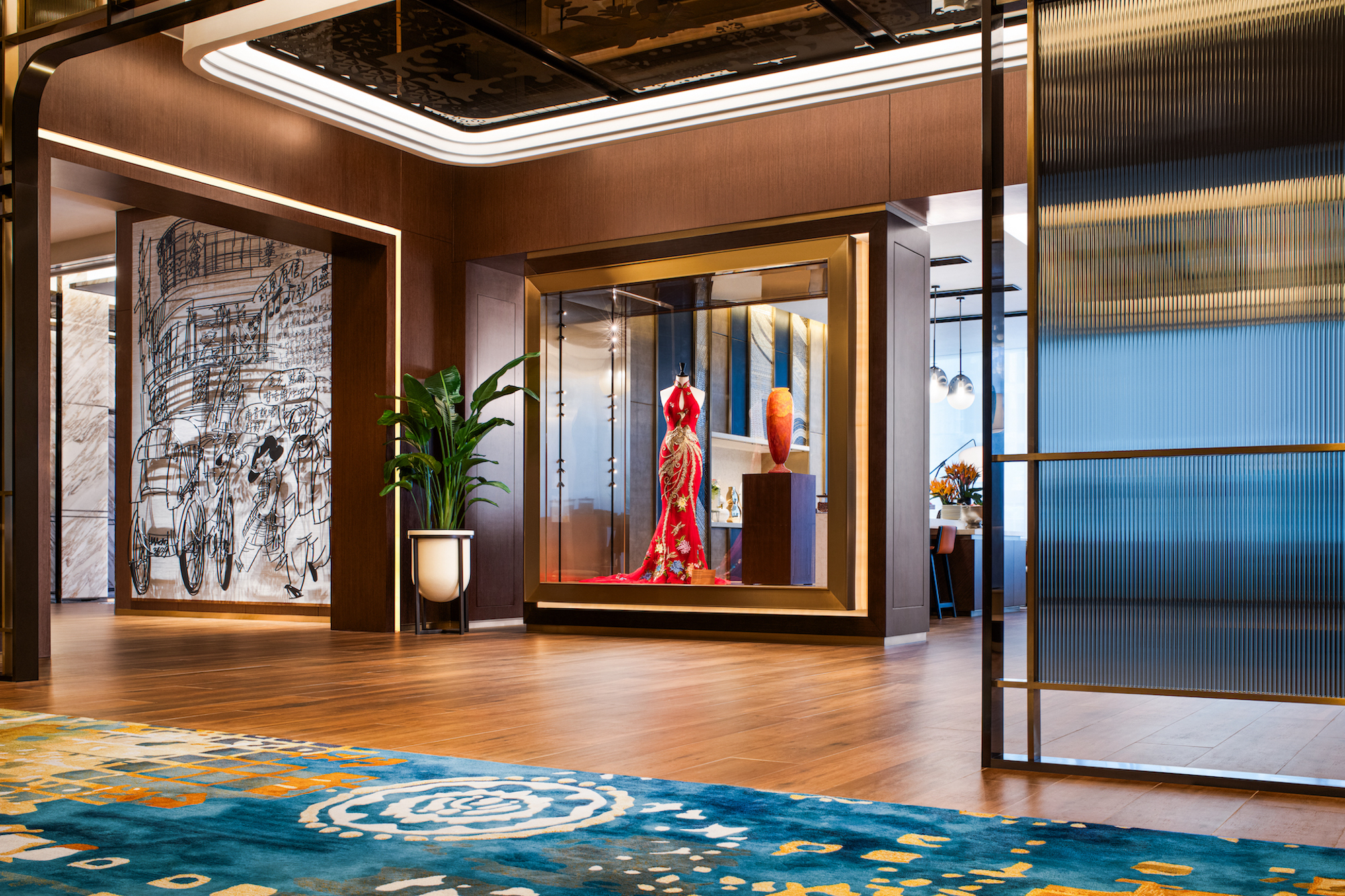 Past and present meanwhile come together in the captivating video installation Macau Steps. Through more than 100 evocative videos, this one-of-a-kind staircase expresses the city's essence – literally step by step – as it takes the viewer from busy city streets, at the bottom of the staircase, to tranquil scenes of nature at the top.
Local flavours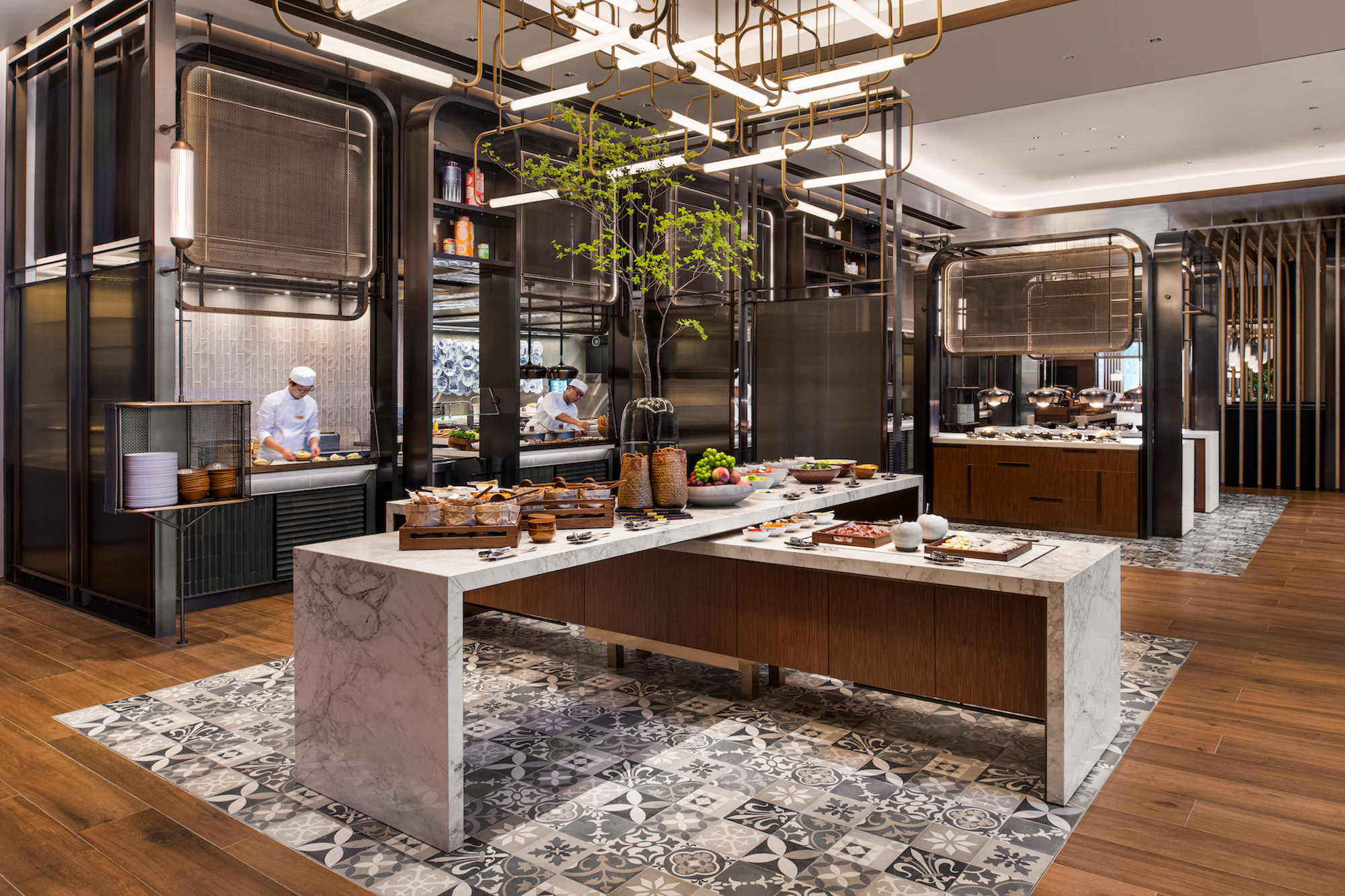 Unsurprisingly, Andaz Macau has put a strong emphasis on representing Macao through its culinary offerings and beverage programme.
Andaz Kitchen is the hotel's all-day dining venue. Reflecting the culturally diverse background of Executive Chef André Lai, the restaurant offers Portuguese, Macanese and popular regional dishes – much of it prepared at live cooking stations.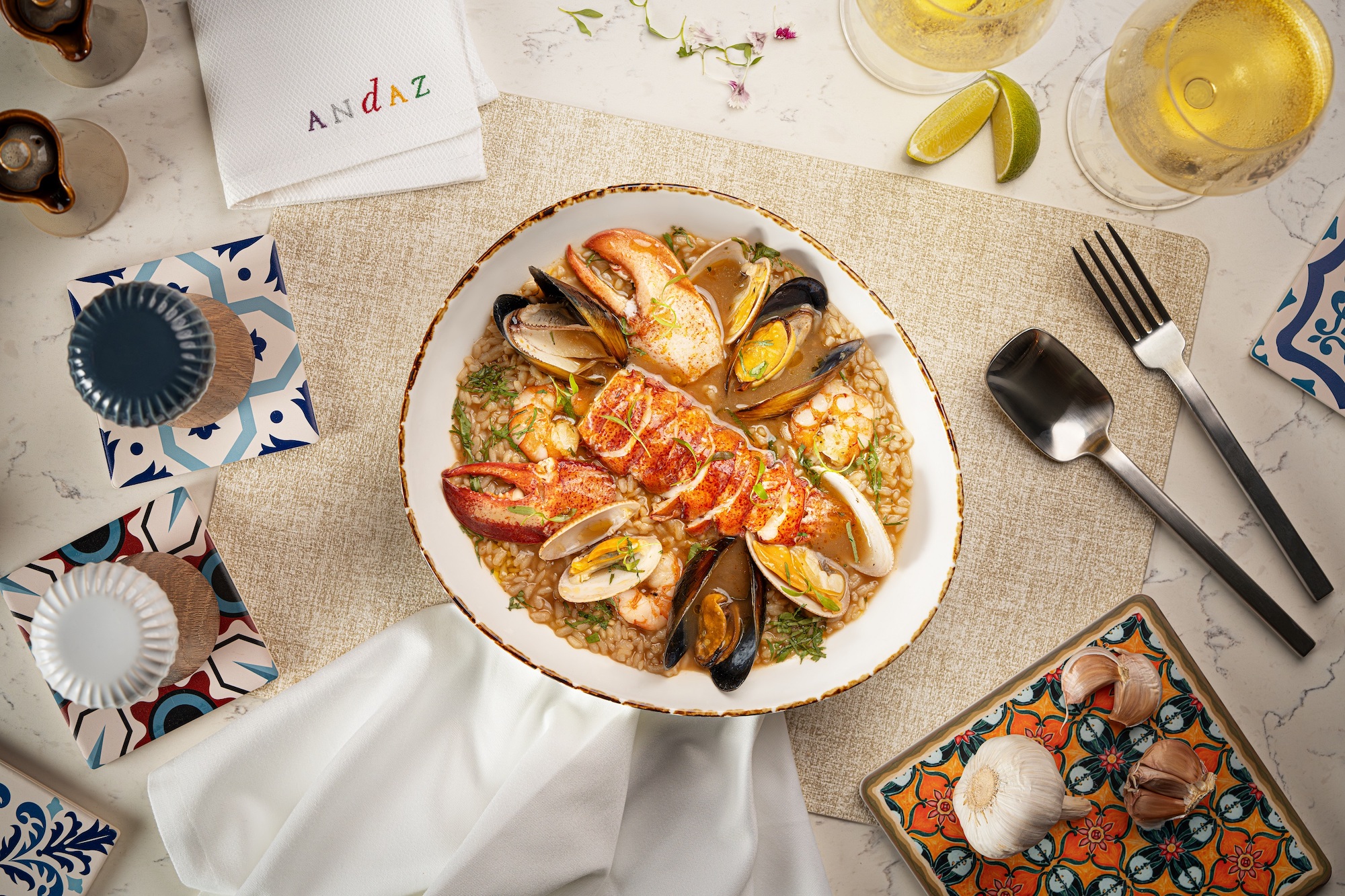 Meals are enjoyed in a setting inspired by Macao's traditional shophouses, set off with wooden fittings (in a nod to the city's maritime history) and adorned with azulejos – the distinctive blue and white tiles of Portugal. A wall installation, entitled Layers of Tradition, showcases ceramic plates that are decorated with hand-painted, Chinese and Portuguese motifs.
Leading off from the restaurant, with a discreet entrance, is Andaz Studio – a multifunctional event space accommodating 80 people. With a myriad potential uses, it's the perfect setting for corporate dinners, private celebrations, cooking demonstrations for MICE guests, and more.
Next to the restaurant, the Andaz Lounge invites relaxation in a light-filled space filled with locally inspired touches. Its comfortable armchairs and club-like feel will make it a favourite of holidaymakers looking to wind down after a day's exploring, or business travellers networking with clients and associates. 
At the Andaz Bar, resident mixologist Shobit Shetty – who has worked at one of Asia's 50 Best Bars – presents cocktails concocted from Asian flavours and iconic Macao ingredients. Don't be surprised if your drink features Macao's traditional crunchy peanut candy. Sophisticated finger bites from Executive Chef Lai are also on offer.
Local experiences
A special opening package allows guests to immerse themselves in the culture and character of the city at the Andaz Macau.
Valid from now until 31 December, the package starts at 1,698 patacas and features one night's stay, a breakfast buffet – featuring Macanese food – for two, and two-day access to Galaxy's Grand Resort Deck, as well as a host of extras. These include an open-top bus tour of Macao, "Taste of Macau" snack box souvenir, two local craft beers from Andaz Bar and two egg tarts from Andaz Kitchen.
It adds up to a fabulous way to get to know a hotel that's as engaging and hospitable as the city that produced it.
---
Opening packages for the Andaz Macau are now available and can be booked here. Terms and conditions apply.